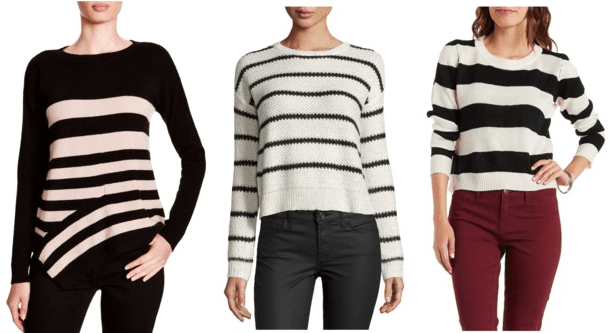 Do you struggle with transforming your outfits from day to night? Don't worry, CF is here to help turn that daily annoyance into a fun challenge. Class to Night Out focuses on one piece per week, and aims to help you take your look from study sessions in the library to dancing the night away.
Is anyone else in a winter wardrobe slump? I've found myself reaching for the same basic dark pair of jeans and plain colored sweater only to have a jacket thrown on top of it, though I'm blaming finals for this blunder. That said, I have not yet resorted to leaving the house in sweatpants and I am going to make a point to at least amp up my sweater game this month.
A nice black and white sweater is the perfect solution for all of my current (fashion) problems. It's a timeless piece; Audrey Hepburn wore it well. It's also simple enough that you can experiment with color if you're feeling adventurous. Sounds like the perfect solution for anyone stuck in a winter wardrobe slump.
To see how I styled a simple black and white striped sweater for class and a night out, keep reading!
Black and White Striped Sweater: Class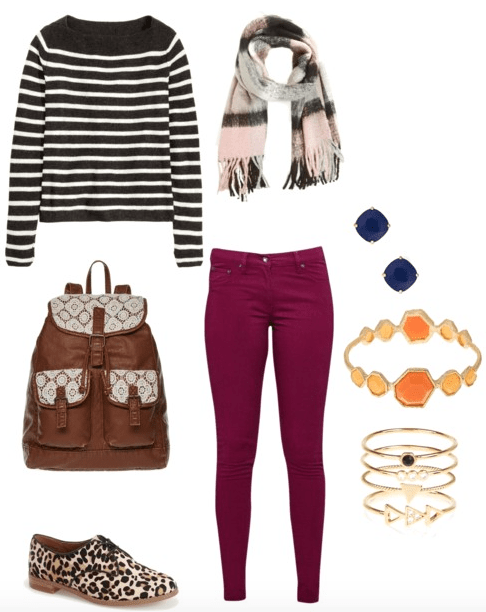 Products: Sweater – Pants – Shoes – Backpack – Scarf – Earrings – Bracelet – Rings
This sweater gives us an opportunity to wear color elsewhere. I chose these berry colored skinny jeans for the main pop of color. The other sources of color are going to come from from the jewelry. Go for some dark blue gemstone stud earrings, an orange stone bangle, and some gold stacked rings. Instead of a tote, opt for a leather and crochet backpack. For the finishing touch to the outfit, rock some sassy leopard print oxfords!
Black and White Striped Sweater: Night Out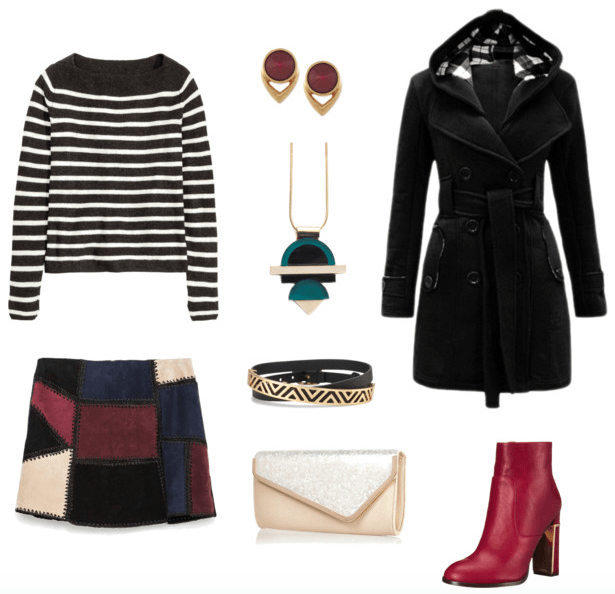 Products: Sweater – Skirt – Coat – Shoes – Clutch – Earrings – Necklace – Bracelet
Tuck your sweater into a patchwork mini skirt for a mod look when you go out for the night. To really go with the mod vibe, find a pair of deep red boots that match one of the patches in the skirt. Accessorize with gold-and-oxblood stud earrings, a gold-and-frosted green geometric necklace, a black-and-gold wrap bracelet, and a beige clutch. Make sure to wear a chic heavy coat over your ensemble to stay warm.
Your Thoughts?
What do you think? Are you going to pick up a black and white striped sweater this winter, or do you already own this timeless piece? How would you style it for class and a night out? Let me know in the comments, I love hearing feedback!