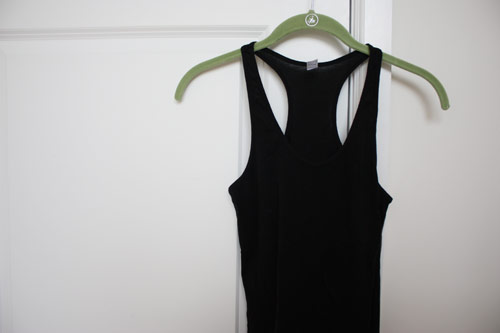 One of the worst things about dorm living is the limited closet space, especially when you don't have room for your two separate wardrobes – one for class, and one for going out. It can be frustrating to decide what gets hung up and what gets shoved under the bed in storage, not to mention the pain of having to completely change outfits just to go out for a few hours at night.
Luckily, it doesn't have to be like this. So many basic pieces can be worn for day or night – saving you your closet space, and your sanity. With just a few changes, you can wear the same thing you wore to class to any evening event, from out with the girls to a dinner date with the BF.
This week, I'll be covering a wardrobe staple every college girl can dig out of her closet – the basic black tank top.
Basic Black Tank: Class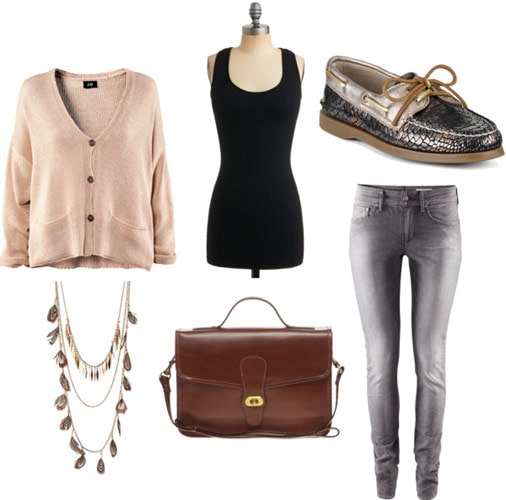 Tank – Modcloth, Jeans – H&M, Bag – ASOS, Cardigan – H&M, Necklace – Forever 21, Shoes – Sperry Topsider
Dressing for class doesn't have to be boring, even with such a simple basic. The best part about a black tank is that it goes with absolutely everything, so feel free to have fun with it! Here, you have room to get really creative with accessories and set yourself apart from everyone else.
For class, you can pair your black tank with a cozy cardigan and skinny jeans or leggings for a look that's both stylish and comfortable. Shoes should also be functional enough to trek across campus, but cute enough to snag some compliments. (If you live somewhere icy, you'll probably want to swap the Sperry's for winter boots right now!) Finish off the look with a satchel for your books and a fun necklace.
Basic Black Tank: Night Out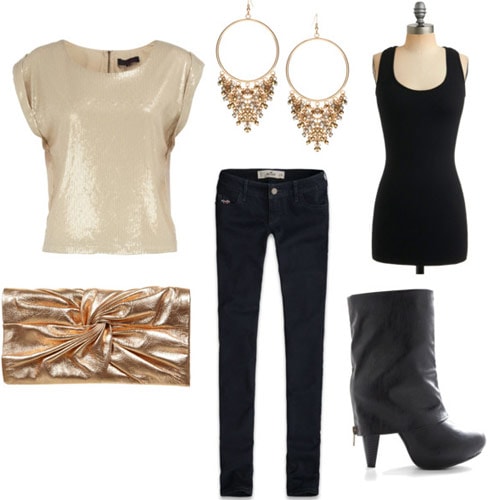 Tank – Modcloth, Top – Dorothy Perkins, Jeggings – Hollister, Boots – Modcloth, Clutch – TopShop, Earrings – ASOS
At least at my school, evenings out are all about sparkle. It's easy to go overboard with the glitz, though, so try to stick to one or two key pieces to glam-up your tank top. Swap out your cardigan for a sparkly, semi-sheer top and switch to a dark wash jean for a more sophisticated look. Night is the perfect time to make a statement with your shoes, so try out some cool heeled boots. Pretty earrings and a metallic clutch are fun, but simple accessories.
What do you think?
How do you take your look from class to a night out? Does it help simplify your wardrobe? Leave a comment and let me know, I'd love to hear what you think!