Welcome to the latest edition of Ask CF! Every two weeks, we select a reader fashion question and answer it here on the site. Do you have a specific fashion question for us? Scroll to the bottom of this post to learn how to send it our way!
Ask CF Question
Dear CF,
One of my closest friends recently got engaged, and I'm so excited! She asked me to be her Maid of Honor, and helping her plan her wedding has been a blast because she's a very low key bride. Low key to the point that she wants all her bridesmaids to pick out their own dresses! I think it's going to look really cool, but this is my first wedding and I have no idea where to start. I have a pretty small budget- preferably less than $100 – and I work SO MUCH so I don't have a lot of time to hang out in bridal shops and I'll probably end up ordering online and getting it tailored. Any tips??
Anna, Maid of Dishonor
Our Response
Dear Anna, Maid of Dishonor,
Being a maid of honor must be so exciting–particularly when you are allowed to get creative with your look!
Although it may seem daunting to have to find a bridesmaid dress on a budget, you don't necessarily have to look in a bridal shop to find a cute bridesmaid dress; in fact, I personally like the idea of shopping for a bridesmaid's dress at a non-bridal retailer, as there are likely to be a wider variety of options at lower price points than you might find at a traditional bridal shop.
So, keep scrolling to see my under-$100 bridesmaid's dress picks, along with some tips on how to style them. (As a bonus, many of these looks would be great outfit ideas for wedding guests, as well!)
Outfit #1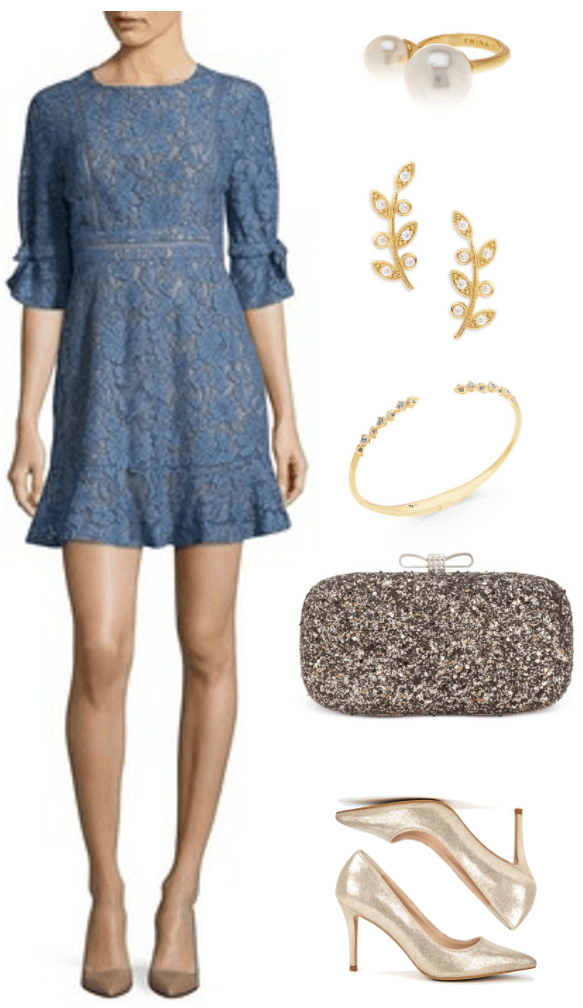 Products: Dress – Lord & Taylor, Ring – Nordstrom Rack, Earrings – Lord & Taylor, Cuff – Macy's, Clutch – Macy's, Heels – Sole Society
This look is the perfect combination of low-key and glamorous; and, the best part about it is that, because of its classic silhouette, you definitely will want to wear the dress again!
Personally, I love how metallics seem to pop against the dress' medium blue shade, so I decided to pair the dress with a gold pearl statement ring, delicate gold branch stud earrings (I actually own these and wear them all the time!), and a pretty open gold cuff bracelet.
As for shoes, I decided to continue on with the gold theme, and chose a pair of beautiful pale gold pointed-toe pumps.
To finish off the outfit, I decided to veer slightly off track and chose a pewter glitter clutch to add some visual interest and switch things up a little.
Outfit #2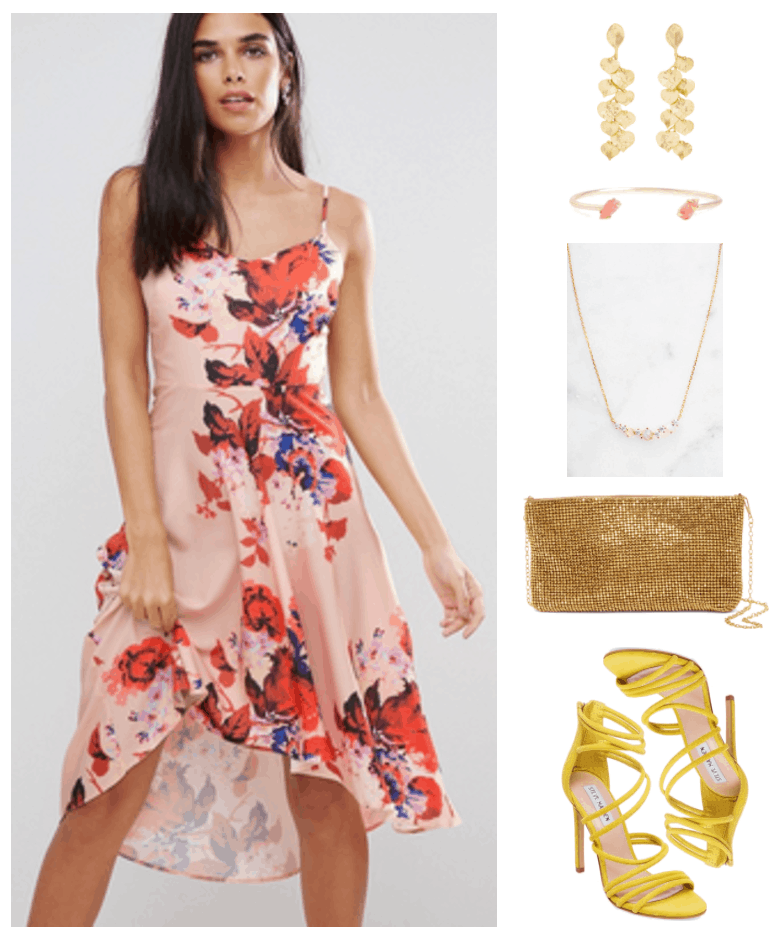 Products: Dress – ASOS, Earrings – Barney's Warehouse, Cuff – Nordstrom, Necklace – South Moon Under, Clutch – Nordstrom Rack, Heeled Sandals – Belk
If you're looking to have some fun with your look, why not try a bold printed dress? The simple silhouette of this one makes it the perfect background for a punchy floral print, while yellow strappy sandals add a playful element to the ensemble.
Put on a pair of dangling earrings, a coral cuff bracelet, and a unique opal necklace to accent your look; finally, grab a cool retro-inspired gold mesh clutch to complete this standout ensemble.
Outfit #3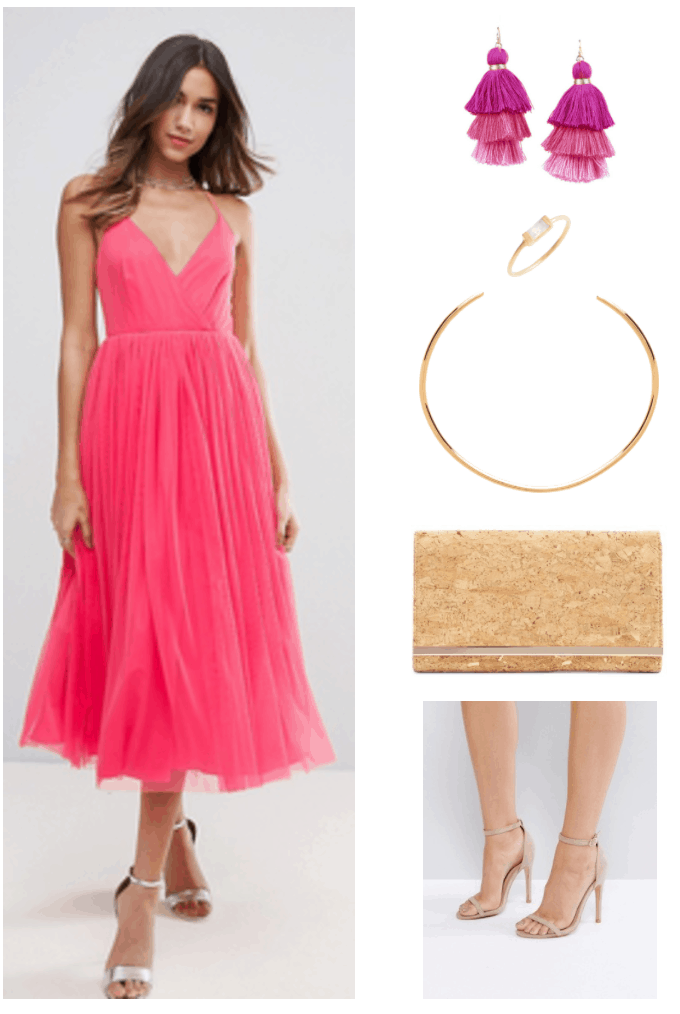 Products: Dress – ASOS, Earrings – Lori's Shoes, Ring – Nordstrom, Necklace – Revolve, Clutch – Nordstrom, Heeled Sandals – ASOS
For something that's a little more formal, I like the idea of wearing a slightly whimsical tulle midi dress.
Pair it with these tassel earrings that don't quite match to add some visual interest, while a pretty moonstone baguette ring and simple gold collar necklace add some sparkle to the ensemble.
For even more shine, pick up a gold-flecked faux cork clutch. Round out the look by putting on some neutral-colored heeled sandals so as to keep the look classy rather than over-the-top colorful.
Outfit #4
Products: Gown – Nordstrom Rack, Earrings – BaubleBar, Cocktail Ring – Bloomingdale's, Cuff – Nordstrom Rack, Clutch – ASOS, Heels – ASOS
This look is the most "traditional" of the four, but that doesn't stop it from being being fashion-forward as well!
I really like the gown's soft lavender color and silky fabric, both of which give it a luxurious feel; pair it with beaded tassel earrings, a standout cocktail ring, and a subtly sparkly cuff bracelet to up the fanciness factor.
A glittery clutch adds some fun to your look, while soft, pale pink d'orsay heels balance everything out.
Hopefully these looks have provided you with some inspiration as to what to wear for your friend's big day; have fun, and thanks for your question!
Do you have a fashion question? Send it to us!
Is there something in your closet that you want to wear but have no idea how to style? Do you need advice on what to wear to an upcoming event? Do you have a specific fashion conundrum? If you have a fashion-related question that you would like to see answered in this column, simply email it to askcf @ collegefashion.net, and one day you might see your question answered right here on the site!
What do you think?
Have you ever been a bridesmaid or maid of honor before? Did you have any say in what you wore? If so, what did you end up choosing? Let me know in the comments!