The "Fabulous Find of the Week" column gives you the heads up on all the hottest, most affordable items at your favorite stores!
Hey girls! For this week's Fab Find I have an incredible top that you all will adore. This summer has gone by SO fast and I can't believe classes resume at the end of this month. But nevertheless, we still have warm days ahead and that calls for wearing as many summer pieces as we can, while we can.
It's no secret that I'm a huge fan of J.Crew. You may also know that, as a result, I'm obsessed with J.Crew Factory which provides similar pieces at an insane discount.
This week's top, from J.Crew Factory, was originally $59.90 and went down to $24.99. But now, with the current sale going on, you can get this top for only $14.99 (if you buy two items you get 20% off right now). It's such a great deal that none of you girls will want to miss out. It also comes in three great colors: Black, Bright Patina, and Bright Papaya. For the purpose of this article I'll be focusing on the black: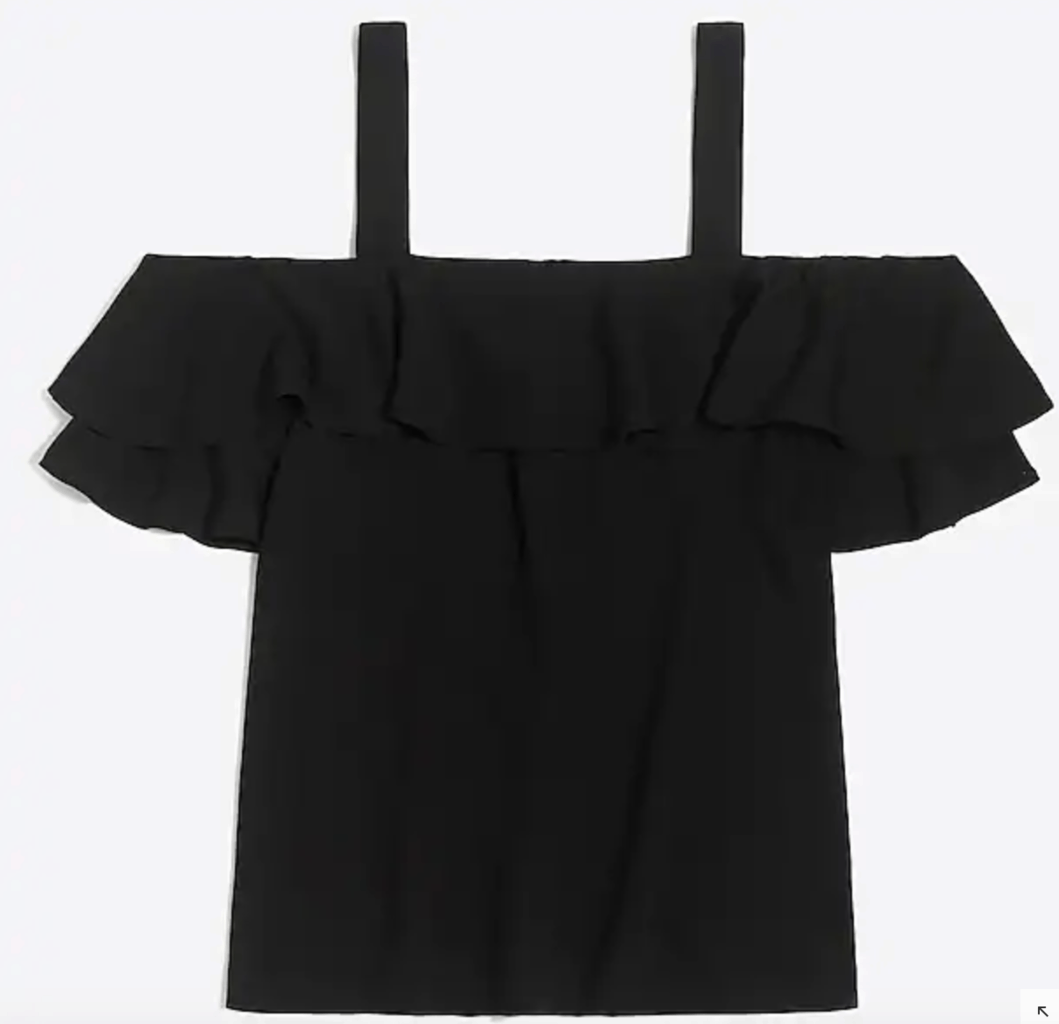 I picked the black version of the top because you can wear it throughout the entire year! Whether you pair it with shorts in the summer, or thermal leggings and a jacket in the winter, it's perfection. I love the subtle ruffles and off-the-shoulder detail. Another important bonus for us college girls is that it's machine washable. While tops made of more delicate fabrics are great, they aren't always practical. So this top is the whole package. It's beautiful, affordable, and easy to care for!
Now let's style it. Here are some outfit ideas for this off-shoulder tank:
Pink & Black Glitter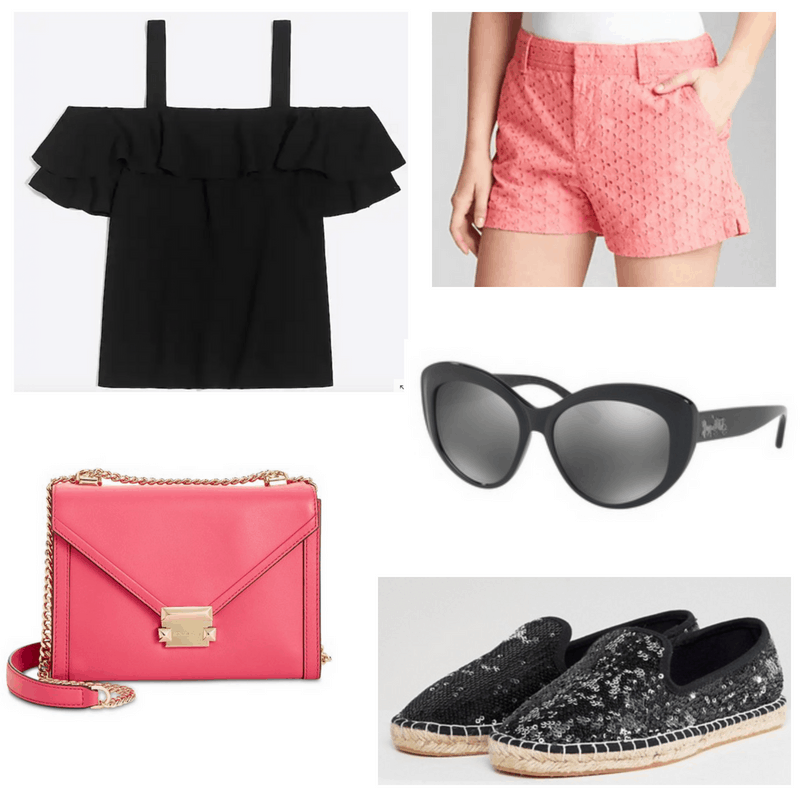 Products: Sunglasses – Coach (Overstock), Shorts – Gap, Espadrilles – ASOS, Handbag – Michael Kors (Macy's), Top – J.Crew Factory
I always love the combination of pink and black. (If you follow my articles, you know I love pink with basically everything.) I adore this pair of shorts: I think the eyelet pattern is so girly and preppy. Not to mention how incredible the price is. If you use the code "friends" you can buy this amazing pair of shorts for only $10.19 (plus FREE SHIPPING).
I also love these espadrilles — the sequin detailing is so pretty and unique. Much like the top, these espadrilles can be worn throughout spring and fall.
Classic Black & White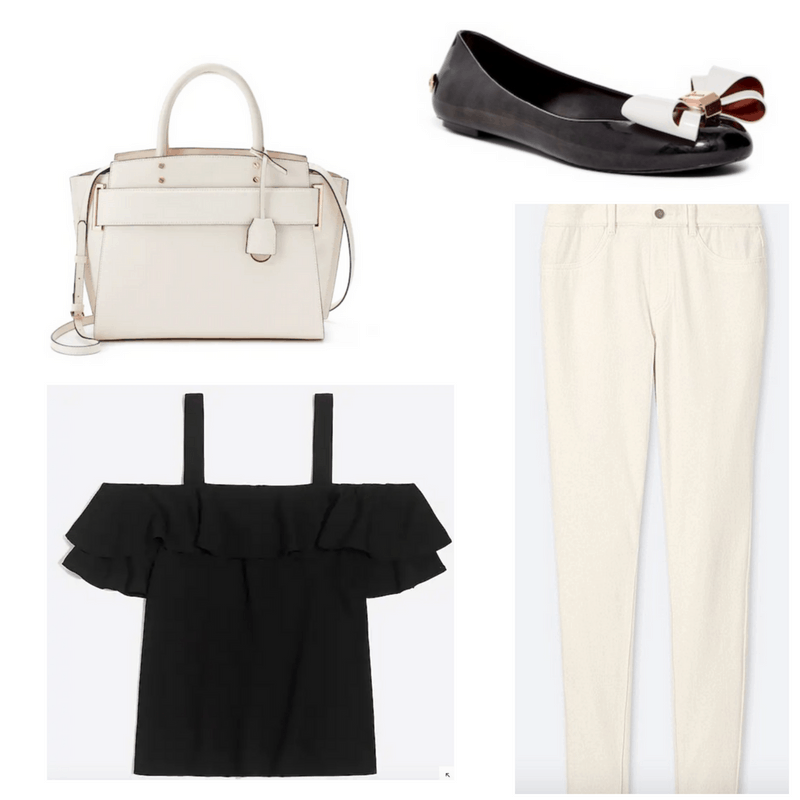 Products: Legging Pants – Uniqlo, Top – J.Crew Factory, Handbag – Jennifer Lopez (Kohl's), Flats – Ted Baker (Nordstrom Rack)
I don't know about you, but I never get sick of the stunning combination that is black and white. So naturally this outfit is right up my alley. It would be so perfect for the fall season!
I'm a big fan of Uniqlo, and their legging pants, featured here, are so comfortable and easy to slip on. They fit great and come in a variety of different colors, including the winter white seen here.
I finished this look with simple flats. I really love ballet flats, but breaking them in can be a pain. Which is why I love wearing jelly flats like these to class. You still get the look of ballet flats, without the pain! Also, as a bonus, jelly flats are usually less expensive than their leather and fabric counterparts. Ted Baker of course is a classic brand which means quality is ensured.
Denim & Black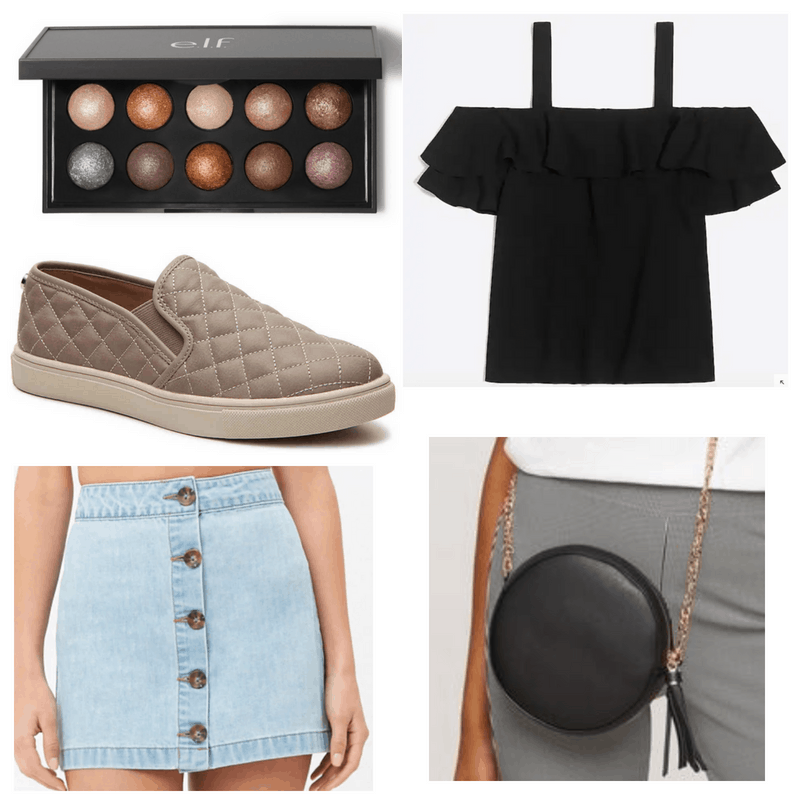 Products: Bag – Miss Selfridge, Skirt – Forever 21, Eyeshadow Palette – elf, Shoes – Steve Madden (DSW), Top – J.Crew Factory
In my past articles, I've often included makeup from elf. As someone who uses their products every day, I can't feature them enough. Not only do they have the best prices out there, their products are such great quality. Here, I included one of their gorgeous palettes — I love it for the fall season.
I also love denim skirts. Not only are they one of the classic articles of clothing of our generation, but they are so comfortable, and they're back in a big way this season. I love the detailing on the front of this light wash one. Not to mention you can get it for under $20. Such a steal!
What did you think about this week's fabulous find?
Do you like this top? Are you a fan of J.Crew Factory? What are your favorite styles of tops? What have your favorite summer trends been so far? Start the convo below!