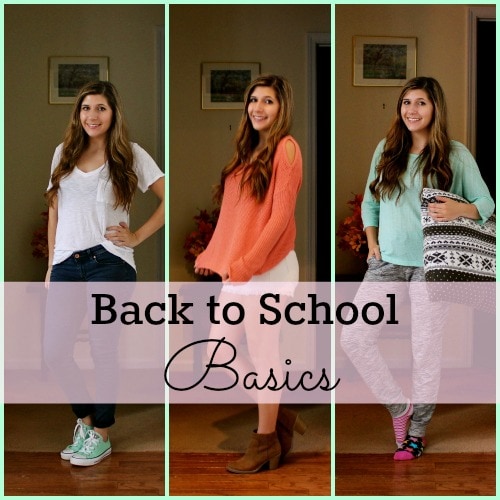 It's that time of the year again: back-to-school season. Everyone's thinking about what clothes to bring to college and how to fit everything in a tiny closet, and this is a recipe for stress and over-packing. However, if you start planning early, your dorm/apartment's closet can be less crammed than a Forever 21 rack.
In this post, I wanted to go over a few of my must-have college wardrobe staples, as well as my favorite ways to wear each piece. (Be sure to see our post on school outfits for more styling ideas!)
These all-day-everyday basics are the best place to start when you're considering what to bring to college:
1. All-American Layers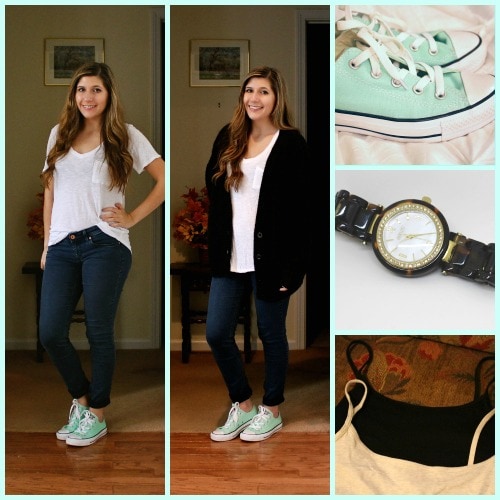 Jeans and a white v-neck are the skeletons of any closet. These are the bare bones needed to support layers, so I always bring multiples with me to school. Also, I can't live without cardigans, even in the summer.
When you're walking across campus, comfort is key, and these mint Converse sneakers add an unexpected, pastel touch to any outfit. I love the look of white Converse too, but I'm prone to spilling everything, so I thought this mint hue was a tad safer.
Other college basics I recommend bringing? Dark and light-colored camisoles (mine are from F21) and a watch (tortoiseshell makes me feel like a cool grandma).
2. Better With a Sweater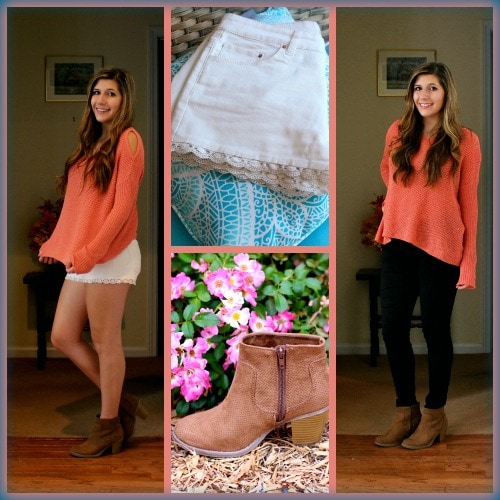 It may not be sweater weather, but thin, oversized sweaters are an eternal staple in my wardrobe. Speaking of eternity, I have eternal love for neutral ankle boots. I wear these with everything. Just the other day I carved my name plus a drawing of these boots into an oak tree to mark our love.
During summer, I love pairing thin sweaters with white shorts. This look can easily be transferred from summer to fall with black pants, another basic I beseech you to bring with you to college. Black pants help combat against the leggings apocalypse.
3. Lounging Around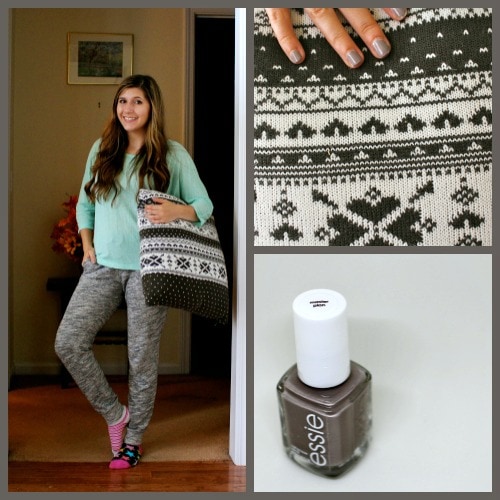 Midnight fire alarms, freshman dorm movie parties, and any day in-between calls for snuggly lounge clothes. I'm partial to these gray sweatpants because they have real life, authentic, can-actually-hold-stuff pockets. As part of my master plan, I painted my nails this chic, classic gray (Essie's Master Plan). My top is actually a minty dolman-style shirt, which is something that can also be worn to class or the gym.
To sum up my back-to-school wardrobe basics packing list: jeans, black pants, white shorts, comfy lounge pants, oversized sweaters, cardigans, a white v-neck shirt, camisoles, ankle boots, easy-to-walk-in sneakers (like Converse), and a watch. Cute sweater-material pillow? Optional.
Your Turn!
What's first on your back-to-school packing list? Do you love wardrobe basics? Do you want to see more back-to-school outfit ideas? Leave me a comment and let me know!