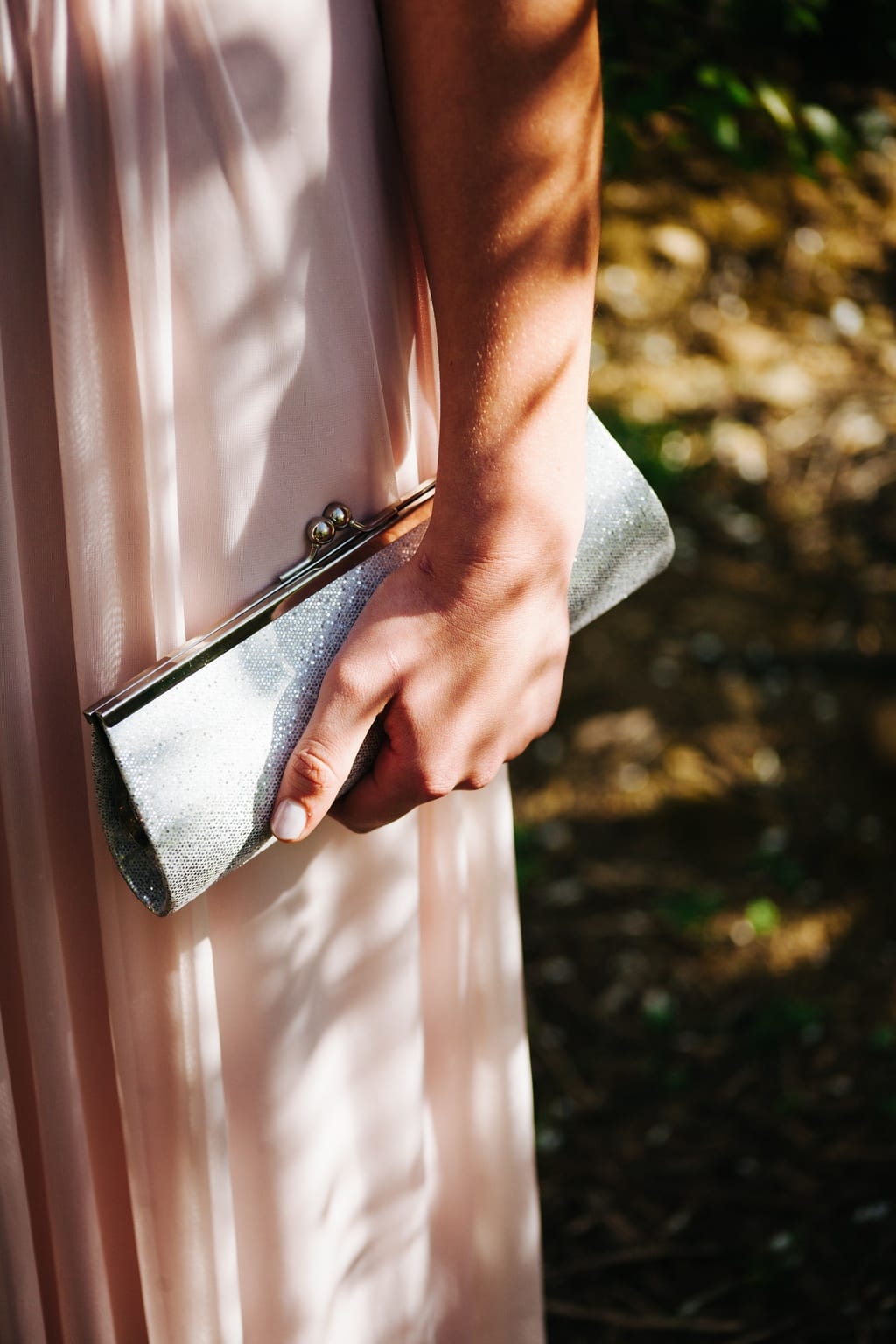 Welcome to the latest edition of Ask CF! Every two weeks, we select a reader fashion question and answer it here on the site. Do you have a specific fashion question for us? Scroll to the bottom of this post to learn how to send it our way!
Ask CF Question
Hi CF!
I've been invited to a black tie wedding in April (evening). This is my first black tie event and I'm really confused as to the dress code and where to shop. Do I need to buy a gown or is a cocktail dress OK? Gowns are pretty expensive and I'm not sure if I want to spend that much on something I might only wear once.
Please advise!
Dear LW,
Your concerns about what to wear to a black tie wedding are totally valid; after all, who wants to spend a ton of money on something they'll only wear one time?
Luckily for you, it is totally okay to wear a cocktail dress to a black tie event, as long as you keep in mind that "cocktail" encompasses a lot of things these days.
Therefore, make sure that you pick something on the fancier end of the cocktail spectrum (for example, something like this), as opposed to the more casual end (for example, something like this, which, while beautiful, isn't quite fancy enough to wear to a black tie event).
As well, you should look out for luxe, rich fabrics (e.g. something silky or lacy) and a more modest fit (as opposed to, say, the body-con dresses that sometimes fall under cocktail attire). Embellishments and sparkly accessories are always good ideas, too!
Now that that's out of the way, let's take a look at some black tie-appropriate outfit ideas.
Outfit #1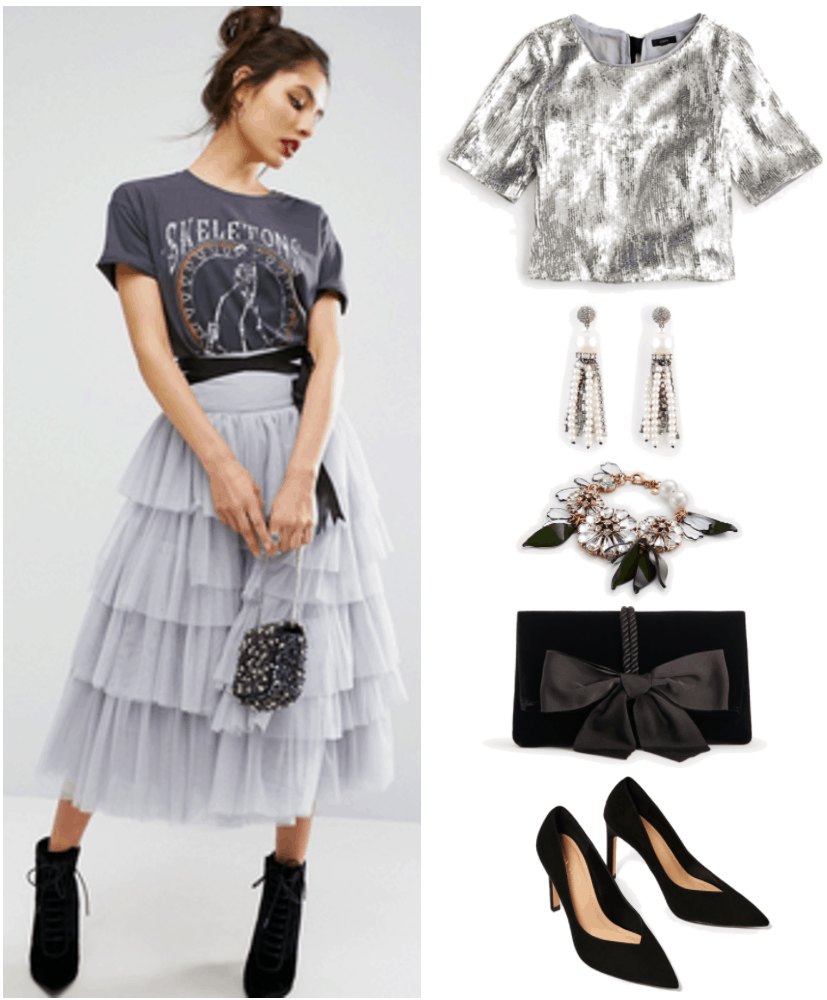 Products: Skirt – ASOS, Sequined Top – J.Crew, Earrings – Ann Taylor, Bracelet – Ann Taylor, Clutch – Ann Taylor, Heels – Zara
For this outfit, I've decided to go with the most practical option: separates. A great thing about separates is that you can mix and match the top and bottom with other things for other occasions. The best part? No one will be able to accuse you of wearing the same outfit twice!
Here, I have included a sequined top (which would also look amazing with skinny jeans for a dressed-up everyday look) paired with a gorgeous tulle skirt (which would also look cool with a t-shirt for a more relaxed and casual look, like the model in the photo). The top's shininess, combined with the skirt's ultra-feminine look, creates an outfit that is at once trendy and sophisticated.
If you prefer to keep things more low-key, feel free to skip out on jewelry altogether; however, I personally think that no fancy outfit is complete without a bit of extra sparkle, so I've decided to include an amazing pair of statement earrings (that look like they'd fit right in in the 1920s!), as well as a beautiful crystal bracelet. These pieces add just the right amount of extra fanciness to the look, without going overboard.
When it comes to your shoes and clutch, I'd keep things pretty minimal, since this outfit already stands out on its own. Therefore, opt for a simple pair of black pumps and a black clutch (I love the bow detail on this one!) to tie the look together.
Outfit #2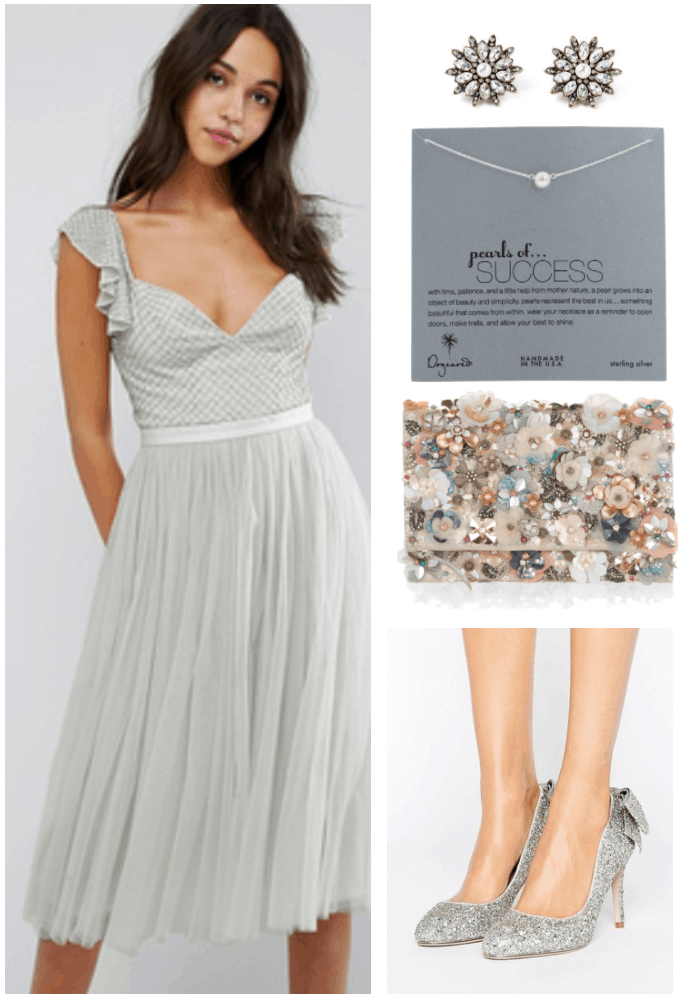 Products: Dress – ASOS, Earrings – Popmap, Necklace – Zappos, Clutch – Accessorize, Heels – ASOS
If you're feeling feminine and want to show it off, then this is the look for you!
This embellished pale mint tulle dress is the stuff of dreams: Not only is it gorgeous, but it is subtle enough that you can wear it again and again without it being overly obvious (making it a great investment piece). Furthermore, it toes the line between cocktail and black tie very nicely, making it a great option for almost any formal occasion!
I've decided to accessorize it with a pretty pair of pearl and crystal earrings, as well as a simple but lovely pearl necklace that draws attention to the dress' beautiful and flattering neckline.
As a lover of all things embellished and shiny (as you can probably tell!), I couldn't resist these silver and gold sequined pumps and this floral embellished clutch. Since the clutch doesn't exactly match the color scheme of the rest of the outfit, you get a nice little "pop" of something a little unexpected. However, because both it and the dress are primarily pastel-toned, and because the clutch does have some darker mint colors in it, you get a look that is cohesive and subtly fashion-forward.
Outfit #3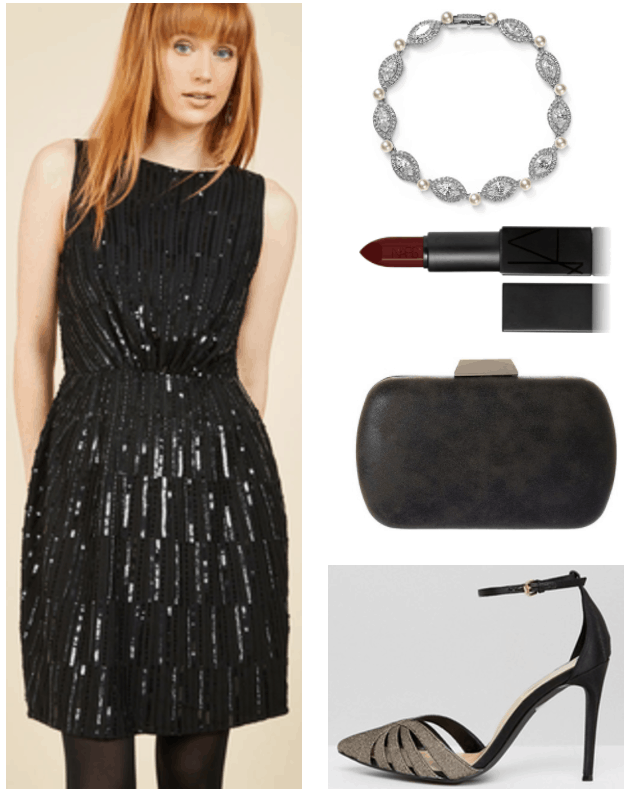 Products: Dress – Modcloth, Bracelet – Bloomingdale's, Lipstick – NET-A-PORTER, Clutch – Lord & Taylor, Heels – ASOS
This look is all about putting a 1920s-inspired spin on a classic little black dress. I love this particular dress because its tonal sequin embellishments set it apart from the simpler LBD styles that usually come to mind.
Having said that, since this dress has so much embellishment, it is best to accessorize simply, so as not to detract attention from the dress itself. To do so, put on a beautiful '20s-esque tennis bracelet that has just enough sparkle to lighten up an otherwise darker-toned look. Next, grab a classic black box clutch that works perfectly to balance out the shine factor that this look has going on.
Finally, swipe on a deep shade of red lipstick to complete the look; I love this one from NARS, as it is daring enough to make a statement, but also elegant and classy enough to wear to a formal wedding.
Outfit #4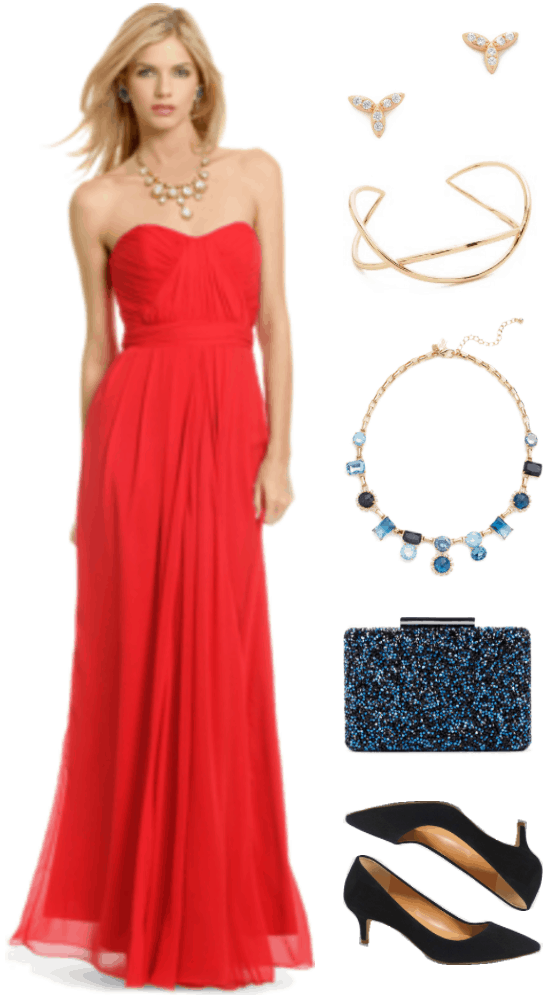 Products: Gown – Rent the Runway, Earrings – ShopBop, Bracelet – ShopBop, Necklace – Rent the Runway, Clutch – Sole Society, Heels – J.Crew Factory
Now, I know that you said that you'd prefer not to have to buy a gown for this wedding. However! This one is actually from Rent the Runway (as is the necklace), a site that allows you to rent dresses and accessories for events. (They aren't paying me to mention them, BTW; I just love their site.) This particular gown costs less than $100 to rent — which is good for something so fancy.
Also, if you do end up actually buying a gown — particularly one with a simple hem like this one — there's a good chance that, if you take it to a tailor after the wedding, they'll be able to shorten it to a more cocktail-appropriate length. That's almost like getting two dresses in one!
Okay, now let's talk about this look. I chose this particular gown for its gorgeous red color and its flattering silhouette — both of which would look good on everyone! If you ask me, the gown would look even more amazing with accessories in a contrasting shade, so I decided to go with a beautiful blue statement necklace, paired with a blue crystal-embellished clutch to add some more sparkle.
Since there's already a lot going on with this look, it's best to keep the rest of your jewelry more low-key. Therefore, I've chosen a delicate pair of stud earrings and an elegant-but-cool geometric cuff to accent the bold shades of both the gown and the necklace. Finish with some simple black kitten heels that are comfortable enough that you can dance all night, and you're guaranteed to be the best-dressed (and most comfortable!) guest at the wedding.
Have fun at your first black tie event; I'm sure you'll look amazing! Thank you for your question!
Do you have a fashion question? Send it to us!
Is there something in your closet that you want to wear but have no idea how to style? Do you need advice on what to wear to an upcoming event? Do you have a specific fashion conundrum? If you have a fashion-related question that you would like to see answered in this column, simply email it to askcf @ collegefashion.net, and one day you might see your question answered right here on the site!
What do you think?
Have you ever been to a black tie event? What did you wear? How would you style a cocktail dress/separates for a black tie event? Let me know in the comments!