This post may contain affiliate links, which means we may receive a commission if you purchase through our links. Please
read our full disclosure here
.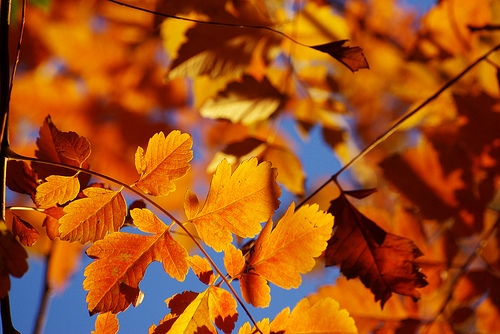 Welcome to the latest edition of Ask CF! Every two weeks, we select a reader fashion question and answer it here on the site. Do you have a specific fashion question for us? Scroll to the bottom of this post to learn how to send it our way!
Ask CF Question
Dear CF,

Fall weather irritates me. In the mornings it's cold. In the afternoons it's warm. Here in Ohio, the mornings are usually low 40s, and right now the afternoons are about 70. Obviously, this is a large change. Do you have any advice on how to dress during this time of year when the weather is so inconsistent throughout the day?

Sincerely,

Hot 'n Cold
Our Response
Dear Hot 'n Cold,
Wow, and I thought LA weather was difficult to dress for! (Here, the temps have been fluctuating daily, but the swings are not as drastic as low 40s to 70 — yikes!) I assume that many others are experiencing similar weather patterns right now, so I thought your question would be helpful to answer.
The best way to prepare yourself for these unpredictable temperature changes throughout the day is to dress in layers. Below, I have created a few different outfits that should help get your ideas going. Of course, you will most likely need to make adjustments to the outfits depending on your location (for example, add an extra layer of tights if it's colder where you are or take them out all together if you live in a warmer climate).
Either way, layering will ensure that you can add on and take off pieces throughout the day to make sure you are appropriately dressed in any temperature. I hope you find these outfits inspirational and helpful. Enjoy!
Sincerely,
Jessica
Outfit #1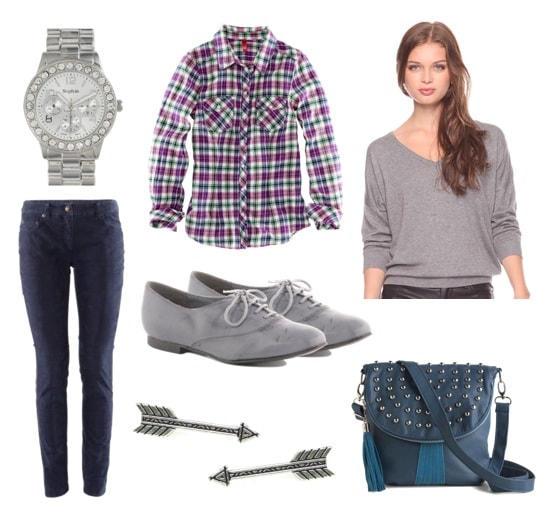 Product Information: Watch, Shirt, Sweater, Bag, Earrings, Shoes, Pants
I love the look — and functionality — of a long-sleeved button-up worn under a sweater. What's great about this pairing is that the flannel button-up looks good on its own, but when you need some extra warmth, you can just throw on a simple sweater. Doing so will give you that extra layer you need during the chilly mornings and nights and will instantly transform your look. Blue corduroy pants are a fun alternative to jeans and grey brogues are a practical fall footwear choice. Accessorize with a silver watch and some earrings, and add a turquoise studded bag to complete the look.
Outfit #2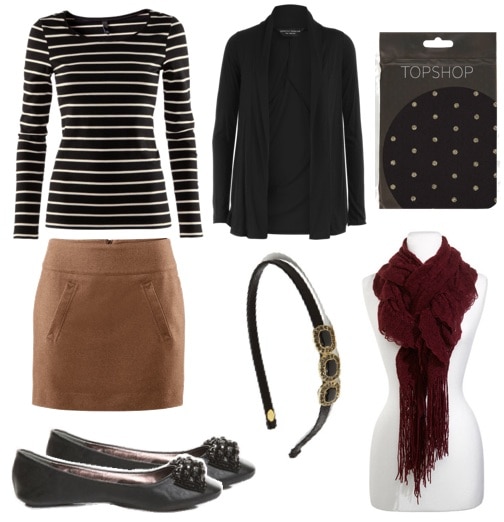 Product Information: Top, Cardigan, Tights, Scarf, Headband, Shoes, Skirt
Here is another great layered fall look – this time, it incorporates a simple skirt, some fun polka-dot tights, and a classic long sleeved striped shirt. The layering pieces in this outfit are the burgundy scarf and black cardigan that you can use if needed — and if you need some more warmth for your legs, try wearing another pair of tights underneath this patterned pair. A simple black headband and flats put the finishing touches on the outfit.
Outfit #3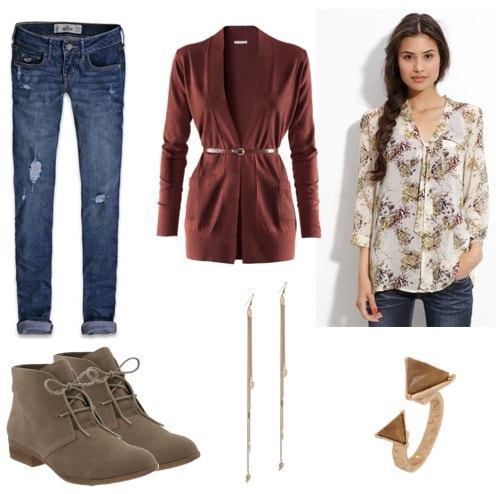 Product Information: Jeans, Cardigan, Shirt, Ring,Earrings, Shoes
This look is a recreation of one of my favorite outfit combinations: a top, a pair of skinny jeans, and a cardigan. While the formula may be simple, it doesn't mean that your outfit has to be boring. I love the look of this flouncy, floral printed blouse paired with medium wash jeans. For an added layer of warmth and dimension, throw on a belted burgundy cardigan. Lastly, add on some drop earrings, a geometric ring, and desert boots to bring some character to this rather simple ensemble.
Outfit #4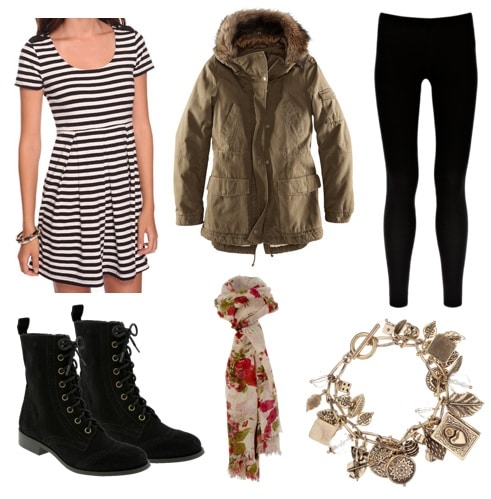 Product Information: Dress, Jacket, Leggings, Bracelet, Scarf, Boots
The weather may be cooling down, but that doesn't mean you have to put away your summer dresses. I love both the pattern and shape of this striped one. Using layers such as a parka jacket, leggings, and a floral scarf will ensure that you are prepared no matter what the day's weather throws at you. Finish the look with some black boots and an eclectic charm bracelet.
Do you have a fashion question? Send it our way!
Is there something in your closet that you can't seem to figure out how to wear? Do you have an event coming up and need an outfit idea? Do you have a specific fashion conundrum you need help with?
If you have a question you want to see answered in this column, just send it on over via email to askcf @ collegefashion.net and one day you might see your question answered right here on the site!
Please note: We get A LOT of email and unfortunately cannot respond to every single question. However, we will read through every question and then decide which ones will be most helpful to the most readers. Thank you for your understanding.
What do you think?
Have you been experiencing extreme temperatures where you live? What tricks do you use to dress for this type of weather? Do you like these outfits? Which one is your favorite? Please leave us a comment below to let us know what you think!