This post may contain affiliate links, which means we may receive a commission if you purchase through our links. Please
read our full disclosure here
.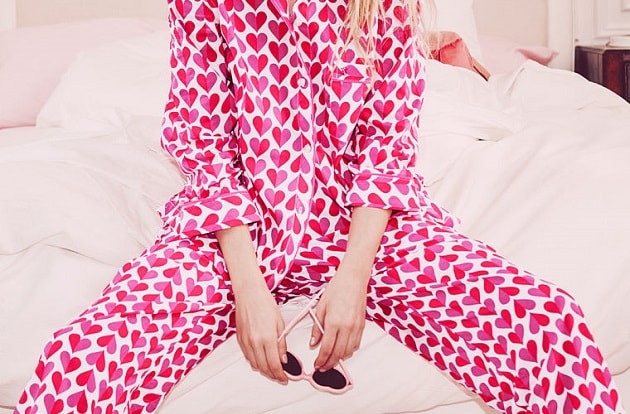 Welcome to the latest edition of Ask CF! Every two weeks, we select a reader fashion question and answer it here on the site. Do you have a specific fashion question for us? Scroll to the bottom of this post to learn how to send it our way!
Ask CF
Hi CF! I was at Victoria's Secret recently and they were having a sale on fashionable sleepwear. I was tempted to buy some, but then I thought, should I spend money on something cute if it's not the clothes I would ever wear out? In short, my question is, are cute pajamas worth the money? Thanks for reading 🙂
-Sarah K.
Our Response
It's awesome that you asked this, because I was actually thinking about writing a piece on it soon! One thing I learned this semester is that feeling good about how you look has a huge effect on self esteem, whether other people will be seeing you or not.
Sarah, I don't know about you, but once I'm done with my classes and activities for the day, I practically fly out of my outfit and into my pajamas (or loungewear if I plan on hanging out in common areas for a while.) For college women, pajamas aren't strictly the clothes we sleep in, but are often the clothes we hang out and study in. Whether it's a night in with your besties or you're working on a group project until the wee hours of the morning, you'll be glad you wore an outfit you can relax in that still makes you feel put-together.
So I would say, yes, cute pajamas and loungewear are absolutely worth the money! You may not wear them out, but college requires you spend a lot of time in, and wearing comfy clothes you feel good in will improve your mood and raise your productivity.
Below are some of my recommendations for easy but cute outfits perfect for lounging and sleeping.
Almost Not Pajamas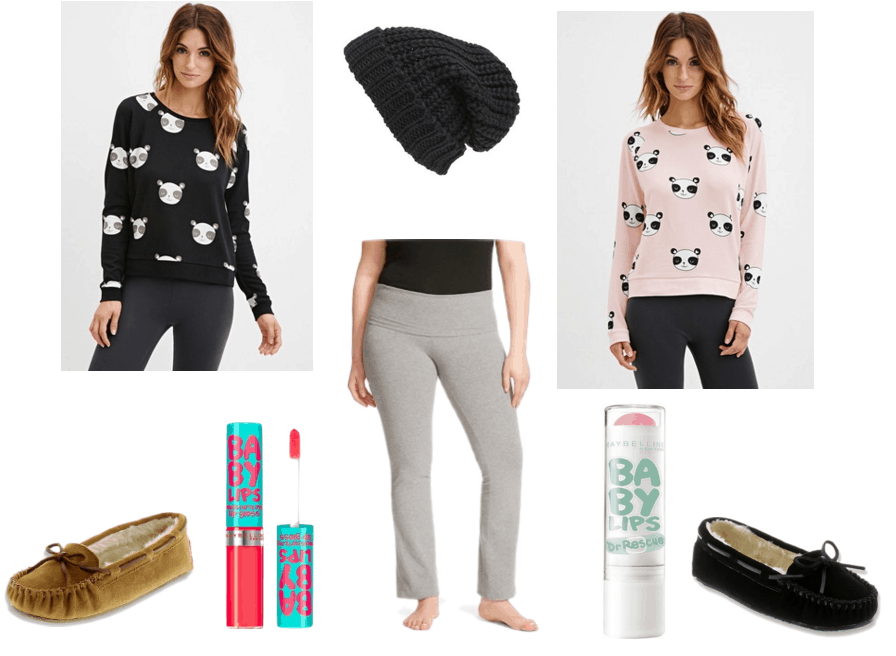 Products: Tops | Hat | Pants | Lip Gloss | Lip Balm | Slippers
This outfit is for a study sesh in a common area or study lounge where you don't want to appear to be wearing pajamas, but you want to wear something super comfy.
Both color options for this panda pajama top are easily cute enough to pass as a regular sweater. Pair them with grey pajama/yoga pants and a black beanie to look laid-back, but put together. Add a matching pair of slippers and a swipe of lip gloss to seal the deal.
Group Study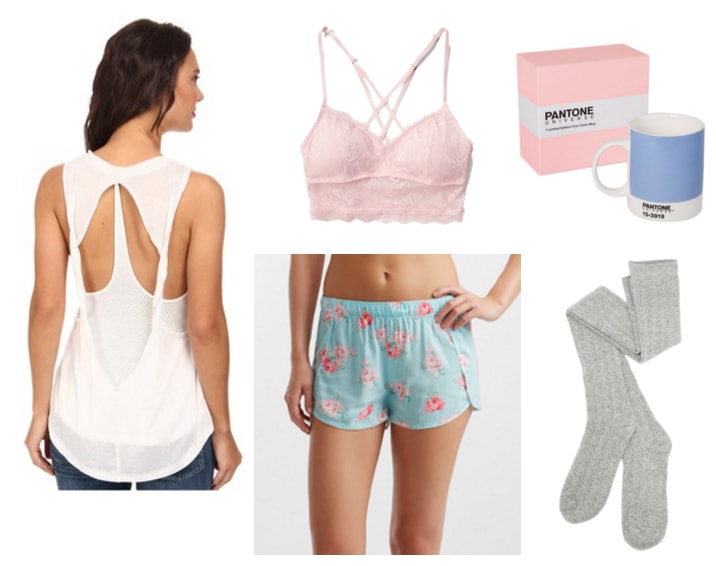 Products: Tank | Bralette | Shorts | Socks | Mug
For a late night group study, start with a cute pair of floral pajama shorts. This pair is light blue with dainty pink flowers. Match the pink hue with a lacy bralette in the same shade. Throw on a neutral tank that shows off the detailing and color of the bralette, and bring a mug for the coffee or tea you'll probably need to stay awake and on task. For a final touch, pull on some cozy knee-high socks for extra warmth.
This look will keep you comfy and cute through your study session, and when it's over, you'll be glad you can head back to your room and hop right into bed.
Night In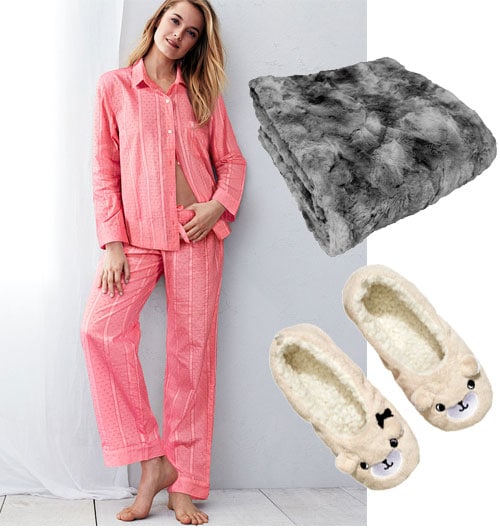 Products: Pajama set | Blanket | Slippers
This is it, the ultimate outfit set for chilling out before bed. A matching pajama set will make you feel put together even though the day is coming to a close. Pick one in a fun color to keep you energized and happy. Speaking of happy, nothing will keep your feet happy like these fuzzy little slippers. Just in case the pajamas and slippers don't sound cozy enough on their own, you can pick up a faux-fur blanket to drape around your shoulders or use as a wrap.
Wearing this set, you'll be completely immune to the cold weather, and you'll be able to hang out, study, or sleep in peace.
Do you have a pressing fashion question? Ask away!
Is there a piece in your closet that you never know how to style? Do you have an important event coming up? Is there a certain trend that is completely lost on you?
If you have a question you want to see answered in this column, just send it on over via email to askcf @ collegefashion.net and one day you might see your question answered right here on the site!
Please note: We get A LOT of email and unfortunately we will not be able to respond to every single question. However, we will read through each question and then decide which ones will be most helpful to the most readers. Thank you for your understanding.
What do you think?
Would you buy fashionable loungewear and sleepwear? Does wearing a matching outfit make you feel more put together and confident? Let us know in the comments below!