This post may contain affiliate links, which means we may receive a commission if you purchase through our links. Please
read our full disclosure here
.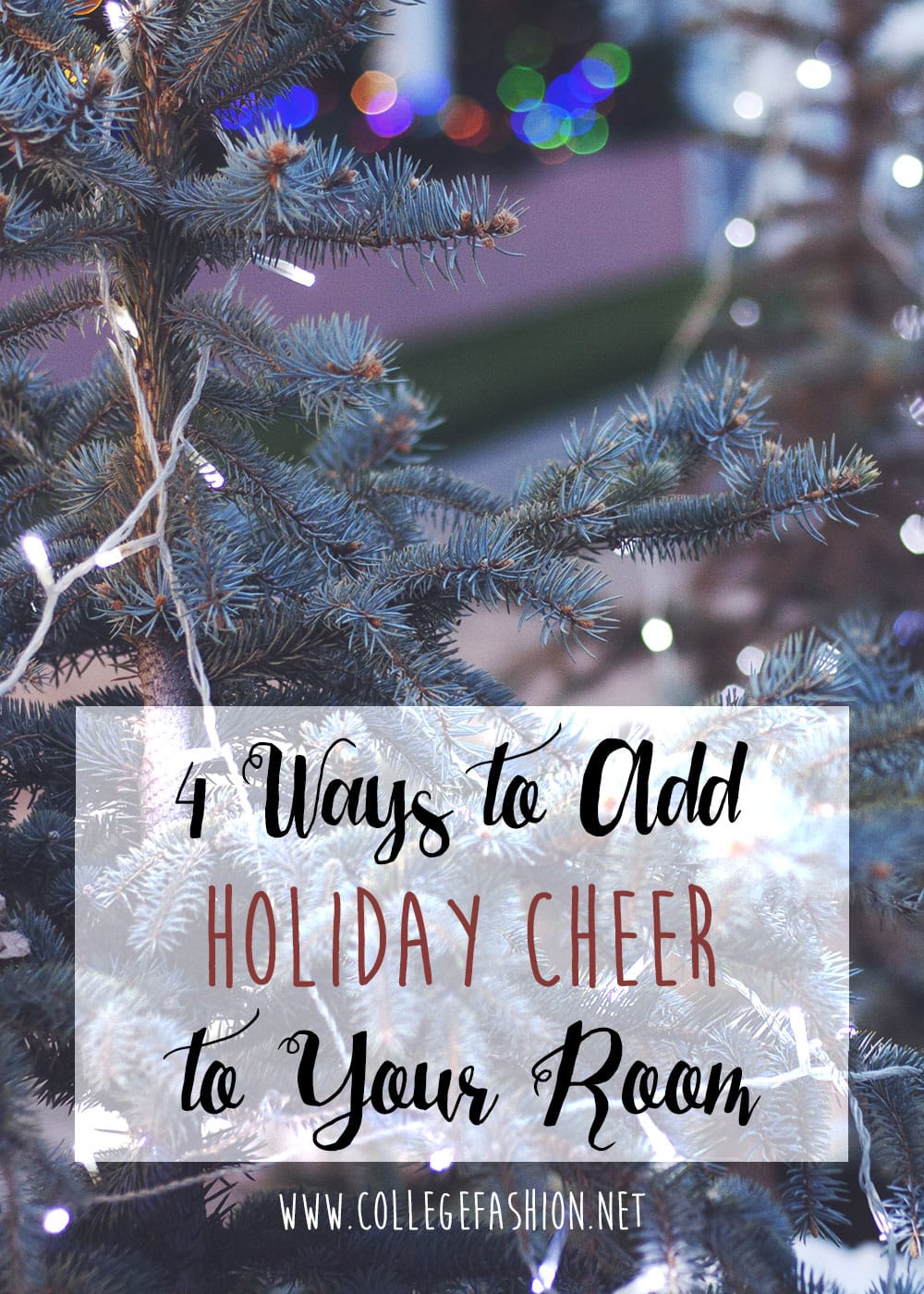 As December rolls around, everyone can see the changes. All of a sudden there are holiday sales, festive carols being sung, and colorful lights adorning houses. Sigh!
Winter is one of the best times of year — perfect for staying indoors under a fluffy blanket and watching old movies while watching it snow (or simply ice over if you live in Texas like I do!). You'll notice most stores, restaurants, and even monuments breaking out the decorations for the holidays, so why not do the same with your room?
Here are 4 ways to add a little holiday cheer to your room or apartment:
1. Stay warm under there!
Fluffy blankets are essential for the holidays, if you ask me. I love anything fleece or faux fur that you can wrap around your or even make a cocoon out of. I love putting on a movie like The Sound of Music and just relaxing with a hot cup of hot chocolate and a cozy blanket. It's bliss, I tell you.
You can find blankets anywhere, but my favorites include these soft throws from West Elm (currently on sale!) or these faux fur blankets from Restoration Hardware.
2. Get a Christmas Tree (if you celebrate)
Don't fret about a seven foot tall monster being in your way every time you want to walk – you can find a cute tree to put in your apartment that won't take up your limited space!
I invested in a three foot tall Christmas tree my freshman year and he was the cutest lil' thing to put presents under! You can find cheap ones at Walmart ($25) or Target ($16 on sale!).
3. String Up Some Lights
String lights are every college student's favorite way to decorate, and a perfect way to differentiate your decor from the rest of the year.
They are also flexible — allowing you to place them in various locations depending on how obvious you want them to be. You can put them over your bed if you want a soft, romantic glow when you turn off the lights, or drape them around your balcony/patio to show them off as people walk by. Additionally, they look very cute if you place them around a doorway to invite people in! (For more, see our post on how to decorate your room with Christmas lights.)
Check out these pretty ones from ElectricCrowns, or the dome lights at Home Depot.
4. Use Paper Garlands & Wreaths
I love crafty things, and these are right up my alley. There are a lot of cute hanging holiday decorations you can find, as well as wreaths that you can arrange over the door or against a wall. If you're feeling really adventurous, it is possible to make them yourself. This can be even more special when you give them as presents too!
The garlands at Paper Source are easy to assemble and come in many different varieties (like this adorable ugly sweater one). For wreaths, check out this list of DIY projects.
Most of all… have fun with it!
The holidays are a great time for bringing people together, with many festive activities and the coming of the New Year. Decorating your apartment with some color or sparkly cheer can transform your place into a cozy escape.
There's no requirement either for using traditional symbols such as snowmen and lights to signify the holidays — if your family has a special thing, then go for it! For example, stockings are fun but I have a friend whose family would decorate with actual patterned stocks.
Be creative as you decorate in December and let me know what you come up with in the comments!