Well, it's that time of year again – final exams are coming up! From books to papers to presentations and everything else in between, everyone is so busy that they don't have time to think about anything else. So to make your life just a little bit easier, here are all of the things you need for a day of writing and studying in the library so that you don't forget anything. The times when I forget my laptop charger or notebook in my room are the worst.
1. A huge, expandable bag
I use a Tiffany's Reversible Tote that I borrowed from my mom especially for finals week because I can fit my lunch, computer, textbooks and even a picnic blanket inside it all at the same time. In case you don't have a go-to tote, here are some equally big bags: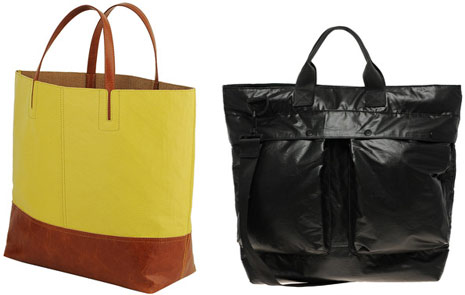 Product Info: Forever 21, ASOS
Now, lets fill those bags!
2. Laptop in a case and laptop charger
This one goes without saying, make sure that your laptop is in a case – the screen might crack from the weight of all of your notebooks if it isn't. And don't forget your charger! (Like I said, I'm guilty of this a little too often.)
3. Notes/textbooks you will need to study from
Again, this is pretty much a given, but you'd be surprised how easy it is to forget those essential notes when finals week stress sets in. Make sure to bring them all!
4. Highlighter, pens, and pencils
For those times when you need to study the old fashioned way.
5. Backup drive or flash drive
Make sure you are constantly backing up your work during exam week. Why? Because anything can happen – your computer could die before you have a chance to save your work, or you could spill something on your keyboard, like when I spilled a bottle of liquid foundation on mine and watched helplessly as the makeup sunk under the keys of my Mac. (My computer is still miraculously working but please let that be a lesson to you – don't do your makeup near your computer!)
Even if you don't have a flash drive or external hard drive, e-mail yourself copies of your paper every hour or so – better to be safe than sorry!
6. Water bottle and tea bags
Jasmine green tea is one of my little luxuries during exam week, because my school only sells lipton tea. The best part? You can make it anywhere; just ask for hot water at the coffee shop (and tip your barista). Also, don't forget to bring your favorite refillable water bottle to avoid dropping unnecessary cash at the vending machine.
7. Healthy snacks
Sandwiches, almonds (or any other type of nut), fruit and vegetables are all great snacks for the library. For more, see our list of healthy snacks for college girls on the go.
8. At least one unhealthy snack
I know, you're probably surprised to see this here, but let's face it: After a day working in the library, you deserve a treat to keep you going. Just make sure it is small – don't eat a gigantic bag of anything, otherwise you might crash from the sugar later.
9. Gum
I love bringing minty gum to the library – it will give you a perk of energy if you feel that you are falling asleep.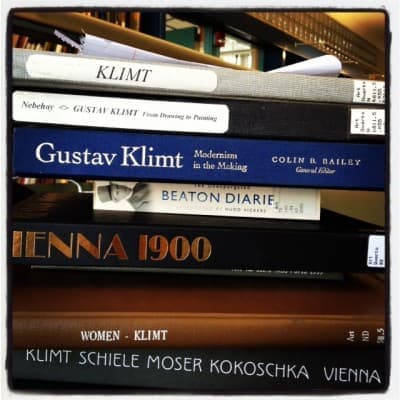 Photo by me – I am slowly but surely completing research for my Art History paper on Gustav Klimt….
10. Comfy yet chic clothes
I promise you, leggings and a cashmere sweater are just as comfortable as sweatpants and a sweatshirt and are infinitely chicer. For more ideas, refer to our What to Wear During Finals Week guide.
11. Things to entertain you while taking a break AWAY from your computer
Bring nail polish, a book you're reading for fun (like The Hunger Games), a sketchbook, or anything else that isn't electronic for those moments when you need a quick break to clear your head because you are going bleary eyed from staring at your computer.
Your thoughts?
What do you think? Did this list help you get organized? What big papers do you have to write? Is there anything else that you bring with you for studying days in the library? Tell me what you think with a comment!