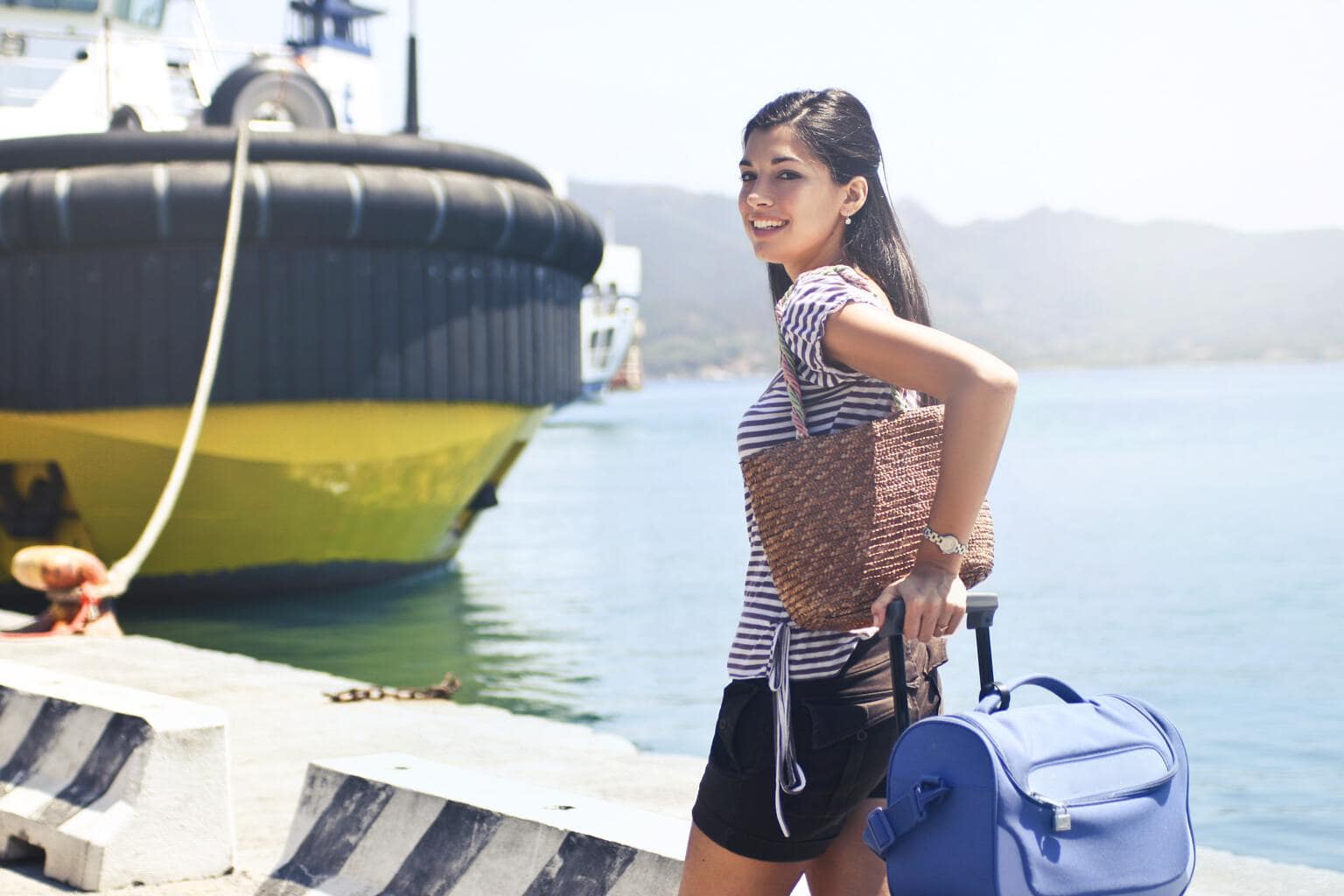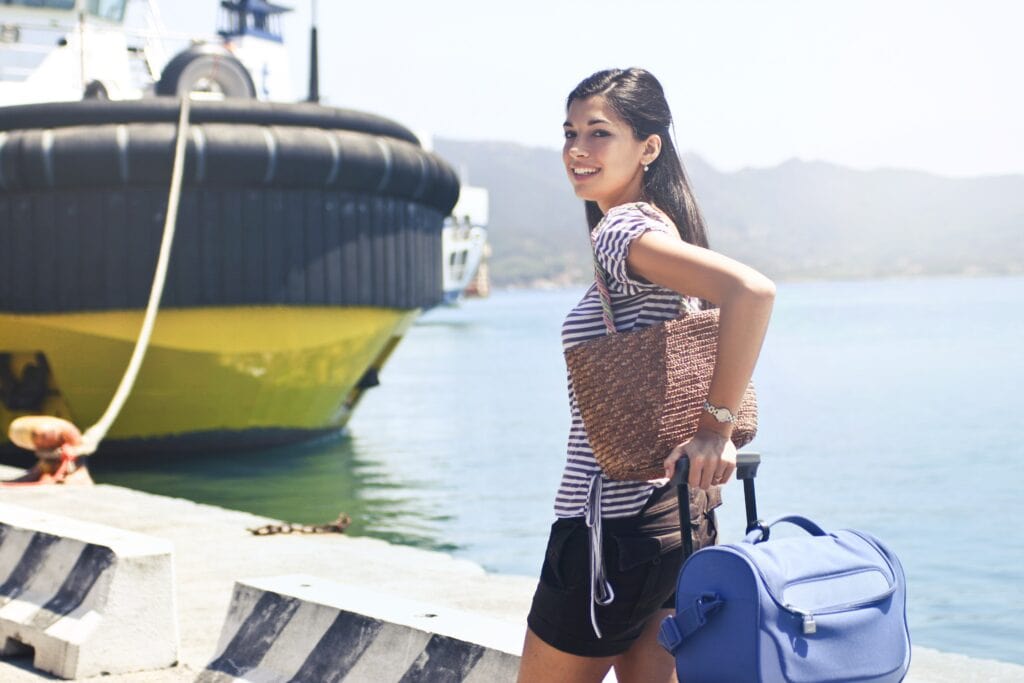 The following article has been one of my most requested since I started CF! Since so many of you are traveling abroad or within the country for the summer, tons of you have been writing me and asking what to pack. So here you go – my guide to the essentials you'll need to bring for a fabulous summer abroad or wherever you happen to be going.
RELATED POST: Summer Essentials: 15 Items You Absolutely Need for Summer 2021
Normally I'm all for packing light, but since you'll likely be traveling for 3 months, this is one time when you're going to need a variety of things. I'll try to keep this list minimal for those of you who want to carry your bag on, but it's more than likely that you'll just have to suck it up, check your bags, cross your fingers, and hope for the best.
General Packing Tips For Summer Vacation Abroad
Figure out the weather of the place you're going.
Go to the country or city's Wikipedia page and find out the average highs and lows of the months that you'll be there. Since it's summer here in the USA, if you're going to be in the northern hemisphere, you'll probably need summer clothes. If you're going to be in the southern hemisphere, pack for winter. The extremes of the temperatures will vary, of course, with where you're going.
Understand the cultural norms of the place you're going.
This has implications for the kind of clothes you can bring. For example, in some South American countries, women almost always wear skirts or dresses, while women wearing shorts or pants can often be considered socially unacceptable or even vulgar! Make an effort to know this type of info ahead of time and pack accordingly.
Know your luggage limits!
Find out your flight's weight/size limits for checked and carry-on baggage ahead of time and pack accordingly. There's nothing worse than getting to the airport and finding out that your bags are too heavy to be checked. Don't let it happen to you!
Pack some extra clothes in your carry-on luggage.
Lost luggage can happen to anyone, and if yours is lost or stolen, you'll be happy you have more than one outfit to wear.
Leave extra room in your luggage for things you'll buy when you're there.
I always try to buy something fabulous when I travel. That way, when people ask where I got it, I can tell them, "Oh, in Paris/Madrid/Barcelona", etc. It's an easy way to have an instant conversation piece.
Clothing Essentials
The following are my picks for essential clothes to bring for a summer vacation. Bear in mind that the numbers listed are just general ideas – you may want to bring more or less of the following items depending on what you'll be doing, how much you want to bring, and your own personal style.
2-5 Basic Dresses
I am a huge fan of dresses for summer – they're an entire outfit in one easy-to-pack piece. Just throw one on, add a pair of sandals and a few choice accessories, and you're good to go. Perfect for when you have better things to do than worry about what you're wearing. Of course, if you're going to be backpacking across Europe, hiking in South America, or doing lots of athletic activities, then dresses won't be a staple for you.
When it comes to the specific dresses you pack, try to stick to neutral colors like black or white and fabrics like jerseys that won't wrinkle too easily. I recommend at least one little black dress and at least one white or light-colored sundress for daytime but bring whatever you will wear most.
1 Special Occasion Dress
Even if you're not planning to do anything special during your trip, it's good to be prepared! Who knows, you might meet a hot guy in Rome who wants to take you to a fabulous restaurant, or you could get invited to an amazing party at a fancy hotel in Monaco. Keep your options open, and bring at least one standout dress.
2-4 Pairs of Jeans
Denim is the staple of every girl's wardrobe. Even in summer, jeans are a fashionable and practical choice. They can be dressed up or down depending on the occasion – casual enough for a day of shopping paired with flats and a tank, dressy enough for a night out paired with heels, and a fabulous top. I recommend bringing at least two pairs of nice dark-wash jeans and two more pairs of your choice. Keep these basic so you can wear them for lots of different occasions.
3-6 Basic Tanks
Never underestimate the power of a good basic tank top. It's the perfect summer top to wear alone during the day or under a cardigan at night. I recommend bringing a bunch of tanks in basic colors: black, white, gray, navy, and brown, plus maybe a couple of brighter colors as well.
2-4 Basic Tees
I'm also a huge fan of basic v-neck tees – you can wear them with everything depending on how you style them up. Basic tees are great for everyday – comfy, casual, and the perfect canvas for all matters of flashy accessories.
2-4 Dressy Tops
It's always good to bring a few fancier tops for those nights out. While this isn't an absolute essential, I highly recommend it. It's fun to get dressed up to go out at night, and dressy tops pair well with denim and don't require much accessorizing. Dressy tops also pair well with shorts and sandals during the day for a chicer take on casual.
2-4 Cardigans
In case you aren't a huge cardigan fan yet, please read Top 5 Reasons You Should Own a Cardigan. Cardigans are PERFECT for summer travel because they're easy to pack, automatically create tons of new outfits, and are the perfect lightweight layering piece for warm weather.
1-2 Light Jackets
Depending on the weather where you're going, one of these might need to be waterproof. In general, a great spring jacket will be the perfect thing for the occasional chilly summer day. Bring one that will go with most of your wardrobe.
1-2 Skirts
Quality knee-length cotton jersey skirts make great casual yet chic outfit options. You can wear them to work, out walking around during the day, or out to dinner at night. I recommend bringing at least one black jersey skirt. If you have extra room, a patterned option will pair well with one of your basic tanks and some jewelry.
1-3 Pairs of Shorts
Shorts are always a summer travel staple and are even more important to bring if you're going to be doing a lot of hiking or walking. I don't recommend bringing denim cutoffs – instead, go for a chicer option with a pair of cuffed black or khaki shorts. That way, you can dress them up or down and wear them for more occasions.
2 Weeks' Worth of Underwear
You can get by not washing a pair of jeans for a week or two, but there's no negotiating when it comes to undies. I'm a fan of bringing as much underwear as possible, as well as a variety of different bras – strapless, racerback, etc. They don't take up much space in your suitcase and will save you some trips to the laundromat.
2-3 Sets of Sleepwear
I'm ALWAYS forgetting to bring PJs when I travel and end up sleeping in my underwear or borrowing some from a friend. This is fine if you're staying in a hotel, but not so cool if it's a group hostel. Make sure to bring a few pairs of PJ pants or shorts and a few tank tops or tees to wear to bed. 2-3 sets would probably be best.
1 Bathing Suit
Swimwear is another summer essential that you'll need to bring almost anywhere you go. Even if you don't think you'll need it, bring a swimsuit – it won't take up much space in your suitcase, and you'll be happy to have it should the opportunity arise.
Accessories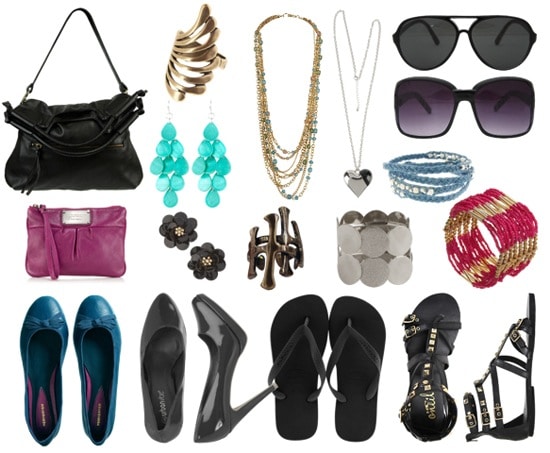 1-2 Pairs of Comfortable Sandals
Such a summer is essential. Whether it's a pair of ultra-trendy gladiators or plain old Havaianas, you'll need a pair of summer sandals for days at the beach. These are great because they're comfy and don't take up too much space in your suitcase.
1-2 Pairs of Ballet Flats
Another year-round shoe is essential. I would bring at least one pair of ballet flats because they can be worn with almost anything and are a chic alternative to sneakers.
1 Pair of Sneakers (if you must)
You guys all know that I'm not a big fan of sneakers. If you have to bring a pair because you'll be walking a lot or don't like flats, at least bring a cute pair of Converse All-Stars. Don't do the running shoes-as-casual-footwear thing unless you're actually an athlete who will be at practice later. Seriously.
1 Large Everyday Bag
You'll want to bring a large bag that's big enough to hold your daytime essentials. If you're traveling abroad, steer clear of tote bags because they're easy targets for pickpockets. I recommend bringing a large, sturdy, basic black bag that zips closed and isn't too expensive.
1 Small Bag for Night
Bring at least one small chain purse, wristlet purse, or clutch to hold your essentials when you go out at night. Again, don't bring anything that you couldn't stand to lose if you're going abroad or will be in an area that's unsafe.
Standout Accessories
Costume jewelry is your best friend during a vacation because it's the simplest way to dress up a basic outfit. If you're going abroad, don't bring expensive or valuable stuff. Instead, stock up on cheap, fun, colorful pieces that can be used to dress up your basic clothes.
1-2 Pairs of Sunglasses
Protect your eyes from the sun, or just disguise tired eyes with a great pair of shades. Don't bring expensive designer ones abroad, though – they're too easy to lose, and they could get stolen. Stick to the knockoffs when you travel.
1 Pair of Fabulous Heels
Because you never know when an opportunity to dress up might present itself. A great pair of high heels can be worn with dark denim, a dress, a skirt, or shorts to add instant glamour. Bring a basic black pair if you want versatility.
Beauty Products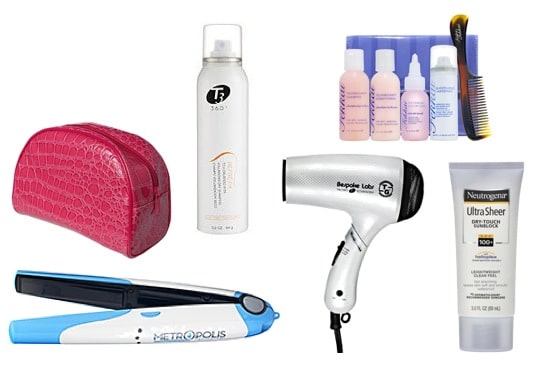 Makeup Essentials
This is different for everyone, but for me, it includes – mineral foundation, bronzer, mascara, undereye concealer, 1 or 2 eyeliner pencils, and lipgloss. Try not to bring any makeup you don't wear regularly, and be sure to have a good quality travel makeup bag to hold it all.
Dry Shampoo
A must-have if you have bleached, dyed, or damaged hair and don't want to wash it every day – dry shampoo is a lifesaver! Besides, who has time to wash and style their hair every day when they're traveling? Not me. Invest in a good dry shampoo, and your hair will thank you.
Travel Hair Dryer / Flat Iron
I learned the hard way when I tried to use my $100+ CHI flat iron with a converter in Scotland – converter plugs do NOT always work with hair tools and can often RUIN them, leaving you down $100 and stuck with bad hair for the rest of your trip. To be on the safe side, I recommend purchasing travel-specific hair tools so you don't risk ruining your good ones.
Shampoo, Conditioner, etc.
Shower stuff. The pretty obvious one. You can try to buy some of this stuff when you arrive, but if you're traveling abroad & are partial to certain products, it's best to bring them with you.
Sunblock – Need I stress the importance of this one? Buy yourself a good-quality sunblock with SPF 30 or higher and slather it on religiously. Your 40-year-old future self will thank you.
Technology
Cell Phone and Extra Cell Phone Charger
If you're bringing your normal cell phone on your trip, bring an extra charger in case you lose one. I can't tell you the number of times people leave their cell phone chargers behind when they travel, especially if they're staying at multiple places. Just bring an extra, and you'll be glad you did.
iPod and iPod Charger
Totally essential for long plane rides or car trips. No further explanation is needed.
Camera and Extra Camera Battery
Bring a camera to document your trip! And if you plan on taking lots of pictures, keep an extra charged battery in your purse. You never know when the one in your camera might die, and the extra will come in handy.
Laptop
Depending on where you're going and what you'll be doing, of course. But personally, I never travel anywhere without my Macbook Pro, and I don't know what I'd do without it! So obviously, it made my list.
Miscellaneous
Vitamins
Don't skimp on your health just because you're traveling. Make sure to bring vitamins with you and remember to take them. Getting sick while you're on vacation is no fun.
Towels
Unless you're staying with friends or at a hotel, the place you're staying probably won't provide very good towels. It's always smart to bring a couple of your own if you have room in your suitcase.
Sigg Bottle
It's easy to forget to drink water when you're traveling, so having a reusable water bottle on hand is a smart option. But plastic water bottles are bad news, so I recommend Sigg's aluminum bottles – they're Earth-friendly, virtually indestructible, and won't harm your health.
A Way to Document it All
Whether it's a journal, a digital camera, pastels, paper, or whatever, keep a record of what you did on your trip! Make the time to do it, and you'll thank yourself later.
Your Thoughts?
You've seen my packing list for a summer abroad – now I want to see yours! What would you add to the list? What are your summer vacation essentials? Leave a comment and let me know what you think!
If you like these packing tips for summer vacation, be sure to read our related posts below —