This post may contain affiliate links, which means we may receive a commission if you purchase through our links. Please
read our full disclosure here
.
With college literally just days away, one subject has been on everyone's minds: packing. I have exactly one week until I leave, and I know that a majority of these next seven days will be spent making my list, finding the holes in my closet, and shopping for the various occasions that college presents.
Here at CF, we've already given you some tips on packing for college and wardrobe essentials for college girls. We've also covered a wide variety of college outfits over the years: From game days to theme parties, nearly every occasion has been discussed. However, with so many occasions to dress for, packing can be very overwhelming.
After careful consideration, I have narrowed down my wardrobe packing list to five basic categories: everyday basics, dorm lounging, going out clothes, business casual, and formal attire. Of course, there are still the items that don't fit into these categories (theme party apparel, workout clothes, pajamas, etc.), but I am focusing on the essentials. Remember these five occasions and look below for inspiration!
Everyday Basics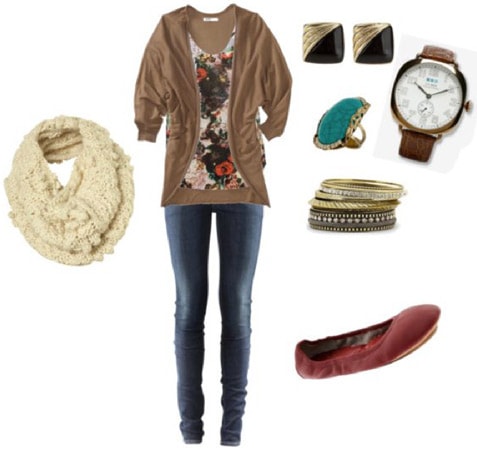 Scarf / Cardigan / Tank / Jeans / Earrings / Ring / Watch / Bracelets / Flats
Every girl has her own sense of personal style. While keeping that in mind, the look above is what I would consider my "class, study, eat, repeat" outfit. Easy, casual, and comfortable, these clothes are perfect for that 8am calc class you dread, a lunch date with the girls in the dining hall, and a study sesh in the library.
Forget the dreaded slippers, Northface, and sweats combo – this outfit screams polished yet practical. Flats make walking to class a cinch and simple and practical accessories give the outfit a finished look. Throw on a scarf as the fall weather hits and you'll be good to go!
Dorm Lounging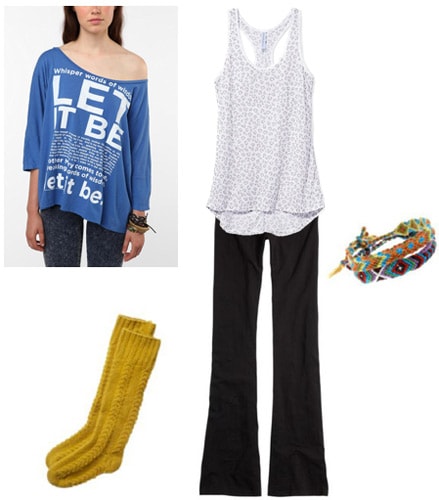 Tank / Sweatshirt / Bottoms / Bracelets / Socks
When hanging out in your room or chilling in the lounge, it's easy to not care about how you look. However, while a laid-back approach to your outfit is perfectly fine, it's still a good idea to make sure you aren't wearing that gross old t-shirt or those smelly socks that you haven't washed in, say, weeks.
In my opinion, yoga pants are always a good loungewear option. (I know others may disagree.) Although I do not condone wearing yoga pants to class, I find them incredibly practical when I'm just lounging around. A loose, printed tank will be comfy yet chic, much like a simple off-shoulder sweatshirt. Warm socks are a must because those linoleum floors get cold and, let's be real, who wants to wear shoes while just hanging around?
Going Out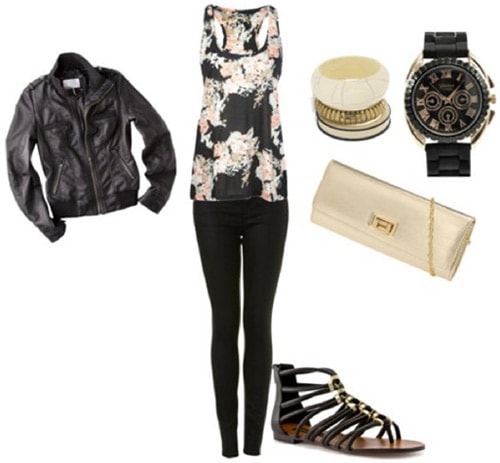 Jacket / Top / Bottoms / Bracelets / Watch / Clutch / Shoes
A popular phrase in any college student's vocabulary, "going out" can mean any number of activities. Going out where? Bowling? Movies? Karaoke? Dance party? The opportunities are endless, and so is the stress that often accompanies the "what to wear" question.
When going out, you can typically assume a few things. First, you will be walking a lot. You'll probably need to walk to your final destination and often you'll wander from place to place. This means that if you can walk in heels, by all means go for it! But if you can't walk in stilettos, opt for a cute gladiator sandal or a flat. Second, there will a lot of people. Be prepared for jostling and bumping as you maneuver your way through crowds. And finally, you will get dirty. Your feet will be stepped on or a drink will be spilled on you. You'll sweat from all the dancing. As glamorous as it is to "go out", it can actually be a rather wearing experience.
Above is my basic going out outfit. This getup could take you from a party to a restaurant to a club with ease. Flat sandals make walking a cinch and a cute clutch keeps your belongings close. If it gets chilly, throw on a bomber to add some attitude. From now on, when you are stressed out because you don't know where you are going or what you are doing, just rock the basics and make it glam!
For more ideas, see: What to Wear on a Casual Night Out, and What to Wear on a Fancy Night Out.
Business Casual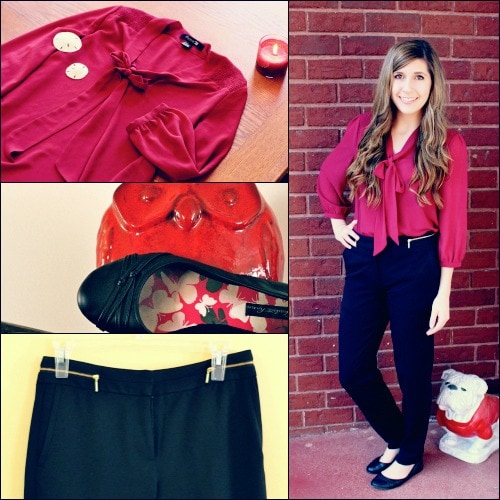 Earrings / Top / Skirt / Watch / Shoes
Even if your major is far removed from business, chances are you will need some sort of business casual outfit during your college career. Job interviews, formal presentations, and sorority meetings are all opportunities for a business casual outfit. By bringing one basic business casual set, you will be prepared for whatever classy occasion is thrown your way. (Note – add a blazer and/or tights for a more conservative business ensemble.)
Formal/Semi-Formal Attire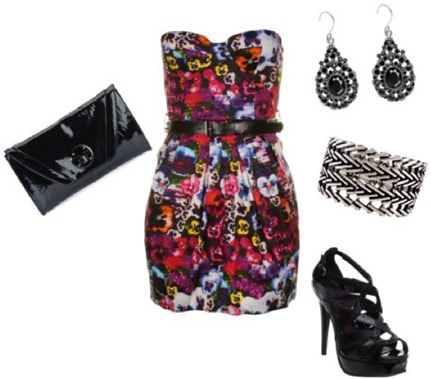 Clutch / Dress / Earrings / Bracelet / Shoes
Throughout the year, schools often throw dances or formal occasions to give everyone a chance to dress up in their best. If you are involved in a sorority, there are a ton of occasions for formal attire (hello, mixers!). Having a nice dress and heels is an important addition to your college closet. Above is an outfit that could be both semi-formal or formal, depending on the occasion. Throw this on and flaunt what you've got!
More Freshman Year Tips, Experiences, and Advice
This article is part of our Freshman Experience series. For more, see: 8 Week Countdown, College Orientation, Tips & Tricks for Meeting the Roommate, Dorm Room Shopping Tips, First Semester Goals, Getting Involved on Campus, 4 Ways to Ease Midterm Stress, College Misconceptions & Ask a Freshman, Freshman Year Questions – Answered, Thanksgiving Break Essentials, Tackling Holiday Shopping in College, First Semester Goals Revisited, and Final Thoughts.
Your turn!
With these five basic categories outlined, I hope I've helped you organize your packing list. Now I want to know… Incoming freshman, what are you definitely bringing with you this semester? What are you leaving at home? What questions do you have about wardrobe basics? Leave your thoughts below!
Veteran girls, what do you think is important to bring? Are there any other occasions or basics that you would add to your list? What advice do you have for us? Make sure to post a comment!