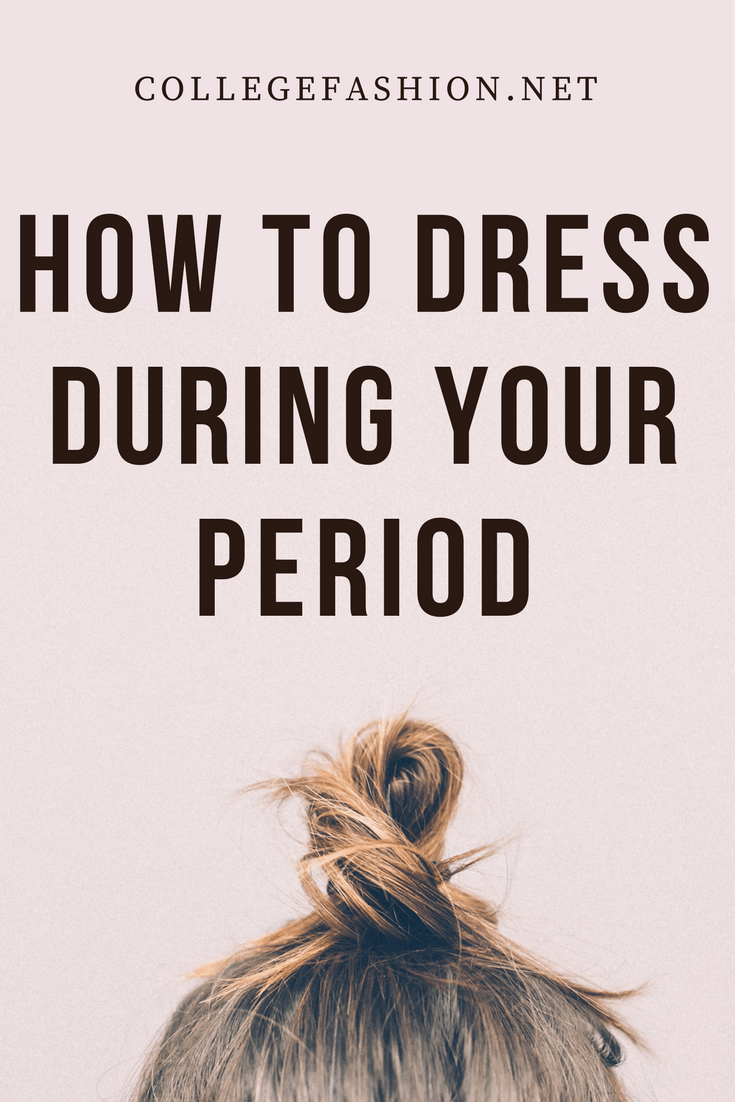 Dressing for your period is one of the most annoying wardrobe emergencies ever. I don't want to admit how many times Google has had to search for "outfits to wear on your period" for me. (Spoiler alert: it's a lot.)
Getting dressed up — or down — for your period is always this odd mix of wanting comfort but also not wanting to look like you just rolled out of bed. Between bloating and being mindful of possible leaks, it can feel impossible to find the perfect balance, especially since everyone's bodies and period needs are different.
Last week, I shared my best tips for surviving your period, especially if you, like me, suffer from a lot of pain. This week, I'm showing you what to wear during your period.
For me, it's easier to think of my period in stages when getting dressed to take on the world. With that in mind, check out the outfits below for a dose of functional fashion.
Anything You Can Do, I Can Do Bleeding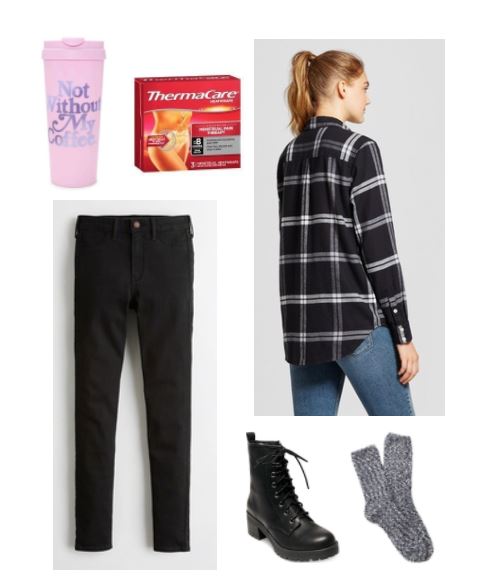 Products: Shirt – Target, Pants – Hollister, Boots – Macy's, Socks – Nordstrom Rack, Heating Pads – Amazon, Travel Mug – Nordstrom
For some people, this may be for their lighter days — for others, this may be for those days when you'd rather be in bed but you have work to do.
Jeggings are stretchy enough to not hurt you if you're bloating, and black is always a safe color if you're scared of leaks. Go for comfort with warm socks and a cozy flannel. Boots round out the outfit nicely (no need to hurt your feet with heels when you have cramps).
If you're the type of person that has cramps that even Midol can't soothe, my on-the-go cramp relief suggestion is portable heating pads such as these ones. They're handy, last for 8 hours, and are disposable!
Pour your favorite hot drink (go for hot chocolate instead of coffee — caffeine is a bit of a period no-no) in a travel mug to take any pain meds with, and head out for the day!
Everything Hurts, and I'm Dying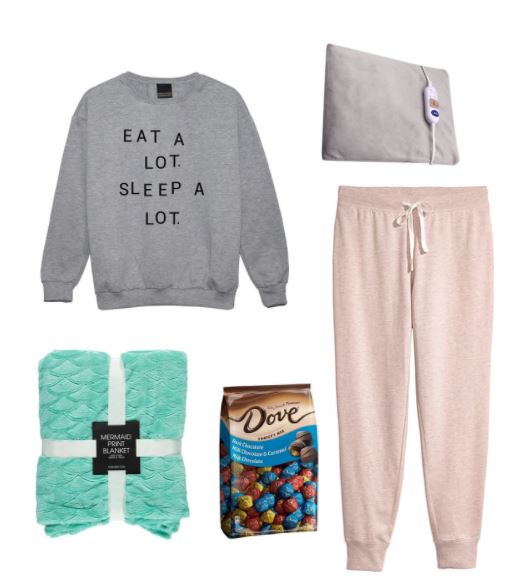 Products: Sweatshirt – Etsy, Joggers – H&M, Heating Pad – Amazon, Blanket – Forever 21, Chocolate – Amazon
Everyone has super bad period days — the ones where you don't want to move because cramps and other side effects make the whole day miserable. Whether you're having a bad day, or you have a condition like endometriosis or PMDD, this set has your comfort completely in mind.
Find the softest pajamas you can (I personally like an oversized sweatshirt and joggers, as I can run errands if I absolutely need to on these days) and curl up with your favorite blanket. This one has a mermaid pattern because you deserve to feel magical, especially during shark week.
On these days, there are two constant requirements: a heating pad (this one is more effective than the portable ones since you can adjust the heat on it) and plenty of chocolate (or the comfort food of your choosing).
The End is in Sight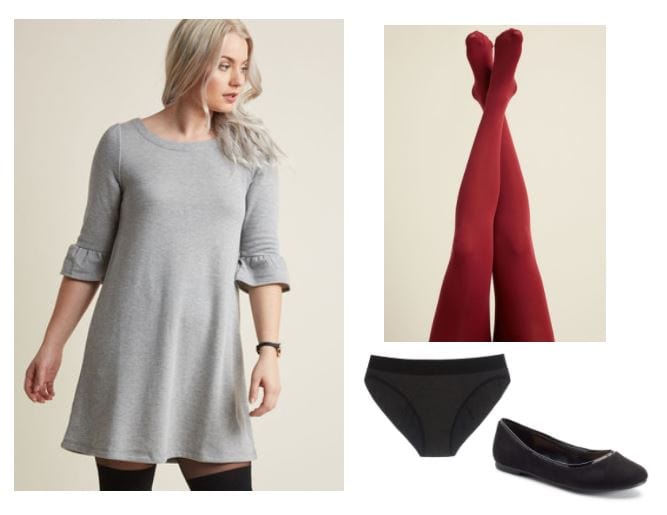 Products: Dress – Modcloth, Tights – Modcloth, Underwear – Thinx, Flats – Kohls
A super simple outfit, but after you've spent a week in misery, you deserve some simplicity in your life! Grab your favorite dress and some tights (these ones have a nice color as a shout out to your uterus) and go about your business.
Of course, just because you think you're done doesn't always mean that you are. (Periods are fun like that.) If you're worried about spotting, but don't want to sacrifice another pair of underwear and not wear a tampon/pad, go for special period panties, like Thinx. This pair is cotton but still period-proof, so you can go about your day in comfort and not worry about ruining your outfit.
What do you think?
How do you dress during your period? Do you sacrifice comfort for fashion during shark week, or do you live in sweatpants? What are some fashion dilemmas you face — and how can we help? Let us know in the comments!