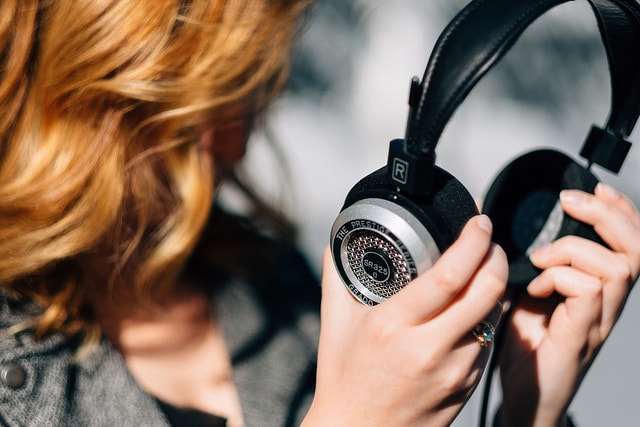 As the days grow shorter and darker, a cheerful playlist is what everyone needs to make it through the month.
"October had tremendous possibility. The summer's oppressive heat was a distant memory, and the golden leaves promised a world full of beautiful adventures. They made me believe in miracles." ― Sarah Guillory, Reclaimed
1. "Powerful" by Major Lazer (featuring Ellie Goulding and Taurus Riley)
Ellie Goulding is everywhere these days, and her vocals add a mystical twist to this electronica track. The music video is even cooler, as she takes on a diner with her telekinetic powers. Taurus Riley's vocals blend effortlessly into the song, adding some unexpected old-school charm.
2. "Cold Cold Man" by Saint Motel
Saint Motel bring a cool, fresh take on pop music by integrating a retro sound into all of their songs. "Cold Cold Man" is an upbeat pop song that makes you happy even when days are cold and grey. You may have already heard their catchy hit "My Type" which is super funky, but "Cold Cold Man" is equally catchy and sonically engaging.
3. "Electric Love" by BØRNS
BØRNS just released his debut album 'Dopamine' on October 16th and it's safe to say it's one of the best albums of the year so far. His indie pop is intertwined with psychedelic rock, which makes for a unique sound that makes you want to listen to all of the songs on repeat. "Electric Love" is one of the more dance-y tracks, but other standouts include "10,000 Emerald Pools", "American Money" and "Fool".
4. "Cannonball" by Skylar Grey ft. X Ambassadors
Skylar Grey pulls off another cool pop song with an undeniable edge thanks to the help of X Ambassadors, the rock pioneers of the summer jam "Renegades".
5. "Lover Come Back" by City and Colour
Canadian singer-songwriter Dallas Green, aka City and Colour, brings folky bliss to his newest record 'If I Should Go Before You'. This bluesy, lovesick track makes for a lovely listen on a crisp fall day. The music video aesthetic also screams autumn afternoons.
6. "Prey" by The Neighbourhood
The Neighbourhood is about to make a grand return with their upcoming album 'Wiped Out!'. The track "Prey" is only a glimpse into the new record, but we can all expect big sounds from our favorite indie-rockers who crafted the ultimate fall anthem: "Sweater Weather". "Prey" goes in a different direction; it's a little less angsty than expected. But it still retains the band's sonic fingerprint.
https://www.youtube.com/watch?v=n-Oc0akHjLs
7. "Wolves Without Teeth" by Of Monsters and Men
Of Monsters and Men came out with their sophomore album this year, 'Beneath the Skin'. "Wolves Without Teeth" is a beautiful standout song.
8. "No Words" by Erik Hassle
Erik Hassle is such an underrated talent, and his single "No Words" will be a defining song for the Swedish pop star. It brings indie electronica, dance, and funk together perfectly.
9. "Ambedo" by Xprime
The band Xprime makes the kind of music everyone needs to dance to. They create their own brand of pop/rock songs with jangly guitar riffs and pleasant harmonies that are enough to charm any listener. With high-energy performances and an infectious attitude, the four-piece is on their way to making it big.
10. "Withdrawl" by Max Frost
"Withdrawl" is a funky song that draws comparisons to Outkast. Plug in your stereo and prepare to dance!
Get this playlist on Spotify!
Want to listen to the whole playlist? Here it is, in Spotify format!
Your thoughts?
What do you think? What will you be jamming to this October? Who is on your fall playlist? Let us know in the comments below!