After a long spring semester, I was SO excited to come home to New York City last month. But I quickly remembered the downside to being at home when I looked at my (dwindling) bank balance yesterday.
Even though I am lucky enough to be living at home during my unpaid summer internship, I've spent more money in the past few weeks than I would like to admit. From going to museums and shopping to meeting friends for brunch and dinner, everything in NYC is incredibly, crushingly expensive.
If you're interning in the city this summer, survival is all about enjoying your time here while still paying your rent and affording to eat. To help you guys out, here are some of my favorite budget-friendly NYC tips:
Food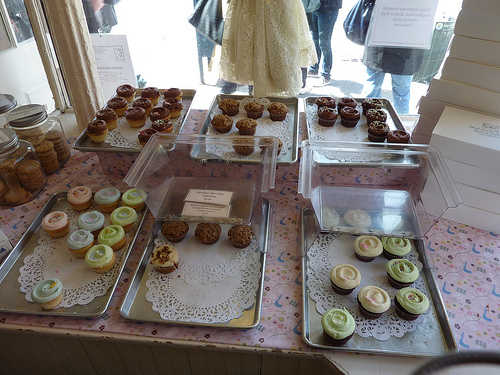 Magnolia Bakery
Don't make plans to meet at a restaurant.
Whenever I make plans with a friend, it usually revolves around brunch or dinner or coffee, and always ends up costing at least $20 – ugh. For a cheaper way to spend quality time, meet up for a run in Central Park (you will save money and stay healthy!), or go window shopping. If you want to get together for a meal, buy food from a grocery store and cook at home, or make a picnic to eat in a park.
Don't buy lunch every day.
My office is in midtown, and my mediocre takeout lunches rarely cost less than $10. These aren't even meals that I can enjoy, because they are quickly eaten in a crammed cafe or at the computer. To save money and eat healthier, I try to bring lunch as often as possible, and I eat it at my desk, or outside wherever I can find a bench.
Find cheap eats!
When my friends would ask for suggestions for cheap places to eat, my answer used to be that there is no cheap food in Manhattan. But with diligent searching, I have found some (amazing) places that will cost you less than $10 for dinner, which is pretty rare in this city.
Caracas – A Venezuelan restaurant with outposts in the East Village and Brooklyn, their arepas (kind of like tacos but SO much better) are freshly made and cost between $7 and $8.
Blockheads – With multiple locations in NYC, this Mexican restaurant has amazing burritos, great drinks for those of you who are over 21, and a fun atmosphere. You can get a burrito and a drink for around $15.
Chelsea Market – Located just a few blocks north of the Meatpacking District, Chelsea Market is a big building filled with different food shops and restaurants, and many incredible bakeries. Get takeout from one of the small shops (if you choose carefully, you can get an enormous meal for less than $10) and eat it on the High Line, which is just down the block!
Attractions
The Metropolitan Museum of Art
Go to museums on discounted days.
The Metropolitan Museum of Art's ticket prices are 'recommended' which means that you should pay as much as you can to help support the museum, but I have gotten in for only a few dollars. The MoMA is free on Friday nights from 4-8pm, the Frick Museum is pay what you wish from 11-1pm on Sundays, the New Museum is free on Thursdays from 7-9pm, and the Museum of Natural History prices are 'suggested,' so it is a similar situation to the Met.
Go on walking tours.
Whether a good friend from NYC leads you around, or if you find a route online and follow it, walking around NYC is the best way to explore, and the greatest part is, it's free. Along the way, you can browse in stores, or stop for a few snacks, and get to know the city while only spending a few dollars. Some of my favorite neighborhoods to walk are the Lower East Side, the West Village, the Meatpacking District, the Upper East Side and Nolita. Make sure you visit many different places in the city to get a feel for the differences between neighborhoods.
Shopping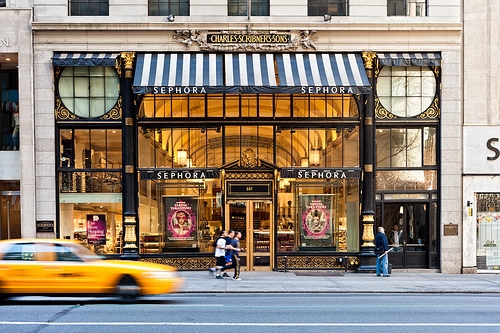 Sephora on Fifth Avenue
Chain stores can be a go-to.
Most people do not want to come to NYC and shop at the same stores they have at home, but fast-fashion retailers like Forever 21 and H&M are an intern's BFFs. These chains are often the least expensive shops in a neighborhood, and the NYC stores have a huge selection of fun and cheap items.
Boutiques = pricey but worth browsing.
NYC boutiques tend to be pricey, but if you want to find some special pieces that no one else will have, they are the place to go.
Some of my favorite stores are on Prince street, between Broadway and Bowery. If you are in that area, look for Pinky Otto, Roni and Anemone. Their prices range from $50 to $200, which is obviously expensive, but the clothes you will find are worth the price. Also, if you roam around the Lower East Side, the East Village, Chinatown and Nolita, you will find mostly boutiques and very few chain stores, all in a similar price range.
Get to know the department stores!
Bergdorf Goodman is my favorite store in the city, and Barney's comes in at a close second. I mostly browse at these stores, but sometimes, if there is an incredible sale, I will be able to buy something. Otherwise, I buy make-up and lunch and pretend that I can afford the newest Céline bag. (Sigh!) In terms of actual shopping, the second floor of Bloomingdale's carries some pretty reasonable brands, made cheaper with amazing summer sales.
Your turn!
NYC ladies, what are YOUR tips for surviving the city on a budget? Will you be in NYC this summer? Did these tips help you? If you have any more questions about life in NYC, leave a comment and I'll try my best to answer them all!