Ever watched Breakfast at Tiffany's and thought, "Man, I wish I could live in '60s Manhattan"?
Okay, you may not be able to time travel, but you can channel this iconic film's stylish setting in your outfits. Today, I will be continuing our Style and Art Direction series with the ultra-famous film "Breakfast at Tiffany's".
As you probably know, the film, based on the book by Truman Capote, follows the adventures of Holly Golightly, a socialite from Manhattan's Upper East Side.
Breakfast at Tiffany's is notable for many reasons. First, Audrey Hepburn was nominated for an Academy Award for Best Actress for her role in the film. Second, Holly Golightly became a classic style icon. Finally, I think the film is important because it's a fun, glamorous take on what it might have been like to live in New York City during that decade (back when rent was cheap).
Without further ado, here are three looks inspired by the settings and art direction of Breakfast at Tiffany's:
Breakfast at Tiffany's Outfit #1 – The Streets of Manhattan
Breakfast at Tiffany's - Talking about Jose and Her Ideal Lover (19) - Audrey Hepburn
In this scene, Holly and her love interest, Paul are seen walking through the streets of Manhattan. Holly talks about her lover, Jose, which is a bit awkward for Paul. Holly also pays homage to the city in this scene — "Oh, I love New York!" As the two chat, you can't help but notice the glamorous skyline jutting up around them.
Below, I've created a street-styled outfit inspired by this setting.
The colors in this scene are muted, so start off with a burnt orange kimono jacket. This striped tee mirrors the angular buildings. Finally, the two characters are surrounded by office buildings, so rock a heel — maybe something trendy like these cute embroidered ankle boots?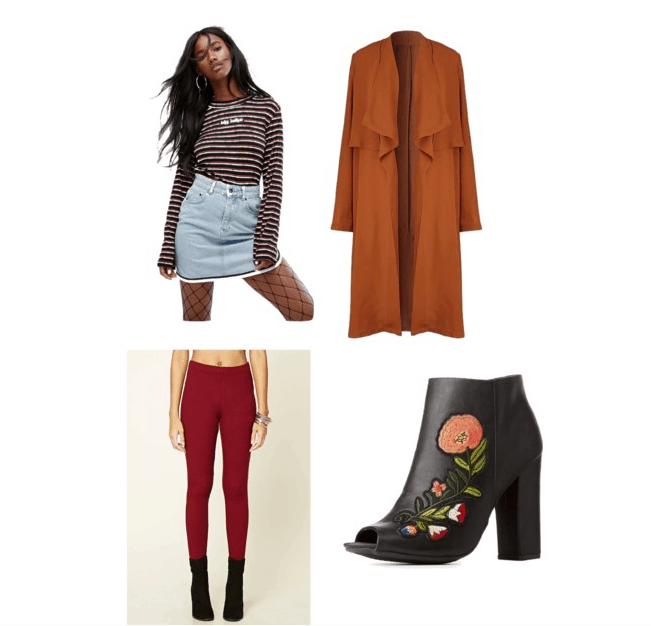 Products: Tee – ASOS, Coat – Simply Be, Leggings – Forever 21, Boots – Charlotte Russe
Breakfast at Tiffany's Outfit #2 – Paul's Apartment
In this scene, Holly decides to sneak into Paul's apartment the morning after some drunk guests refuse to leave her place.
Paul's apartment is classic wealthy New York: The interior design is made up of lighter colors with baroque touches and hints of gold. Paul's love for classic literature influences his space as well — doesn't it look like the perfect spot to cozy up with a good novel?
To channel Paul's apartment in an outfit, start off with these adorable punctuation studs to channel your inner bookworm. Get that librarian look with a vintage-inspired lace blouse and patterned skirt. Finish your outfit with classic strappy heels for some glam.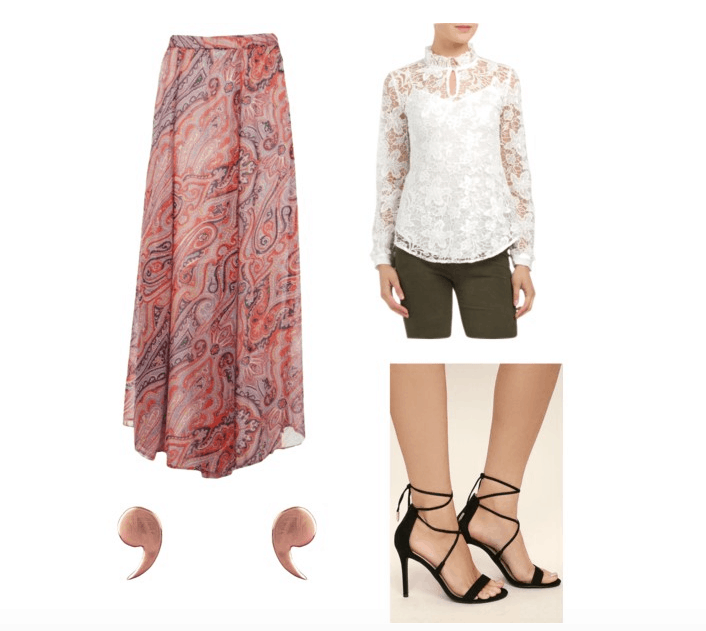 Products: Skirt – Boohoo, Blouse – TJ Maxx, Studs – Wolf and Badger, Heels – Lulu's
Breakfast at Tiffany's Outfit #3 – Holly's Apartment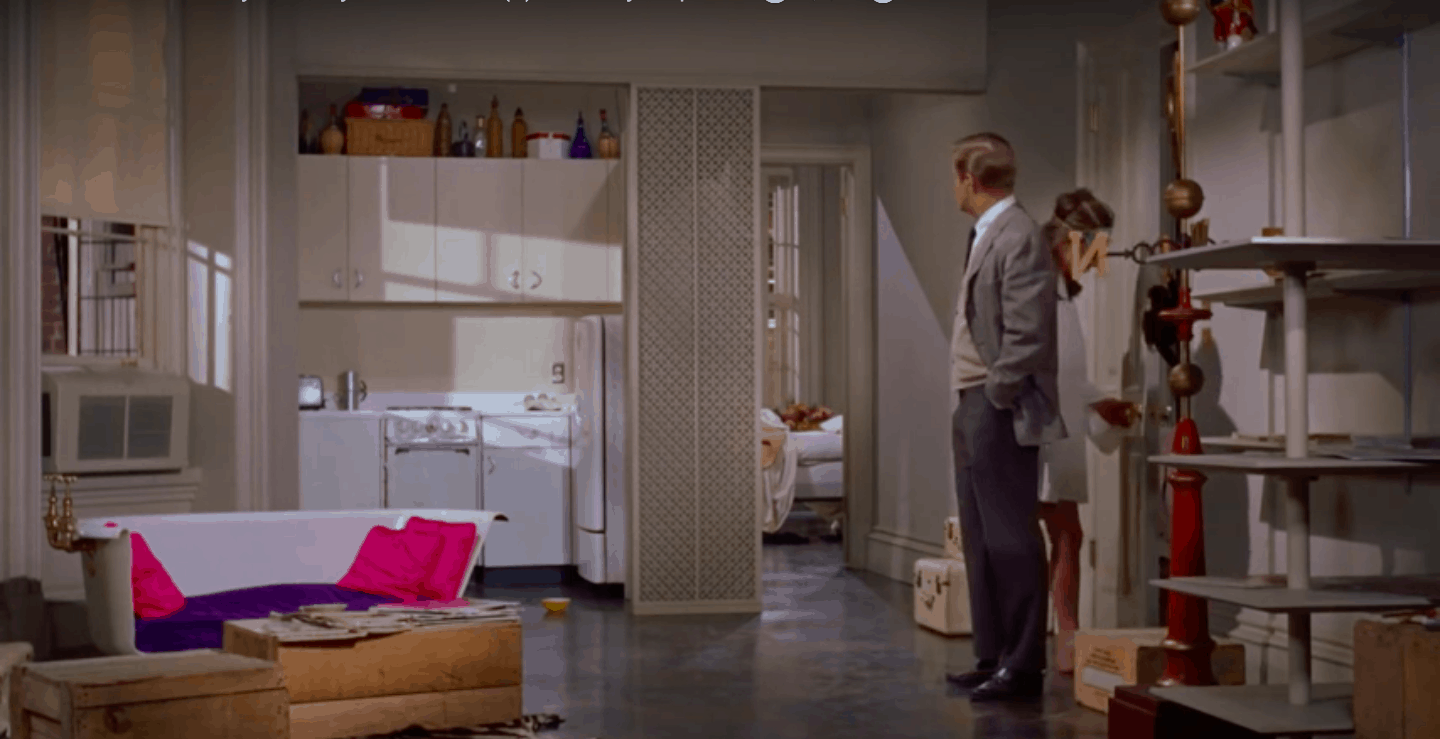 Holly Golightly's apartment is one of the best settings in this film. Isn't her place absolute dorm goals? (This photo doesn't do it justice — here's an approximate floor plan to get you even more obsessed!)
What I love about Holly's apartment is how neat it looks — it's the perfect simple space for a young women. In many ways, Holly's place is similar to Paul's apartment, however it's younger, less "done," and much more feminine.
This outfit channels her apartment color scheme, and mixes casual, dressy, and glam in one look — Holly would approve! Mix this luxe pajama-styled top with pastel colored jeans to start. Add more white pieces such as heels and an adorable envelope clutch. You're set to go out, or throw a fancy soiree at your place!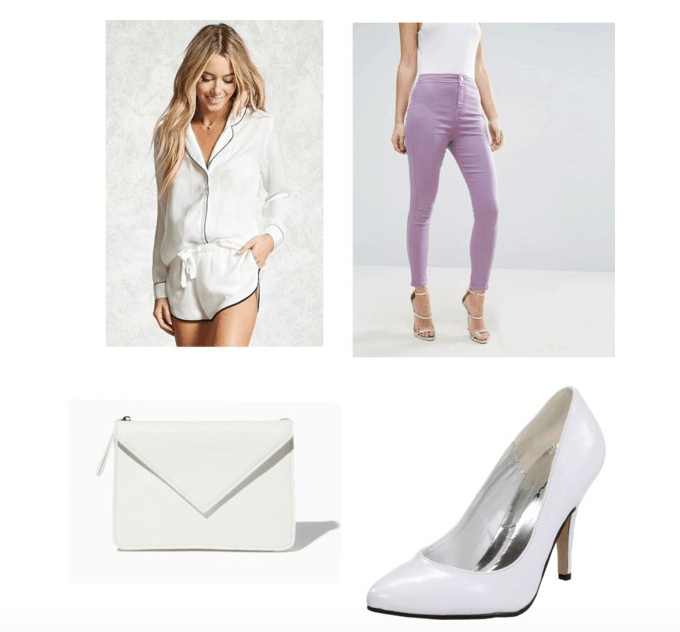 Products: Pajama Top – Forever 21, Jeans – ASOS, Clutch – Charming Charlie, Heels – Amazon
What do you think?
Have you seen Breakfast at Tiffany's? Would you want to live in her apartment? Who has a better apartment? Paul or Holly? Would you wear a pajama top as part of an outfit? Leave a comment below!