This post may contain affiliate links, which means we may receive a commission if you purchase through our links. Please
read our full disclosure here
.
Welcome to the latest edition of Looks from Books, which aims to prove that you can look smart, while still being book-smart, too. Fashion inspiration can be found between the pages of your favorite stories, on well-designed book covers, and in your favorite characters… if you read closely enough.
Inspired by the glittering gaudiness of the recent film release The Bling Ring, this week we're bringing you fashion inspired by a novel also oriented around human emotions, ambition, materialism and, most importantly, sparkly jewelry, which inspired its own movie back in 1961… Truman Capote's Breakfast at Tiffany's!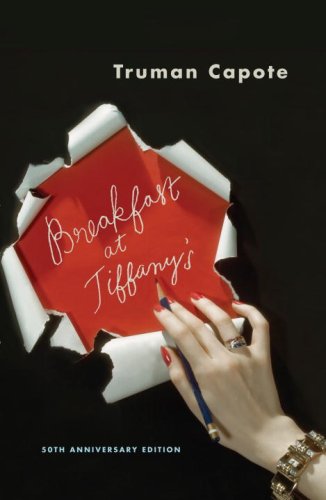 Breakfast at Tiffany's 50th Anniversary Book Cover via Amazon
Inside Cover: A Little Bit of Background
Breakfast at Tiffany's is a 1958 novella written by Truman Capote. It follows the life of Holly Golightly, a young, ambitious socialite with a mysterious past living in New York in the 1940s. The novel is viewed through the lens of Holly's unnamed neighbor, our narrator. She only refers to him as "Fred," due to the fact that she feels he resembles her brother of the same name.
Throughout the novel, "Fred" attempts to uncover the mysteries of Holly's past, while the two go about their daily lives in glamorous Manhattan. However, digging deeper, it becomes apparent that Holly is not quite the upper class society girl she claims to be. Despite her air of mystery, it is this deep and involved past and her charismatic persona that win over not only our narrator, but numerous men on the Upper East Side.
While the novel itself doesn't necessarily have a happy ending, the story of our author does: Truman Capote had been a writer of popular short stories before the publication of this novella, but he experienced considerable success in the 1960s, with the popularity of the film adaptation, and his non-fiction novel, In Cold Blood (published in 1961). His name has remained in the echelons of the American fiction greats ever since.
A Fashionable Literacy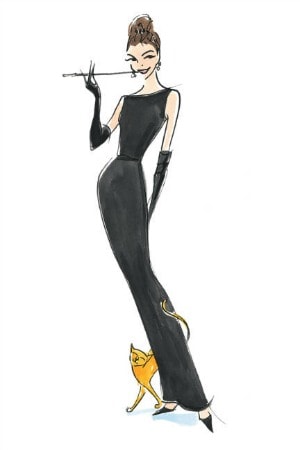 An illustration of Audrey Hepburn's iconic Givenchy dress from the 1961 film, featured in The Hundred Dresses by Erin McKean and Donna Mehalko. || Via Elle.com
Breakfast at Tiffany's is one of those unique titles that is more famous for its film adaptation counterpart than its own copy.
The iconic Audrey Hepburn-helmed movie, is, of course, a fashion classic. Premiering in 1961, and directed by Blake Edwards, the movie is loosely adapted at best, while still following most of the same dialogue. Most of the "scandalous" themes and effects of the novella – like homosexuality and gender conformity – were waylaid in favor of a tamer, more traditional leading couple that the American audience would finder easier to accept. The ending was altered for a more Hollywood-typical romance, and it is perhaps because of these more positive changes to the story line that the movie was so well-received.
The movie was inducted into the Library of Congress in 2012, which ensures that the fashion-forward film will always be a part of American culture. (It even made it's way onto our list of the Top 10 Movies for Fashion Inspiration back in 2009!)
How to Add Holly to Your Wardrobe
By incorporating some of the major themes from the novel into your daily outfits, you, too, can make like the mysterious social climber, and add enough sparkle and interest to your outfit to make anywhere "feel like Tiffany's."
Materialism and Money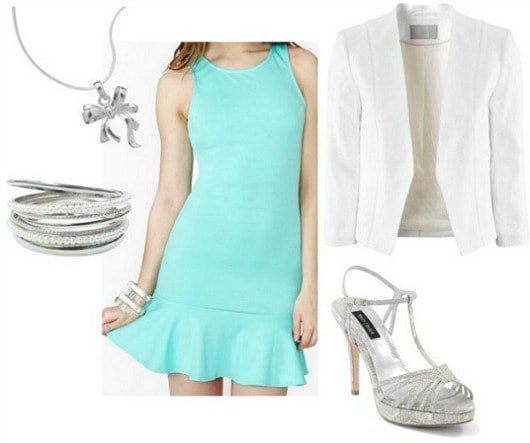 Product Information: Dress – Nasty Gal, Necklace – Debenhams, Bangles – Target, Blazer – H&M, Shoes – White House Black Market.
"It calms me down right away, the quietness and the proud look of it; nothing very bad could happen to you there, not with those kind men in their nice suits, and that lovely smell of silver and alligator wallets. If I could find a real-life place that made me feel like Tiffany's, then I'd buy some furniture and give the cat a name." – Holly Golightly
Holly Golightly is a socially ambitious young woman, whose "happy place" is inside of one of the most expensive jewelry stores in the entire world. Her every move and interaction with men is specifically calculated to cement her in the higher social circles to which she has so long aspired, and even she confesses that her plans to marry revolve solely around money. It is only fitting that the themes of materialism and excess inspire an outfit similarly oriented around the titular Tiffany's.
A blue dress in the store's signature hue and a bow necklace are more identifiable ties to Tiffany's, while the white blazer and snakeskin printed shoes tie into the "nice suits" and "alligator wallets" mentioned in the quote. The overall silver tones are an integral part of Tiffany's jewelry as well.
Glamour and Mystery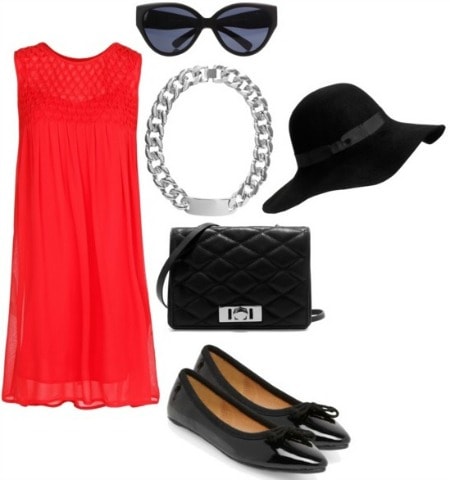 Product Information: Dress – Mango, Sunglasses – River Island, Necklace – Alex & Chloe, Bag – Zara, Shoes – Dorothy Perkins, Hat – Cole Haan.
"You know the days when you get the mean reds?… The blues are because you're getting fat, and maybe it's been raining too long. You're just sad, that's all. The mean reds are horrible. Suddenly you're afraid, and you don't know what you're afraid of. Do you ever get that feeling?" – Holly Golightly
Holly hides many aspects of her life that are steadily unearthed as the story progresses, but equally compelling are her explanations as to why she has so many secrets in the first place. Constantly on the run from her past and poverty, the once-Lula-Mae-Barnes is afraid of returning to the obscurity and lack of importance of her past life, thus motivating her to mask her humble origins with larger-than-life grandeur and glamour.
Integrate these "mean reds" into a flaming chiffon dress, and go incognito with a wide-brimmed hat and large sunglasses. A black patent quilted bag and shoes are classically fashionable, without drawing much attention. Finally, the true star is a silver choker ID tag necklace, with the name conspicuously missing, much like our ever-changing heroine and her similarly-nameless cat.
Uniqueness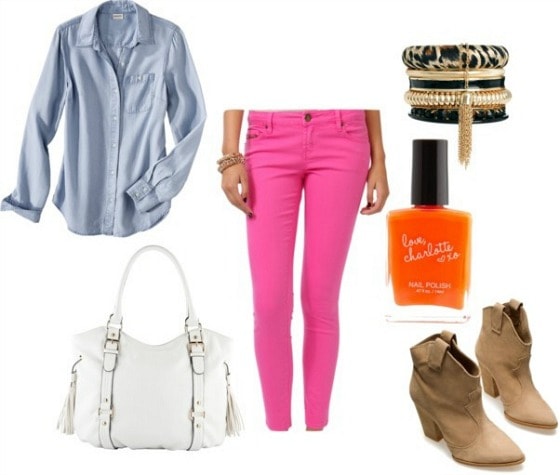 Product Information: Shirt – Target, Jeans – Forever 21, Bag – Aldo, Bangles – River Island, Nail Polish – Charlotte Russe, Boots – Zara.
"You're wonderful. Unique. I love you." – The Narrator
Oh, Holly. In all of the canon of American literature, there isn't another character quite like her. Whether it's her involvement with the mob, or her high-spending habits, or her ability to get all of New York to fall in love with her, Holly is certainly unique.
A denim shirt and cowboy boots reference Holly's mysterious past, while a while carryall, pink jeans, and orange nail polish pay homage to her love for the bright city. Leopard print bangles hint at what else is to come in Holly's future. Overall, the unexpected elements of the look help provide a more full example of who Holly is, and how she so involves all of us.
What Do You Think?
Have you ever read Breakfast at Tiffany's, or any other works by Truman Capote? Have you ever seen the iconic 1961 movie, with Audrey Hepburn? What did you think of the novel, or the elements at play? How do you think the book compares to the movie? What do you think of the outfits and styling tips presented? Let me know, in the comments below!