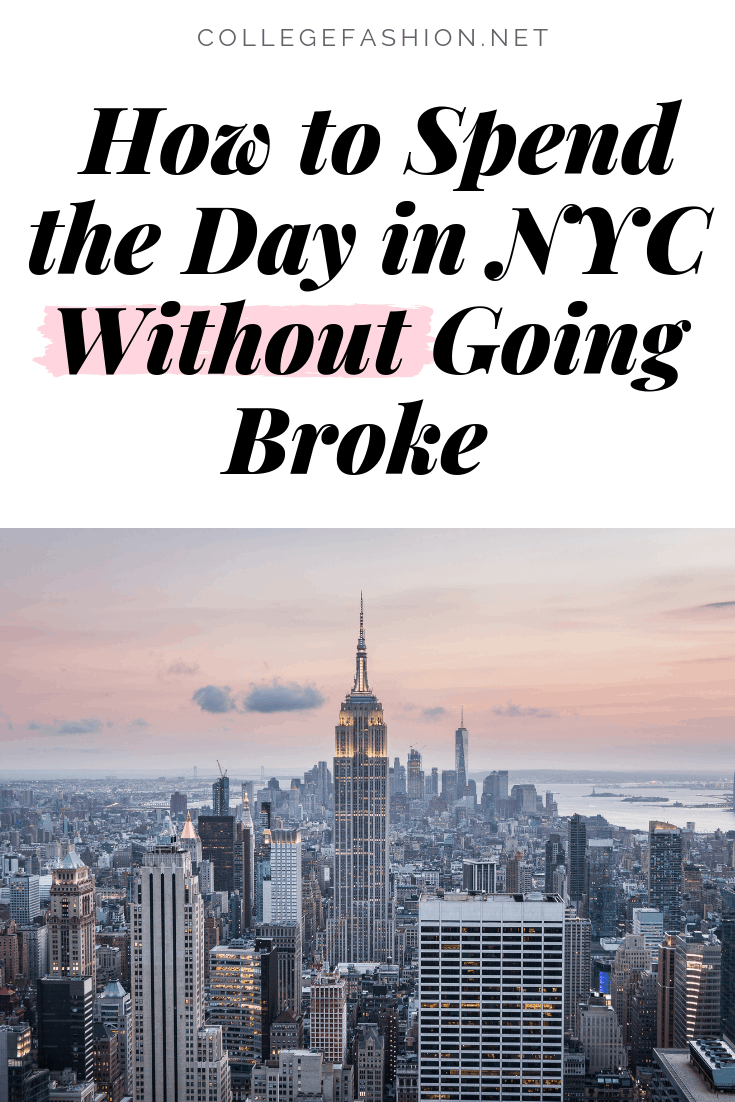 Everyone loves to go into New York City. You can go shopping, head to a musical, or even head to a museum. But often times we end up spending too much money. As someone who has lived close to New York City my whole life I am going to give you my tips for spending a cheap day in NYC.
Related reading: NYC Outfits 101: What to Wear in New York City This Year
1. Find Student Discounts!
If you're a student, there are a ton of NYC discounts that you can find if you look hard enough.
Some museums offer student discounts on tickets and you can also get a discount at the Brooklyn Botanical Garden. Some of the museums that offer student discounts include The Met, the New Museum, and the Guggenheim Museum. The MoMA does offer student discounts but only to select NYC-based colleges. Some museums also offer free admission on certain days of the week. Make sure you do your research to find those days on the museum calendar located on each museum's website.
Another way to save money is to enter the Broadway lottery where you can enter to win cheap tickets to a Broadway show. And if you're wondering how likely it is to win, trust me, it's worth entering — I have had multiple friends win tickets to shows many times.
2. Go to Hole in the Wall Restaurants
When going into New York City everyone wants to go to the famous restaurants. But honestly, there is good food all over the city that is way cheaper.
What I suggest is when you're walking around NYC try to find a hole in the wall restaurant. Oftentimes they have the best atmosphere, food, and service — better than those famous spots! If you like to plan ahead, do some research on cheap food near the areas you're walking. You'll often find that the cheaper food is way outside of the tourist areas. So make sure that you're willing to walk in order to get that cheap food.
Some of my favorite places to eat in the city are small Irish pubs. The atmosphere is relaxing and the food is always delicious and ten times cheaper than the fancy restaurants. Or if you're just looking for food to eat while looking at local attractions then I would always go for the dollar slice of pizza. A million pizza places offer a slice of pizza for a dollar and it's something simple to eat while walking around the city.
Also if you're going to eat in NYC it's best to eat during lunch time rather than dinner hours. Restaurants often have two menus, one for lunch and another for dinner, and the lunch menu contains the same dinner food for only a fraction of the price. Happy hour is also a good time to eat in the city because there are cheap drinks and food.
3. Travel Smart
When going into the city, if you're a student, you're most likely taking the train. We all want to get into the city early but sometimes those AM tickets cost more. What I suggest is taking a train when the tickets are OFF PEAK so they cost less. It doesn't seem like much but when you go into NYC often the money you save will add up. Also, if you head into NYC often then you might want to buy a monthly pass. You'll save much more money over buying a ticket every day.
But whatever you do — do not drive into NYC unless it's absolutely necessary. The parking garages cost tons of money and will drain your bank account.
Also when traveling inside the city it is always smarter to take the subway rather than a cab. Subway trains are faster, easier to use, and a million times cheaper. $2.75 can get you anywhere you need to go and you don't have to waste time sitting in NYC traffic.
4. Get out of Midtown
Whenever someone is heading to NYC for a day trip I always tell them to stay out of midtown. Sure, midtown is great when you're visiting for the first time and want to see all the tourist sites but it can be very expensive. Plus, there are plenty of better places to spend the day in NYC. Some of my favorite areas of the city to visit include NoHo, the West Village, and the East Village, but just getting out of midtown and wandering is a good choice.
Also, if you're looking to save even more money it might be best to head to Brooklyn for your day trip instead. If you're looking to go to Brooklyn to get those good pics for Instagram then definitely head to the Brooklyn Bridge or the Brooklyn Botanical Garden.
If you're looking for something out of the ordinary to do then I suggest heading to the East Village and visiting the Turntable Lab where you can look through a wide variety of vinyls. But really, there are so many cool things to do in the city — you'll find them just walking around and/or googling what's nearby!
How do you save money in NYC?
Saving money is so important; especially when you're a college student. Let us know how you save money when you're spending the day in NYC in the comments below.