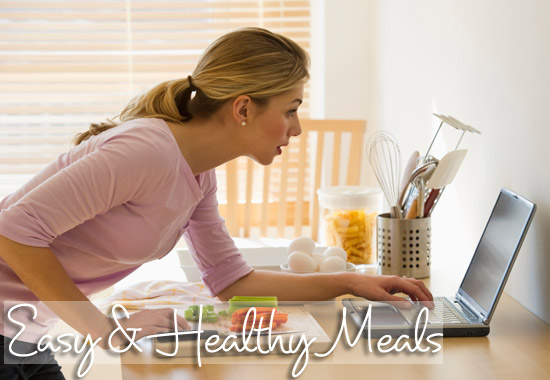 Raise your hand if you love P.F. Chang's. Now raise your hand if your wallet does not stretch wide enough to eat there as much as you'd like. That's what I thought.
Let's be honest: Eating out is expensive. While at some restaurants near school I can get a meal large enough for 2 days under $7, most (read: almost all) restaurants are more pricey and will quickly empty your wallet if you frequent them enough.
To help you guys save money while eating healthy, for this edition of Easy & Healthy Meals, we will be making P.F. Chang's lettuce wraps, fried rice, and squash at a much lower price! You're excited, I can tell.
What You'll Need:
For the lettuce wraps…
Ground chicken(or ground turkey, or soy crumbles): I use about 3 lbs. of chicken for this recipe because I use this meal for multiple days, so keep that in mind when you read my measurements! (If you lessen the amount of meat, lessen the amount of spices.) You can find ground chicken in the meat section at your grocery store. Buy it already ground or chop it up yourself. I have always wanted to try using ground turkey instead of chicken, but I have not gotten to that yet. If you're vegetarian, you can use soy crumbles. Whatever "meat" you chose is bound to be tasty!
Lettuce: I like to use a head of iceberg lettuce because the shape is perfect for wraps, but you could also use shredded lettuce and make a salad-type meal.
Hoison Sauce, Water Chestnuts: Find these in the ethnic foods section of your grocery store. Chop your water chestnuts before adding them to the mix.
Ginger: Add this for a little spice. Found in the spice section.
For the fried rice…
Jasmine Rice: Jasmine rice is the sticky and sweet Asian rice usually found at restaurants, but you can find it at the grocery store, too in the rice section. You can also use plain white rice.
1 Egg: Self-explanatory.
Banana Pepper: My banana peppers were not spicy, but some are. If you do not like spicy food, replace the banana pepper with a bell pepper.
For the side…
Squash: I used yellow squash for this meal, but any squash would be good.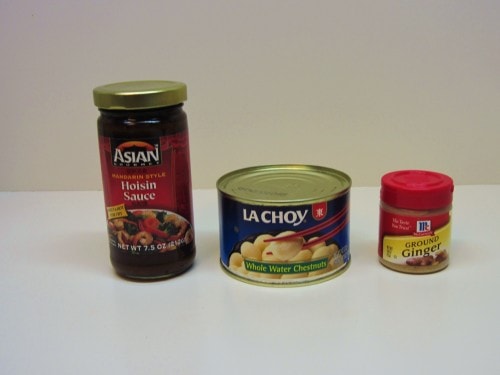 Let's Get Cooking!
Step 1: Make the Lettuce Wraps
Brown and crumble your chicken in a nonstick skillet on medium heat until it's cooked to your liking. Add the jar of hoisin sauce, chopped water chestnuts, and ginger and stir. Rip off some lettuce to form the "wraps". Fill your lettuce leaves and you're done!
Step 2: Make the Fried Rice
Boil your rice according to the package instructions (or use a rice cooker). Put a little oil in a wok or nonstick skillet when it's heated, then add the rice and an egg and stir with a spatula. Add the banana peppers last so they don't scorch.
Step 3: Make the Squash
Slice your squash diagonally almost all the way through – you want to make sure the squash stays in tact, so don't slice all the way through. It will end up looking weird/like it is about to bust a move, but just go with it. Sprinkle it with salt and a little olive oil. Microwave for about 4 minutes!
Bonus Sauce!
If you wanna get fancy, you can also make a sauce to put in your lettuce wraps like they make at P.F. Chang's! Mix up some soy sauce, rice wine vinegar, and, if you like spicy foods, some Vietnamese pepper paste (the red stuff with a green top). Add the pepper paste for a little, or a bunch, of heat!
The Finished Product: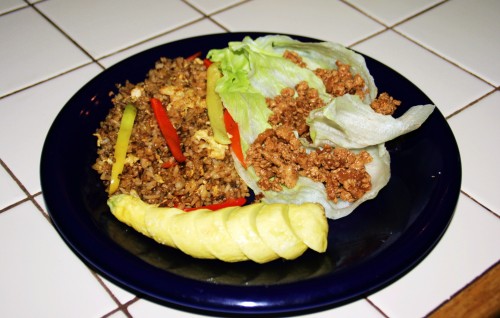 There you have it: A beautiful, colorful meal that did not take long and tastes so, so, so, so (etc.) good!
After I have eaten my (and maybe others') share of lettuce wraps, I switch to tortillas! It's like a Chinese-Mexican blend that completely works.
Thoughts?
What is your favorite Asian-inspired meal? Did you make these lettuce wraps? Have you tried them with anything besides chicken? How did they turn out? Let me know in the comments!