This post may contain affiliate links, which means we may receive a commission if you purchase through our links. Please
read our full disclosure here
.
Editor's Note: The following is Part 2 of Sarah's series on her experiences interning for a PR firm in (you guessed it) New York City for the summer. In case you missed the first part, catch up on Diary of a PR Intern in NYC – Week One.
Although I started this series with Week One, I decided to skip Week Two and move straight on to Week Three since Week Three was so exciting! Almost every night, I got home at 11 (after being up since 6:30am), but it was completely worth it. Read on to see what I did during my third week of the internship.
Why was I stuck in NYC until so late each night? Well…
I went shopping! Yeah, this has nothing to do with being an actual intern, but it does have something to do with the fact that I'm a block away from Park Ave and H&M was having a huge sale! Like I said last week, it's tough to resist shopping when your office is so close to so many amazing stores. I couldn't resist.
I got to attend my first-ever fashion event, The Independent Designer Handbag Awards! I got to work the red carpet and see designer Carlos Falchi, Kate Spade's Creative Director, Deborah Lloyd, and the Editor-in-Chief of InStyle magazine, Ariel Foxman, along with many other fixtures of the handbag world. After escorting people to the red carpet and setting them up for their pictures, I got to also attend the actual show which was totally amazing! There were some gorgeous handbags, including one shaped like an octopus and decked in Swarvoski crystals and one completely made out of Coke can tabs – so cool.
I always miss my trains. I have the worst luck with them; If I have to make a 6:27pm train, I'll get to the track just as it strikes 6:28 and the train will zoom away. So, when I was done working and shopping at around 9:00pm, I would have to wait for the 10:05 train because my line stinks! It was worth it, though!
I went out and enjoyed the city! Places I'd recommend going for dinner and nightlife:Banc Cafe (Great after-work crowd! Outdoor seating too, which is amazing during the summer), Josephina's on Broadway (If you have a date, that is! Delicious food, but not exactly in a college girl's budget), The Empire Hotel's Rooftop Bar (Half indoor, half outdoor bar and lounge on the roof of the Empire Hotel. We had an amazing time here for a friend's birthday.)
So, back to my actual interning…
My Experience Working an Event
The IDHA was my first real event, and although it was smaller-scale than the award shows we're all familiar with from TV, it was definitely a great learning experience. Here are my tips on how to succeed when working a similar event:
Always smile and be personable. It doesn't matter if you're dealing with an independent designer you've never heard of or Anna Wintour; you're catering to them for the night, and looking unhappy is definitely not what anyone wants to see at an exciting event! Even if a guest isn't exactly nice to you, it's important to kill them with kindness!
Dress comfortably! Whatever attire you're asked to wear, make sure you wear the most comfortable pieces you have. Heels are probably a no-no unless you're going to be photographed, but you still want to look make sure you look classy and stylish. I wore a blazer, tank, and leggings.
If you have a chance, talk to anyone and everyone that you can. At this specific event, there were lots of volunteers, so we did have some down time. I spoke to interns from another PR firm (more on this later), interns from Badgley Mischka and Kate Spade, and even some of the staff of InStyle! It's so cool to hear about other people's experiences to see how they mirror your own.
Try to get a gift bag! If there are extra gift bags (which we helped assemble!), try and ask someone if you can have one if you're not already offered one. I just discovered my newest makeup obsession (it now takes me under 5 minutes to apply liquid eyeliner when it used to take me at least an hour) because Mark by Avon was a sponsor and featured products in the gift bag. If your company has lots of leftover gift bags, it's likely they'll let you have one!
Overall, I had a great time at the event! I got to talk to some great people, see how an event actually worked the day-of, ate some of the extra Crumbs cupcakes (mmm), got a gift bag, got two new issues of InStyle (if you haven't read InStyle in awhile, which I hadn't, I definitely suggest picking up a copy. I was so impressed, and it blows many other magazines out of the water!), and was so inspired by some of the independent designers who were nominated.
Week 3 at Work
Week 3 of my internship at work itself was also really amazing. Here's what I did:
I got to send out pitches to some of my favorite bloggers (who I mentioned in last week's post) and even heard back from them! The pitches I wrote were so fun to write, plus, I love writing, so it's perfect for me. In the past three weeks, I've gotten to research and write 5 pitches!
I did send-outs of products (which is when we send samples of the product to media outlets, celebrities, makeup artists, etc. to try) to a major celeb, a few magazines as well as the blogs I got in touch with.
I updated the clip books (which is where we keep copies of any article, blog post, editorial, etc. that features our product) for the product I'm working with. It's amazing to see how many outlets my agency has been able to contact to feature the line!
I got to help prepare for a meeting with the client. Although I didn't get to attend because I had the event that night and had to leave work early with my co-interns, I did get to do research and prepare slides that were used!
I helped with inventory. We got a huge shipment of products we requested, and I helped to put them away. It's also not so terrible that I got to get my own samples of a face mask, two lipsticks and a bronzer (can anyone say perks!?).
What I Wore This Week: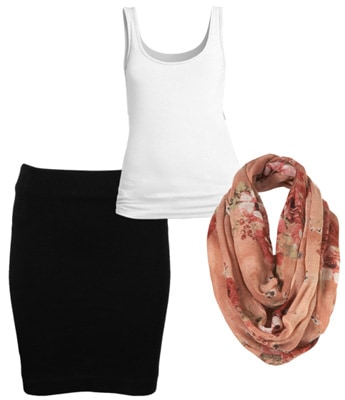 Skirt – Forever21, Tank – Nordstrom, Scarf – TopShop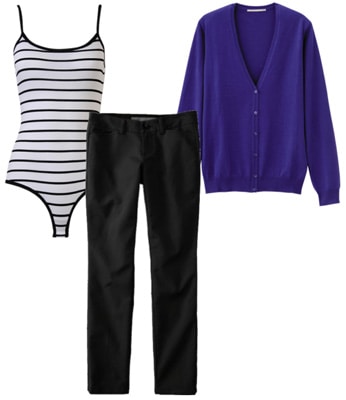 Body Suit – Forever21, Trousers – Old Navy, Cardigan – Uniqlo
My Internship In Comparison to Other Internships
Over the past week, I also had the opportunity to talk to a few people interning elsewhere in the fashion/PR world and just wanted to quickly compare my experience to theirs, so you can get an idea of what else interns out there are doing!
Interns at another PR firm: Unfortunately, the interns I spoke to from the other firm were doing a whole lot of nothing at their internship. They didn't have their own desks (my firm gives us our own!) and shared a conference room with several other interns. There wasn't a lot of responsibility doled out, and many of them remarked that they were jealous after hearing my experience and how closely I got to integrate with my division's team. They all each had a day off each week as well, since there were so many interns and not much to do. Of course, some of the things we do at my firm are very intern-like, but I'm definitely getting a more hands on experience than most interns. After hearing about the other interns' experiences, I'd just like to say that it's VERY important to ASK an interviewer what your responsibilities will be. Having a long to-do list at work is much more fulfilling than sitting around doing nothing and watching the hours drag by.
Intern at a magazine: My friend, who's interning at a major publication, seems to be having a similar experience to mine. She gets to be hands on as well, attending events/fashion shows as well as doing send outs and other intern-oriented jobs. Not to mention that she gets to dress on-trend everyday and express her own style!
To Sum It Up…
I'm having an incredible experience! So far, I'd recommend everyone do an internship like mine if they can, whether it be in PR or accounting or the fashion world. You can't put a price on experience, and in these economic times, it's important to get ahead of the game.
Don't leave your interning to the last one or two summers of your college career; start as early as possible! Most of the other interns I'm working with, as well as myself, have had internship and relevant job experience since high school, and compared to the dozens of people I know who haven't even begun to think about interning experience, this puts us way ahead of the curve.
It's not too late for you to get an internship either! Check out my series of posts on How to Get the Internship of Your Dreams (Part 1, Part 2, Part 3, Part 4, Part 5) to learn everything about applying and getting an internship, from creating your resume, to where to find internship listings, to how to dress for an interview, etc. I personally check Ed2010 on a regular basis, and they post internship positions available daily! It's a great way to learn about the industry you're interested, have fun, meet great people and keep busy during our long college summer breaks.
What do you think?
What are your thoughts on my third week of interning? Have you had similar experiences at an internship before? What are some of the best perks about your summer job or internship? Let me know in a comment!