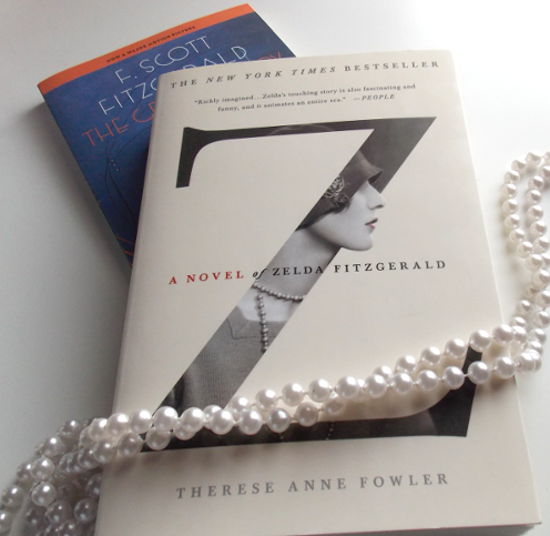 From Mary and Percy Shelley to Ted Hughes and Sylvia Plath, there's something so enchanting about literary couples. Writers' relationships influence so much of their work, maybe more than we as readers even realize. Since I'm enamored with The Great Gatsby and all things related to the Roaring Twenties, I find one of the most fascinating literary romances of all to be the one between the Fitzgeralds.
While his novels make the life of F. Scott Fitzgerald seem like a never-ending party, Therese Anne Fowler's novel, Z, shines a light on the forgotten half of the 1920s Golden Couple: Zelda Sayre Fitzgerald. A flirtatious, adventurous girl from Montgomery, Alabama, Zelda boldly chose to accept Scott Fitzgerald's wedding proposal and follow him across the country to New York City.
From that point on, her life was a dazzling but tragic performance filled with parties, fashion, celebrities, tabloid headlines, jealousy, betrayal, and passion of every variety. Therese Anne Fowler's fictional, though mostly accurate, account of Zelda's life was impossible to put down.
You'll love this book because…
The descriptions of the 1920s fashion – including Zelda's very first Parisian-inspired, flapper-style dress – are to die for. Anyone who has ever dreamed of doing the Charleston in a fringed frock will love this book.
The Fitzgeralds attend a whirlwind of lavish parties whose guests include Cole Porter, Ezra Pound, Gertrude Stein, and Pablo Picasso, just to name a few. If you've heard of these folks in any of your literature or history classes, you'll love reading about where they started from and how they influenced F. Scott Fitzgerald's writing.
There is possibly no more ominous and intriguing way to end a chapter than with the sentence "Ernest Hemingway is to blame." If that doesn't make you want to pick up this novel, I don't know what will.
The love story between Scott and Zelda is truly one for the ages. (Like Jack and Rose, but with a Romeo and Juliet twist.) Your heart will ache for the couple just like mine did.
Maybe most importantly, you'll love this book because it finally emphasizes that Zelda was so much more than Fitzgerald's beautiful, nervous wreck of a wife who inspired Tender is the Night and spent much of her time locked away in hospitals for mental instability.
This is the most common representation of Zelda in the media, but reading the book helped enlighten me to the fact that she was a skilled writer, talented dancer, innovative artist, loving mother, and devoted wife. The struggles she endured only make her tumultuous marriage and life all the more heartbreaking. It also proves, though, how strong she could be in a time when women were meant to be seen and not heard.
If you loved The Great Gatsby or have ever felt the slightest bit curious about Zelda, F. Scott, or life in the Jazz Age, I absolutely recommend this book. Though it's a fictional novel, it definitely gives you clear insight into the real woman Zelda Fitzgerald was, and you will applaud her for her humor, love, and courage.
Thoughts?
Are you a fan of all things 1920s, Gatsby, and Fitzgerald? Will you be rushing out to read this novel? Did you know anything about Zelda Fitzgerald already, or are you interested in learning more? Leave a comment and let me know!