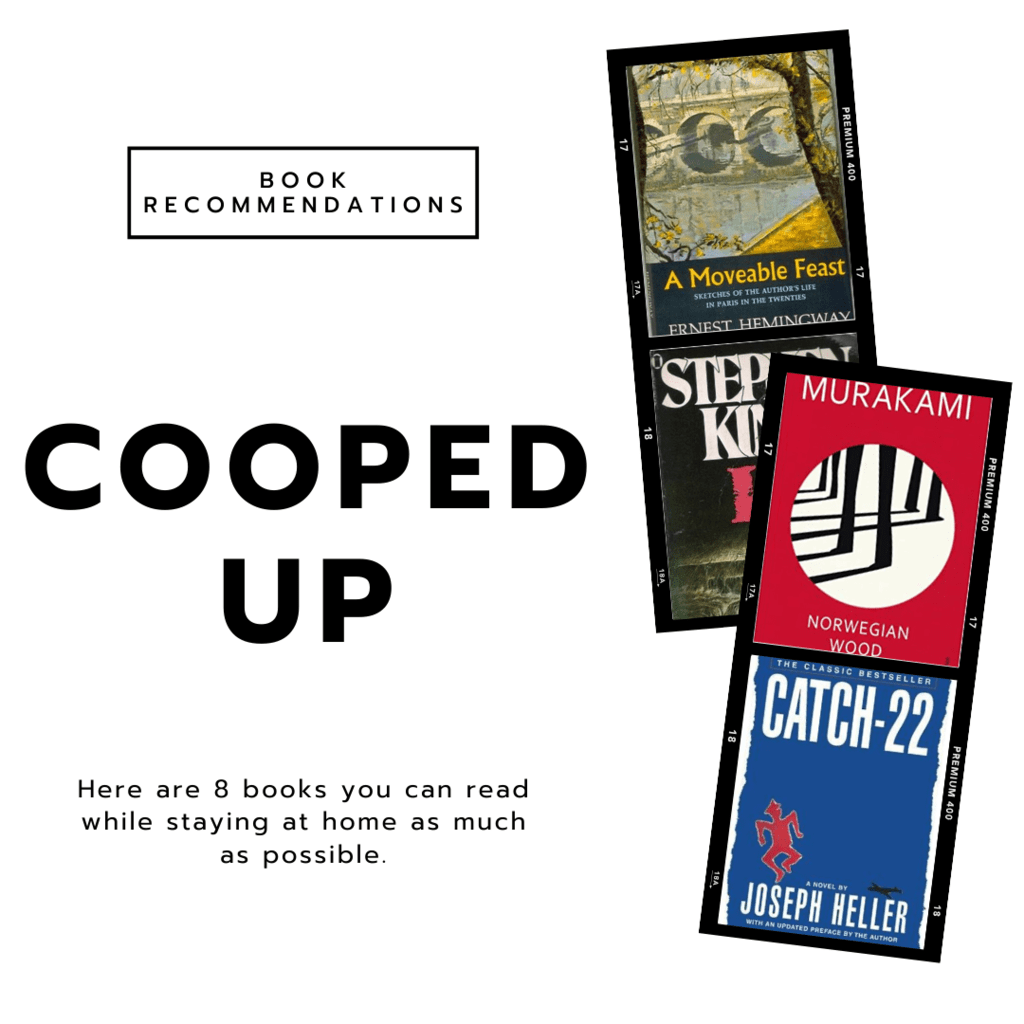 While many of us enjoy being at home, being forced to stay at home is an entirely different experience — and all this time at home can definitely get boring. So instead of my usual posts, over the weeks ahead, I'll be recommending you movies, books and TV shows you can watch and read while spending as much time as possible inside your house.
This week, I'm sharing 8 books you can read while you're staying at home and need a distraction from the world. These book recommendations for college students are sure to have you turning the pages!
If you like mystery…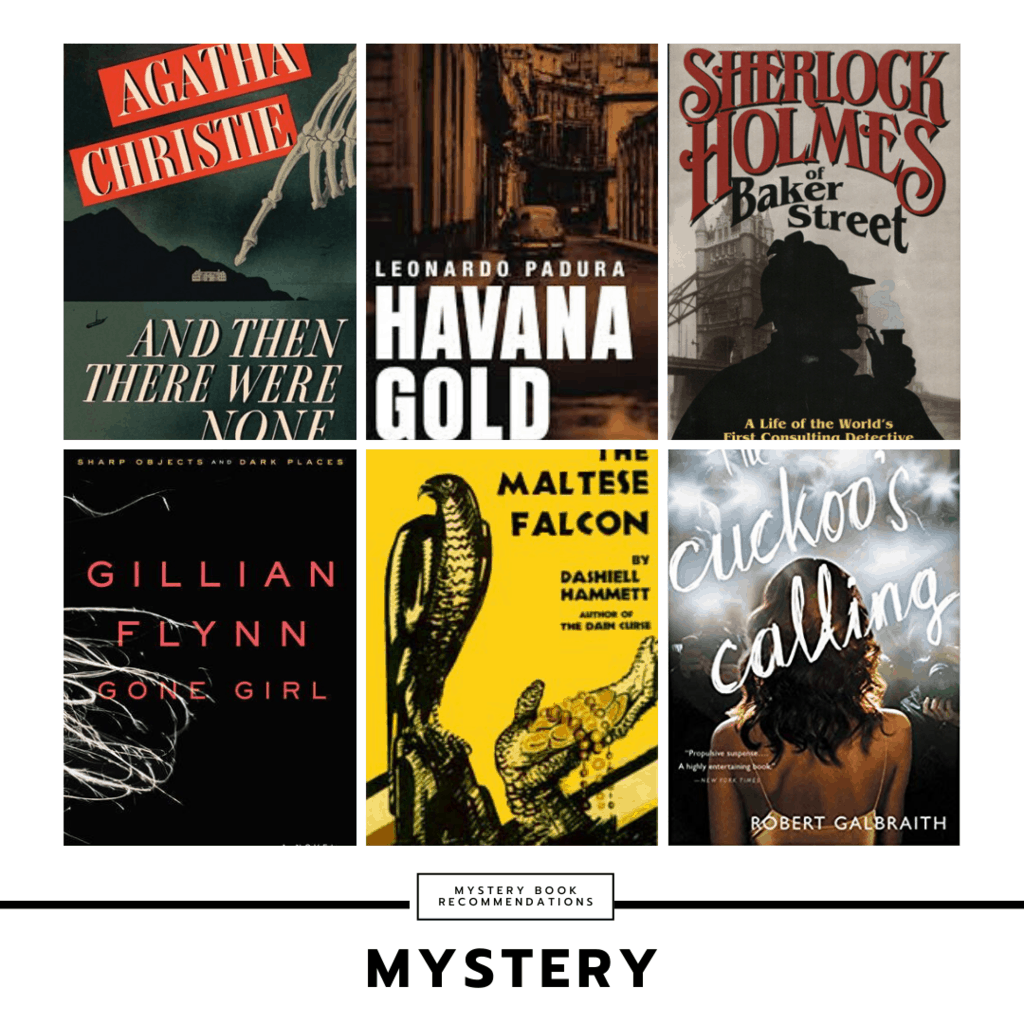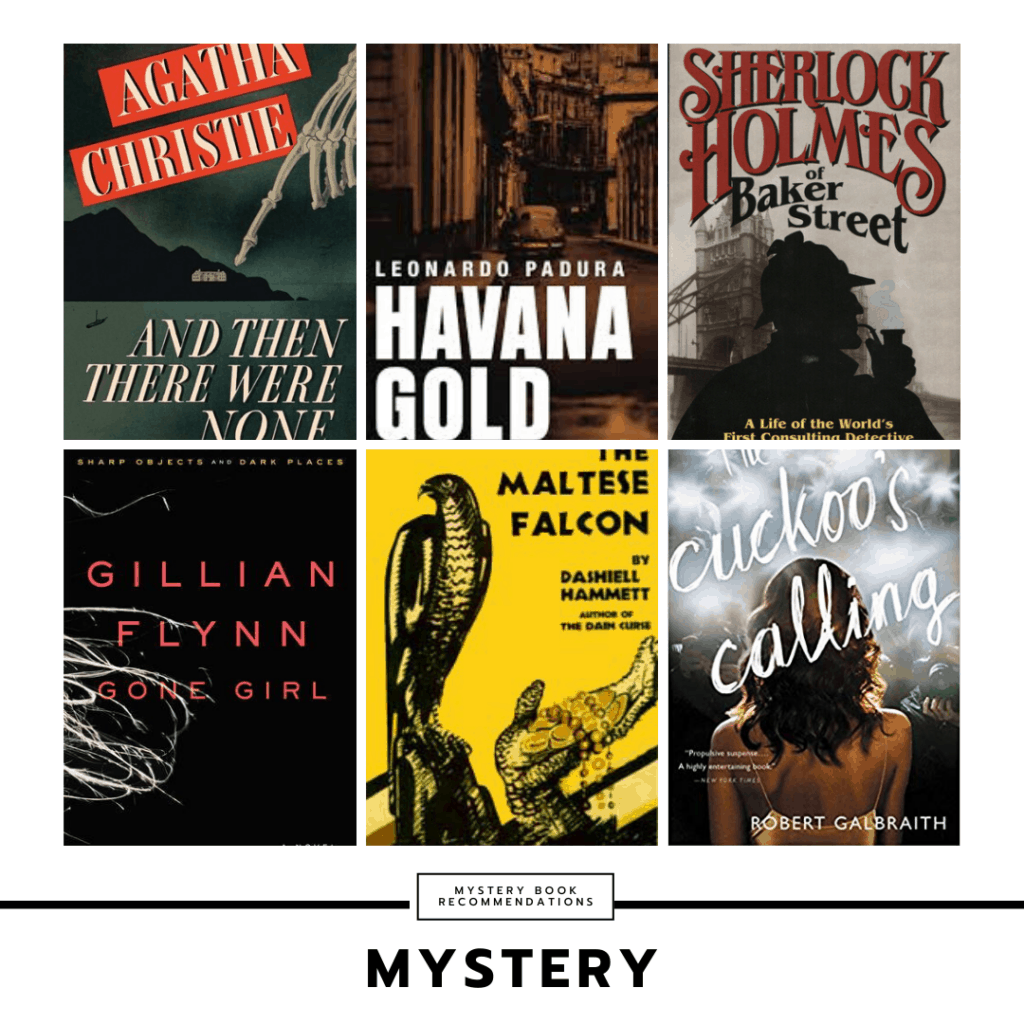 Mystery is an incredibly popular literary genre. Classic mysteries range from the masterful whodunit in And Then There Were None, the classic private detective à la Sherlock Holmes to Sam Spade's hardboiled P.I.. More contemporary takes on a mystery include Gillian Flynn's Gone Girl, Havana Gold by Cuban author Leonardo Padura, and Robert Galbraith's Strike Series.
My mystery recommendation for you is a combination of a family history and a mystery:
1. The Forgotten Garden, Kate Morton
Published in 2008, The Forgotten Garden is a mystery novel by Australian author Kate Morton.
Though Garden is only her second novel, it is considered her best work. It shows Morton's skill as a writer, as she weaves a cohesive story across three generations of a family.
Cassandra just lost her beloved grandmother Nell. Feeling as though she has lost everything, Cassandra's life is turned upside down by her inheritance from her grandmother: a book of dark and intriguing fairytales written by a disappeared Victorian author, Eliza Makepeace. Following her grandmother's footsteps, Cassandra will find out the truth about her family, their history, and herself.
If you like magic realism…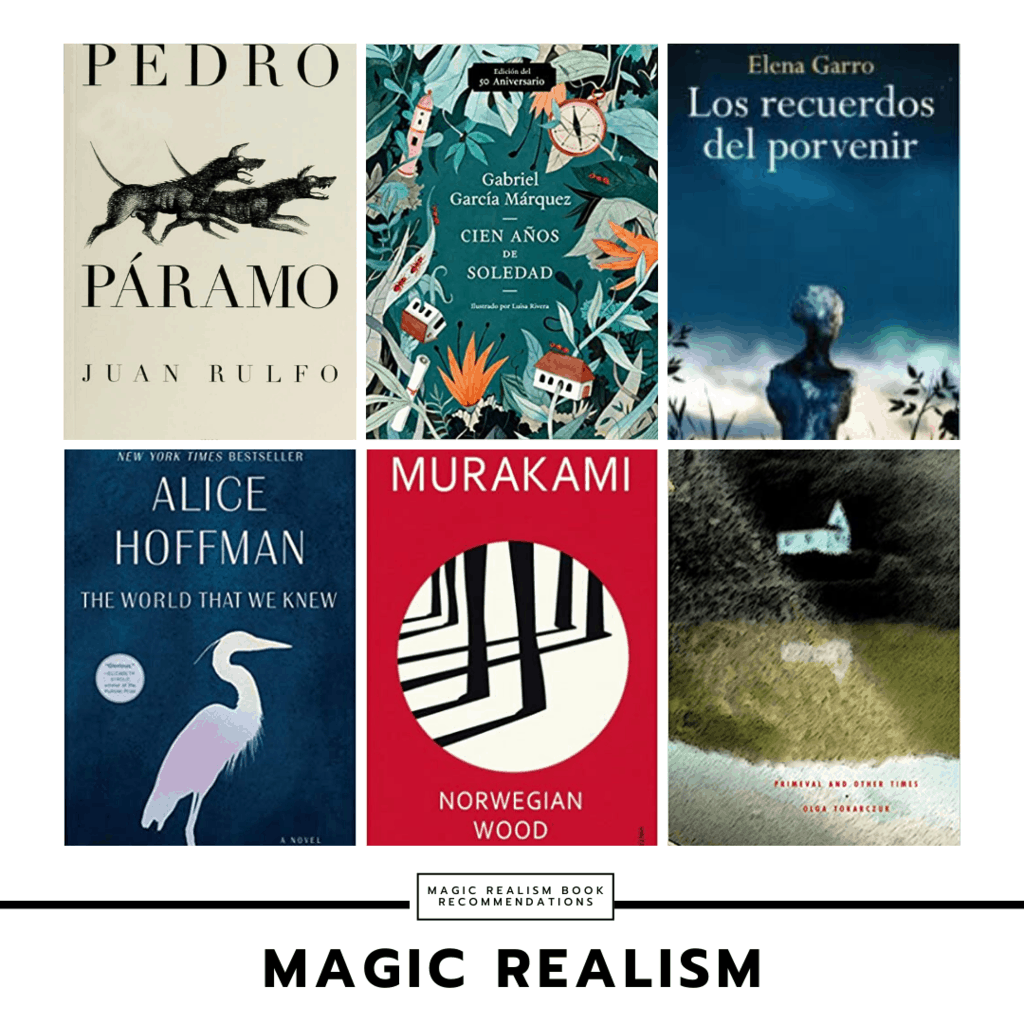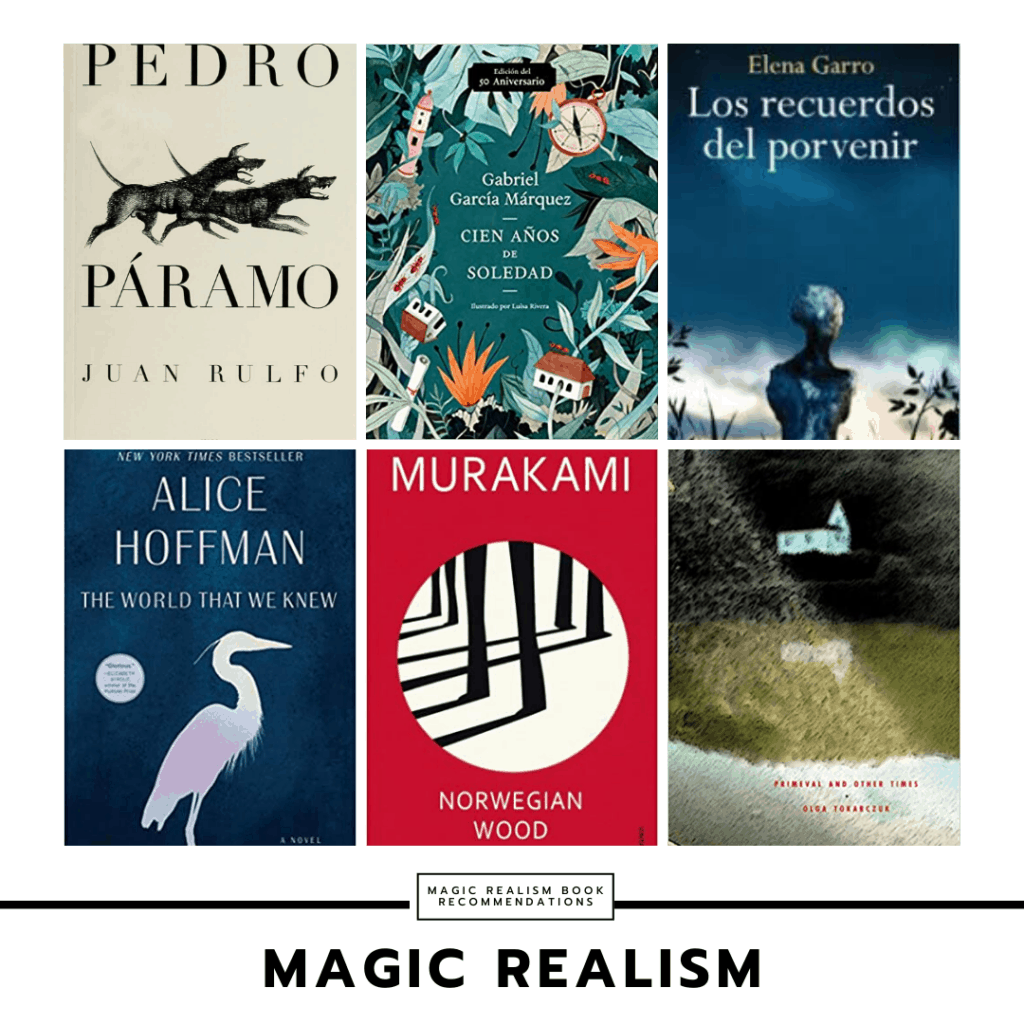 Magic realism is, in the broadest sense, a style of fiction that presents a real version of the modern world and adds magical elements to it.
Some of its more prominent examples are One Hundred Years of Solitude by Colombian Gabriel García Márquez, Pedro Páramo written by Mexican Juan Rulfo and Recollections of the Things to Come by Mexican author Elena Garro.
While Latin American authors and literature are the most prolific and exemplary in this genre, there are also incredible authors outside of it. There's Japanese author Haruki Murakami, one of the most important faces in this genre (known for classics like Norwegian Wood and The Wind-Up Bird Chronicle). With The World that We Knew, English author Alice Hoffman brought magical realism to the Holocaust. Finally, the Polish novel Primeval and Other Times is one of the most celebrated novels from its author, Olga Tokarczuk.
But, for my choice, I thought I'd recommend one of my all-time favorite novels, and one of the best book recommendations for college students looking for something surreal:
2. The House of the Spirits, Isabel Allende
Isabel Allende's first and most famous novel, The House of the Spirits was published in 1982. The novel spans multiple decades, lives, and historical events in an unnamed Latin American country (Chile).
The story follows the Trueba family through three generations. It portrays their growth, rise, and fall. Esteban Trueba, an impoverished, ultra-conservative land-owner, marries Clara del Valle, a rich and strange girl from a good family. They have three kids, Blanca and the twins, Nicolas and Jaime.
While it is firstly a family drama, Spirits covers many historical events that happened in Chile during the time, and touches on political and social issues that still plague Latin American countries to this day. All of this is sprinkled throughout a supernatural atmosphere, teeming with stories of love and fate.
If you like comedy…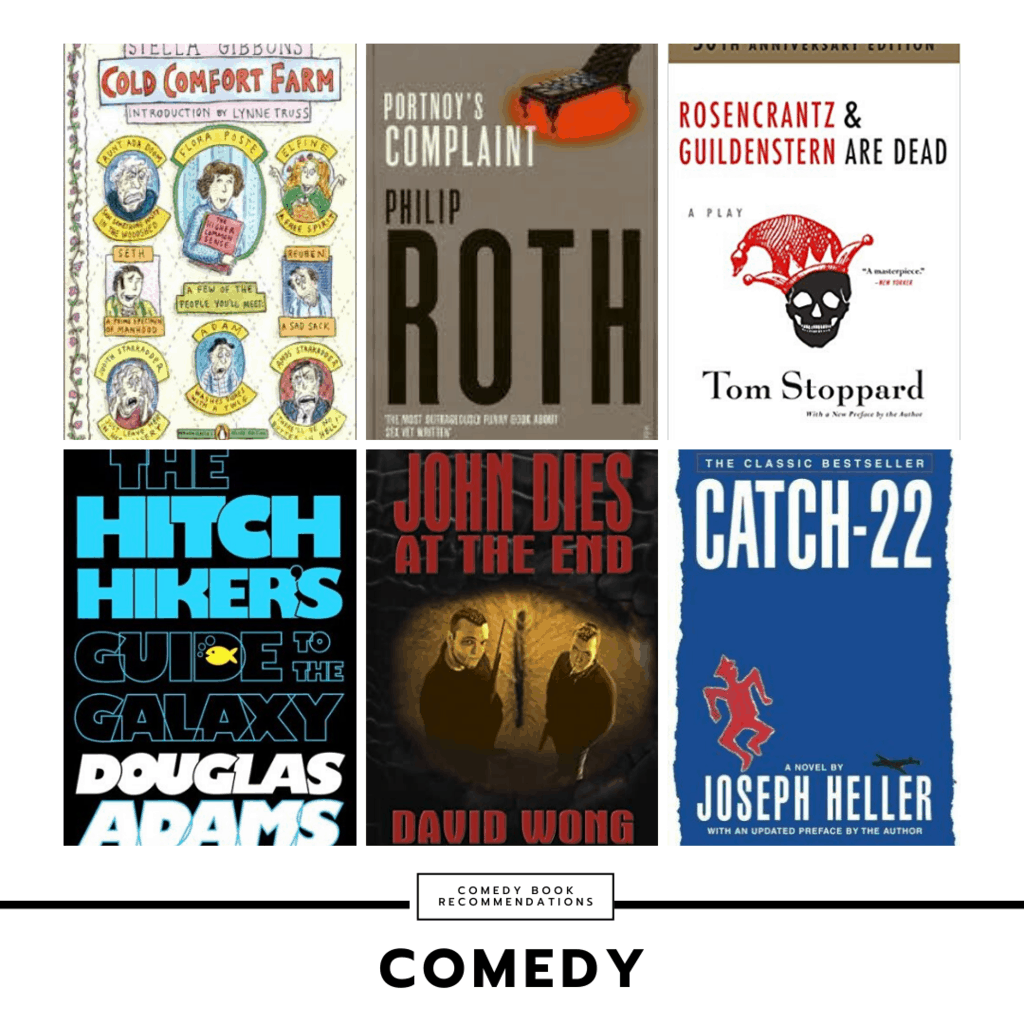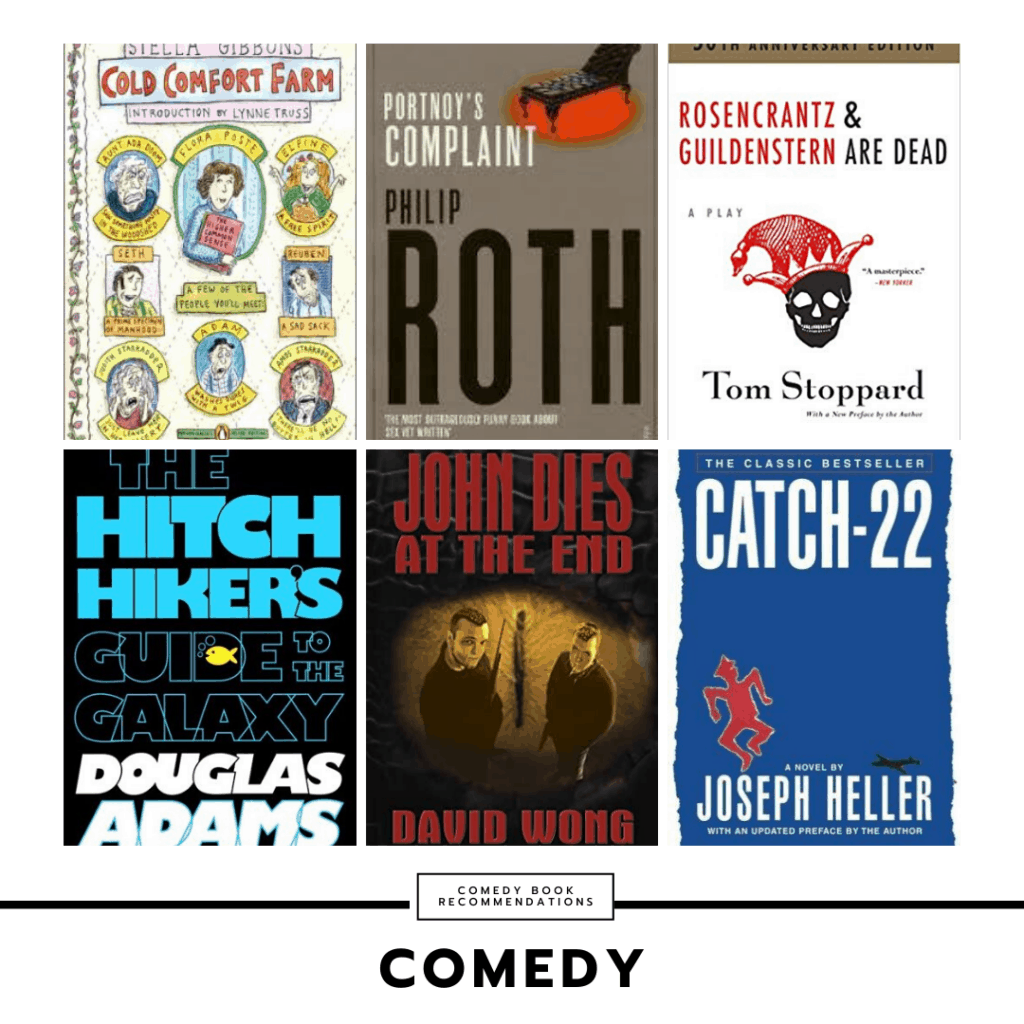 Comedic literature is a great thing when it's done right. And while iconic authors like William Shakespeare and Moliére made comedy a thing in theatre, there were some great comedy novels that came later.
There's Catch-22's political satire, the bizarre, surrealistic take of John Dies at The End, the science fiction infused comedy of The Hitchhiker's Guide to the Galaxy, the parody of the romanticized rural life in Cold Comfort Farm, the controversial Portnoy's Complaint and the extremely existential Rosencrantz and Guildenstern Are Dead.
But I found a book last year that really captured my attention, and you should definitely give it a shot yourself:
3. My Sister, the Serial Killer, Oyinkan Braithwaite
My Sister the Serial Killer is a great read that I stumbled upon by chance. Published in 2018, it was written by Nigerian-UK novelist, Oyinkan Braithwaite. It is a crossover between a slasher and satire.
Korede's younger sister, Ayoola, has a tendency to kill her boyfriends "in self-defense." Korede cleans up after her because she wants to take care of her baby sister and she loves her. But when Ayoola sets her eyes on a doctor that works with Korede, a man she's been in love with, she is faced with the choice to sacrifice one or the other.
If you like romance…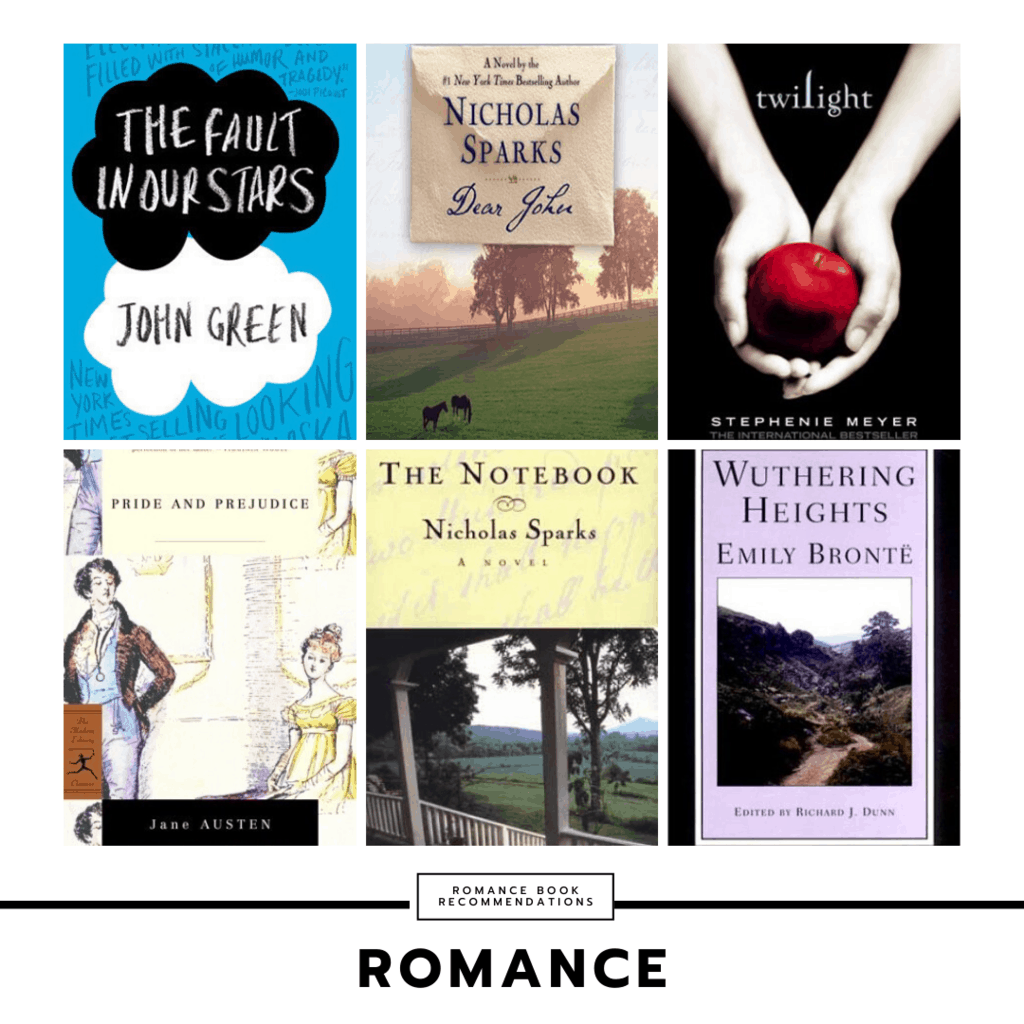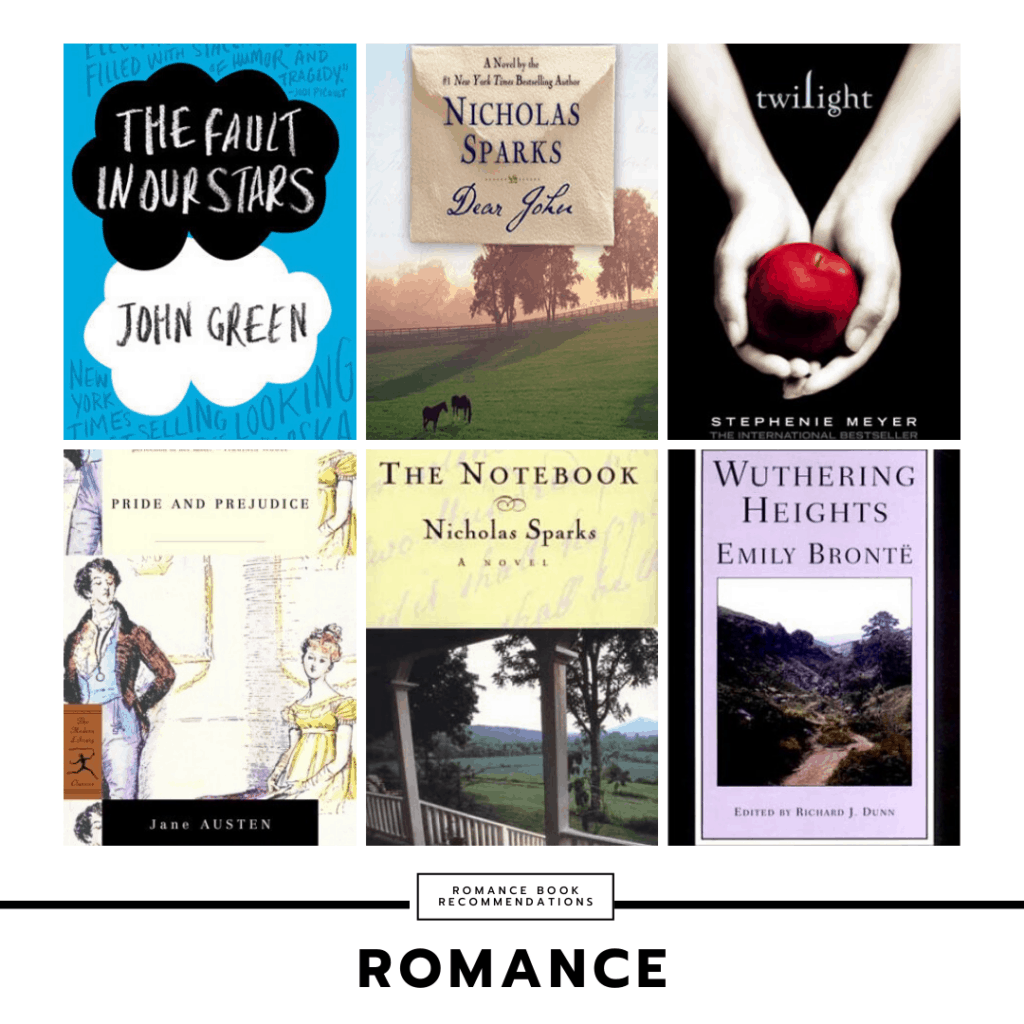 I believe that a lot of us went through a "romance novel" phase. At least, I know I did. Now, I don't read a lot of romance and have lost my patience for most of it, but I still find myself going back to certain books in the genre.
In the romance genre, everyone has heard of Jane Austen's novels, especially Pride & Prejudice. One of the most prolific and popular romance authors is Nicholas Sparks, the author of favorites like The Notebook and Dear John. But there's also the tragic romance of Wuthering Heights, the YA take on love in The Fault in Our Stars and Twilight's supernatural pairing.
My next book recommendation for college students, though, is a more light-hearted one:
4. Fangirl, Rainbow Rowell
Fangirl, by famous YA novelist Rainbow Rowell, first hit bookstore shelves in 2013. (And we first covered it on CF the year after that.)
I just reread this one a couple of weeks ago and remembered how much it meant to me when I was starting college. It's a fun read that's perfect for escaping right now.
Cath's best friend and partner-in-crime is her twin sister Wren. They have spent most of their lives fangirling over the Simon Snow franchise and Cath is a prolific fan fiction writer. But when they arrive at college, Wren decides to have a different roommate and Cath is left without her sister for the first time. She must learn how to make new friends, survive her first semesters at college, and navigate her blooming love life on her own.
If you like horror…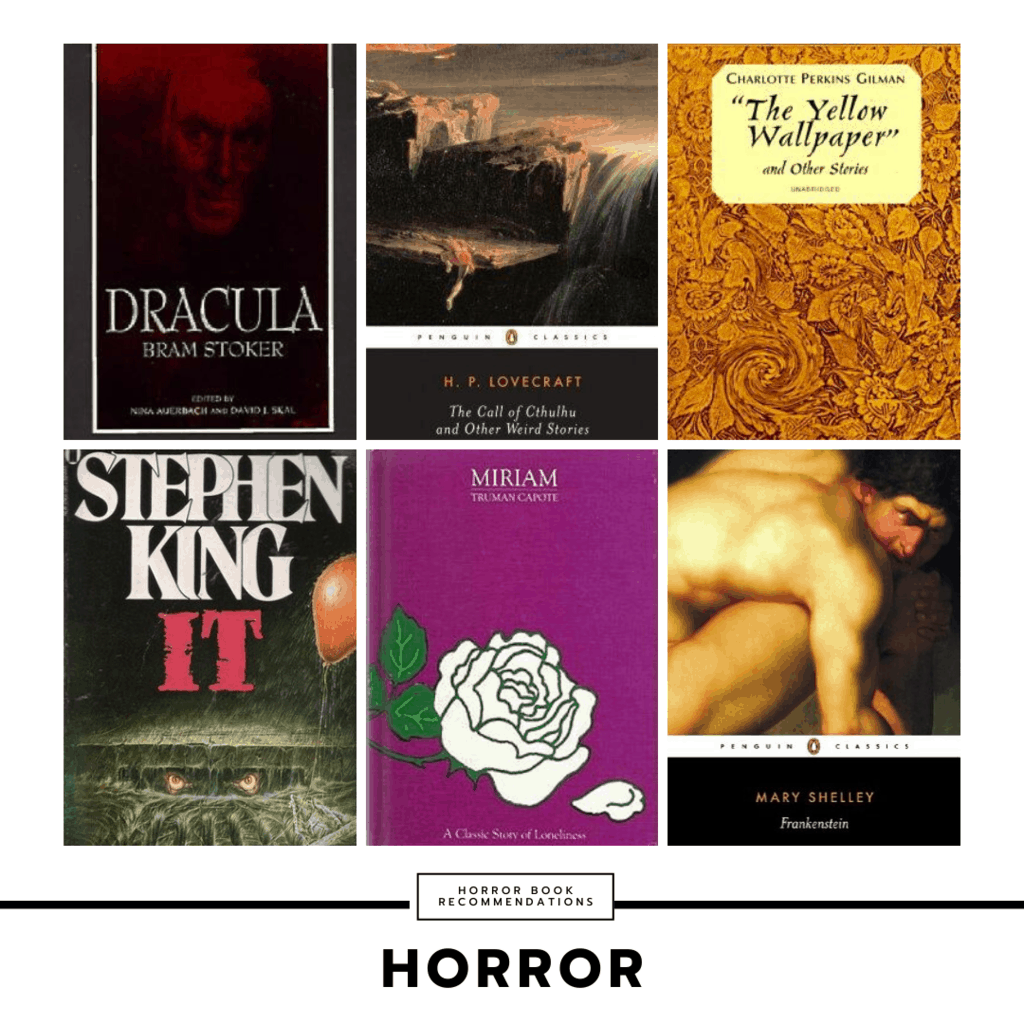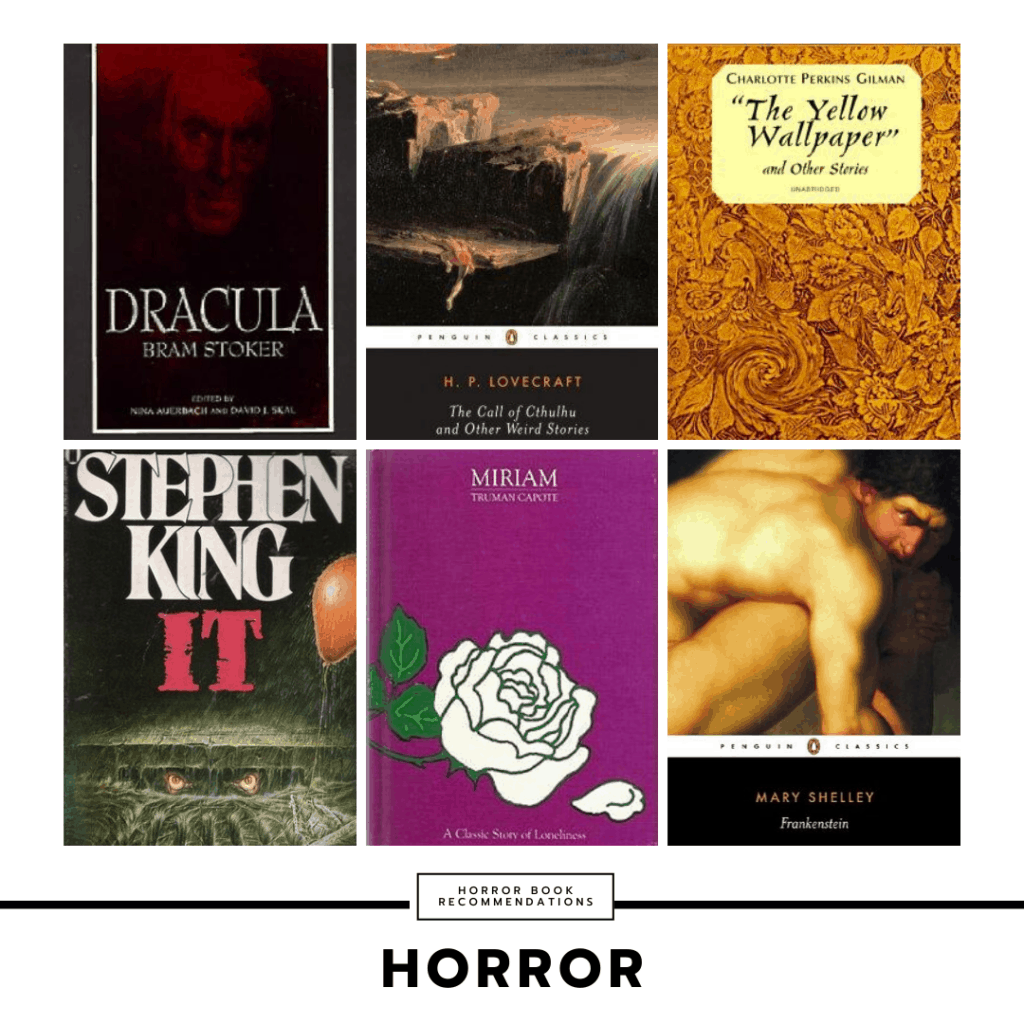 Horror novels are not for everyone, but if you're at all intrigued, I think they're worth trying.
The classic horror novels are Dracula and Frankenstein. And we all know the masters of horror: H.P Lovecraft and Stephen King are undoubtedly the most influential horror authors, with the former inspiring the latter. There are also short stories that will haunt your dreams like Truman Capote's Miriam or the psychological horror of The Yellow Wallpaper.
But, since recommending anything by King, Lovecraft or any of the classics kind of feels like cheating, I'll leave you with a less obvious choice:
5. House of Leaves, Mark Z. Danielewski
This debut novel from author Mark Z. Danielewski was published in early 2000. House of Leaves is a mix of horror, satire, and romance. It also has an unusual format, both physically and story-wise.
Johnny Truant, a tattoo shop apprentice, finds the remains of a complex manuscript one night. The manuscript contains a critical dissertation, written by a deceased old man allegedly named Zampanò. The dissertation is on the topic of a film called The Navidson Record, made by photographer Will Navidson. Johnny soon finds out that most of Zampanò's sources do not actually exist and neither does the film. House of Leaves is presented as Johnny's attempt to make sense of it all.
Personal Favorite Book Recommendations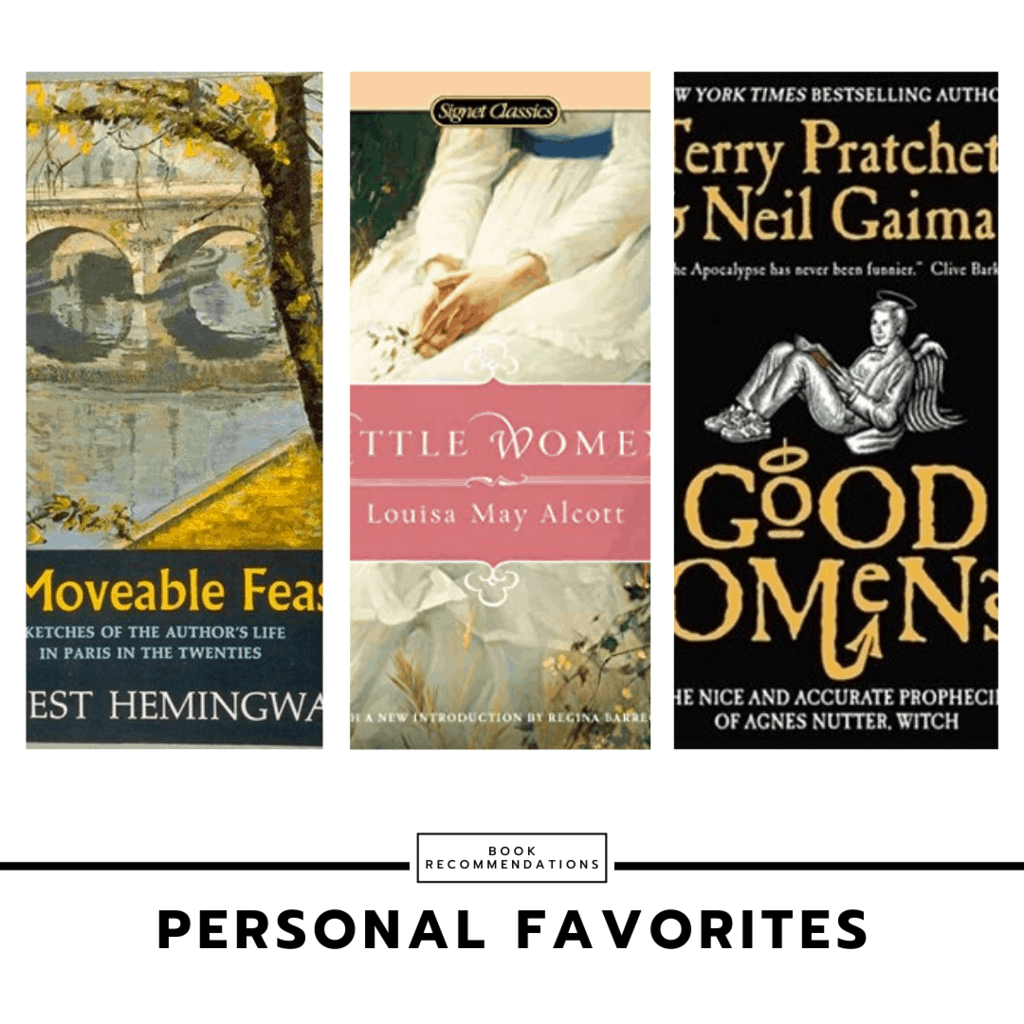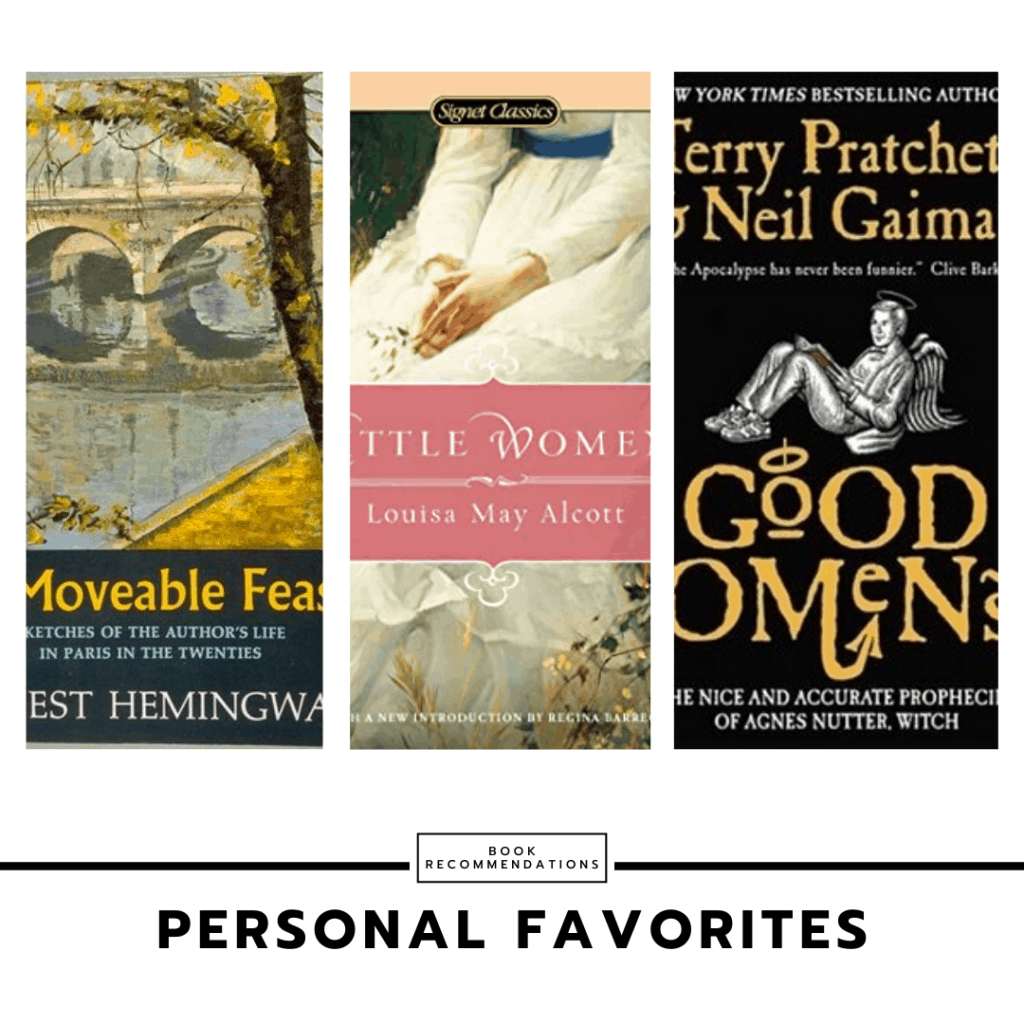 We've been living through a couple of crazy weeks and I don't know about you, but in times like these, a retreat to familiar favorites makes me feel safer and better. Here are the books that always make me feel good.
6. A Moveable Feast, Ernest Hemingway
A memoir by the incredible Ernest Hemingway, A Moveable Feast was published posthumously in 1964. Hemingway is one of my favorite authors and this book is an incredibly personal-yet-endearing tale of his early life as a writer.
The book covers Hemingway's years as a struggling young journalist and writer in 1920s Paris. It's filled with personal accounts, observations, and stories by Hemingway.
This memoir is full of fun details: It provides specific addresses of different locations, many of which can still be found in Paris today. Other notable artists and authors also feature in the book, including Aleister Crowley, John Dos Passos, F. Scott and Zelda Fitzgerald, James Joyce, Ezra Pound, and Gertrude Stein.
7. Little Women, Louise May Alcott
Loosely based on the childhood of Louisa May Alcott, Little Women was published in two volumes in 1868 and 1869 and quickly became a huge success.
The story follows the lives of the four March sisters: Meg, Jo, Beth, and Amy. Their once-prosperous family has fallen into genteel poverty. Now that the girls are young teenagers, the book chronicles their various small attempts to cope with their newly-reduced status, get along with each other, and just generally grow up while their father is away during the Civil War.
This is one of my all time favorite book recommendations for college students, specifically college women. If you haven't read it yet, you need to.
My mom gave me her copy of this book when I was young and it immediately became one of my favorite books of all time. I've always loved reading and writing, I studied Literature in college and, as you can guess, I see myself in Jo more than any other of the characters. I go back to this book constantly, especially when I'm feeling anxious or uncertain about anything. (I even wrote about the movie adaptation here, if you want more on this incredible work.)
8. Good Omens: The Nice and Accurate Prophecies of Agnes Nutter, Sir Terry Pratchett & Neil Gaiman
Written by best friends Sir Terry Pratchett and Neil Gaiman, Good Omens is the perfect combination of these two authors' writing styles. The book was published in 1990 and it is a light-hearted comedy about the apocalypse.
The basic premise revolves around the birth of the Antichrist, Adam, and the coming of the End Times. A mix-up at the small hospital causes baby Adam to live and grow up with a family he wasn't supposed to. Meanwhile, the angel Aziraphale and the demon Crowley attempt to sabotage the end of times, having grown accustomed to humans and their lives on Earth. Also, there are the Four Horsemen of the Apocalypse, Atlantis and Elvis (yes, that one).
I know, the Apocalypse doesn't seem like the right thing to read about right now, but I can assure you: this take on it will make you feel better, will make you laugh, and it'll take your mind of off things.
What do you think of these book recommendations for college students?
Have you read any of these books? Which one would you read? Do you have any recommendations for us? Let us know in the comments below!