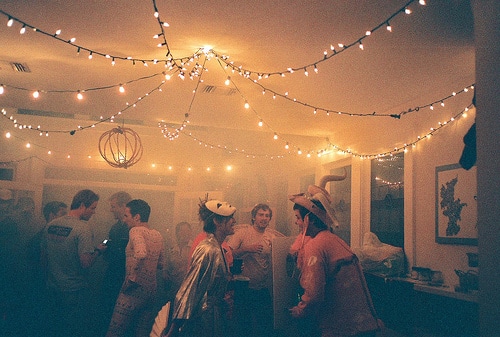 Since Halloween is a little over a week away, I thought I would give you girls some last-minute Halloween costume ideas that you can put together with the stuff you probably already have! You'll stand out from the hordes of sexy cops, sailors, and kittens, but still look totally adorable and creative!
So, without further ado, here are my Top 5 Inexpensive and Totally Cute Halloween Costume Ideas!
Idea #1: Updated Wednesday Addams
If you've ever seen the Addams Family movie or TV show, you might remember Wednesday–the slightly creepy, LBD wearing, raven-haired daughter of the family!
Wednesday has a look that is totally iconic, but also really simple if you're short on time or money! All you really need for this costume is a black dress, white collared shirt, and tights or thigh highs.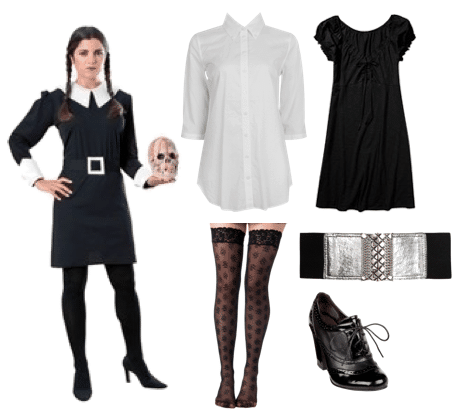 Product Information: Button-up, Forever 21. Thigh Highs, Fredericks Of Hollywood. Dress, Old Navy. Shoes, Piperlime. Belt, Dorothy Perkins.
Idea #2: Cute Equestrian
If you want a look that's on the sultry side, dressing as an equestrian is a great way to go. With their tight pants, high boots, and button-up shirts, you can create a totally cute equestrian-inspired look with stuff you already own!
Essentials for this costume include leggings, knee-high boots, boyfriend blazer, and a button up shirt, complete with a flirty, lacy bra to peak out from it. Grab a riding crop from a costume store and you're set.
Product Information: Leggings and boots, Piperlime. Bra, Elle Macpherson Intimates at Nordstrom. Button up, Forever 21. Blazer, Brass Plum.
Idea #3: Flirty Ballerina
A definite throwback, a ballerina costume is a great way to revisit your childhood while adding an obviously adult twist.
To keep your look more fashionista than juvenile, all need for this costume is a leotard or tank top, cute thigh-high socks, and a bubble skirt or tutu! Go wild with colors here–the ballerina silhouette is so classic, no one will be confused by your costume, even if you don nontradtional baby blue and white instead of pink and black. Both Claire's and Target sell tutus for under $20 if you want to buy one to complete your look! Or, ditch your tutu all together, add fishnets, and go as Beyonce from her Single Ladies video!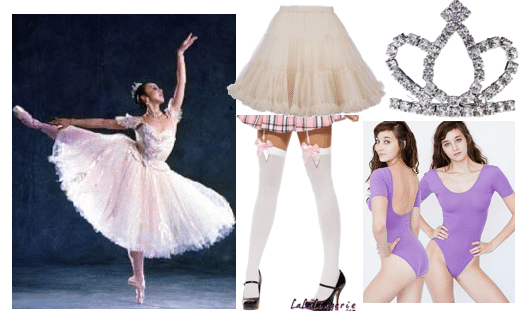 Leotard, American Apparel. Tiara, Claire's. Thigh Highs, 3wishes.com. Tutu, very.co.uk.
Idea #4: Rachel Zoe
Everyone's favorite stylist, R.Zoe, was once famous for creating looks for celebrities such as Nicole Richie, Mischa Barton, and Lindsay Lohan, but has now come into her own as a star. With the success of her best-selling book and TV show, Rachel Zoe is more famous (infamous?) than ever.
Since her styles have been so influential, you've probably got a good number of the items that would make up a great Rachel costume–skinny jeans, a baggy top, faux fur vest, and, high heels, lots of oversized accessories! Add massive sunglasses, wear your hair curly, say "I die," and "bananas" all night, and everyone will know who you are!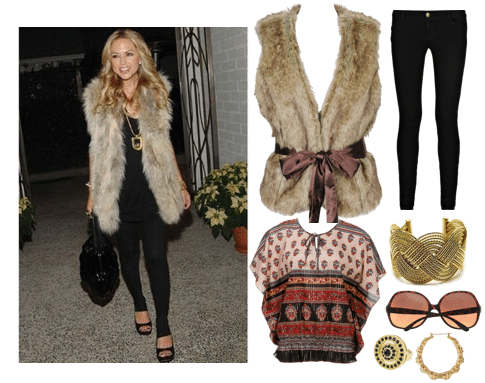 Product Information: Faux Fur Vest, Forever 21. Jeans, Current/Elliott Legging Jeans, net-a-porter.com. Paisley peasant top, Charlotte Russe. Sunglasses, Fred Flare. Jewelry, girlprops.com.
Idea #5: M.I.A.
Another huge pop-culture figure, M.I.A. has an awesome, totally individual, recognizable sense of style. This costume is a great one for those of you who want to stand out on Halloween!
Grab a blue bob wig, put on some sparkly leggings, sunglasses, an oversized graphic tee, and kicks or converse! If you have something with crazy prints or neon, this is the time to wear it! With M.I.A., the brighter the better. Keep this in mind when you do your makeup, too. Check out her website for further inspiration!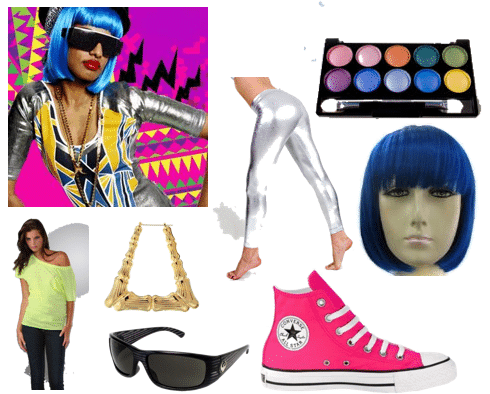 Product Information: Makeup palette, Claire's. Blue bob wig, mooncostumes.com. Converse high tops, Delia's. Silver lamé leggings, American Apparel. Oversized neon tee, C&C California at Shopbop. Earrings, girlprops.com. Sunglasses, Tilly's.
Your thoughts?
Do you guys already have your Halloween costumes picked out? Do you like to buy your costumes or make them? What are you going to be for Halloween this year?! Let us all know in the comments section!