Growing up, Talia used fashion to help cope with her social anxiety disorder. She would show those around her who she was and who she wanted be through the clothes she decided to wear. "Because of this, my love of fashion helped me gain a lot of confidence and grow a stronger sense of self," she recalls.
On this hot summer day, I found Talia walking around campus in a beautiful printed chiffon abaya. I believe florals will never go out of style and Talia shows us all exactly why that is true.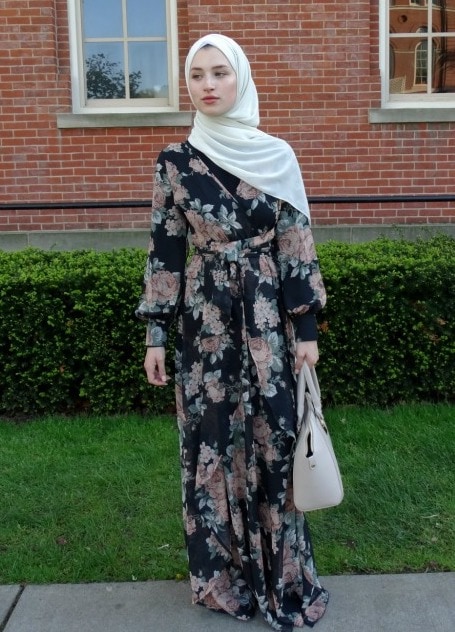 Talia 101
Name: Talia
School: West Virginia University
Year: Senior
Major: English Literature, Women's and Gender Studies
Hometown: Star Valley, WY
Let's Talk Fashion
Who or what inspires your style? "My greatest inspiration comes from modest fashion bloggers like [@dinatokio and @noore.] It takes massive creativity to be able to incorporate the hijab and modesty into an outfit while also staying on trend. It shows how versatile these stylists are."
Where do you like to shop? "I love INAYAH, which is a modest minimalist fashion brand. I also love a lot of Monki's designs which I purchase through ASOS predominantly. I love that student discount! If I want to pick trendy pieces at a lower price, Zara is really great, too."
How would you describe your sense of style? "I like to focus on sleek lines and [monochromatic] looks. I'm not afraid of an all-black outfit. The '60s mod style pairs well with modesty because many of the designs are loose-fitting or incorporate long sleeves, turtlenecks, etc."
Why did you choose this particular outfit? "This patterned chiffon abaya is great for particularly hot days. When the temperature is so high, I don't like to wear a full face of makeup. Having such a distinct, floral piece on makes me feel feminine without needing to sweat through false lashes and contour."
What fashion advice would you give to other students looking to improve their style? "Don't be afraid to be the most dressed up person in a room. Just because your fellow students are wearing sweats to class doesn't mean you shouldn't dress as formal as you please. You will feel way more on top of your game walking to class in a blazer and pumps than a topknot and leggings, I promise."
What are your favorite trends right now? "I'm living for the denim-on-denim comeback. Maybe I'm just nostalgic for the 2002 Britney Spears and Justin Timberlake, but I think it can be a versatile look. I also love the return of loose-fit trousers and bell-bottoms. I have been so tired of the black legging/skinny jeans look that we've all been subjected to for nearly a decade now."
What do you do for fun – do you have any unique hobbies or interests? "I'm super nerdy and boring, so you can typically find me researching international relations and foreign policy or reading history books. I really enjoy learning about different cultures, [and] fashion is actually a really big part of that. We all use our attire to denote parts of our identity. It's who we want the world to see us as."
If you could raid anyone's closet, who would it be and why? "Is there any proper response other than Rihanna's? I adore over-the-top outerwear and layering, but let's be real; no one but RiRi can pull off most of the those looks."
Elements of Talia's Style
1. Headscarf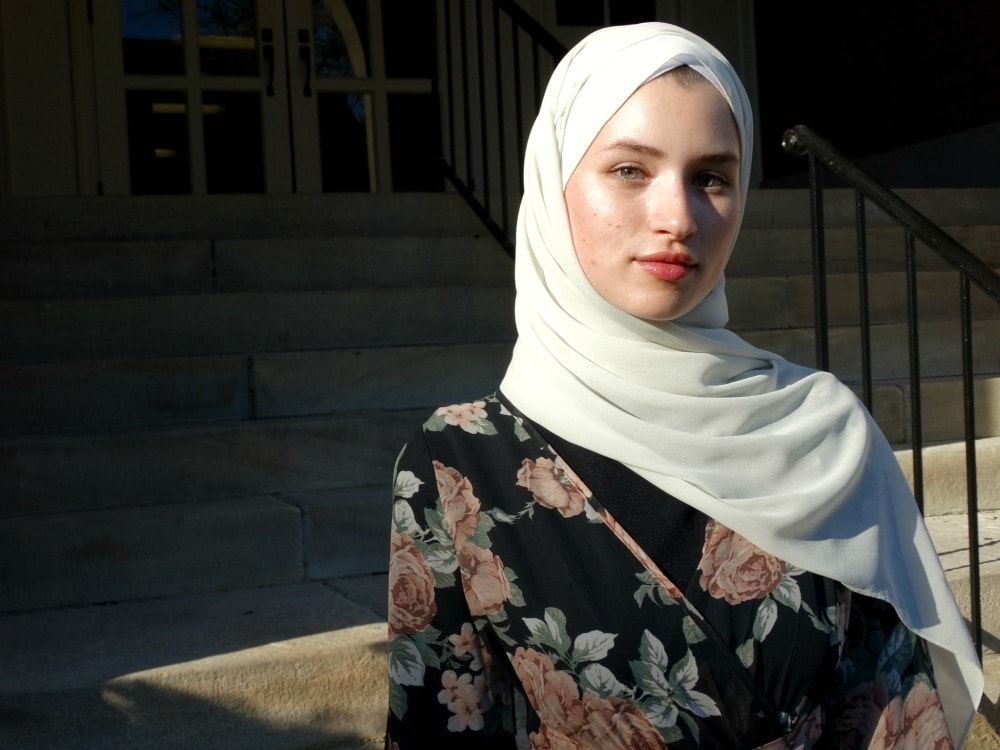 Talia matches her headscarf perfectly with the rest of her look. I love that she chose a cream color to keep the outfit light and summery.
2. Floral Abaya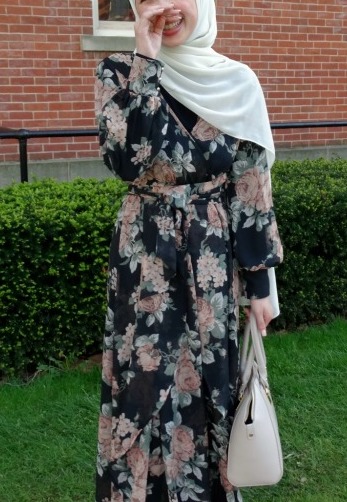 Talia keeps things feminine and floral for her summer look. The chiffon abaya helps her keep cool while staying modest.
What do you think of Talia's outfit?
Do you love wearing floral prints? Comment below and share your thoughts!