I don't know about all of you, but here at Barnard we've reached that lovely point in the semester where midterms and due dates start magically appearing (and then never stop until finals).
I ran into Maya, another student struggling through the difficult second half of the semester and was impressed by her laid-back yet put-together style. Props for nailing a great minimalist outfit, Maya!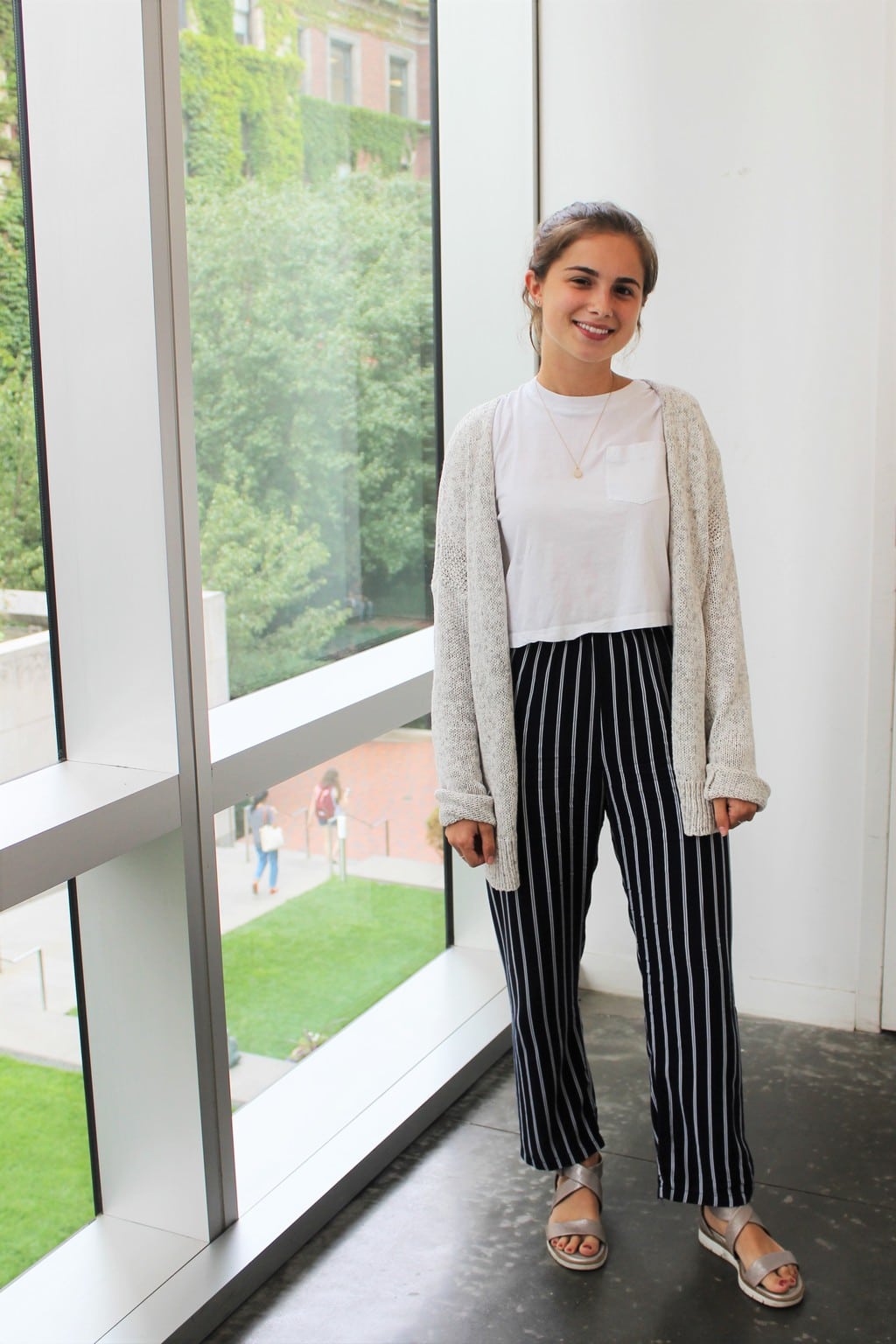 Maya 101
Name: Maya
Hometown: Irvington, NY
School: Barnard College at Columbia University
Year: Junior
Major: Psychology
Let's Talk Fashion
Who or what inspires your style? "My sense of style shifted drastically over the summer. I interned at EILEEN FISHER, a women's clothing brand that creates timeless pieces through minimalist design. It made me look at clothes in a whole new way and see that the pieces we choose to buy have the power to change the clothing industry for the better, as well as empower individuals. I now admire sustainable fashion brands like EF and choose to wear flowy, comfortable pieces that make me feel confident about my look and the ethics behind it.
Where do you like to shop? "Reformation, Everlane, H&M, Nordstrom, Bloomingdales outlet, and DSW."
How would you describe your sense of style? "Menocore!" *author's note* I had never heard of this term before and now I am absolutely obsessed with it!!
Why did you choose this particular outfit? "I knew I'd have a busy day so I wanted to make sure I was comfortable, while also feeling put-together so I'd feel good in conquering everything on my to-do list. These flowy pants are the most comfy ones I own!"
What fashion advice would you give to other students looking to improve their style? "I always encourage people to invest in pieces that will last a long time. Last long because of quality, but also last a while because they are pieces that you know you'll want to re-wear over and over again because of how much you love them. I used to try and keep up with every single trend only to look back and realize that I didn't truly like each item that I bought. I think it is important to block out what the world is telling you is 'cool' and buy pieces that speak to you."
What are your favorite trends right now? "Jumpsuits, flowy pants, and linen! I am so thrilled that comfort is in style now. Bye bye to my skinny jeans!"
Do you have any favorite fashion designers? "Leandra Medine of Man Repeller, EILEEN FISHER, and Mara Hoffman."
What do you do for fun – do you have any unique hobbies or interests? "I love seeing live music. Most of my budget goes toward concert tickets. I've seen over 80 live shows in my life!"
If you could raid anyone's closet, who would it be, and why? "Halley Elefante! She is known on Instagram as The Salty Blonde. She hasn't posted a single piece that I wouldn't die for – everything from clothes to shoes to hats to sunglasses. Her outfits have the most beautiful prints and silhouettes."
Elements of Maya's Outfit
1. Classic Pocket Tee with Minimalist Accessories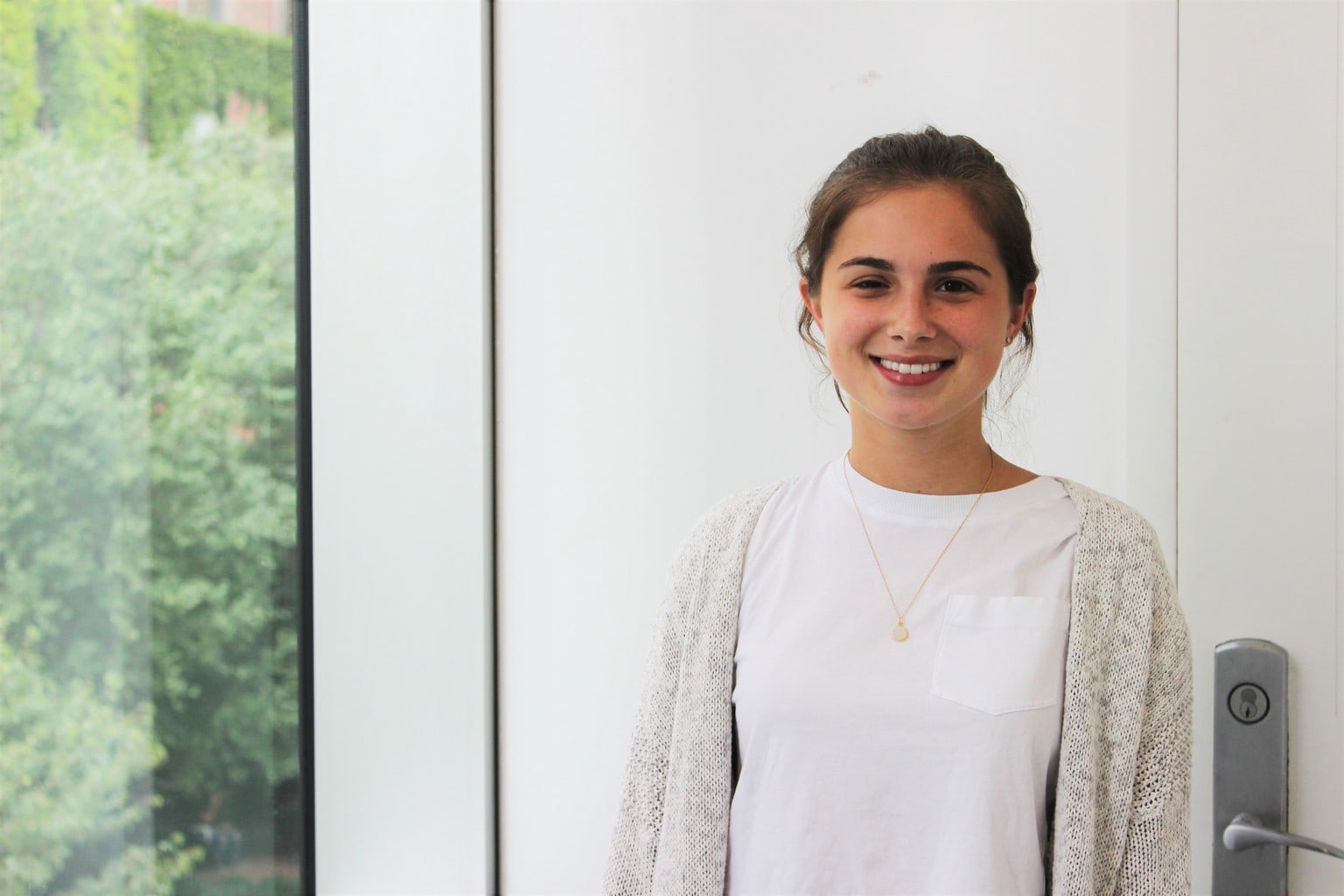 This white crew neck tee from H&M is a closet staple every collegiate should own. Maya's tee has features a cropped length that hits her just right to complement her flowy, striped, high-waisted pants from Brandy Melville.
Layered with a cardigan, this look is perfect for midterms when you have too much going on to really invest a lot of time and energy into planning outfits.
2. Chunky Neutral Sandals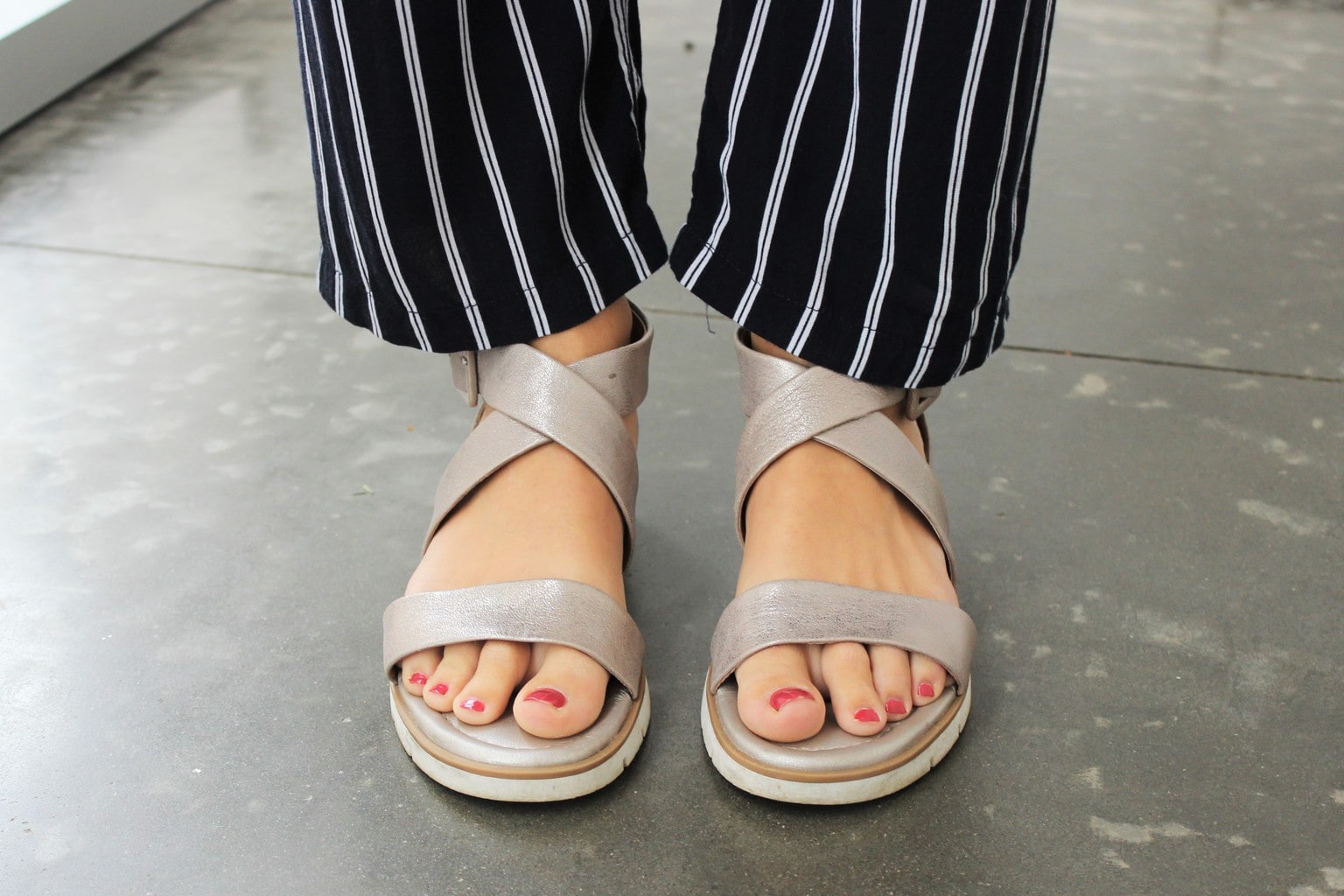 Maya's sandals were the first thing I noticed about her outfit primarily because of how their unique color contrasted with the chunky white soles. I may or may not have immediately looked them up online to consider buying a pair for myself.
The straps are a sort of lilac-silver-beige color that you don't necessarily see a lot of, particularly in a leather sandal. I love the stark contrast they make against the white soles, a trend that I've been seeing a lot lately in sandals and creepers.
3. Dainty Rings with Personal Meaning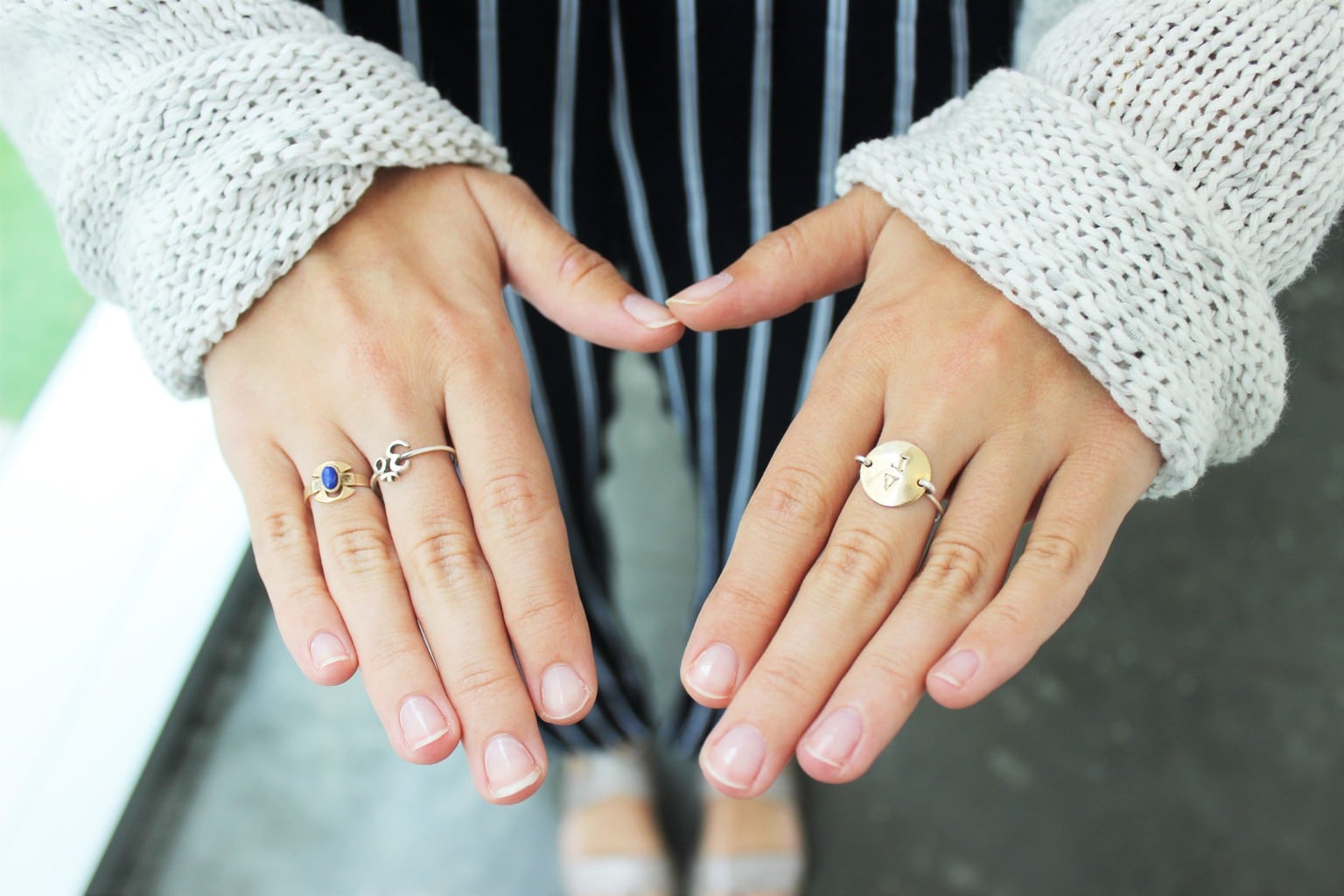 The ring on Maya's left middle finger is a subtle nod to her sorority while the ring on her right ring finger was passed down to her by her great-grandmother.
Her remaining ring has a special, personal meaning behind it that Maya gave me permission to share here:
"The other ring is the OM symbol. I started practicing yoga when I was recovering from an autoimmune disorder in 7th grade. It helped me so much in my path to recovery. Each yoga class starts with chanting OM. The sound of OM is known to be a vibration from which all the universe emanates. In yoga, chanting OM is believed to open the heart and bring one to a state of bliss. My ring serves as a constant reminder to stay grounded and remain calm."
Now tell us what you think!
Do you have any go-to looks to get you through midterms? Are you as obsessed with chunky sandals as I am? Let us know in the comments below!