Jefferson University student Jenna proves that it's possible to mix casual and even conventional wardrobe elements to craft a unique outfit. She does this by finding versatile pieces (which are also essential for getting through finicky spring weather). To make her ensembles really pop, Jenna takes inspiration from those around her and relies on her statement pieces, and I have to say: she does a fantastic job.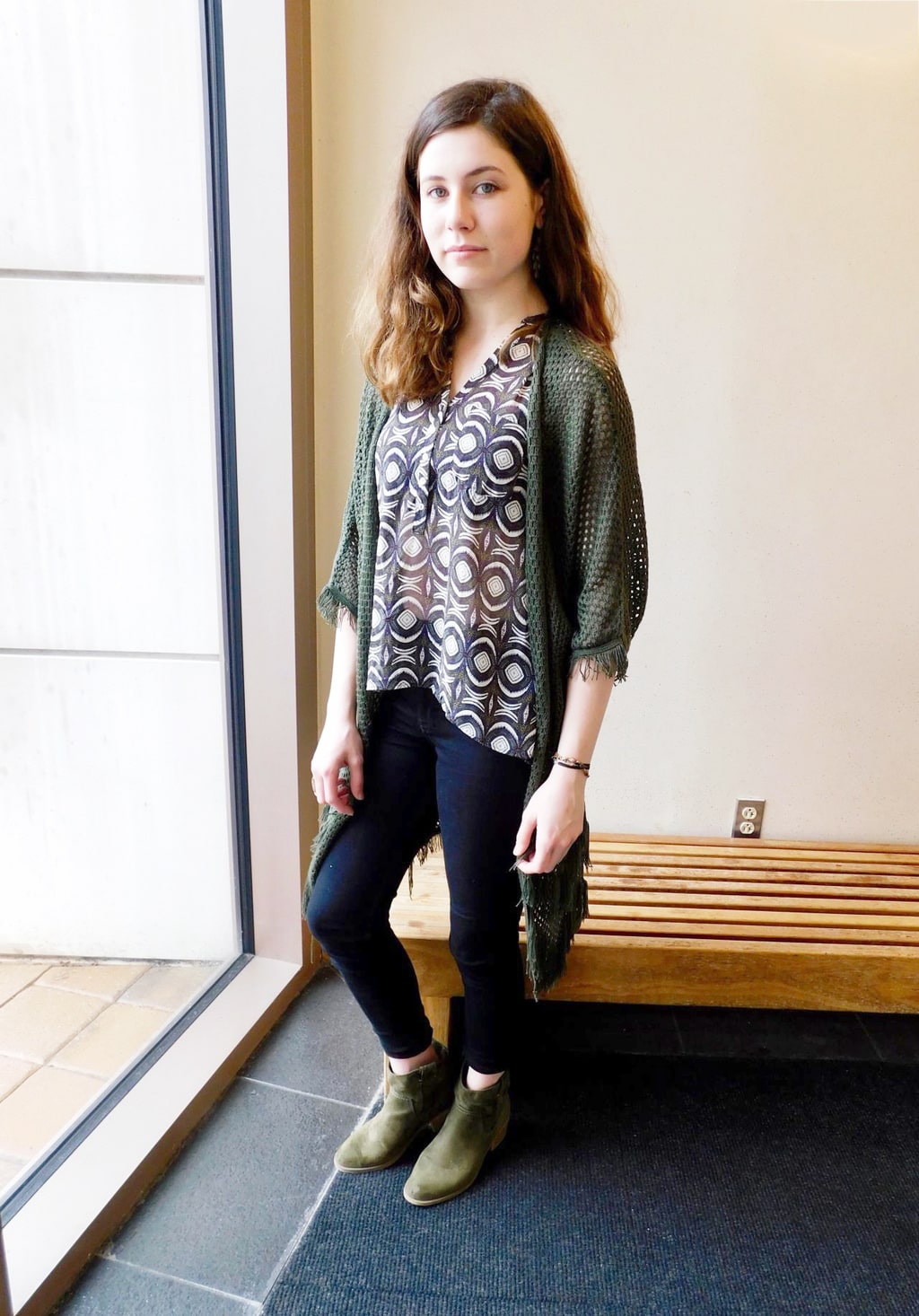 Jenna 101
Name: Jenna
Year: Junior
Major: Fashion Merchandising and Management
School: Jefferson University
Hometown: Landenberg, PA
Let's Talk Fashion
Who or what inspires your style? "I love taking inspiration from different people both in person and in the media. My favorite fashion icon is Harry Styles. Usually while shopping I find an inspirational or bold piece and base my outfits around that."
Where do you like to shop? "Kind of everywhere. I shop a lot at Banana Republic because I work there and I have grown to like their styles. My favorite places [to shop] are actually thrift stores. I feel like [thrifting is] the best way to find something really unique; it's eco-friendly and inexpensive."
How would you describe your sense of style? "All over the place. I range from dressing professionally and polished to low-key and casual. I like being able to mix my pieces around to have a large range of looks."
Why did you choose this particular outfit? "The weather had a pretty big influence. I was going to wear a dress today, but it is raining! I love black denim so it was a natural choice to go with it."
What fashion advice would you give to other students looking to improve their style? "Stay true to what you want to wear and don't worry about what is 'on trend' or what others might think. Fashion trends always come back in style so if your look is 'outdated,' don't let that stop you from wearing it. It is also good to have some transitional pieces that you can wear a couple different ways."
What are your favorite trends right now? "I love that bold patterns are in style and flare sleeves [and] pants. I love flares."
Do you have any favorite fashion designers? If so, who? "Raf Simmons always has amazing pieces. I would say he has the most relatable style."
What do you do for fun – do you have any unique hobbies or interests? "I'm really into photography and modeling if I want something really out there to do. The majority of my time is just spent watching my favorite shows on Netflix and favorite YouTubers."
If you could raid anyone's closet, who would it be and why? "Given that we [are] the same size, Harry Styles. He has a great eye for fashion and I think he is the most influential person for it out there in our generation."
Elements of Jenna's Outfit
1. Silky Tank Top + Cardigan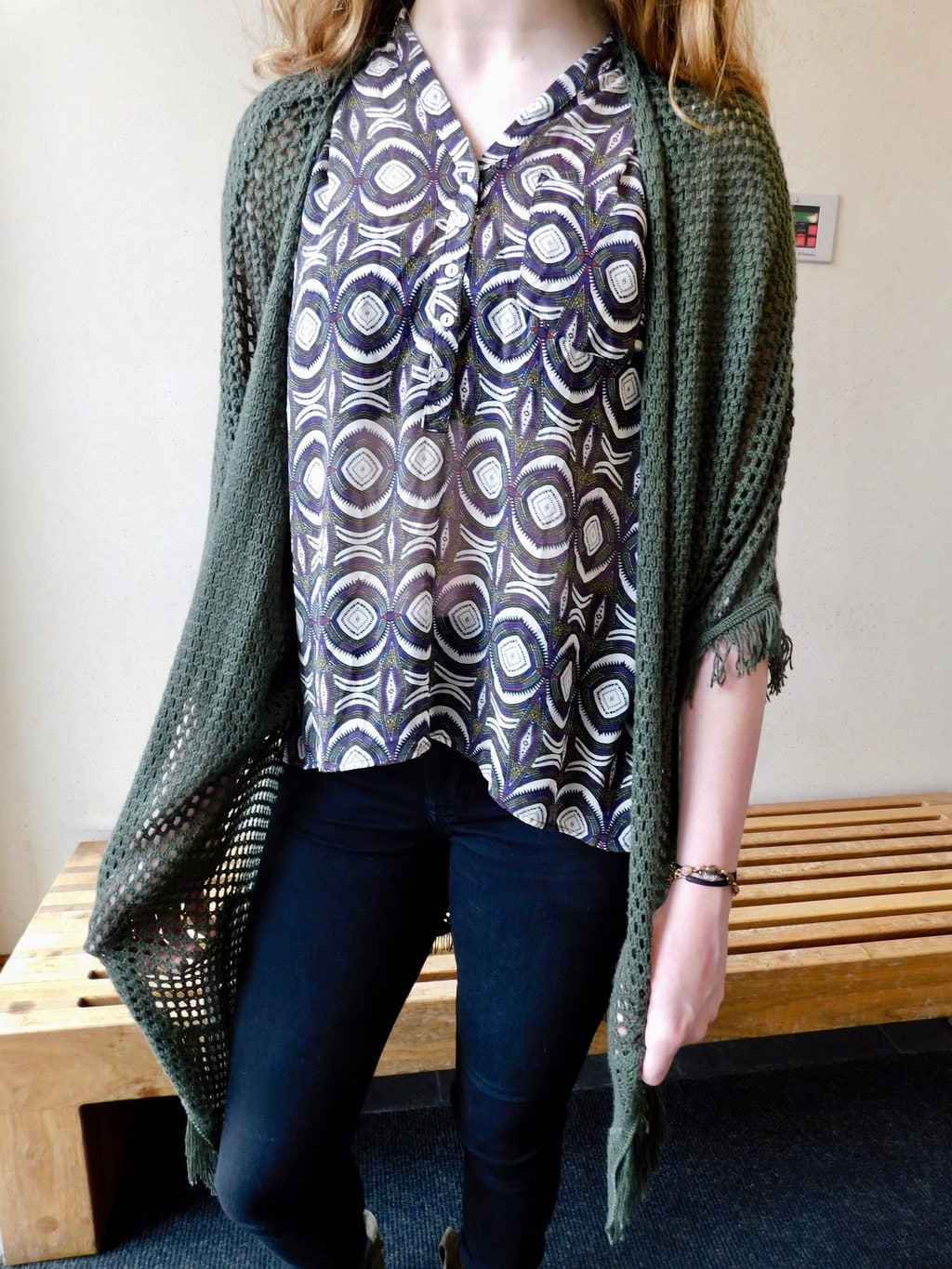 This tank from H&M can be dressed up for a professional look or dressed down for more casual days. Jenna went the more casual route today by pairing the tank with her crocheted cardigan for a laid-back feel. Cardigans like this are always great for when you feel like you need another layer but don't want anything too warm.
2. Boots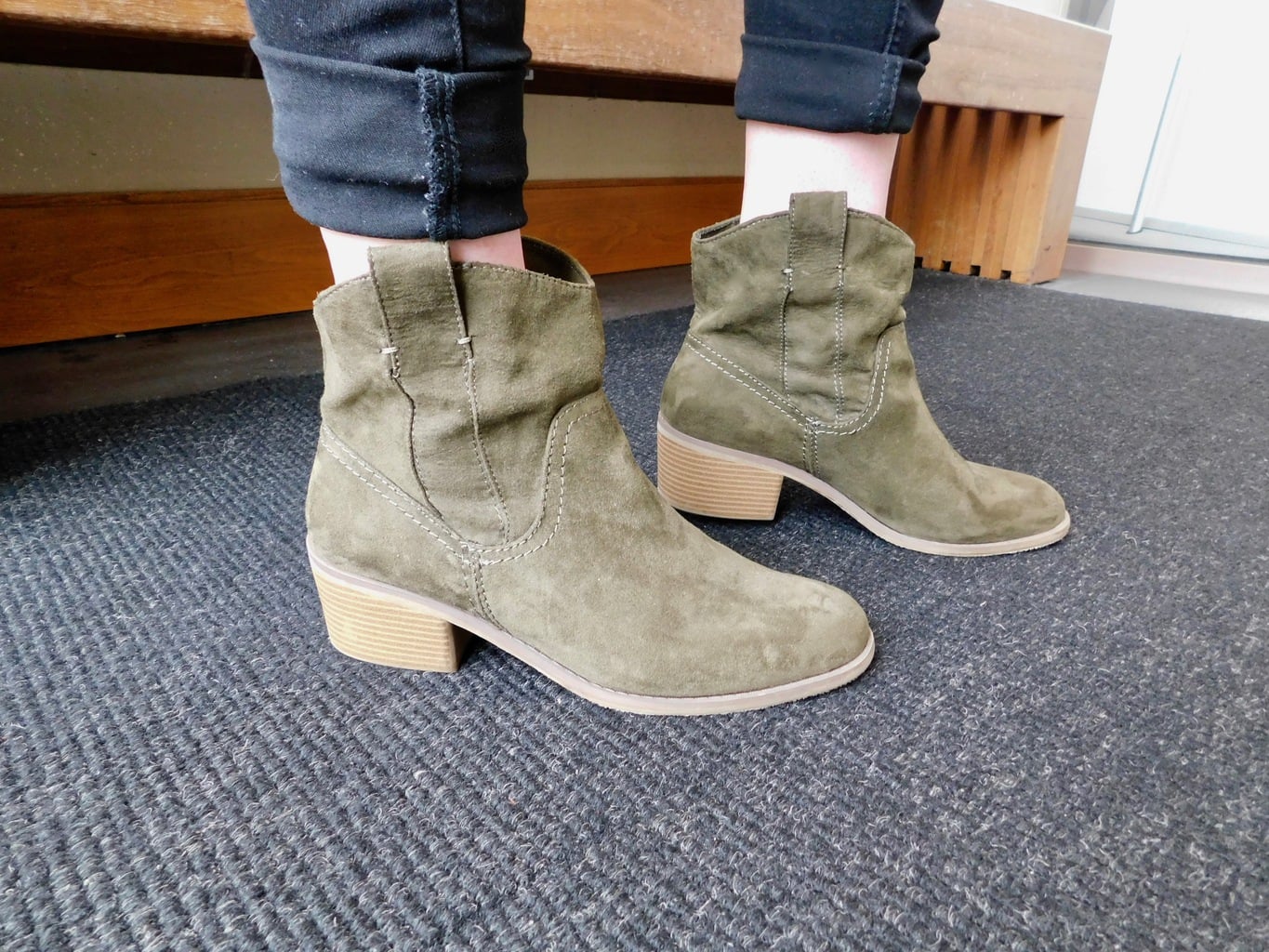 These olive green Target boots tie together Jenna's green-toned outfit. Booties like these are great for the transitional spring season because they are suede, but their light color makes them suitable for warmer weather. (To get your own pair of boots like these, see our guide to finding the best heeled ankle boots on a budget.)
What do you think of Jenna's style?
Would you wear her olive green booties? Do you love her cardigan? Comment below and share your thoughts with us!