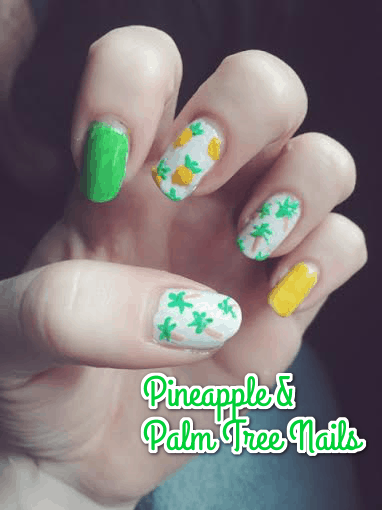 Are you ready for summer? I definitely am! This week's nail art design is super-bright, fun and summery, and these trendy prints will add a tropical touch to all of your summer outfits.
Here's how to create this super-easy nail art look:
You Will Need:
How-to:
First things first, paint all of your nails white. The white serves as a base for your patterns and will make your neon polishes look extra bright.
I decided to paint a few of my nails a solid color, so after the base polish dried, I painted my pinky yellow and my pointer finger green. Feel free to switch this up or skip the step entirely if you want all of your nails to have a design.
Palm Tree Nail Art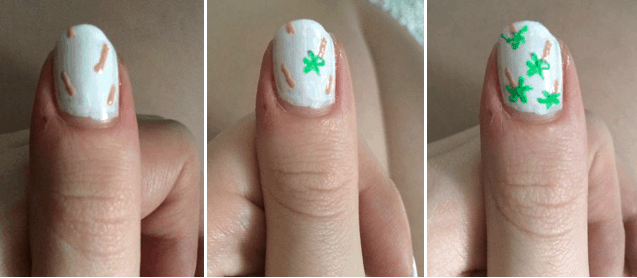 Dip your nail dotting tool in the beige polish. Create tiny lines all over your nails, keeping most of them vertical or slightly diagonal. Make sure you leave enough space for the palm leaves on top of each one.
Clean off the dotting tool, then dip it in the green polish. Create four or five little lines on top of each tree trunk. Basically, you're making a star shape.
Pineapple Nail Art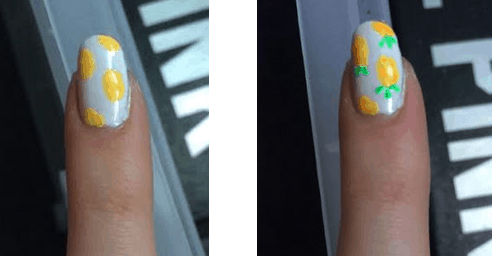 Start by creating little ovals all around your nail with the yellow polish. Be sure to leave room for the pineapple's spiky top!
Optional: Use the darker yellow to either create a grid pattern on the ovals OR take an easier route and create tiny dots that sort of mimic the texture of the pineapple. This part was hard to photograph, but you might be able to see the dots in the second photo!
Finally, top off the pineapple with three little lines of green on the top. Make them pointed and as close to the top center of the pineapple as possible.
The finished nail art look!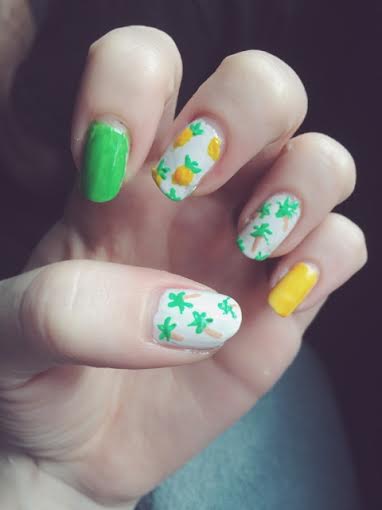 What do you think?
Would you rock this nail art look? Are you a fan of tropical prints? Do you prefer palm tree or pineapple prints? Let us know in the comments below!