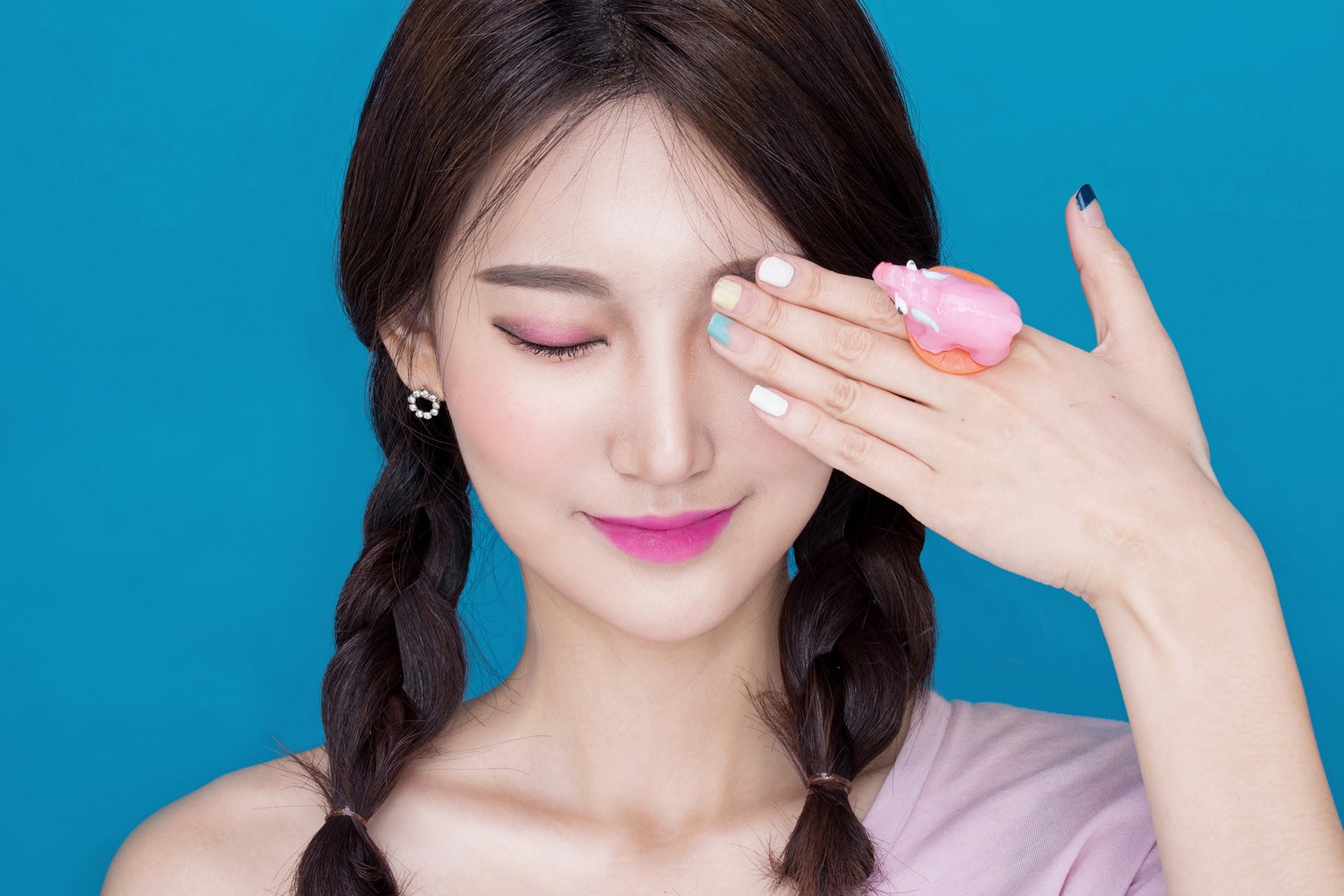 One of the main things I miss about living in Seoul, South Korea is having at least five makeup stores on every street. Ahh, those good, ol' days when I'd run to class late because I spent way too much time comparing cream lipsticks in the store right next to school.
In Korea, there is a certain makeup style loved by both celebrities and college students for such a long time that it's become iconic. Therefore, one can accurately call it the Korean makeup look.
You've learned about Korean skincare, and now it's time for the next step. Below, I've compiled all the important details of Korean makeup starting from base makeup all the way to lips. Let's get started!
Base

Products: Primer, BB cushion, Blush
Primer
Now, after the Korean brand Face Shop's Face It Primer Velvet Skin came out on top (ahead of Benefit's The Porefessional!) in a blind test on a popular Korean beauty show, I immediately snatched one up. I'm usually scared of primers since I don't like to irritate my dry patches, but this primer leaves my skin feeling baby-soft and smooth. It's not drying at all and my concealer actually looks less patchy. A little goes a long way as well, making it easy on the wallet!
Make sure to rub the primer in well, in various directions, for the best absorption.
Foundation
In the U.S, liquid foundations are considered the norm, but in Korea, BB and foundation cushions are on top.
The most efficient and comfortable way of applying foundation I have ever experienced is with a Korean BB/foundation cushion. Not only are they compact and great for touch ups on-the-go, they're also full of great skincare ingredients like sunblock, essence, etc.
The cushions are super easy to apply as well! First, you press down on the cushion soaked with product with its included sponge and then dab the sponge all over your face. This ensures that you have quick and even coverage all over in minutes.
My personal favorite cushion is the IOPE Air Cushion XP in the Natural finish. It's super moisturizing and the coverage is a build-able medium. When I'm running late, I love to whip this out and have my entire face looking flawless in seconds.
One caveat: a lot of Korean base makeup comes in just two shades for light skin. Some higher-end Korean brands such as Laneige and IOPE have more color selection than the road shop brands, so I recommend investing in a higher-end cushion for your best match.
Also, two obvious tips for buying cushion foundations:
Check the undertones of the cushions. They tend to come in either gray or pink so make sure to choose the one best for your skin!
Most cushions have a dewy finish, so make sure to choose ones listed as matte if you prefer that look.
Blush
Though there is a current rise in Korean contour products, they tend to prefer blush when adding dimension.
I love the Tony Moly Crystal Blushers, a cult favorite in Korea that have also appeared in that famous beauty show. Their range is absolutely phenomenal compared to other road shop brands, carrying both light and dark blushes. Their #3 Pleasure Peach gives me that perfect, natural flush, brightening my face as well as giving it some dimension. Their blushes rely on good pigmentation rather than excess shimmer to truly bring your cheeks to life.
Eyes


Products: Eyelash curler, Lash primer, Mascara, Eyeliner, Eyeshadow, Eyebrow powder, Aegyo-sal pen
Eyelash Curler
My formula for eyelashes is 50% eyelash curler + 30% eyelash primer + 20% mascara= 100% eyelashes on fleek.
A lot of people don't realize how crucial eyelash curlers are in the quest for amazing lashes. No matter how expensive or nice your mascara is, your eyelashes won't look 100/100 without a good curl. That's why it's important to find an eyelash curler that works for your eye shape.
Due to its compatibility with a lot of Asian eye shapes, the Shu Uemura eyelash curler is a popular favorite with Koreans. It has a relatively flat head which is great for those with flatter eyelids, allowing you to place the head close enough to really grab the lash roots. The head is also on the shorter side so those with short, flat eyelids; rejoice!
Eyelash Primer
Now, if you have short, straight lashes like me, an eyelash primer is usually a HUGE no-no since any extra weight completely drags down our curl. However, once again, Korean products come to the rescue!
I've tried loads of high-end American eyelash primers, but nothing even comes close to the Etude House Waterproof Dr. Mascara Fixer for Perfect Lash primer. Its light, tacky formula locks my eyelashes in place with no drooping even after hours of wear. Not only is it not wet and heavy, it also dries clear so I can just put on a coat of this instead of mascara. No more smudging!
Mascara
When it comes to mascara for weak lashes, waterproof mascara is your best bet.
My favorite Korean mascaras are the Nature Republic Wild Mascara 1 Volume mascara (hard to find online, unfortunately) and the Etude House Lash Perm mascara. Both have relatively good wands and are easy to remove despite their waterproof formulations. The Nature Republic mascara gives more of a natural, coated look while the Etude House mascara gives more intensity and length. If I had to choose one, I'd go for the Lash Perm mascara since it gives me the volume I really need.
Eyeliner
In Korea, eyeliner is considered a must-have item. However, the current trendy Korean eyeliner application is quite different from the U.S's. Instead of the winged cat-eye, Koreans prefer to draw the end of the eyeliner downwards for cuter, rounded eyes. This makes the eyes look larger and more innocent.
Etude House's Play101 pencils can give you that soft, natural line, perfect when creating these cute puppy eyes, while the Tony Moly Gel eyeliner, considered a dupe for the Bobbi Brown Gel eyeliner, has a stronger but easily smudgeable color.
If you want extra oomph, I recommend liquid eyeliners such as CLIO's Waterproof Pen Eyeliner in Kill Black for the crisp, clean line and color. Following another Korean eye makeup trend, I'd recommend making a small wing upwards rather than a long, drawn-out one. The small wings keep the focus on the middle of the eyes which makes them appear larger.
Eyeshadow
During my time in Korea, I noticed that most eyeshadow counters carry light, sparkly eyeshadows rather than dramatic smokey shades.
For the largest selection, I recommend my favorite brands for eyeshadows: Missha and Arituam. I absolutely adore the Missha The Style Trio eyeshadows (again, hard to find online) which contains three small strips of shadow. Just swipe your finger across and BAM! You get three compatible colors that are pigmented and long-lasting to swipe across your eye for an immediate smokey eye.
Now, Aritaum's Mono Eyes eyeshadows come in a variety of beautiful colors that are difficult to find in the usual Korean makeup stores. Feeling a metallic blue? They've got it. Looking for a soft, matte pink? Ditto. Not only do these shadows have great color pay-off, they're long-lasting and non-creasing, too.
Koreans definitely do smokey eye makeup, but oftentimes, rather than going from inner corner of their eyes to the outer in a gradient, they start from the bottom of the eyelid upwards. This is done in order to enlarge the eyes for a rounder look rather than an elongated one. It's clear that the current Korean eye makeup trend is about enlarging the eyes vertically, not elongating them horizontally.
Eyebrows
I honestly didn't realize the difference eyebrow shape makes until I went to Korea. Koreans tend to prefer straight, thick eyebrows since they create a more youthful, cute look. They definitely soften the face better than arched eyebrows.
Continuing with that soft trend, I recommend using an eyebrow powder to just fill in your eyebrows with gentle strokes. One I enjoy is the Innisfree Eco Eyebrow Kit which contains two dark shades and an amazing angled brush that is perfect for creating natural, drawn-out brows.
"Aegyo-sal"
Now, this is a popular makeup trend that is relatively exclusive to Asia so most of y'all wouldn't have heard of it, but there is a phenomenon called Korean "aegyo-sal" eye-makeup.
"Aegyo-sal" is the little, often-ignored fold of skin right underneath your eyes. Try smiling wide and see how it pops out. (Click here for an example.)
"Aegyo" means a cute charm and "sal" means skin, so it technically means "cute and charming skin." But how does having a pronounced skin fold makes you look more attractive? By adding dimension, it draws more attention to the eyes and gives them a cute, puffy, puppy dog-type look.
Who knew that puffy eyes would be a popular trend? Only in Korea!
You can achieve that "aegyo-sal" look by contouring a shadow underneath the fold and then adding a highlighter to the fold itself. A good product to use is the Etude House's Dear Girls Cute Eyes Maker which has a highlight on one end of the pencil and a contour on the other. This makes it super easy to make cute, puffy eyes (though if you're naturally born with this, then no need…) in seconds.
Lips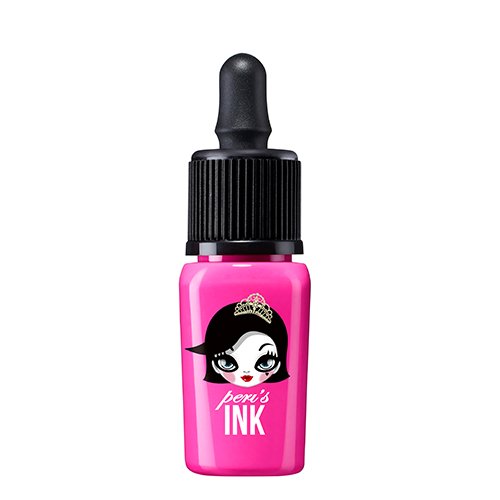 Products: Lip Tint
Lip tints
When we think lipstick in the U.S, we think colorful, matte, and often bold, but Korea chooses a sweeter approach with their gradation lips. It's essentially a just-ate-a-popsicle look where you apply a dark color to the inner parts of your lips and then blend out.
The tip is to make sure there are no definitive lines, but just a soft and sweet fade-out. The soft ombre lips give you both extra dimension and a natural finish. My favorite lip product for this effect is the Ink Tint from Perirpera, considered the granddaddy company of lip tints.
The tint isn't as drying as many tints I've used and it is super long-lasting (so strong that it has its own remover!) and doesn't transfer easily, making your day fuss-free.
Your Thoughts?
Are you interested in seeing a step-by-step picture tutorial of my Korean makeup routine? Have you tried some Korean makeup trends? If not, would you like to? What is the most interesting Korean beauty trend you know?
Please let us know in the comments below!