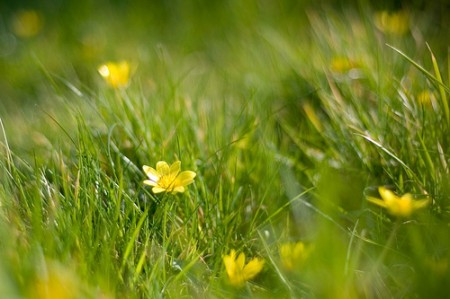 Well, it may technically be spring, but up here in the northeast, it's still freezing – I even had to wear my parka today. However, even though it's still too cold to wear my spring clothes, that doesn't mean I can't dress my nails for the season! I'm officially ready to ditch my almost-blacks and my deep, rich nail colors and embrace the fun and lightness of spring with some brand new shades.
Below, I'll break down the four most popular nail polish trends for Spring 2011, which include blues, nudes, pastels, and grays. Ready to see more? Read on!

Blues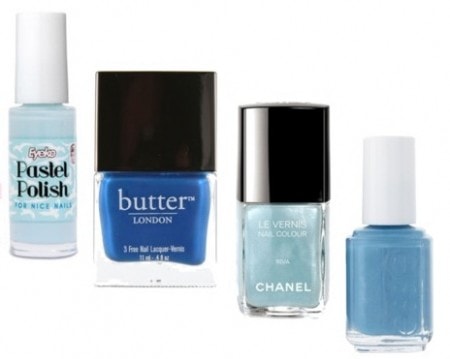 Eyeko – Pastel Polish, butter LONDON – Blagger, Chanel – Riva (no longer available online), Essie – Coat Azure
Let me first just say that I am SO EXCITED for this trend! I've been very into blue polishes since last fall, when Chanel released the much-talked-about (and sold-out-everywhere) shade, Riva. (Check out my favorite budget-friendly Riva dupes!) So, for this spring, I'm psyched that all types of blue polishes are popping up everywhere.
This trend isn't limited to pastel hues that resemble Riva, though – it also includes rich, bright blues, like Butter London's Blagger, as well as muted blues and periwinkles. This such a fun nail trend because you really aren't limited to just one hue; choose any shade of blue that you like, and your nails will look perfectly modern and on-trend.
Nudes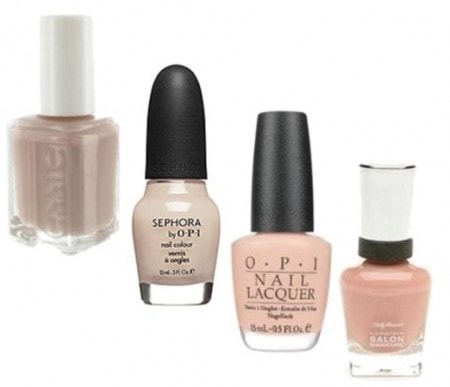 Essie – Jazz, Sephora by OPI – Going Nude, Eh?, OPI – Bubble Bath, Sally Hansen – Nude Now
It seems that the population has a love-hate relationship with nude polishes; they go in and out of style very quickly and can be super cute one minute, and completely shunned from a girl's polish collection the next. However, I'm happy to say that they're officially back in style right now!
Some people avoid nude polishes because they don't like looking like a mannequin, however, if you pick the right shade, that definitely won't happen! It's all about choosing nudes that work against your skin color. If you feel too monotone wearing a nude polish, opt for one with some different undertones or subtle shimmer to change it up a little bit!
Pastels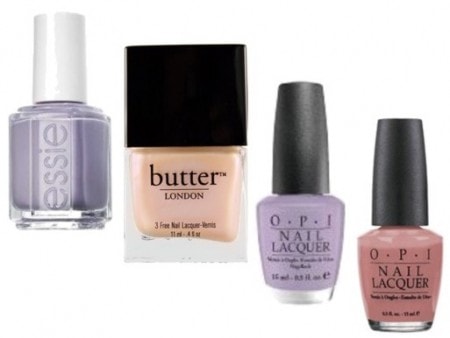 Essie – Nice is Nice, butter LONDON – Hen Party, OPI – Done Out In Deco, OPI – Dulce de Leche
I know what you're thinking: Pastels are a spring staple and the fact that they are a trend this year is nothing new. And while that's typically true (we all know pastels are forever in for spring), this year there are two particular colors in the pastel category that are jumping out from the rest: peach and lavender.
Lavender-hued polish was very in last spring and summer, and that's when I personally went out and bought a few various bottles. I'm happy I did because the trend is back with a vengeance and is continuing to go strong. So, whether you opt for a light lavender or a slightly richer tone, you can't lose with this color family!
Peach has never been my personal favorite shade to wear, but I'm willing to put my judgments aside, and give peach polish another shot because of its popularity this season. Peach hues are always safe for spring because they're light and airy while still being pretty and feminine!
Grays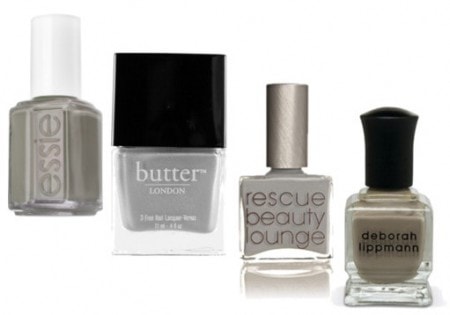 Essie – Chinchilly, butter LONDON – Lady Muck, Rescue Beauty Lounge – Concrete Jungle (sold out online), Deborah Lippmann – Waking Up In Vegas
Grays are a staple in my nail polish collection, and definitely my most-worn polish color right now. They're versatile, go with everything, and are still totally trendy and fresh. I always feel great when I'm rocking a gray polish!
Even better, my favorite shades are still in for this spring – this trend has been around for a while now and doesn't seem to be leaving anytime soon! However, what I've been noticing for this spring is that people are abandoning winter's dark grays and instead choosing lighter (much more springy) grays. I can't wait to get my hands on a couple of bottles in these shades!
What do you think?
Do you guys like these nail polish trends? Have you been noticing any other ones popping out? Which trend is your favorite? Let us know in the comments below!