As comfortable as I am sticking to my smokey eyes and winged liner looks, I think it's important for us makeup fans to step out of our comfort zones and try adventurous new makeup trends.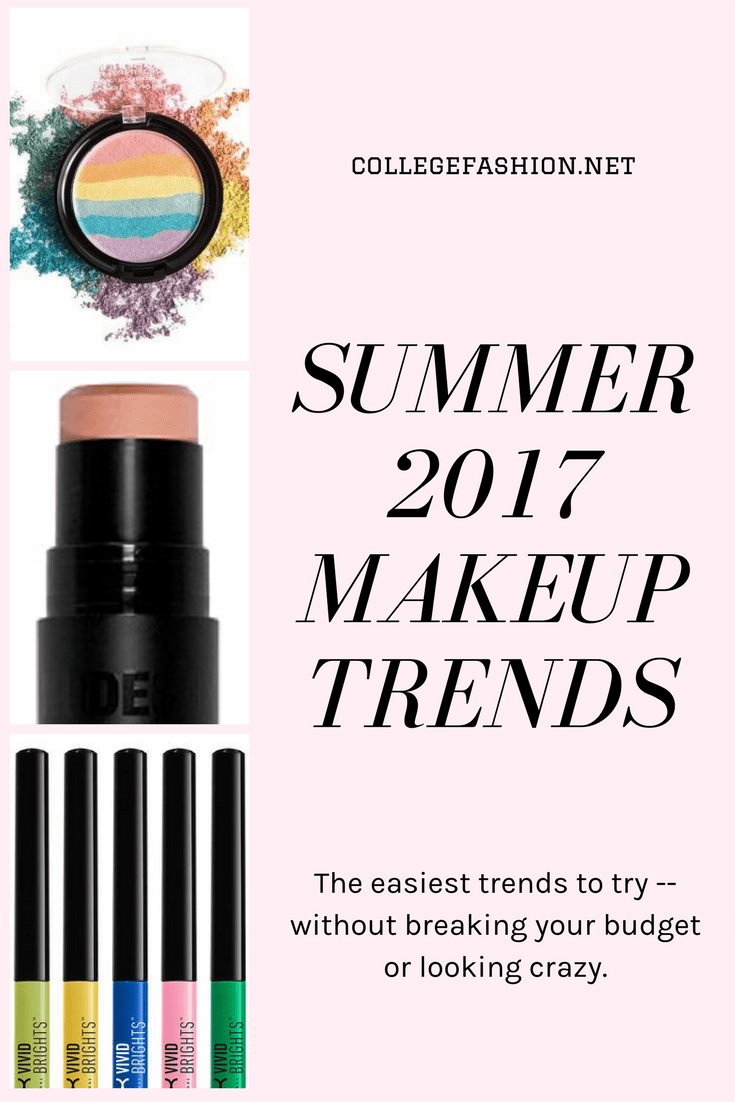 The classic cat-eye is like the reliable friend you can always count on, but sometimes it's nice to spend a night out with a wilder and more unpredictable gal-pal, like a fiery red-orange lid with cerulean liner.
Like fashion, makeup goes through several major trends each season. And as with fashion, these makeup trends are heavily influenced by a combination of the new products on the market and the current season.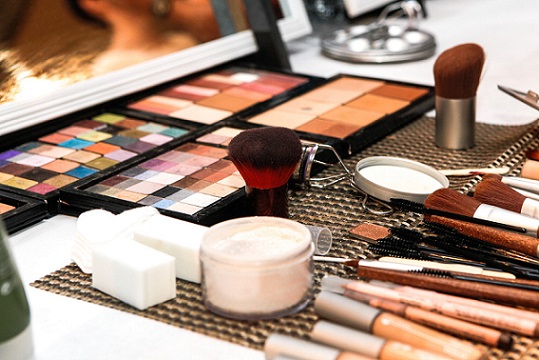 While some recently popular summer 2017 makeup trends are hard to add into your everyday routine, a few of these makeup trends are low-maintenance enough to rock on the regular.
In the easy breezy days of summer, it's nice to have a few quick and easy makeup tricks to take any look to the next level. Here are the four Summer 2017 makeup trends that are easy to do:
Summer 2017 Makeup Trend 1: Monochromatic
The monochromatic makeup trend is the easiest way to pull together an entire look because it's all about using the same exact color in multiple places.
The eyes, cheeks, and lips are typically the three major placements for this look, but true fashionistas can add a matching nail polish color for added oomph.
What I like to do when I want everything to match is to use my lipcolor as a blush, (try L'Oreal Colour Riche, $8.99) lightly dabbing the lip product onto the apples of the cheeks into a soft flush of color. I also sometimes dab a bit on my eyelids for extra color.
Another way to try the monochromatic look is to buy a "multiple" stick that works for lips, cheeks and eyes. Popular options include this one by Nudestix ($30), and this Ulta brand stick ($10).
The monochromatic makeup trend looks best when you choose a color that complements your skin and its undertone. For fair skin tones like mine, I recommend lighter pinks, peaches, or mauves, while darker skin tones looking to try the trend can pull off more sultry shades of red, brighter corals, and even bubblegum pinks.
Summer 2017 Makeup Trend 2: Colored Eyeliner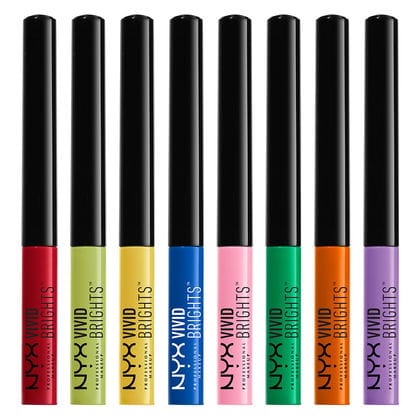 If you're a die-hard fan of winged eyeliner and simply refuse to leave the house without it on, a quick switch to colorful winged liner puts you on trend without much change to your routine.
In liquid and in pencil form, colorful eyeliners provide playful and flirty results guaranteed to garner compliments. This trend is perfect for the lazy girls like me who want to add zest to a makeup look but don't want to spend three hours making it happen.
My favorite way to wear the colorful eyeliner trend is to cover my lids with eyeshadow primer and a skin-matching eyeshadow color (so the liner has a base and won't budge in the heat), and then create a flawless wing with my sapphire NYX Vivid Brights liquid eyeliner ($6.99).
For extra attitude, I like to apply my turquoise Essence Long-Lasting Eye Pencil ($2.49) right onto my lower lash line, smudge it out a little bit, and then I'm ready to head out the door!
While I prefer shades of blue next to my green eyes, the best thing about this trend it that you can use whatever colors appeal to you! Is traffic-cone orange your favorite color? Wear it as eyeliner!
Summer 2017 Makeup Trend 3: Rainbow Highlight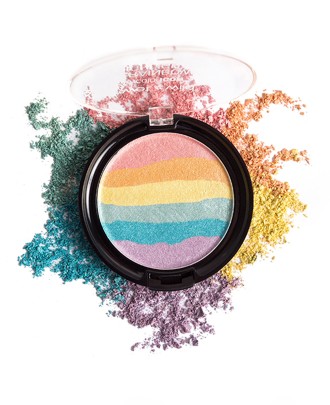 Also known as the unicorn or mermaid highlight, rainbow highlighters have surged onto the market in recent months and have grabbed the attention of makeup lovers everywhere.
While it is certainly the most gimmicky product on this list, rainbow highlighter can also be the most fun to wear! Many brands have jumped on the rainbow highlight trend by releasing their own versions of it, from bargain-priced brands like Lottie London ($7.49) all the way to more expensive ones like Tarte ($24).
I can fully understand not wanting to don a rainbow highlight across the top of your cheekbones at work, but on the beach or at a relaxed cookout, this trend can make a vivacious statement.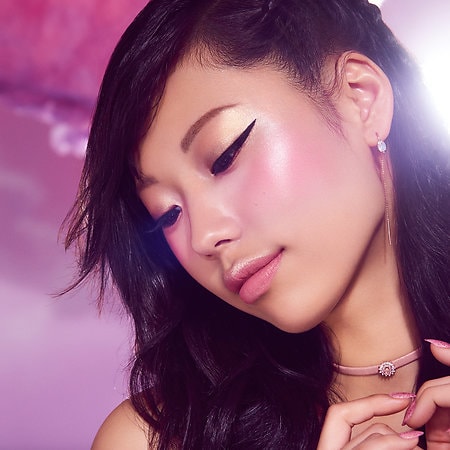 The best way to get your feet wet with this trend is to purchase a budget-friendly rainbow highlighter. In my opinion, the best drugstore rainbow highlighter is the Color Icon™ Rainbow Highlighter ($5.99) from Wet n Wild.
To get the full rainbow highlight effect on your cheek, use the following tips: First, swipe a thick brush over all of the colors evenly, making sure to keep each color of the rainbow as separate on the brush as possible. Then, swipe evenly over your cheekbone in a single motion for the rainbow look.
However, if you don't end up liking the rainbow look, you can always swirl your highlighting brush around the pan to mix the colors together to end up with an equally beautiful single-hued glow.
Summer 2017 Makeup Trend 4: Bright Pink Lips
For me, bright pink lips never go out of style. This summer, however, the color pink has taken over the fashion world (see our post on millennial pink fashion for more) and in turn has dominated popular makeup looks.
The great thing about a statement lip is that it can be paired with brighter, more colorful clothes just as easily as it can be paired with subdued looks. Fashionable stars like Emma Stone and Reese Witherspoon have embraced the bright pink lipstick trend with open arms, and have inspired me to do the same.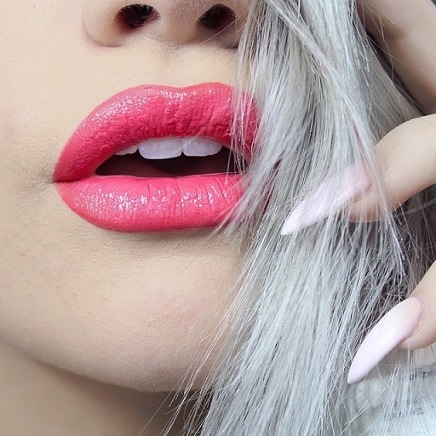 To wear the bright pink lips makeup trend, start by applying a good lip balm and then use either a nude or matching lip liner to provide a solid base for your lipstick.
My favorite drugstore bright pink lipstick is Wet n Wild MegaLast Liquid Catsuit Lipstick ($2.99) in the shade "Oh My Dolly." I apply this over my liner, then rock two coats of mascara and no other eye makeup. The lipstick makes a huge statement on its own, so it's a super easy and quick makeup trend to try.
What's your favorite summer 2017 makeup trend?
It's important to remember to have fun and try new things even if you think a color or technique is too far out of your comfort zone! You never know what will work until you try.
I highly recommend giving at least one of these summer makeup trends a try before the hot weather leaves us, even if you only end up wearing it around the house for a few hours.
If you've tried any of the four summer 2017 makeup trends mentioned above, let me know what you liked and what you didn't! And are there any other noteworthy summer beauty trends that you've been testing out?
Let's talk in the comments!