This post may contain affiliate links, which means we may receive a commission if you purchase through our links. Please
read our full disclosure here
.
The holidays are my favorite time of year, and not just because my birthday falls right smack-dab in the middle. (It's this Monday, in case you're wondering.)
As such, I tend to get jazzier with my nails around this time – and what more perfect way to get festive than with glitterpolish? It's fun, flashy and adds a great sparkle to any outfit.
Without further ado, here are our top five favorite glitter topcoats to help add some sparkle to your look:
1. China Glaze Snowglobe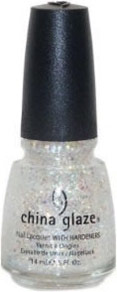 $5.70 at Amazon
These multi-colored glitter specks look like – you guessed it – the inside of a snowglobe. The glitter isn't super-densely packed so your base color will definitely show through. What I like most about this is that it's totally unique; there isn't any other color like this on the market.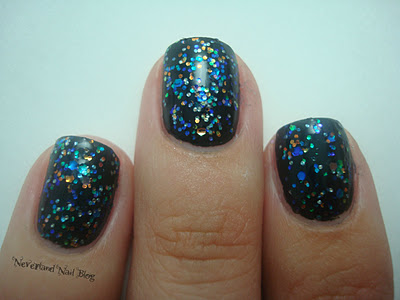 Wear it over: a black like Wet 'n' Wild Black Creme (swatch from Neverland Nail Blog)
2. Sephora by OPI Only Gold For Me

$9.50 at Sephora
This clear topcoat features both hexagonal and micro gold glitter. I'm obsessed with this color and I still haven't found a shade this looks bad over – green, blue, black, red – you name it, this will just complement it.My roommate Lizzie jokes that this looks like outer space when applied over dark polishes.
If you're not into the $9.50 pricetag, a more sensible option is Milani Jewel FX in Gold.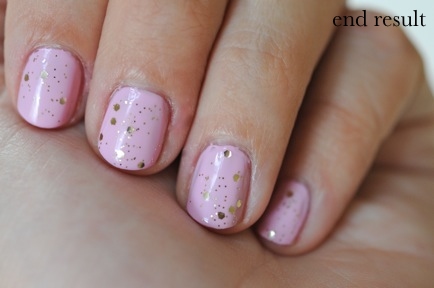 Wear it over: a pastel like OPI's Do You Lilac It? a la Emily from Cupcakes and Cashmere
3. Essie Set in Stone

$8.00 at Zappos
Essie's Set in Stone is a more densely-packed silver version of Sephora by OPI's Only Gold For Me. I not only love this shade, but I love Essie's brushes – they are definitely some of the best when you're applying a tricky glitter topcoat.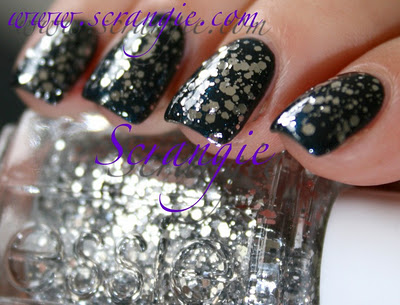 Wear it over: a teal like OPI Ski Teal We Drop (swatch from Scrangie)
4. Milani Gems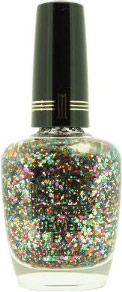 $4.49 at drugstore.com
Think of this as a cheaper alternative to OPI's Rainbow Collection and a much less expensive version of Deborah Lippmann's Happy Birthday. The glitter in this polish is so diverse – I'm talking fuchsia, silver, gold, sky blue, orange, electric blue and green.
At $5 compared to $8 or $20 for OPI and Deborah Lippmann, respectively, this is definitely a wallet-friendly dupe that needs to be in your collection.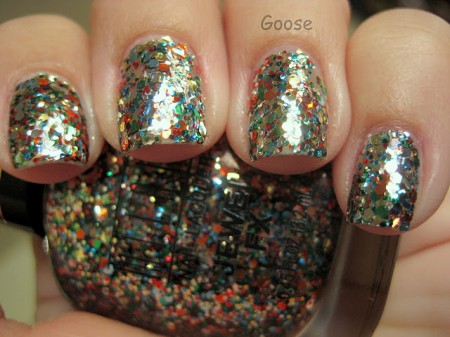 Wear it over: Any color – it matches everything, so go wild! (swatch from Goose's Glitter)
5. Essie Shine of the Times
$8.00 at Nordstrom
When a friend saw me wearing this a few weeks ago, she told me I had to write about it for CF. In the bottle, this looks like an unassuming flake polish, but on your nails it completely transforms. I swear, pictures don't do this color justice – depending on the light, it switches from gold to green to red.
Some hard-to-find similar colors are Nubar 2010 and Sally Hansen Hidden Treasure. If you want a unique take on holiday glitter, pick this up ASAP.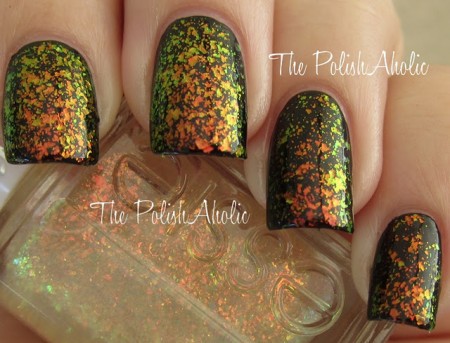 Wear it over: a dark, vampy color like OPI Black Cherry Chutney (swatch via The PolishAholic)
What do you guys think of glitter top coats?
Do you wear glitter nail topcoats? What's your favorite shade? What do you like to wear it with? Leave a comment and let us know.

PS: Have trouble removing glitter polish? Check out tip #4 in my Nail Hacks post for easy removal tips.