This post may contain affiliate links, which means we may receive a commission if you purchase through our links. Please
read our full disclosure here
.
It's safe to say that all of us at CF are pretty blog-obsessed, and I'm no exception. Most of my current interests – fashion, beauty, tech, soccer, music, food – were sparked by reading post after post on a Blogspot or WordPress or Tumblr. My obsession with nails and nail polish started this way too, and much to my enjoyment, there are tons and tons of nail blogs out there.
Of course, for every great nail blog, there are a hundred duds. To help you browse the best, here are our top 5 all-time favorite nail-related blogs:
Best Overall:All Lacquered Up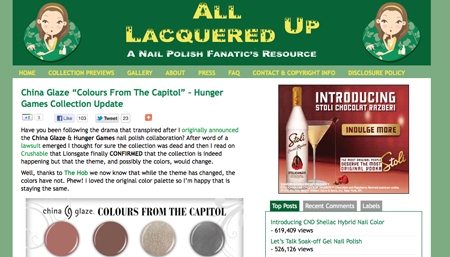 I blame Michelle of All Lacquered Up for my nail obsessions – but after seeing her posts, can you blame me? Her blog is fabulous!
My favorite thing about ALU is the honesty – when Michelle reviews collections, she'll tell you which ones are worth shelling out for, and most importantly, which ones aren't. Plus, if applicable, she'll do a comparison post with different shades on the same hand so you can seek out cheaper dupes to pricey OPI and Essie shades! Can you say Godsend?
Best Nail Art:Hey, Nice Nails!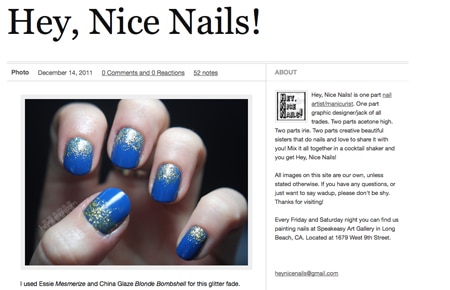 I was absolutely blown away by the talent that these two Southern California sisters have – can you believe all of their art is done freehand with no stamps?!
If you're searching for lust-worthy nail art inspiration, this is the blog for you. Plus, they even have an Etsy shop where you can buy some of their designs. Now, if only I lived near Long Beach so I could actually get a manicure from them…
Best Swatches:Scrangie
The first thing I do when I Google a nail polish color is look for swatches – and I always, always land on Scrangie. After perusing her site, the reason is obvious: she does the absolute best quality swatches that really showcase the color at its very best. Plus, she does it for other makeup too, so make sure to visit and bookmark ASAP!
Best Tutorials:The Beauty Department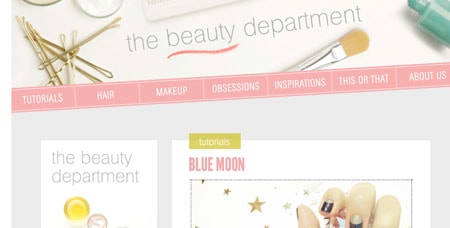 Lauren Conrad's beauty site might be my favorite new blog. It's chock-full of hair and beauty tutorials, ranging from ballerina buns to eyeliner to LC's covetable everyday waves. Their nail posts are just as genius and feature great step-by-step tutorials, like simple french manis or the easiest half-moon shape that even the clumsiest person (i.e., me) can follow to a T.
Best Fashion-Inspired:Refinery29's Nail Section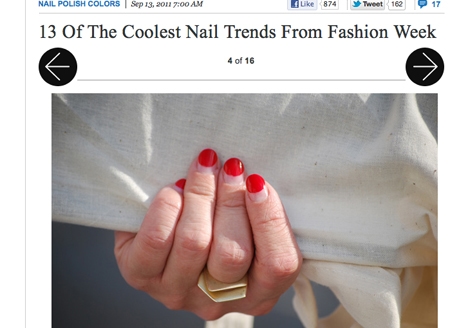 Want to know what colors Jason Wu, Ruffian and Nicole Miller sent down the runway this past season? Look no further than Refinery29's Nail section.
Our friends at R29 will keep you on-trend with their nail posts, which showcase the newest nail collections along with nail art tutorial and runway-inspired manicures. What's not to love?
What do you think?
What about you guys? Do you guys look at nail blogs? What are your favorite nail websites? Tell me everything and more in the comments!