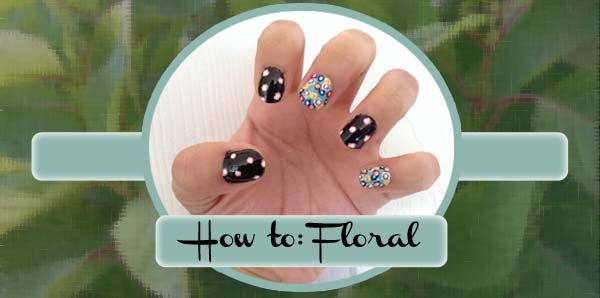 Hello my little lovelies! As much as we don't want to admit it, summer is dwindling away (seriously, where did the time go?), and with September creeping forward, I have one last summertime nail design to share with you guys.
My obsession right now: flowers! What better way to hang onto summer memories than to have a garden blooming on your nails? Simply scroll on down to see my simple tutorial for creating floral nail art:
The Flowers Are Bloomin'
I wanted to make this look cute, but also sophisticated and wearable for all you college-bound ladies out there. To start off, I painted my thumb, index and ring finger a rich black to add a touch of elegance, then used a sky blue on my middle finger and pinky.
Next, I used the Sally Hansen nail art pen in "Light Pink" to create some flowers on the black nails. I love the combination of pink and black – it looks so chic, especially on your nails!
Now, this is super easy, and there really is no wrong way to do it. Simply create small dots and ruffle out the edges to give them that petal look. Honestly, don't worry about the petals being perfectly symmetrical – you want them to look spontaneous. I promise it won't look like a hot mess!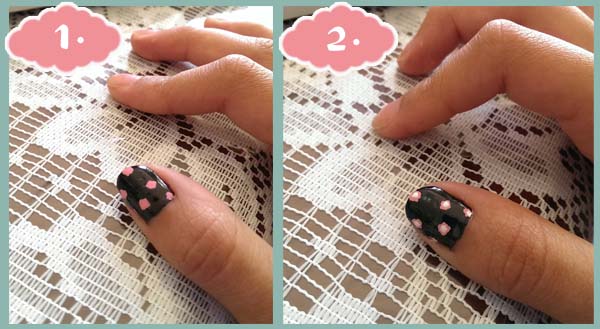 Once those are dry, we're using my favorite nail tool in the world, a bobby pin. Using the ends of the bobby pin, poke a small white dot in the center of each flower. This helps to give it a more three-dimensional look.
Now, go crazy. Really! I simply repeated these steps on my middle finger and pinky using a bunch of different colors. You can even apply three layers of color to bring more life to your flowers.
Here's a tip though: when using more opaque colors, use a white first, then paint over it with your opaque polish to help the color show through.
The Final Look: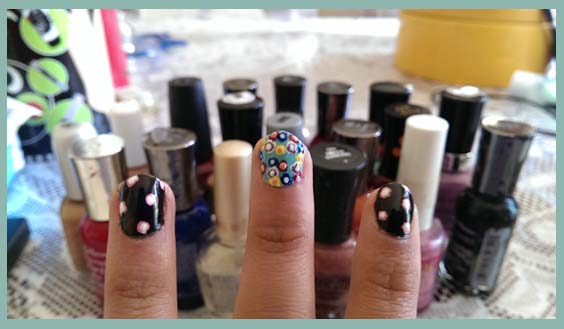 You can use a bobby pin, a toothpick, a dried out pen, or a fine tip nail art pen to help with the detailing. Personally, I like to use my dried out Sharpie pen because of its super-fine tip. It makes creating the ruffly edges of the petals so easy.
A word of caution: don't put too much nail polish on your dotting tool. If you do, you may end up with a giant blob! So remember, less is more in this case.
What do you think of this look?
How do you feel about flowers on your nails? Would you want to wear this to class? Which color combinations would you use to make this design? Let us know in the comments below!