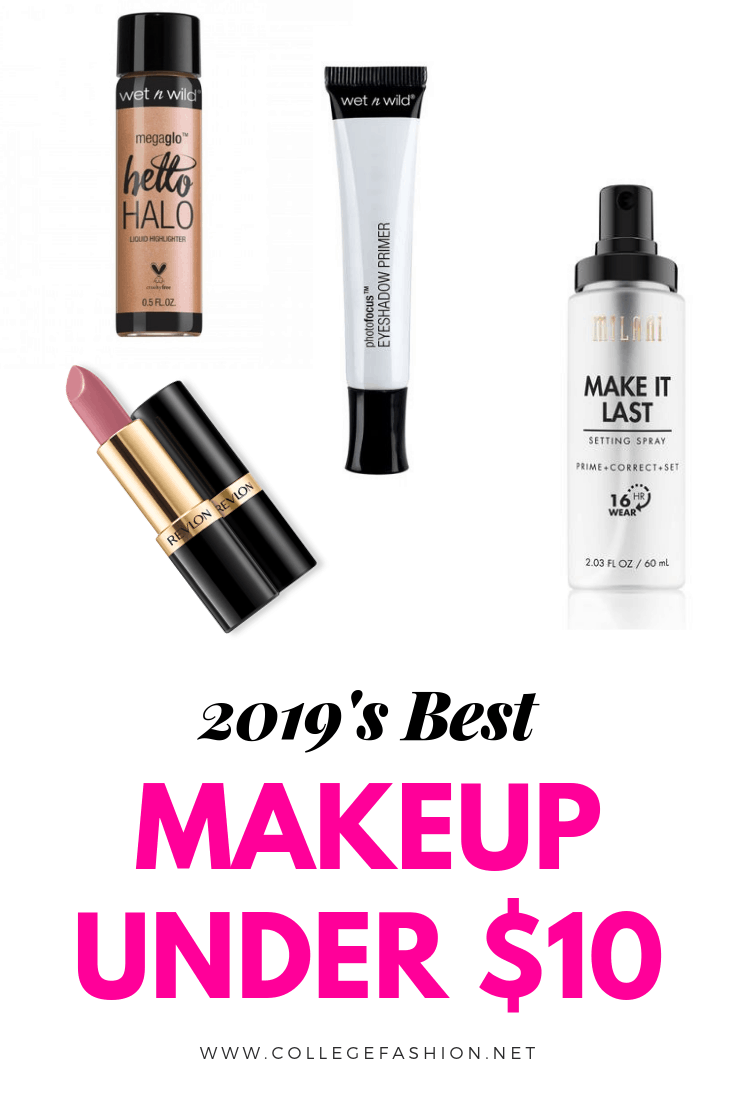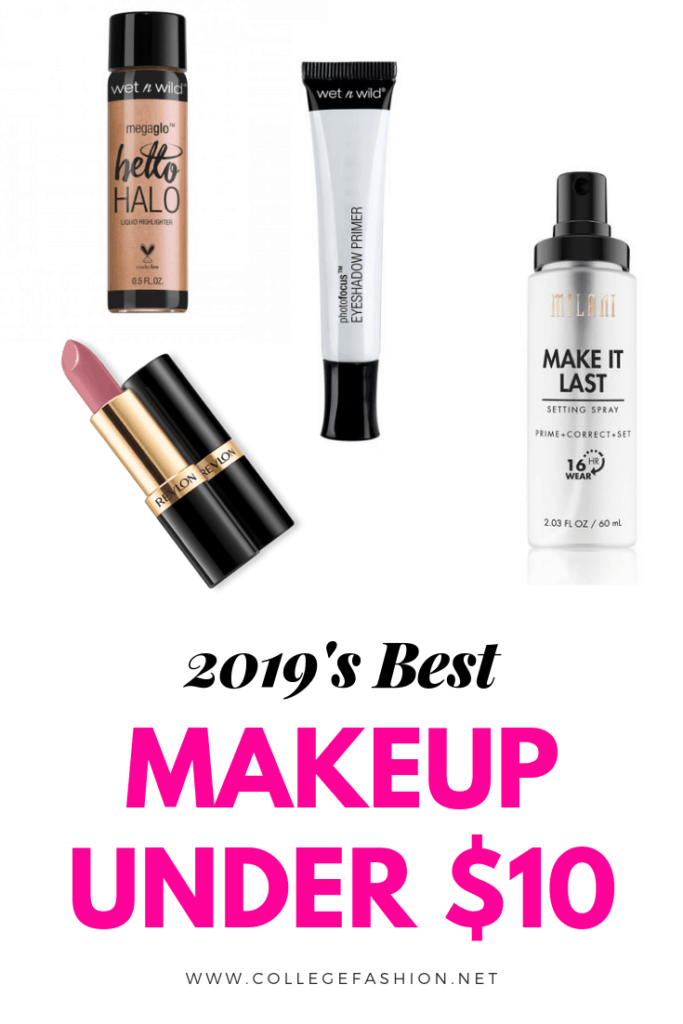 It's no secret that achieving the perfect beauty look can be expensive. This is especially true when you're on a college budget, and everything suddenly seems 10 times more expensive!
Thankfully, though, inexpensive beauty products have come a long way. Nowadays, cheaper options often outperform some of the highest-end products on the market. Moreover, with so many new options popping up, wallet-friendly beauty products are no longer a last resort. In fact, they're often the top picks–and even Holy Grails–of beauty lovers everywhere, myself included!
That's why I decided to make a list of my top five high-quality, budget-friendly beauty products that you should put on your shopping list, like, yesterday.
The best part is that they all cost less that $10 a pop!
Curious to see what my makeup under $10 picks are? Just keep reading for my cheap makeup 2019 favorites!
Wet N Wild MegaGlo Hello Halo Liquid Highlighter in "Goddess Glow"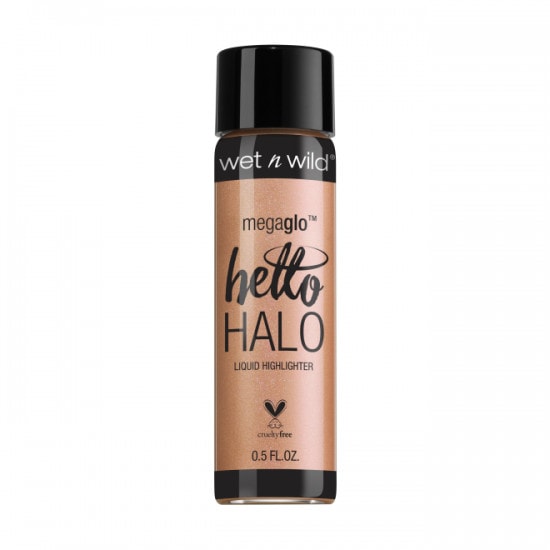 Confession: I'm not typically a fan of liquid highlighters (I prefer powders). As well, when it comes to face makeup, I'm always wary of gold-colored products, as they have a tendency to look a little "off" on my pale, cool-toned skin.
That's why I was pleasantly surprised when I first tried Wet N Wild's amazing MegaGlo Hello Halo Liquid Highlighter in the shade "Goddess Glow," which was actually my first foray into the brand since I wore their nail polish as a kid.
This highlighter easy to apply — I simply dab some on my skin first and then blend it using a Beautyblender. It also offers the perfect amount of glowy goodness that makes my skin look lit from within! Crucially, the formula's glitter particles are tiny, giving it that perfect, shimmery texture that is both lightweight and natural-feeling.
Finally, I have a feeling that this highlighter would look amazing on a wide variety of skin tones. However, if you'd prefer something different, it comes in six other beautiful-looking shades, from holographic to bronze. (Personally, I have my eye on the shades "Halo, Goodbye," a pale pink color, and "Halo Gorgeous," which is a medium pink.)
Revlon Super Lustrous Lipstick Lipstick in "Blushing Mauve"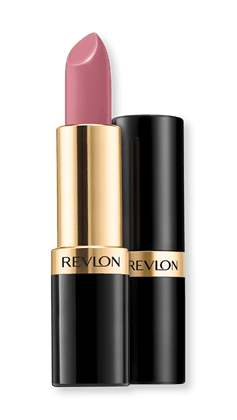 When it comes to lipstick, I have to say that I am kind of a snob. Lately, though, I've been branching out a little with more affordable brands, and I'll admit that I've mostly been happy with my findings!
Enter: Revlon Super Lustrous Lipstick Lipstick in the shade "Blushing Mauve." Sure, it might not have the fanciest-looking packaging out there, but it's definitely sturdy enough that it doesn't feel cheap at all. It's definitely a makeup under $10 must-have.
More importantly, it imparts just the right amount of product and pigment in a single swipe. As well, it has a pearlized–not frosty–texture, which only adds to its expensive-looking finish. In addition, I love how the formula fades evenly with time, allowing you to sidestep that awkward patchy phase.
Finally, its super-pretty and flattering shade of rosy mauve works well with so many different makeup looks. This makes it the ideal lip color for both daytime and evening wear.
Wet N Wild Photo Focus Eyeshadow Primer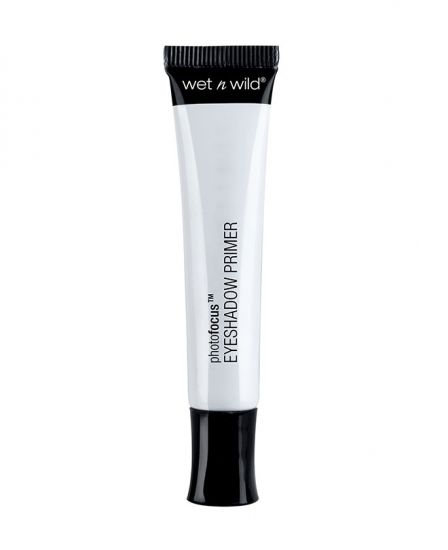 Ever since Urban Decay switched the formula of their iconic Original Primer Potion to its current iteration, I found that the product, which had been my Holy Grail eyeshadow primer for years, just didn't work as well anymore.
So, I began the process of searching for a replacement, trying many higher-end formulas. However, none of these primers worked as well as the discontinued Urban Decay one on my ultra-oily eyelids. (Really, I'm lucky if I can get more than two and-a-half hours of wear out of any eyeshadow without primer!) Therefore, I feared that I'd just have to make do with just-okay formulas that didn't prolong wear time or prevent color-fading adequately.
That is, until I stumbled upon the MakeupAlley reviews for Wet N Wild's eye primer. After reading so many positive accounts of the product, I knew I had to give it a try.
The primer comes in a squeeze tube, making it easy to dispense just the right amount. (A little goes a very long way!) Moreover, though it comes out of the tube a pinky-beige shade, it dries clear on the lid. Another cool thing I've noticed with this formula is that when I use it, my eyeshadow doesn't really transfer — even if I rub my eyes — which is definitely a first for me!
Sally Hansen Insta-Dri Nail Color in "Go For Gold"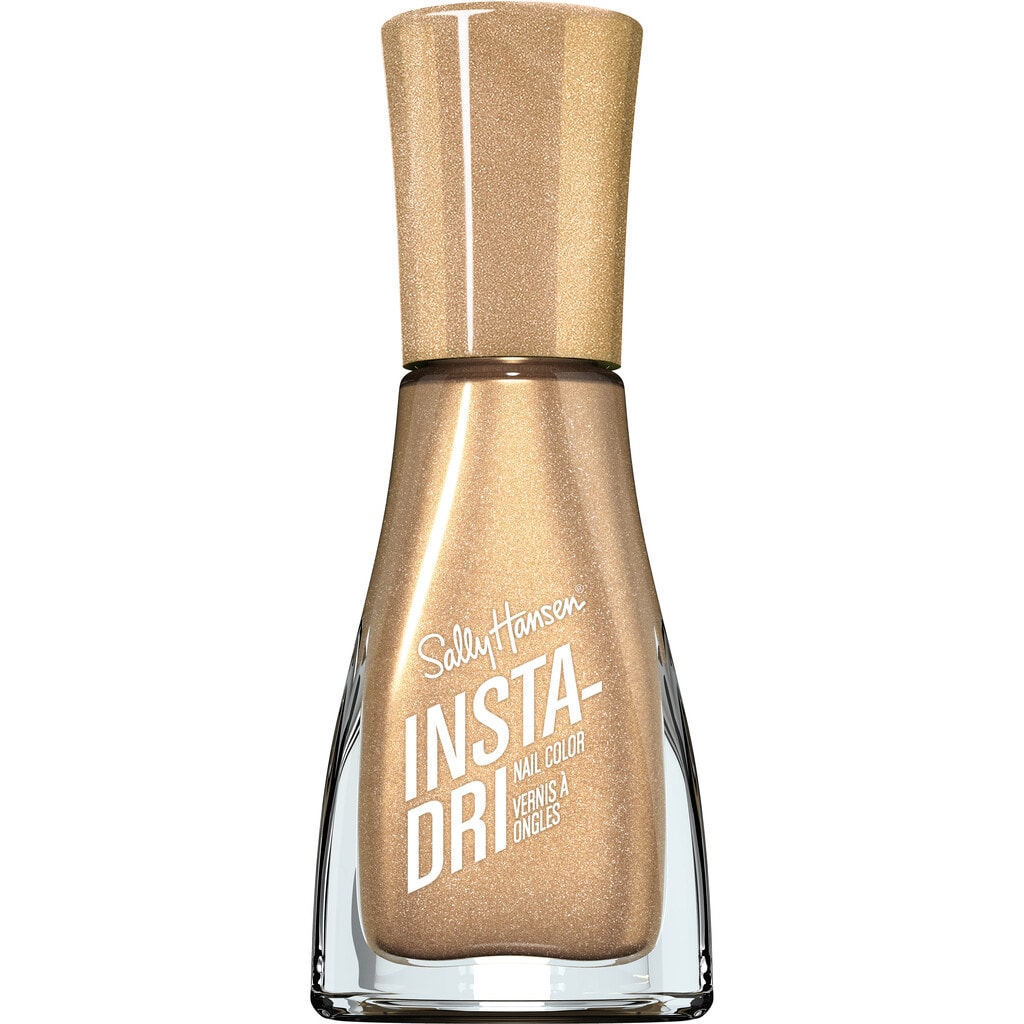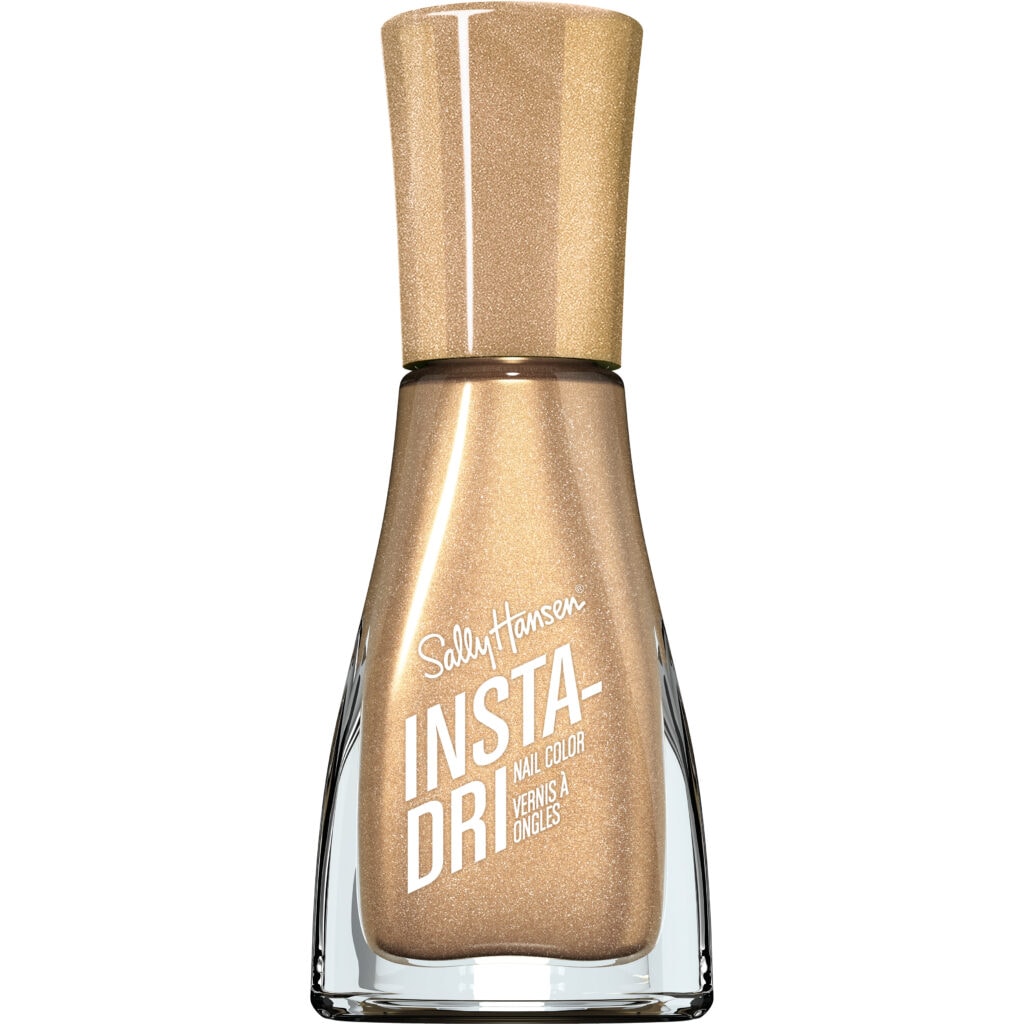 As far as I'm concerned, gold nail polish looks good on pretty much everyone. But, finding the right formula — one that's not streaky or gloopy, and one that actually dries relatively quickly — is a struggle. This particular polish, Sally Hansen Insta-Dri Nail Color in "Go For Gold," checks all of those boxes perfectly!
In addition, the brush is good quality and a nice width, and the polish itself goes on smoothly (no chunky glitter here!), making it a great choice for when you just don't have time to deal with tricky brushes and finicky formulas.
Though the brand claims that you don't need to use a base coat with this particular formula, I personally prefer to do so, as I have a hard time making any nail polish last for a decent amount of time. In addition, while I've never tried the recommended top coat, Insta-Dri Clearly Quick, I find that the polish still works well and dries quite quickly with whatever top coat I do use.  
Milani Make It Last Setting Spray Prime + Correct + Set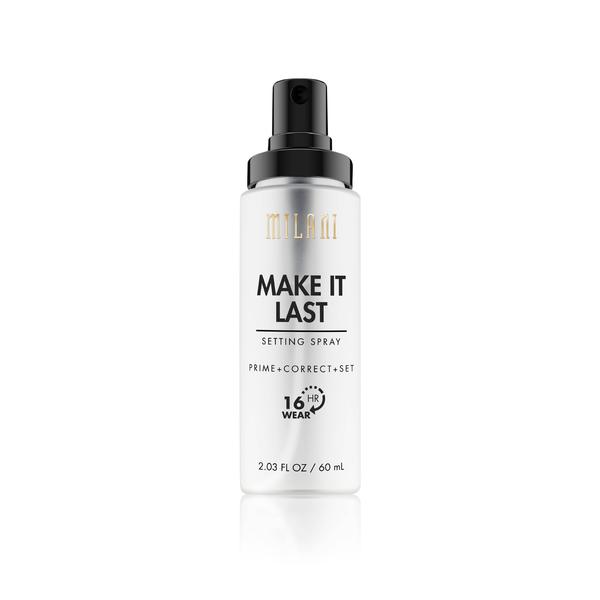 Milani Make It Last Setting Spray Prime + Correct + Set is not only one of my all-time favorite cheap beauty products — it's also my Holy-Grail setting spray, and one of the few beauty products that my picky self has bought multiple times after using up!
Truly, it works at least as well, if not better than, several higher-end setting sprays that I've tried. It's also the best setting spray that I've tried since Urban Decay changed the formula of their De-Slick Oil Control Makeup Setting Spray. (Seriously, I love many of UD's products, but they really should've stuck with some of their older formulas!)
Milani's setting spray can be used for both priming and setting purposes (although I've only used it for setting). It also promises to make your makeup last for up to 16 hours.
Personally, although I've never formally tested it to see if it actually lasts 16 hours, I find that it really does make a difference in terms of my makeup's lasting power, even if it's not 100% perfect. (Though it does come very close! To be honest, I doubt that there's anything on the market that is completely perfect for someone with skin as oily as mine.)
This product has no discernible scent, and has never irritated my skin. It has also never changed the look or feel of my makeup. (I've had problems with both of these things when using certain other setting sprays in the past.)
Finally, the packaging is sturdy and the spray nozzle doesn't clog or cause the product to come out unevenly, making it easy to achieve even coverage every time.
What do you think of my makeup under $10 picks?
Have you ever tried any of these products? What are some of your favorite drugstore beauty brands? Which other makeup under $10 products would you add to this list?
Let me know in the comments!