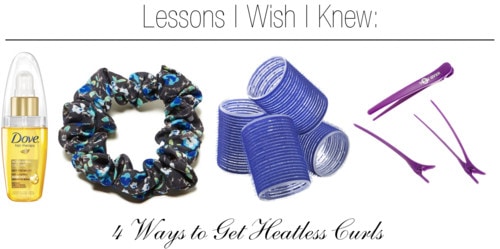 If you read my article about a few of my old hair mishaps, you know that I used to have terribly damaged hair. My hair is naturally straight, but I'm a sucker for loose, beachy waves, and that's part of the reason why my hair got so damaged.
Because of my formerly fried hair, I try to avoid heat at all costs (I've only used it four times in two years, go me!), and it's taken me a few years to learn the best way to still get the waves I adore. How? Heatless waves.
Below, I'll talk about some of my go-to methods for creating beautiful waves without the use of damaging heat. Read on to learn more:
Related reading: Want Perfect Hair in the AM? Try These Easy Hairstyles for Sleep
1. Braiding Hair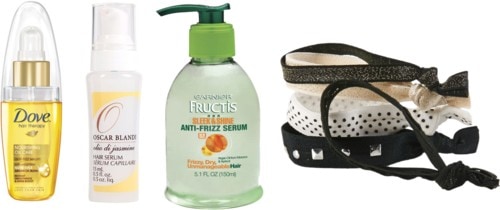 Product Information: Left to Right — Dove, Oscar Blandi, Garnier Fructis, and Aeropostale
This is the by far the easiest heat free curl method, and can be done two different ways: "regular" braids and French braids. For both hairstyles, I wait until my hair is about 75% dry but still damp to the touch.
For normal braids, I typically go for two. I evenly part my hair down the middle, then braid each section. The look of the waves will depend on how tight or loose you make the braid. I do the same for French braiding, but I generally make just one braid that starts from the crown of my head all the way to the bottom of my hair.
When I let it out in the morning, I put a styling serum in my hair to tame any frizz that may have been caused by tossing and turning in my sleep. The waves can vary in size depending on how much hair you braid, but they are typically very wavy and smaller in size.
2. Twisting Hair

Product Information: Left to Right — Topshop, Walmart, and American Eagle
This one is definitely my go-to whenever I want casual waves. I think the size and style is perfect for a daily basis, and the waves look very natural. For this, you will just need scrunchies.
As with the braiding method, I split my hair into two sections. I take one side and twist it away from my face. Upon reaching the bottom, I twist the hair around itself to create a bun. By using a scrunchie to tie it down, it takes away the possibility of having any crimps from hair ties in the morning. As with the first method, I wait until my hair is nearly dry before I do this.
The best part about this hairstyle? It looks better the longer you leave your hair unwashed. The only thing you'll need to rock this style for a few days is a styling serum and a dry shampoo to get rid of any oil.
3. Curlers
Product Information: Left to Right — Curlformers, Walmart, and Target
This is probably my least favorite overnight hairstyle – why sleep with uncomfortable curlers when you can sleep comfortably with two braids? However, with curlers, I can get tighter waves that are extremely bouncy. So, a little discomfort is worth it if you want truly awesome waves.
I found that using just one flexible curler creates a very bouncy look, but tying two together makes for looser, more natural-looking waves. The resulting curls are definitely unbeatable. My hair typically needs a lot of hairspray after being curled, but I can go without it using this method..
Flexible curlers are my favorite for creating bouncy curls, but I've also dabbled with Curlformers and Velcro rollers. For Curlformers, I see nearly the same results, but it takes a while to get a feel for the tools. If you want big, voluminous waves, I suggest trying Velcro rollers.
4. Clips
Product Information: Curling Clips — Amazon and Spray Bottle — Amazon
This is probably the most time consuming method, but it creates more structured curls (without even a hint of frizz!). This method isn't one you sleep on. Instead, you use a spray bottle of water or freshly washed hair and tons of hair clips.
To mimic the curl of a post-curling iron curl, you simply twist each piece up and clip it into place as seen in this diagram. (Yes, this method is old school – but it works.) You end up with a head full of clips, and you leave them in until your hair is completely dry.
Once dry, I spray some hairspray in my hair, then take out the clips and spray my hair again. These curls closely resemble the ones you would get with a curling iron, and I love doing this method when I have free time in the morning.
Comments?
Have you used any of these methods to achieve heatless waves? What are some of your go-to ways to get the perfect curls without using heat? Let us know your thoughts in a comment below!