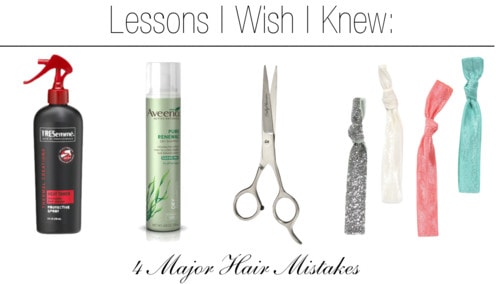 As much as I pretend to be a hair model for shampoo commercials in my dorm (I can't be the only one), I can easily admit how imperfect my hair is. Although I haven't had a hair-dyeing disaster, I have made several hair mistakes that either destroyed my hair and made me do a double-take when I saw my reflection.
Today, I'm sharing four of my biggest hair mistakes that have taught me two very important lessons: always check your hair before you leave, and always treat your hair with kindness. Scroll down to check out all of these hair mishaps:
1. Not Using Heat Protectant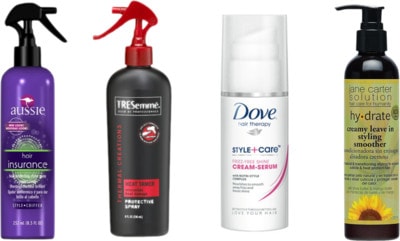 Product Information: Aussie, TRESemmé, Dove, and Jane Carter Solution
My mistake wasn't the fact that I used too much heat protectant and heard the sizzle on the curling iron – instead, for years, I failed to use any at all. Quite frankly, I didn't even know that products like those even existed.
I was quite the hot tool user in my high school days, and I loved the look of loose waves. After my shower in the morning, I would attack my hair with a hair dryer after it got towel dried. Then I would hit it with a curling iron turned to 450 degrees to finish my look. This happened every single morning, and for some strange reason, I didn't think anything would happen to my hair.
I still remember the day when I realized that my heat-loving ways had a major impact on my ends: a girl was playing with my hair in class, and I heard her whisper "her hair is so fried…" to her friend. I had my hair trimmed a few days later after discovering the truth in her words and learning about the wonders of heat protectant (and not using as much heat every day!).
2. Not Brushing Out Dry Shampoo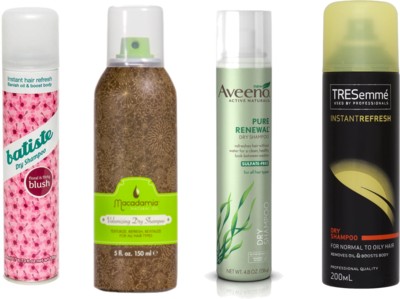 Product Information: Batiste, Macadamia, Aveeno, and TRESemmé
To all the light-haired girls who use dry shampoo: feel lucky. With my dark hair, it's always a struggle to find a dry shampoo that won't leave a white residue in my hair, even after I've rubbed it in. I've tried so many different brands that always say "No residue!" – and they haven't worked. I've discovered my holy grail now, but I wanted to talk about some of my experiences with dry shampoo that didn't blend into my hair.
This happened on so many occasions that I've honestly lost count. In a rush to get somewhere, I would spray my dry shampoo and then do my makeup/pick out clothes. Inevitably, there were some days when I simply forgot that I had sprayed it in, and I would walk out the door with a massive white patch in my hair. On a few occasions, my mom or dad luckily caught me, but I did leave the house with the patch a few times. Only later on those days, when I caught myself in a mirror, did I realize I resembled Cruella de Ville.
3. Cutting My Own Side Bangs
Product Information: Left to Right – Sally Hansen, Michael Van Clarke, and Tweezerman
I know I'm not the only girl who has done this, as several of my friends did it too. Side-swept bangs were really big during my middle school career, and I loved the look of face-framing layers on my friends. So one day, I decided to bite the bullet. I grabbed a pair of my dad's work scissors (please use anything but work scissors), took pieces of hair from both sides of my face, lined them up with my nose, and snipped those locks right off.
To be clear, these were not graduated layers – I had made a straight, blunt cut across, and I still cringe when I picture how bad my hair looked afterwards. I also hadn't cut off just the front few pieces; I had actually removed a pretty big chunk of my hair. My mom rushed me to a hairdresser to fix the problem, but I had to attend school with my new "bangs" for a few days until my hairdresser had an open appointment. Can you imagine how many questions I got? I decided right then and there to leave hair cutting to the professionals.
4. Using SCISSORS to Style a Ponytail (Yes. I did this.)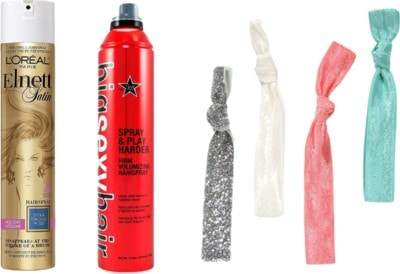 Product information: L'Oréal, Sexy Hair, and Windsor
This is much like my third mistake, but this one was much… sillier. (And, in retrospect, much more horrifying.) I wasn't really known for wearing my hair up while growing up, and thank goodness for that. I'll explain. Every time I wore my hair up, I always found that I had baby hairs or hair that I simply missed sticking out. Rather than finding hairspray or retying my hair, I found scissors and snipped these wayward hairs off.
Back then, I think I saw hair the way I saw credit cards (a.k.a., "what do you mean you actually have to pay for the stuff you buy later?!"), and the first few times, there wasn't any noticeable damage. But the more I cut, the worse it got, until it was irreparable and I looked crazy with my hair up. I'm just happy this was a elementary school mistake, and no one remembers my awful haircut that got progressively worse!
Thoughts?
Have you made any of my hair mistakes, or made any of your own? Let us know by leaving a comment down below!