Let's face it: we have all had those days when we've either woken up too late to shower, had really flat, lifeless hair that needed some volume, or have just been too lazy to shower. (Hey, it happens!) No matter what your situation, there is a solution to your problem: dry shampoo!
Dry shampoo is an essential part of my hair care routine, as I have very thin, flat, long, lifeless hair – I need a little volume in my life and that's exactly what dry shampoo provides: volume, body, and the look of extremely clean hair. Not to mention, most brands usually smell amazing!
Below, I'll break down how to use dry shampoo, as well as share a few of my favorite budget-conscious ones to try. Read on to learn more:
My Favorite Dry Shampoos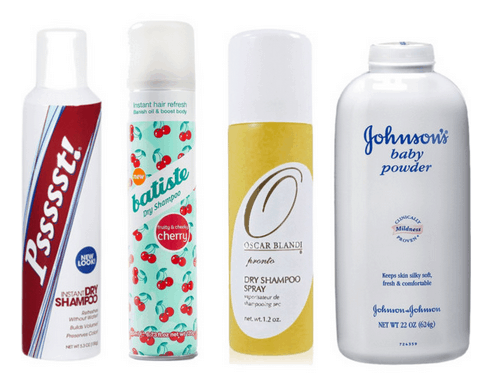 1) Pssssst!
This is one of my new favorites. It's extremely volumizing with a fresh, floral-y scent and gives your hair lots of shine. This can be found at Ulta for about $6 – a fab budget-friendly buy!
2) Batiste
This dry shampoo is really great for your hair if it really isn't that greasy, but you need a little bit of life and fluff to your hair. This one adds a nice shine, but its main focus is on making your hair look and feel extremely soft, loose, and flow-y!
Batiste comes in several different scents, but the one I love most smells just like cherries – so amazing. You can find this at Ulta, Sally Beauty Supply, and sometimes even Urban Outfitters for about $6 or $7!
3) Oscar Blandi Pronto Dry Shampoo
This one is really great for those days when your hair is incredibly and visibly greasy, as it adds shine, fluff, volume, texture, and reallymakes it look like you just washed your hair! This product volumizes and easily reduces the oils and removes product build-ups that are in your hair – and it smells like lemons so that's amazing.
This product is a little pricey ($23 at Sephora), but is worth it if you have oily hair or want to skip a day or so between shampooing.
A lot of people don't know this, but Johnson's Baby Powder can be used as a dry shampoo! This product works if your hair is really greasy and needs volume because it clears up the grease and lifts your hair when you apply this to your head.
Also Read: 14 Best Bath & Body Works Products You Need to Try
This product does not, however, shine your hair or give it that fluffy, clean appearance. But, the price simply can't be beat: you can find this product at any drugstore for around $2 to $3!
How to Apply Dry Shampoo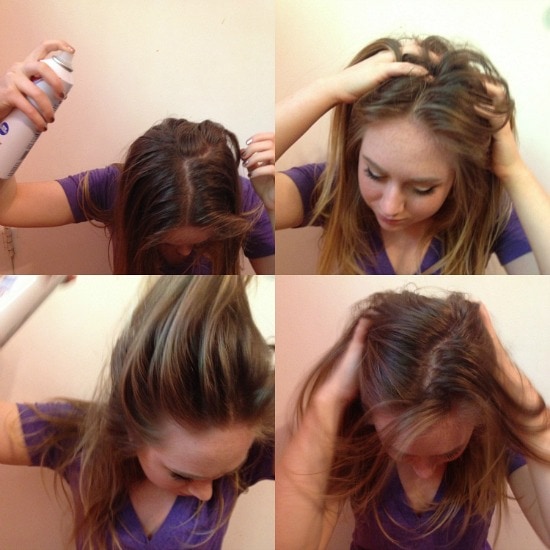 I usually use dry shampoos on a day-to-day basis, whether my hair is looking a little greasy or even if I just want to add some volume to my locks. It's so easy! Here's how to apply dry shampoo:
All you have to do is lift up different sections of your hair, spray the product into your roots about 5 or more inches away from your head.
Next, rub and blend in the product with your hands – kind of like you're scrubbing shampoo into your head. You can do this a couple of times and with different sections of your head.
Brush your hair out to evenly disperse the product, then play around with your hair using your hands until you get your desired volume and shine.
And that's it! It's such a fast process that you can be out the door in a minute or less!
Before & After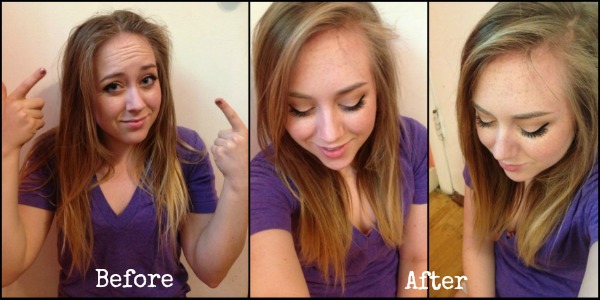 (Click the image to enlarge.)
Your thoughts?
What did you think of this post? Have you guys ever tried dry shampoo before? If so, which products did you use? Do you recommend any of them? Let me know in the comments below!