This post will show you the best Bath & Body Works products you need to try asap!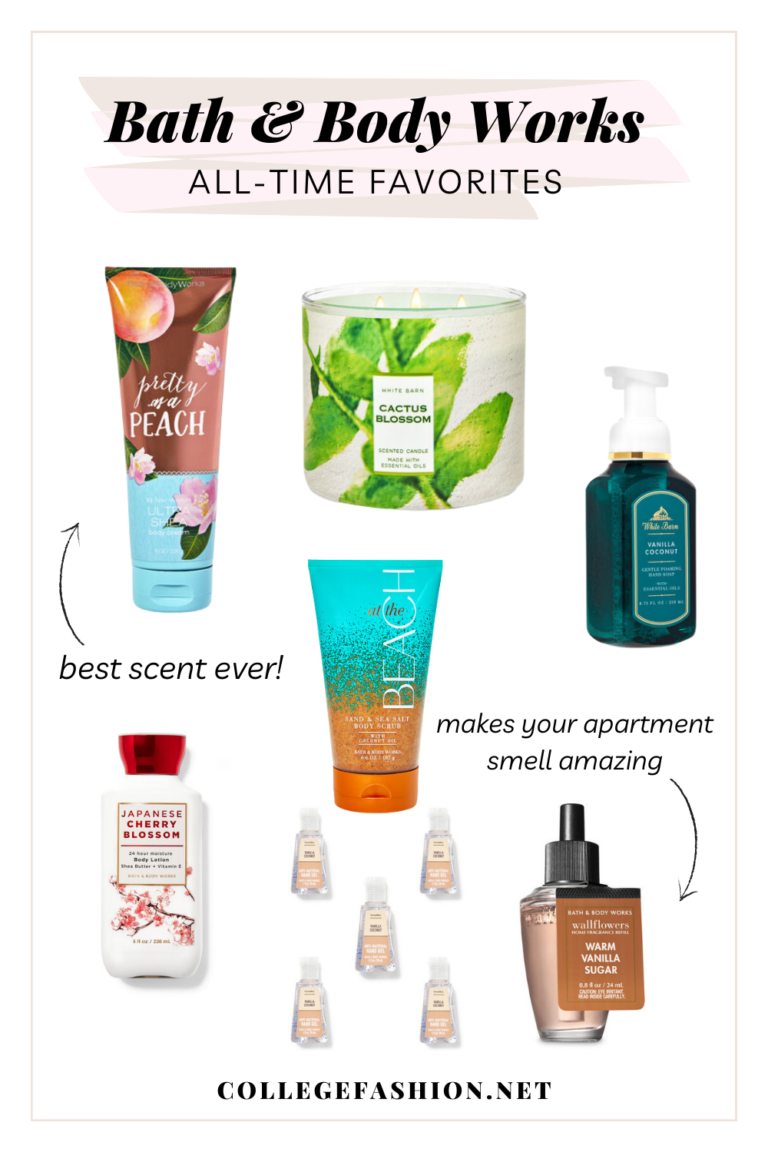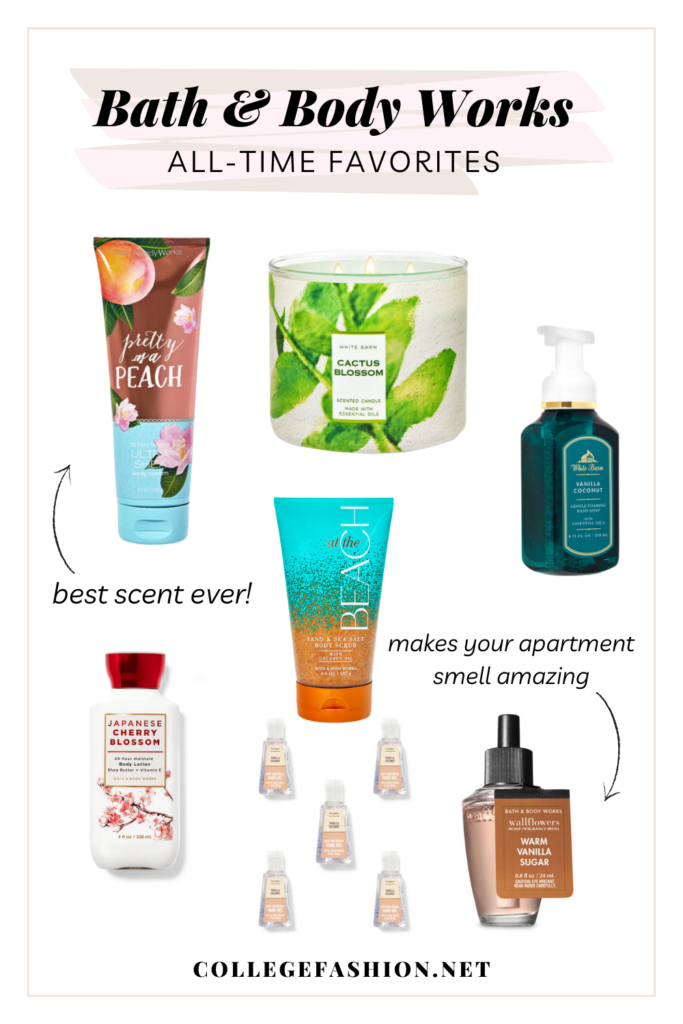 I don't need to tell you guys about the amazingness that is Bath and Body Works products. This skincare mecca stocks hundreds of products in a variety of scents, and there are countless devotees that swear by their offerings and buy up their favorite scents in bulk every year.
If you want some help wading through the hundreds of products on offer, today I'm sharing my Bath and Body Works favorites.
The hand sanitizers and body creams are my usual go-tos, however B&BW has other products that are equally as great.
Before we begin, I should note that B&BW has amazing sales, so it's usually possible to get any product at a discount if you wait around for the right day. Also, it's important to remember that all of the fragrance and cream products I mention below come in travel sizes too!
Keep reading because I'm going to count down my favorite Bath & Body Works products of all time:
14. At the Beach Body Scrub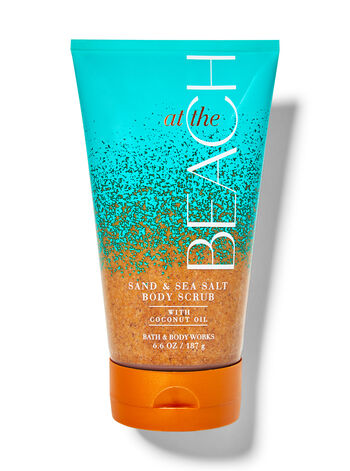 This is one of those under the radar products that Bath & Body Works might not be known for, but is a game-changer once you try it.
This At the Beach body scrub ($16.50) is my go-to for when I really want to scrub my skin and make it feel baby soft. It has sea salt and coconut oil to scrub and moisturize.
This product will not only take care of your dry skin, but it will make you feel like you're on a tropical vacation (something we all need right now).
13. Warm Vanilla Sugar Home Fragrance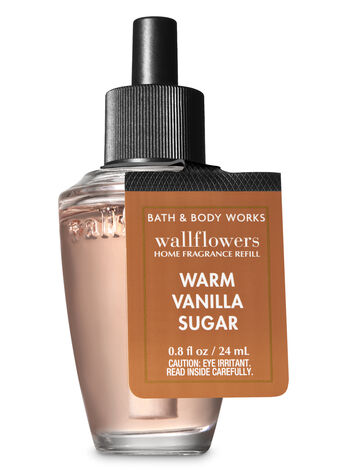 Do you want your home to smell amazing without having to worry about lighting a candle? Enter this game-changer from Bath & Body Works that will keep your home smelling incredible, 24/7.
If there's a scent you love at the store, great news: You can almost any B&BW scent in a Wallflower, the store's version of a plug-in.
In particular, I love the warm vanilla sugar home fragrance ($7.50) (wallflower sold separately), which is a classic, homey scent that's comforting and sweet.
12. Any of the Gift Sets
An easy go-to gift for any woman you need to shop for, Bath & Body Works makes fantastic gift sets that always come in super cute packaging.
This a thousand wishes mini gift set ($13.50) is a perfect choice for a best friend or even a family member and it comes in super cute packaging.
The scent is true to its description, "A festive blend of pink prosecco, sparkling quince, crystal peonies, gilded amber & amaretto crème." It's sweet but not too sweet, and feels luxe and decadent.
You could even treat yourself and get this gift for yourself!
11. Rose Lavender Pillow and Body Mist
If you have been having trouble sleeping at night or if you just want to relax, Bath and Body Works makes an amazing rose lavender pillow and body mist ($13.50).
All you have to do is spray it on your pillow before bed or add a touch of it to your skin and you will feel so much more relaxed!
I'm not the only one who loves it – this spray has rave reviews for its spa-like scent and miraculously relaxing properties.
10. Japanese Cherry Blossom Body Lotion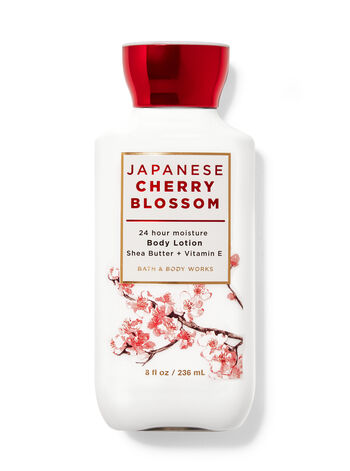 Okay, so their body creams are my favorite (keep scrolling to see my favorite one), but if you want something lighter, Bath & Body Works makes some nice lightweight body lotions that shouldn't be missed.
Personally, I recommend the classic Japanese Cherry Blossom body lotion ($13.50). It's one of the top-selling scents in Bath & Body Works history, a mix of cherries and light florals that's perfect for spring.
I have yet to find anyone who doesn't like this scent, a true testament to its popularity and staying power.
Just add some of this moisturizing lotion to your skin and your skin will feel lightly moisturized and smell amazing all day!
9. Waikiki Beach Coconut Travel Size Shower Gel
Bath & Body Works shower gels have a strong scent, so they might not be something you want to use daily, especially if you use other scented fragrances or body lotions.
That said, their travel size shower gels are perfect for weekend trips — they act as a body wash and fragrance in one, and you won't have to use that drying hotel soap when you reach your destination.
There are tons of scents to choose from too, so it's fun to buy a few different ones to try on various trips throughout the year.
One of their best vacation-ready scents is Waikiki Beach Coconut ($6.50), guaranteed to make you feel like you're on a tropical island.
It also has aloe and vitamin E in it to nourish your skin.
8. Champagne Toast Car Fragrance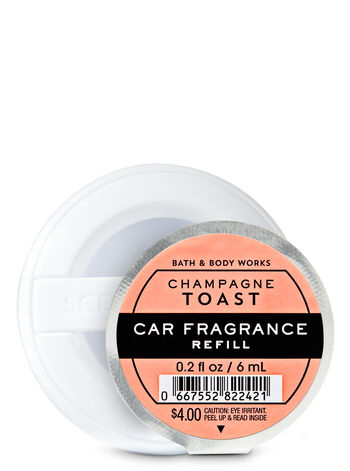 This is another under-the-radar Bath & Body Works product to try if you love a certain scent and want to take it with you. Their car fragrances work great and will make your car smell amazing.
Buy one of these and it's like a little treat to yourself every time you open up your car door.
The most popular of all the car fragrances has to be the Champagne Toast car fragrance refill ($4.00). With a mix of "Bubbly Champagne, Sparkling Berries, and Juicy Tangerine," it smells like candy in a grown-up way.
Your friends are guaranteed to ask you how your car could possibly smell so good!
7. Rose Hand Cream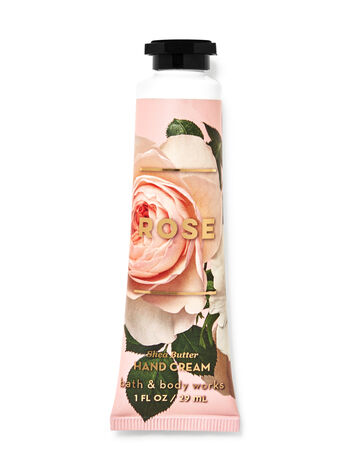 If you want something extra strong for dry winter hands, Bath and Body Works' concentrated hand creams are not to be missed.
My favorite scent is this rose hand cream ($6.50) that's classic and perfect for spring.
The scent isn't overpowering, so it won't annoy anyone around you in the classroom — it's just the right amount of classic rosewater.
6. Any of the Three-Wick Candles
I couldn't do a Bath & Body Works roundup without mentioning these — the brand is famous for their three-wick candles!
They have so many great candle scents to choose from that you will be obsessed with. And each season, they come out with new ones.
In the fall, scents like Leaves and Sweater Weather are my go-tos, but when spring rolls around, it's all about sweet, floral, and tropical scents (Cactus Blossom is the perfect luxe summer scent).
You can't go wrong with these candles as they last months and months, and the "throw" (or how strong the scent is) is amazing on almost all of them.
With Valentine's Day coming up, I definitely recommend trying the strawberry pound cake 3-wick candle ($24.50) — it smells just like the real thing!
5. Pretty As A Peach Fine Fragrance Mist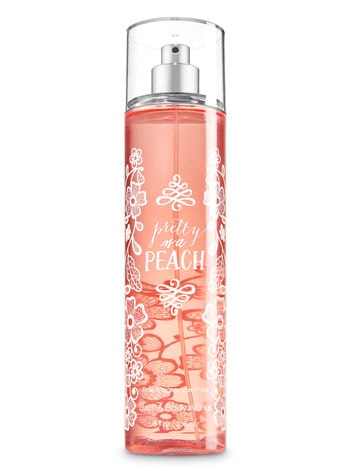 I first found out about the Pretty as a Peach Fine Fragrance Mist ($14) from a friend freshman year and soon fell in love.
A sweet, fruity and light mist, it's become my favorite fragrance to quickly spritz on before I head out for the day.
This mist is perfect for an everyday fragrance, as it's not overwhelming and doesn't cling to clothes for days on end.
4. (In Fall/Early Winter) Winter Candy Apple Travel Size Body Cream
Come every fall, Bath & Body Work's Winter Candy Apple Body Cream ($6.50) is the product you need to get into the festive spirit as Xmas approaches. It also makes a fantastic gift.
The description isn't lying when it states that, "Christmas smells like a merry-berry blend of red apple, winter rose petals, candied orange, maple leaf & fresh cinnamon".
I recommend the travel size as it's the perfect amount to get you through the holidays.
An all night, all day body cream that doesn't leave a greasy residue behind and smells amazing. What could be better?
3. Vanilla Coconut Gentle Hand Soap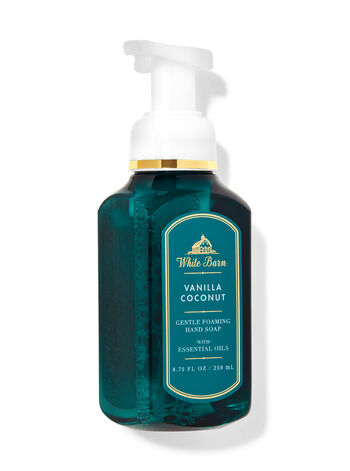 I don't know if it's just me, but I love when people have nice smelling hand soaps.
The Vanilla Coconut Gentle Hand Soap ($7.50) is an amazing blend of whipped vanilla, peach blossom, and warm coconut that leaves you constantly smelling your hands and wondering if it's you who smells great!
It's no surprise that yes, that is you!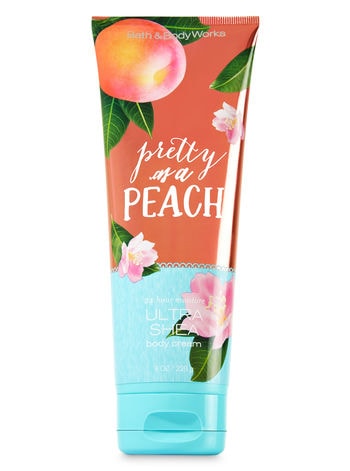 Pretty as a Peach Body Cream ($13) is my go to hand and body cream and one that I've received numerous compliments on.
Whenever I apply it, I always find people asking what that smell is and who has it.
Unlike the fragrance mist, the smell is a bit stronger and lasts for a while too. Infused with shea, aloe and cocoa butter, this product is ultra moisturizing.
With one use, your skin is instantly moisturized and softened for 24 hours! Don't sleep on this one.
1. Vanilla Coconut PocketBac Hand Sanitizers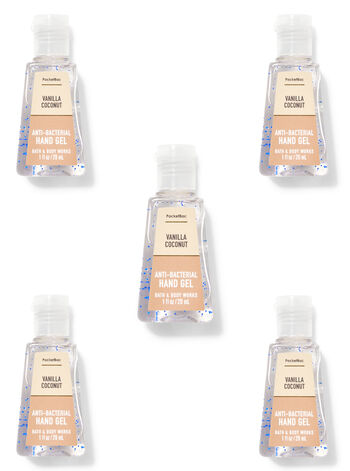 Pop open one of these Vanilla Coconut PocketBac Hand Sanitizers ($8 for a 5 Pack) and watch the swarm of people congregate around you for some.
Better than a plain smelling Purell hand sanitizer, these sanitizers work great and smell incredible.
They come in so many scents, so you're sure to find your favorite! I love the Vanilla Coconut to layer with my hand soap, but you really can't go wrong with any scent.
Also, there are regularly deals at Bath & Body Works for hand sanitizers, so make sure to bring your friends and pick and choose the ones that you all want.
What are your favorite products from Bath & Body Works?
Do you have any Bath & Body Works favorites? What smells do you like for bath or body products? Is there a section that you steer towards when you go to Bath & Body Works? Tell us in the comments.
If you liked this article about bath and body works products, consider checking out these other recommendations below —
Editor's note: This post was originally published in 2018; it was completely updated and revamped in 2022 with new photos and information.