This post may contain affiliate links, which means we may receive a commission if you purchase through our links. Please
read our full disclosure here
.
Since Thanksgiving ended, beauty online has been in full-scale holiday mode. Not only have there been huge holiday drops and gift sets by all the major brands, but our social media feeds have featured an endless stream of gorgeous, glittery looks. Whether you're still in finals – like I sadly am – or are already lounging at home, I'm sure you've been lusting after some holiday beauty products. Here are the ones you'll be reaching for through and beyond New Year's.
For festive eyes:
Sparkle on the eyes, whether glittery or shimmery, is an always-must, yes-please for the festive season. My personal favorite for full-impact glitter is from Lemonhead, whose Spacepaste ($22) and Spacejams ($28) are intensely, can't-tear-my-eyes-away beautiful. Not only are they stunning, but they're also in a unique balm formula which is a breeze to apply and remove (virtually unheard of in the glitter realm). These are a must-purchase. The shade Gina Shkeda's wearing above is Paradise Cove, and yes, I've watched the video about 1038469 times since she posted it.
Some of my other favorite glitters for the holidays include the Stila Glitter & Glow Liquid Eye Shadow ($24) (I'm wearing shade Smoldering Satin in the picture above) and the Marc Jacobs See-quins Glam Glitter Eyeshadow ($28).
For glowing skin:
Of course, holiday parties and family get-togethers means pictures — lots and lots of them. While we don't want to look greasy in these photos, a soft creamy finish cuts that perfect balance between good skin for the camera and in real life. Cream products – set with a dependable HD powder like the face powders listed here – are perfect when you want a flawless finish but a natural glow.
Start with a soft, beautifully blendable foundation like the Vanish Stick from Hourglass ($46) and watch as your skin is blurred and your face stays fresh all night. Then, a good blush is always pretty for the winter months, simulating that rosy cold flush we get when coming in from the snow. My favorite cream blush for this look is the Too Faced Peach My Cheeks ($30) which has a sheer, easily buildable cream-to-powder formula.
And finally, when better to cave to the highlighter craze than the holidays? Get your glow on with Benefit Watt's Up ($30) or Colourpop Flexitarian ($8) for that wintry shimmer.
For juicy lips: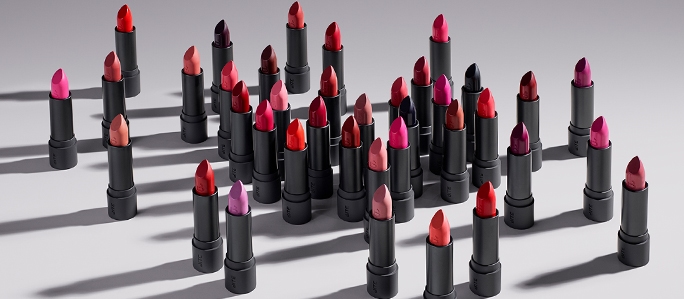 My lip product go-to will always and forever be Bite Beauty, and the holidays are no exception. Their Amuse Bouche lipstick formula ($26) is full of nourishing ingredients and smell divine. My favorite shades for the festive season are Beetroot, a deep berry, Gazpacho, a true red, and Honeycomb, a creamy beige. Of course, you can always try out metallic lips or top your favorite shade with a glittery gloss for some extra pop!
For the events that involve eating – and I'm sure there'll be a lot – I'd recommend a liquid formula, which will wear a lot more gracefully. Try Always On by Smashbox ($24) or Colourpop's Ultra Matte ($6.50) line. My trick to lips that stay on throughout a full meal, even without careful eating, is starting with a hydrating balm, blotting, then layering on a cream lipstick of similar shade before the liquid lip. These layers do a great job of reducing fading and feathering, I promise!
My favorite holiday beauty 2018 looks so far:
Jessica Vu is one of my favorite makeup influencers these days, and this subtle blue look is a must-try for sure.
Karima Mckimmie is another firm favorite, and this look literally made me gasp. I've been really loving dramatic looks this season!
French makeup artist Violette is a true artist. All of her looks are stunning!
And that's it!
These are my picks for holiday makeup products this season. Have you tried any? What are your go-tos? What are you planning to be wearing this year? Be sure to tag me in your looks; I'd love to see!