This post may contain affiliate links, which means we may receive a commission if you purchase through our links. Please
read our full disclosure here
.
Fall is the perfect time to experiment with a new lip color – the changing seasons means you can take a break from candy-colored pinks and corals, and try on a bold, dark shade. Berry lips are versatile and classic, plus this shade is flattering on every skin tone!
Below, we'll tell you two ways to rock this vampy yet trendy hue this semester and tell you which budget-conscious berry-colored lipsticks you should keep an eye out for during your back-to-school shopping excursions.
1. Give Sheer a Go
If you're new to berry (or feel it's too dark for daytime), wearing it sheer is the perfect way to test out the color. It's also a much less tricky way to apply lipstick, so if you've ever had trouble with application (we all have!), this is a foolproof method.
How to wear it:
Apply your favorite lip balm or clear gloss to gently buffed lips.
Using a finger, gently pat the lipstick against your lips until you reach your desired intensity.
The result? A perfectly sheer, berry-kissed pout!
2. Go Bold
If you're looking to really rock a trend this fall, deep, dark berry lips are sure to make a statement. Dare to wear during the day, or play up your berry pout for a great night-out look. Whichever you choose, this look takes a little more time (and maybe practice!) to apply than the sheer look, but the payoff is worth the effort!
How to wear it:
Buff your lips first. Making sure they're flake-free will make the application process a lot smoother. You can also rub in some clear lip balm – but not too much. And steer clear of gloss at this stage!
Now, you have a couple of options: some girls like to apply a sheer coat of foundation or concealer to their lips to make the pigment more intense, and some like to fill in lips with a similarly-colored lip liner. Or, you could leave your lips bare and simply apply the color. It's really up to you and your personal preferences. The foundation method helps the color to appear true-to-shade, while the lip liner method ensures your pout will stay perfect even if the lipstick smudges off.
Application can be tricky, but here are a few tips: if you're new to lipstick (or find it a bit difficult), a lip brush might be your new best friend. It's much easier to control, and allows you to apply the color very precisely. You could also use the finger method again (but it will take longer to get the dark shade you're looking for) or you could apply the lipstick directly. The lip brush, however, is definitely the easiest way!
Finish off your look with gloss (clear or matching!) or keep it matte for a super wearable look.
What to Buy
Now that you know how to wear it, check out these affordable and on-trend berry-hued drugstore buys to perfect that pout: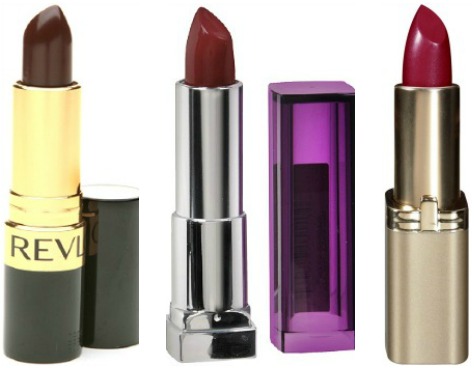 L to R: 1. Revlon Super Lustrous in Black Cherry, 2. Maybelline ColorSensational in Deepest Cherry, 3. L'Oreal Colour Riche in Plum Explosion
Thoughts?
What do you think of this trend? What's your favorite beauty trend for fall? Would you wear berry lipstick? Leave your comments below!