Depending on where your school is located, you may or may not be feeling to Fall weather starting to creep in. Here in North Carolina, I stepped outside yesterday and caught the first morning with a cool breeze. But whether or not it actually feels like fall, fall fashion is definitely here, and with it comes fall beauty.
To celebrate fashion's favorite season, I'm itching to break out my boots, rock my favorite fall jacket, and paint my nails with some of fall's hottest colors. Below, I've highlighted 5 of my absolute favorite colors from designer nail polish collections for Fall 2010.
1. Glitzerland- OPI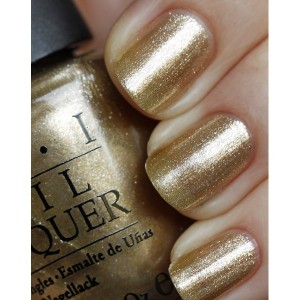 This polish really is as bling-y as it sounds: The gold shade has just enough simmer to make your hands catch the light, but is subtle enough that you can wear it without looking like you're channeling Lady Gaga. (We love Gaga, but let's be honest: Her style isn't exactly suitable for class, or work, or your internship.) In addition, this color looks lovely against some of the plums and emerald greens we've been seeing heading down the runways!
Get Yours: Buy Glitzerland on Amazon.com. Offline, you can buy OPI polishes at Ulta, Trade Secrets, or your favorite nail salon.
2. Les Khakis de Chanel Collection- Chanel
Chanel always sets the trends when its comes to, well, everything, but their nail polish is especially popular, season after season. While their polishes aren't exactly cheap ($25 a bottle), the real problem might be getting your hands on a bottle: The Chanel website literally went down for several hours the first day their new collection, Les Khakis de Chanel, appeared online.
Some good news: First, the Khakis collection is now back in stock on Chanel.com! But second, if these polishes aren't in your budget, don't worry: We aren't the only ones studying Chanel's latest colors. Use these gorgeous shades as inspiration, and go hunting in your local drugstore for similar colors. Milani is notorious for duping Chanel's shades for a fraction of the price!
Get Yours: You can buy the Les Khakis de Chanel polishes on Chanel's website, but hurry – these hot shades won't be available for long!
3. Jitterbug- China Glaze
Like Glitzerland above, Jitterbug has just enough shimmer to make your nails pop, without making you look too flashy. This foil shade has just enough blue, and just enough gray to make it stand out from your average silver polish. Love the sparkle, but not digging the color? Emerald Fitzgerald and Swing Baby (also from the same China Glaze Vintage Vixen Collection) have similar finishes.
Get Yours: You can buy China Glaze Jitterbug on Amazon.com, or offline at Sally Beauty Supply stores, as well as salons and Ulta.
4. Sew Pysched- Essie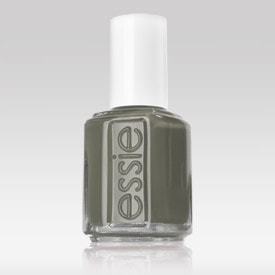 Just looking at this picture makes me anxious for my bottle to arrive in the mail! Sew Pysched in one of several new colors from Essie's fall collection, and none of them disappoint. While it's not exactly a Chanel Khakis dupe, you can tell Essie had the same idea about the hot shades for fall. This gray-green cream has a very, very subtle shimmer that will only appear in the sunlight. It's the perfect neutral color for fall!
Get Yours: You can buy all of Essie's polishes, including Sew Psyched, on EssieShop.com.
5. Wool You Marry Me- Barielle
In my opinion, no fall nail polish post would be complete without some mention of a really great red. This red by Barielle is a gorgeous deep wine cream. Barielle nail polish always applies flawlessly, which is why I wanted to include one of their new colors here, however, the color isn't that unique. If you're not up for splurging, you can find a dupe of this deep red in nearly any drugstore. Pick a red shade that flatters your skintone and budget and add it to your nail polish collection!
Get Yours: You can buy Barielle polish directly from their website.
Which shade is your fave?
So what do you think? How do you feel about Fall's "it" shades? Will you be making any fall nail polish purchases?Let me know in a comment below!