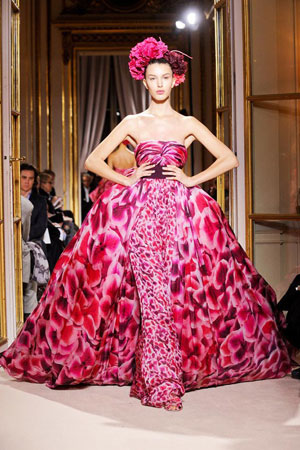 {Photo: ELLE.com}
While 3D nail art has really been my thing lately (my last two tutorials have been on rhinestones and glitter), the other day I came across photos of the Giambattista Valli spring 2012 couture show, and it inspired me to switch gears; I've always wanted to try translating a runway look into nail art.
The pink floral dress above was my favorite in the entire collection, so I decided to try to recreate the look of the flowers on my nails. It was actually pretty simple – here's my attempt at a runway-inspired manicure, and how you can pull it off yourself with just polish and a bobby pin!
What You Need:
As always, start off with clean, unpolished fingers and a flat surface to work on. Now you're ready to arrange a bouquet on your fingernails!
Nailing the Look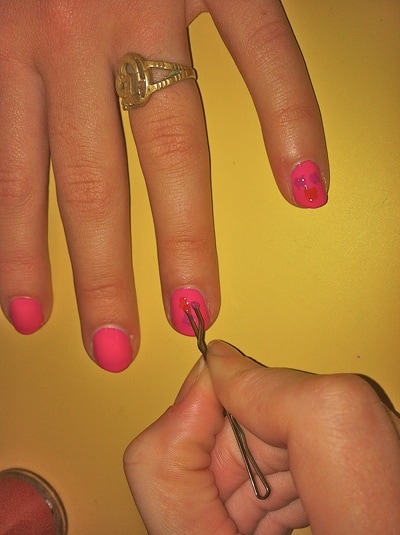 Paint your nails as you normally would, starting with a base coat and following with one or two coats of polish. As you can see in the picture, I started off with a bright pink.
Take your bobby pin and put a dab of nail polish on the tip. Don't put on so much that it's dripping, but make sure there's a good dollop so you can make a nice, round shape on your nail.
As shown in the photo above, gently place the head of the bobby pin on your nail. Make 4 or 5 dots in a circle to create a flower shape.
Make as few or as many flowers as you'd like! I decided to make a lot and to do them in several different colors; I chose a purple, a red and a lighter pink. If you want, you can make them overlap a bit, or you can spread them out.
Helpful Hints
While you really could use any object of a similar shape and size to create the dots, I found bobby pins especially handy for this project because they have two tips, which is perfect if you want to make a design with multiple colors – you can have one color on one tip and a second color on the other tip. Plus, what girl doesn't have a stash of bobby pins hiding in her bathroom? You may find it necessary to wipe the head of the pin off every once in a while, because the polish can start to dry on it and get gooey, which makes it difficult to make nice dots.
When choosing colors, I found it useful to start off with a bright color because it contrasted better with the other colors I was using. At first I wanted the pattern to have a red base, but quickly found out that the purple wouldn't show up well enough and went with the hot pink instead. If you want to make a bolder statement, pick a base color that contrasts well with the colors you're going to use for your flowers; if you want something more subtle, you may want to stick with colors that are in the same family.
The End Result
I was actually very happy with how these turned out. One of my friends thinks they look "Monet-esque," and that they have a sort of watercolor-like quality to them. They're nothing too flashy or head-turning, but they have a cute and playful feel. These nails are giving me spring fever!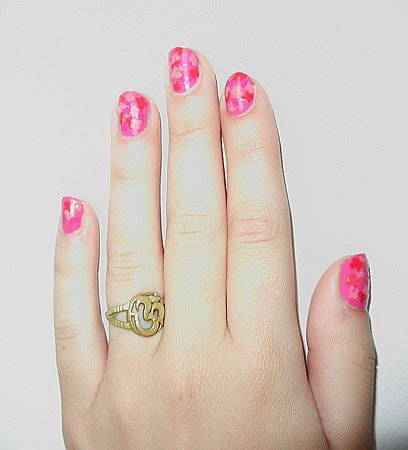 What Do You Think?
Would you put a floral pattern on your nails? If you were to get nail inspiration from a designer, who would it be? Is there a particular runway look you'd like to see turned into nail art? Share your thoughts in the comments below!