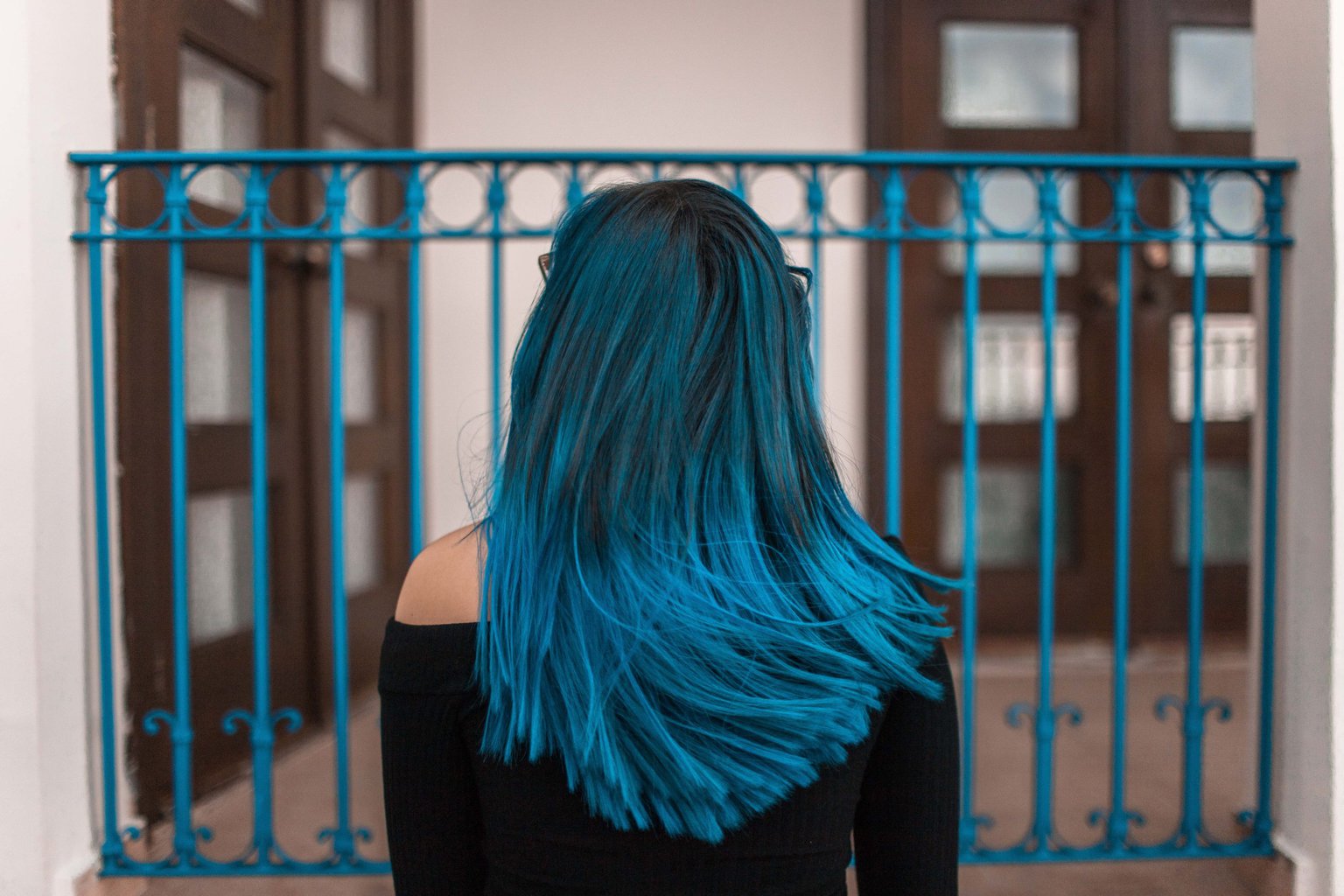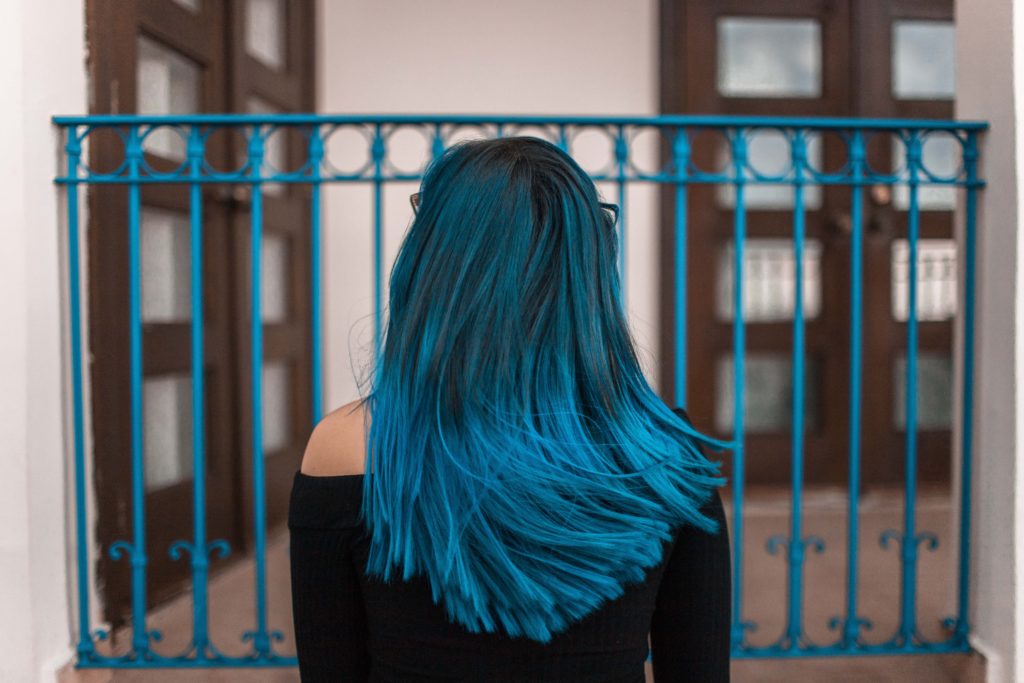 If you have been following the latest hair trends, you'll know that bold hair colors are everywhere this year.
For example, red hair has been insanely popular, seen on every celeb. And now we're seeing "Barbie blonde" start to trend. But, if those aren't for you, you may want to know some other hair color options that will look stunning!
Blue hair is a great option if you want to turn heads with your hair color this season. And today I'll show you 20 ways to rock it.
Related reading: 17 Gorgeous Purple Hair Ideas You Will Definitely Want to Copy
Things to Consider Before You Dye Your Hair Blue:
When dying your hair a bright or bold hair color, it is important to consider certain things. For example, you should think about the length of your hair and also you should consider what kind of hair color look you want to achieve.
Here are some questions to ask yourself before you take the plunge:
Do you want to dye all of your hair one color or do you want to just add some highlights to your hair?
Do you want a lighter shade or a darker shade? Which one would complement your skin tone best?
How long is your hair? Blue hair can look completely different depending on hair length — it tends to lean edgy on short hair and glam on long hair.
It can be hard to decide on the blue hair look you want, so that's where inspo pictures and videos come in.
This post will show you a bunch of on-trend blue hair ideas that will look absolutely stunning and help you decide what kind of blue hair you want!
So, if you are considering dying your hair blue, check out these 20 gorgeous blue hair ideas:
Blue Hair Ideas for Short Hair
1. Royal Blue Hair
The good thing about dying your hair blue is that it looks good with any hair length. So, if you currently have short hair, you don't need to worry about whether or not this bold hair color will look good on you.
What you do need to consider is what kind of blue you want to go for. One blue shade that is absolutely stunning and looks great on short hair is royal blue hair.
If you are wondering how royal blue hair looks on short hair, check out this quick video that will show you exactly how it will look!
2. Silver Blue Hair
If you want to go for a drastic change on your hair, but don't want a color that is super bright, I recommend trying out silver blue hair.
Silver blue hair is a gorgeous shade as seen in this video and will definitely make you stand out from the crowd.
This shade is light, fresh, and will look good with almost everything you wear, so it's easy to style with your existing wardrobe (not the case for all blue hair!).
3. Baby Blue Hair
A lot of us are obsessed with the baby blue color, especially for our nails. But, if you love this color so much, why not try it on your hair too? It's adorable and unexpected, a bolder take on the silver-blue above.
Also, this hair color looks super cute on short hair, so you don't need to worry about hair length for this look!
So, if you are considering dying your hair this color, check out this tutorial to see exactly how it looks.
4. Blue & Purple Ombre
If you love the idea of blue hair but want to combine it with another color, you totally can! Blue hair also looks great when mixed with colors like purple, as shown in this video.
The blue and purple ombré combo will give you a hair color that you will die for and it looks amazing on short hair! It's also great if your hair is darker and you want something that will blend.
5. Neon Blue Ombre Hair
If you really want to go all out with your new hair look, I recommend trying a neon blue hair color!
This will give you the super bold hair color that looks great on short hair! If you like the idea of combining blue hair dye with other colors, you can also totally do it with blue neon hair dye, as shown in this video tutorial.
Blue Hair Ideas for Long Hair
6. Blue Balayage
Blue balayage is another pretty blue hair idea that will look perfect if your hair is long. This shade looks absolutely gorgeous on long hair, so I totally recommend trying out this blue hair look!
It looks especially good if you already have naturally darker hair because the blue will give your hair a pretty pop of color without looking too extreme.
7. Blue Mermaid Hair
Another great idea for a blue hair look on longer hair is the mermaid hair look! Mermaid hair is basically a combo of blue, teal, and purple shades that will give you magical mermaid vibes.
This is also another great look if you want to combine different colors and shades in your hair. Just check out this quick video tutorial to see exactly how it's done.
8. Blue Reverse Ombre
Everyone knows about the regular ombre hair trend, but have you ever seen the reverse ombre hair look?
This look will give you something different if you want your hair to stand out and it looks super cool if you use blue shades as shown in this video. Just be aware that this style requires a lot more maintenance than regular ombré!
9. Teal Blue Hair
If you want to dye your hair a bright blue, but you want something different from a royal blue, I recommend going for this pretty bright teal hair shade.
This will look amazing on long hair and truly stands out. Be prepared to turn heads wherever you go — this color is bright!
10. Pastel Blue Hair
If you want a lighter blue shade that's nice and cool toned, consider going for this pastel blue hair color. This is one of my favorite shades of blue for hair because it is such a beautiful shade of blue and complements cooler skin tones like mine very well.
So, if you think that this hair color will also look good on you (see: How to Find Your Perfect Colors for more on this), I highly recommend trying out this blue hair look!
Blue Hair Highlights
11. Blue Chunky Highlights
Want a statement but don't feel like bleaching your whole head? Try blue highlights!
The video above shows chunky blue highlights on brown hair, but you could do them on any hair color. Just be aware that you'll get more contrast if you do them on darker hair.
12. Blue Peek a Boo Highlights
Peek-a-boo highlights are also really cool when done in blue. Peek-a-boo highlights are usually applied only to the bottom half of your hair, meant to add bright pops of color when your hair moves.
If you are considering doing this hair color, check out the example shown in this video to see exactly how it will look!
13. Blue Highlights on Dark Hair
Another way that you can add some blue color to your hair is through subtle blue highlights. This is perfect for you if you have darker hair and want a more subtle change to your hair.
Just check out this video tutorial to see if you like how it will look on dark hair!
14. Color Block Highlights
Color block highlights are another great way to use blue hair dye. This is when you choose a section of your hair, usually the middle, and apply the highlights in a "block" to this area. Light hair combined with some pastel blue color block highlights looks amazing!
Just check out this video to see if this is the kind of look you want to try.
15. Galaxy Hair
If you want a look that is really out there, you should try the galaxy hair look. If you have never seen galaxy hair before, it is basically when you have all-over purple hair with pink and blue highlights added in. This creates a stunning dimensional effect.
Check out this video to get this gorgeous galaxy hair look!
Dark Blue Hair Ideas
16. Black & Blue Hair
Dark blue hair is a stunning hair color choice. So, if you were considering doing a dark blue shade, let this be your sign to take the plunge.
One great way to use dark blue hair dye is by combining it with another color like this gorgeous black and blue hair look shown in this video!
17. Navy Blue Hair
Navy blue is also another great blue hair color shade to try if you want a darker blue hair look!
Navy blue looks great on either long or short hair, and it grows out well when you have dark roots.
18. Midnight Blue Hair
I absolutely adore this midnight blue hair look! This hair color is perfect if your skin tone is medium to dark or if you have naturally dark hair.
So, if you want a super dark blue look, try out this gorgeous shade!
19. Midnight Blue & Violet Hair
The midnight blue shade seen above also looks great combined with violet. You can do an all-over midnight blue and combine it with violet highlights to create a stunning hair look as shown in this video tutorial!
20. Deep Blue Hair
If you have dark hair and want to add a subtle hint of blue to your locks, you can add this deep blue shade to give a little bit of color to your hair.
This is perfect for you if you like the idea of blue hair but don't want a drastic change.
Which blue hair look from this list is your favorite?
What kind of blue do you want to dye your hair? Do you prefer blue highlights?
Are you pumped to try out our awesome list of blue hair ideas? Well, you don't want to miss these super-inspiring posts below! –