This post will show you the 15 best hair products for college students to make it easy to get ready.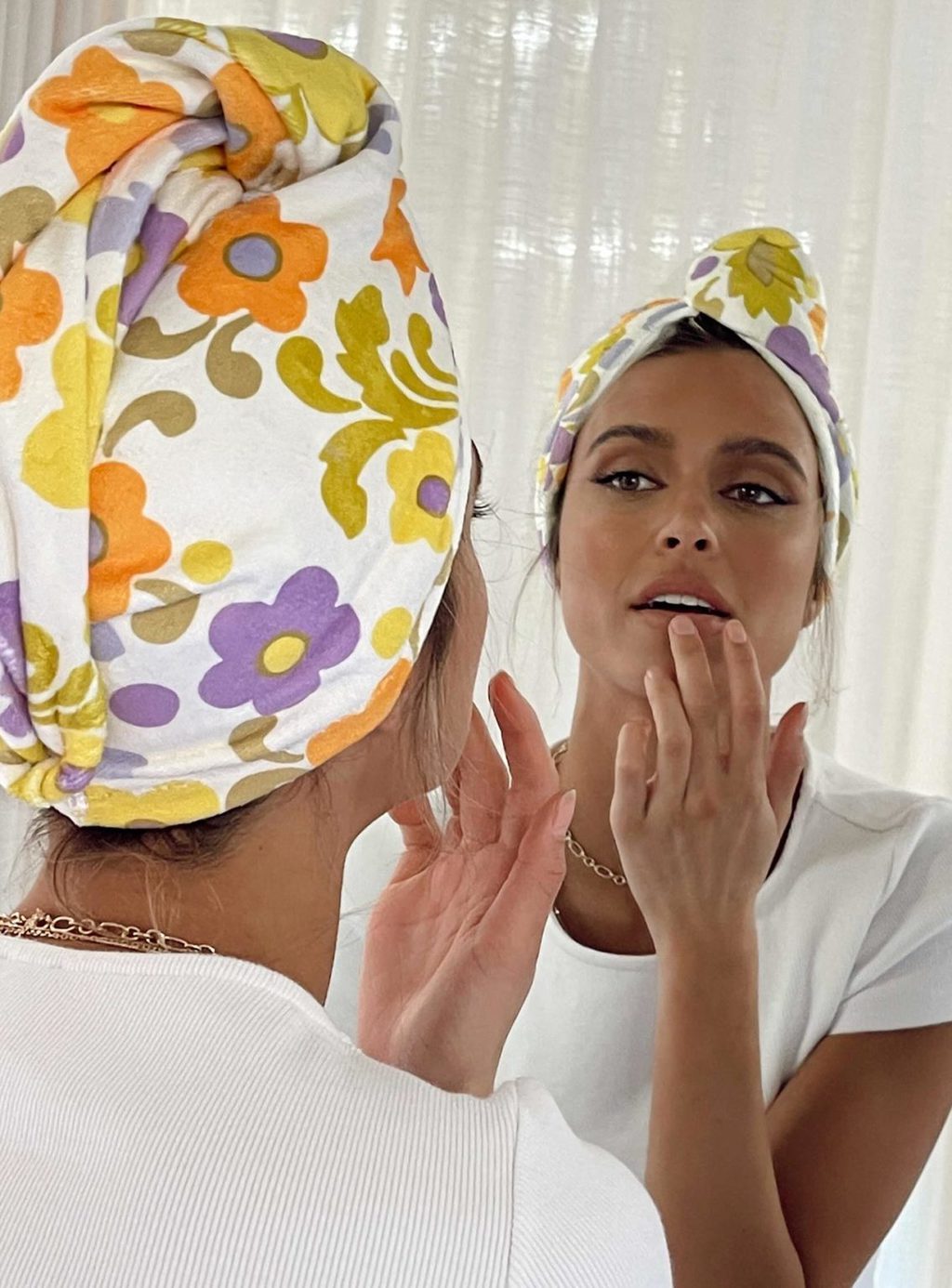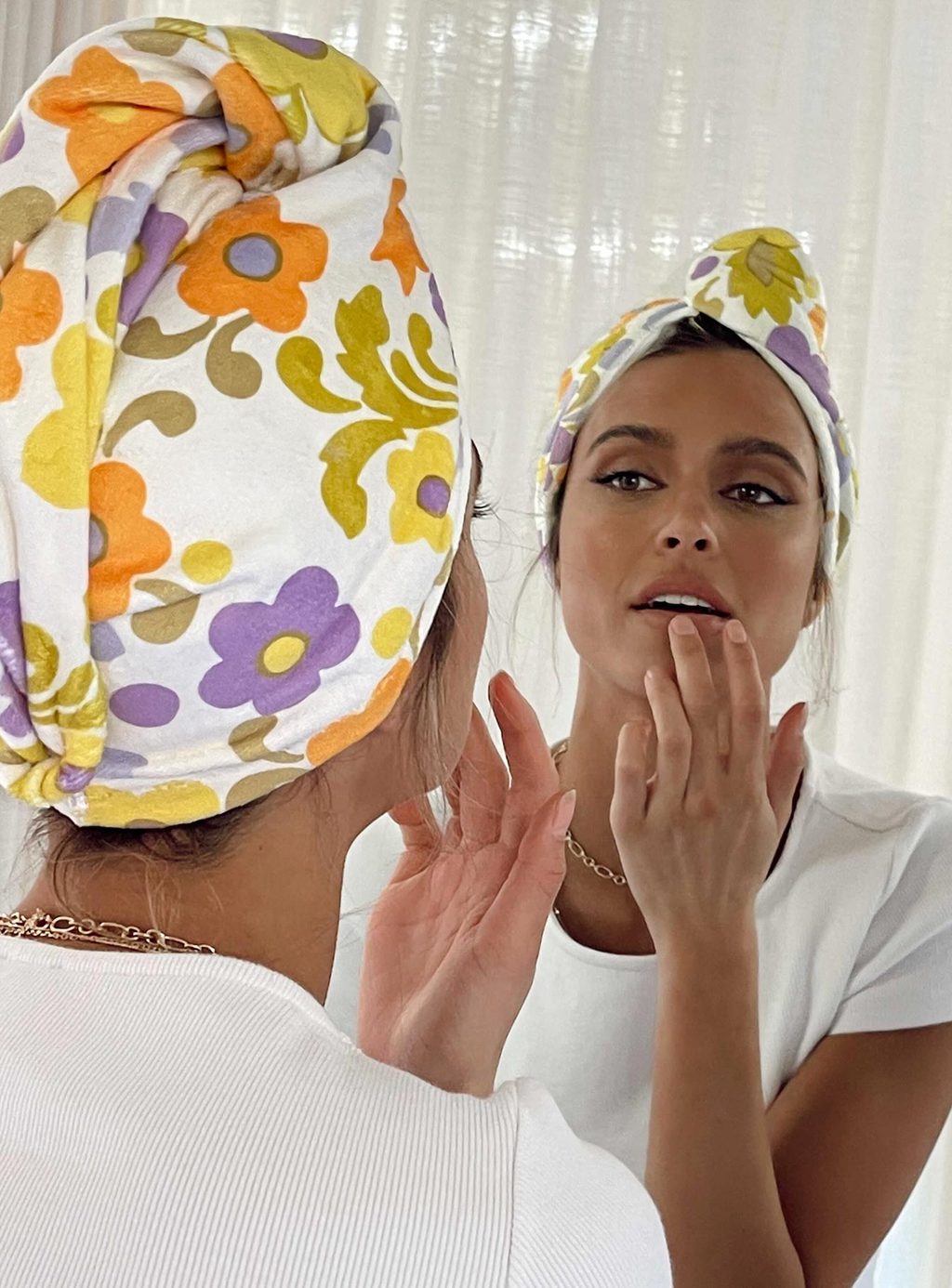 Going to college often means a serious lifestyle shake up. Many students, especially freshmen, find themselves with less time to get ready in the mornings before it's time to rush out the door. (8AM classes are no joke!)
Gone are the days of spending hours on your hair. With the exception of weekends, this rarely happens in college.
With this in mind, it's essential that you streamline your morning and nighttime routines to make your life easier and still look your best.
This post will show you the 15 best hair products for college. These items that will make doing your hair so much easier while in college!
1. Hair Drying Towel
Few college students have time to spend 45 minutes blow drying before class. So be smart and invest in a microfiber hair drying towel that will cut down your dry time.
I shower at night, and this towel makes my life so much easier because I don't have to worry about drying my hair before I go to bed. I can just wear this to sleep and wake up with dry hair.
Even if you shower in the morning, using this towel will cut down on your dry time immensely. Plus, it keeps your hair out of your face while you get ready.
Also, microfiber towels are amazing for curly hair (regular towels can create frizz, but microfiber doesn't), so if you like to embrace your natural curls, one of these is a must.
2. Hair Drying Brush
One item that I did not realize would be so useful in college is a hair-drying brush! These are super popular on campus because they are game-changers.
This REVLON one-step hair dryer and volumizer hot air brush will make your life so easy because it blows drys your hair and styles it at the same time, so you'll be ready to go in no time!
I included styling tools below (hair straightener and curling iron), but honestly, you might be able to skip those if you just invest in one of these. It's amazing for creating voluminous blowouts in no time.
If you like wearing your hair straight for all those '90s vibes, you should consider bringing a hair straightener with you to college.
I like flat irons for college because they can be multipurpose — it's possible to curl or straighten with a flat iron. (Here's a tutorial that shows different ways you can use one.)
But, if you don't already have a flat iron, be careful when purchasing one — some straighteners are more damaging than others.
So, if you want a flat iron that will keep your hair in great condition, I recommend this ceramic hair straightener. Ceramic plates are healthier for the hair and will not cause as much damage. Plus, this straightener has temperature controls so you won't fry your hair. (Always use the lowest possible temperature setting that gets you results!)
4. Color-Depositing Shampoo
This is one of my personal college essentials because it allows me to go longer in between salon visits — really important for college!
If you haven't tried one already, I suggest getting a color-depositing shampoo to help you maintain your shade. Personally, I love Clairol shimmer lights shampoo for my hair — it completely removes any brassiness from light hair colors.
While purple shampoo is only for blondes or those with highlights, but if you have brown or red hair, stock up on a color-depositing shampoo for your hair color. (Here's a good one for red hair, and here's one to keep brunette shades from fading.)
This is super easy to use — just apply some while in the shower or leave it on your hair for a few minutes to get an even better effect. Use once a week or as needed to maintain your color.
Related reading: Blue Shampoo vs. Purple Shampoo: Which One is Best for You?
5. Styling Hair Clips
When styling your hair, you can save so much time by having styling clips to help you section your hair. They're also good for air drying if you have curly or wavy hair that needs volume (tutorial here).
Grab a pack of 6 hair clips for styling and sectioning and you will make curling or straightening your hair so much easier! You won't go back once you get used to these.
Also, if you plan on using heat on your hair at all, don't forget about the importance of having a good heat protectant.
Heat protectors like this HSI Professional Argan Oil Heat Protector will save your hair if you like to blow dry or use hot tools on a regular basis.
Whenever you plan on curling or straightening your hair, you can easily just apply a few sprays of this and your hair will be protected!
This is a hair product for college that I definitely could not live without. Dry shampoo is an absolute must, especially if you have oily hair.
If you don't have time to wash your hair or even if you need to add some extra volume to your hair, this is such an easy way to make your hair look clean!
My favorite dry shampoo is this Batiste dry shampoo because it works wonders and doesn't have an intense smell like some dry shampoos. Plus, it's cheap so you can stock up.
Related reading: The Best Drugstore Shampoos for Oily Hair
8. Elastic Hair Bands
Having some hairbands laying around is always a good idea for when we are in a rush and need to just throw our hair up.
But, while in college, you may want to put together a cute hairstyle you saw on TikTok, and you can totally do that with these clear elastic hair bands.
These hairbands will make it super easy to add some trendy braids to your hair or to create a cute updo.
You may have heard about satin pillowcases because they have been said to be good for the hair and skin. So, why not bring one with you to college? I like this set of satin silk pillowcases in pink because it's always good to have more than one pillowcase to swap out.
Not only will they provide benefits to your hair, but they will also look super cute on your bed, especially if you get the pink ones!
10. Hair Mask
Self care nights are so important in college when you're stressed. And it is always good to have a hair mask to apply every once in a while to keep your hair healthy and strong.
Therefore, if you want your hair to continue to look flawless while in college, I suggest bringing a hair mask with you like this hydrating argan oil hair mask and deep conditioner. Use it on your next spa night with your friends.
Using elastic hairbands every day can cause breakage to the hair. So, for the days where you are just lounging around, you should consider getting some scrunchies to put your hair up if needed.
This pack of silk hair scrunchies is my go-to because silk causes less damage to the hair and they also come in a ton of fun colors for you to choose from!
12. Curling Iron
A curling iron is definitely not a necessary hair product for college (and it's not for all hair types), but it's so much fun if you like to switch up your hair often. I like having one with me at college so I can do any hairstyle I want.
If you're in the market for a new curling iron, I suggest getting this curling iron with set of 5 in 1 interchangeable ceramic barrels because using a wand will make it easier to curl your hair (it feels hard at first, but it's simple once you get it down).
I also love that it also comes with many different kinds of curling barrels for you to choose from.
13. Detangling Brush
For those of us who have curly hair, we know the struggle of having to detangle because of the knotting that we tend to get.
But, you can totally make brushing your hair easier while in college if you bring a detangling brush like this one with you!
It will help you get through those tough knots and will also cause less damage to your hair than a regular hairbrush would.
14. Claw Hair Clips
Another super easy trick for doing your hair while in college is having hair claw clips like the ones that come in this set of 4 claw hair clips.
Whenever you are in a rush and need a cute and trendy hairstyle, just throw your hair up in one of these and you'll be good to go! These are one of the most popular accessories this year, and you'll see them all over campus.
When you plan on styling your hair, you can't forget about the importance of hairspray! This is especially true if you plan on curling your hair because you don't want to lose your curls throughout the day. (Who has time to fully re-do them at night?)
I love a strong hairspray like this L'Oreal Paris unscented hairspray. Not only will this hairspray keep your hairstyle intact, but also it is unscented, so it won't have an unpleasant smell like most hairsprays.
What is your favorite hair product for college?
Which one do you think you will use the most? Which hair items and accessories are you going to purchase for college?