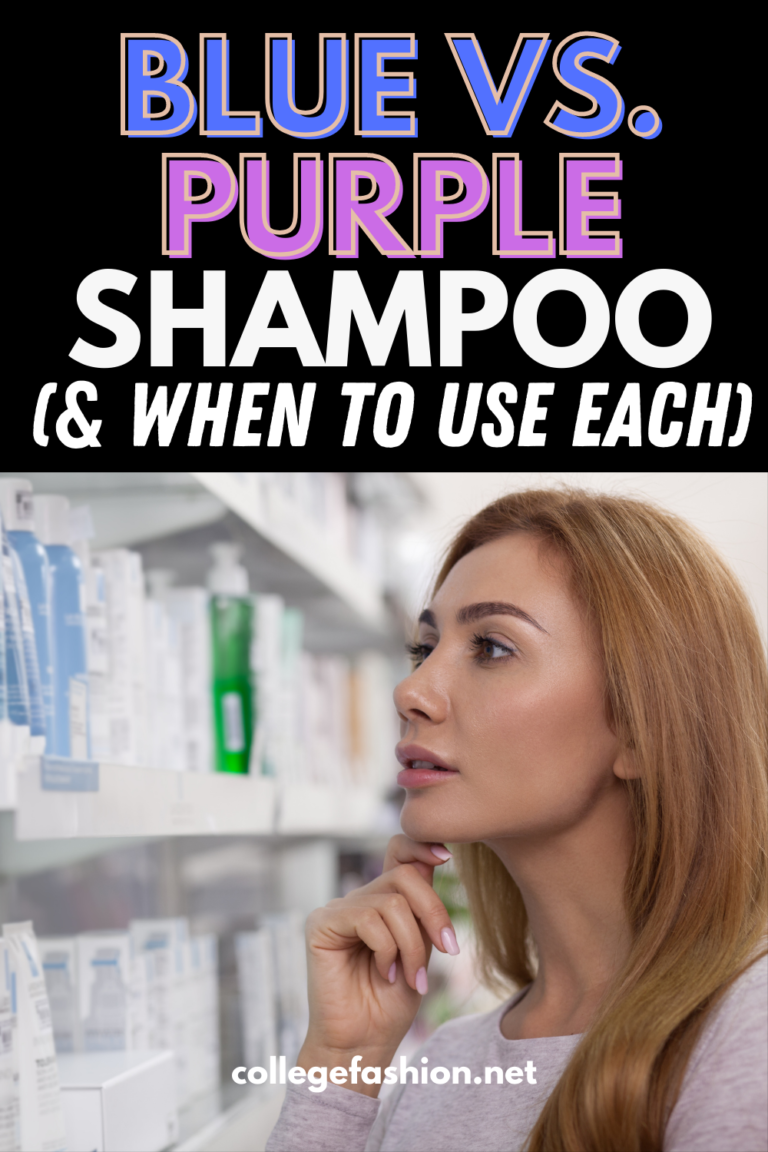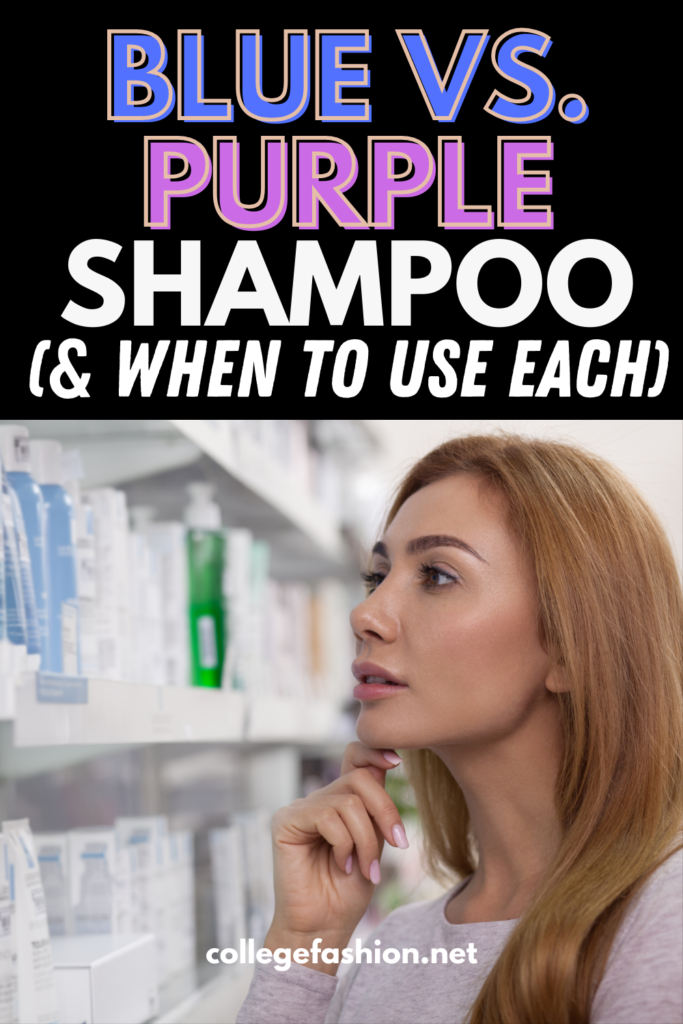 This post will explain everything you need to know about purple vs blue shampoo.
If you've ever bleached your hair, dyed your hair a lighter color, or gotten highlights of any kind, you've probably heard about purple shampoo for its toning properties. But do you understand what it really does and when you should use it?
And what about blue shampoo? Do you know what that does and when you should use it instead of purple? Today, we're going into the nitty gritty on both, to fully explain the differences and which one is best for you.
Here's everything you need to know about blue vs purple shampoos, which one is best for your hair, and our favorite products from each category. Read on to learn!
Note: If you are new to toning shampoos or worried about changing the color of your hair, consult your hairstylist before using!
Significant Differences
Let's compare and contrast purple and blue shampoo. While they both serve a similar function, to cancel out unwanted tones from the hair, the two are not the same and can not be used interchangeably.
What is a Purple Shampoo?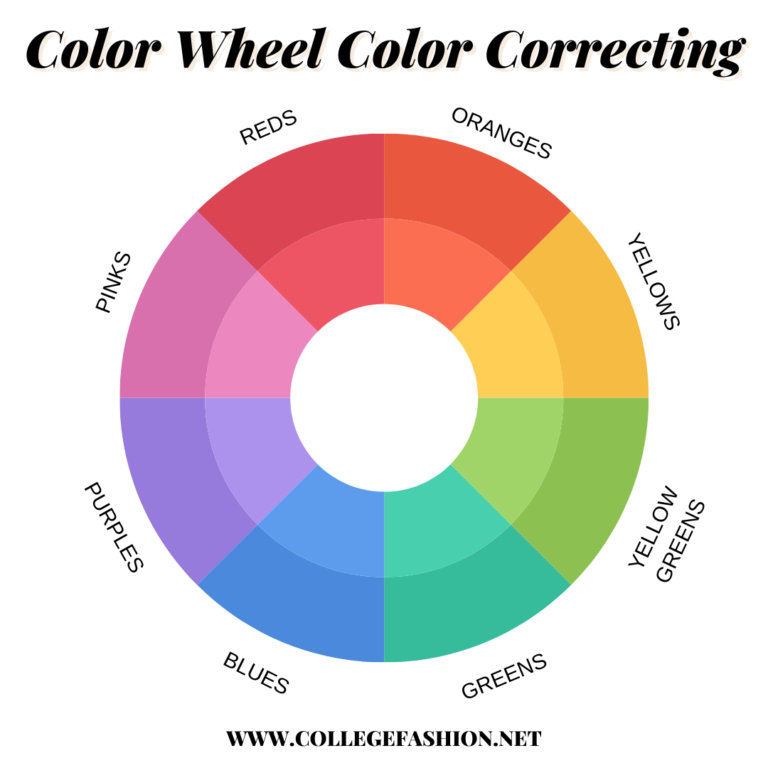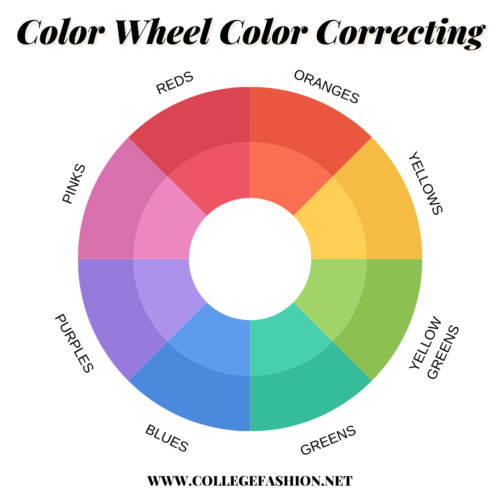 To fully understand what purple shampoo is and how it works, it's helpful to consult the color wheel (above).
As you may remember from art class, colors that are opposite one another on the color wheel cancel each other out. For example, green cancels red, blue cancels orange, and purple cancels yellow.
Purple shampoo adds purple pigment to your hair in order to neutralize (remove) yellow tones. So purple shampoo cancels out yellow in hair (also known as "brassiness").
These bright yellow tones are most common in blondes and highlighted brunettes. This is because, as the hair gets lighter, orange is removed from the hair and only yellow remains. (The chart on this page is a great visual aid to understand the levels hair goes through when it's lightened.)
What is a Blue Shampoo?
If we want to understand what blue shampoo does, we should once again look at the color wheel above.
Blue is across from orange on the color wheel, so blue shampoo, which deposits blue pigment, will cancel out any orange tones in your hair. Orange tones are more common in darker hair, so blue shampoo is typically used on brown hair to neutralize any orange that lingers after lightening.
Who Should Use Blue or Purple Shampoo?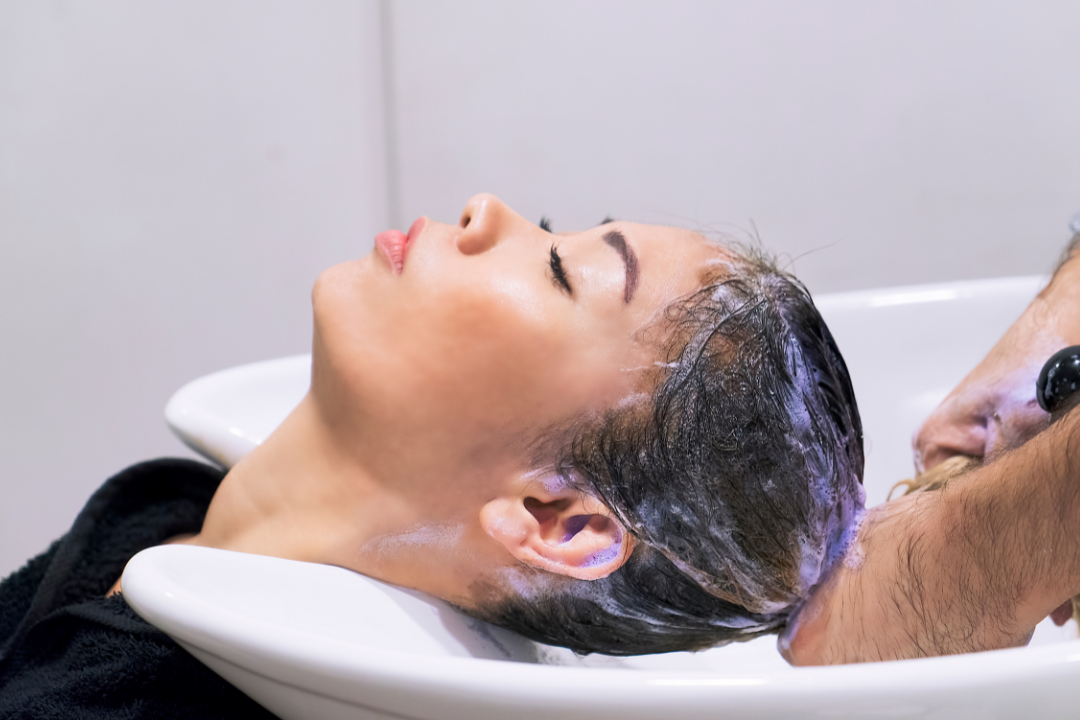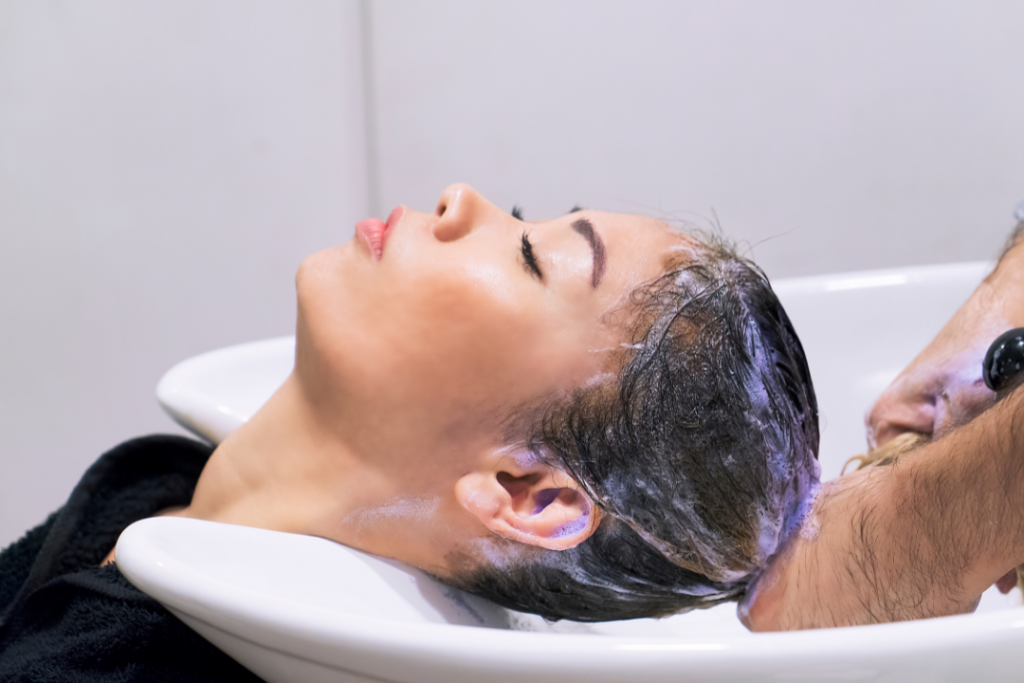 People with any hair color can use blue or purple shampoo, depending on their desired results.
However, purple shampoo is best for blondes that want to cancel out yellow tones (think an icy blonde that's now looking lemon yellow), while blue shampoo is best suited to brunettes who want to cancel out orange tones in their hair (think a light chocolate brown that's turned more coppery).
Blue vs Purple Shampoo: Which One Should I Buy?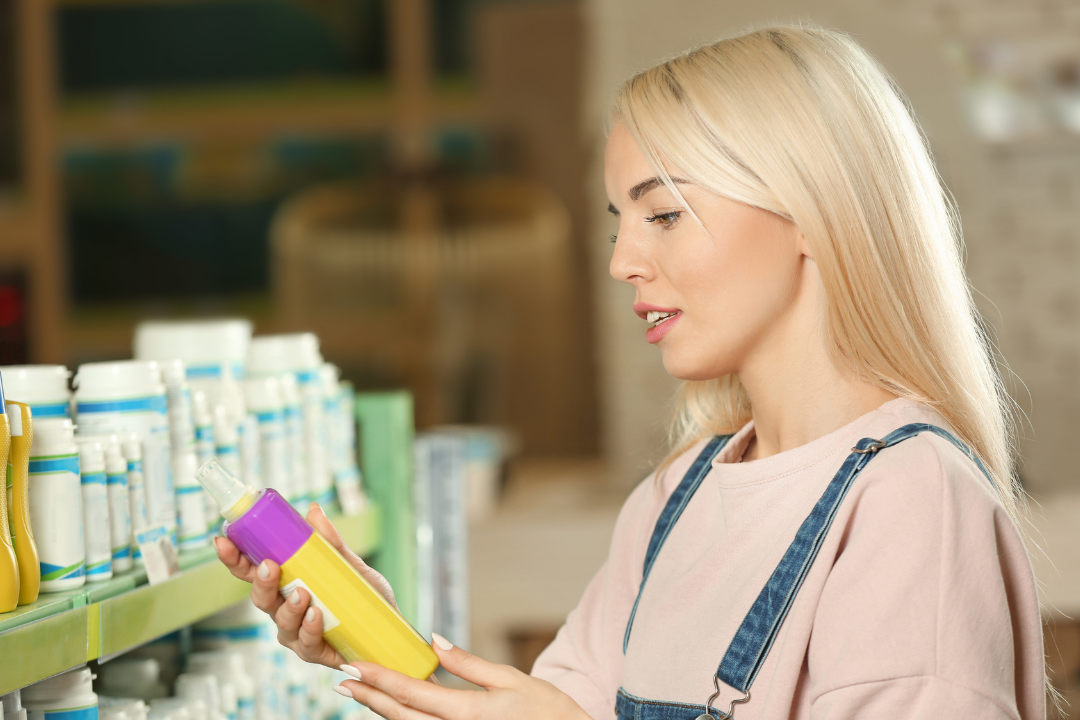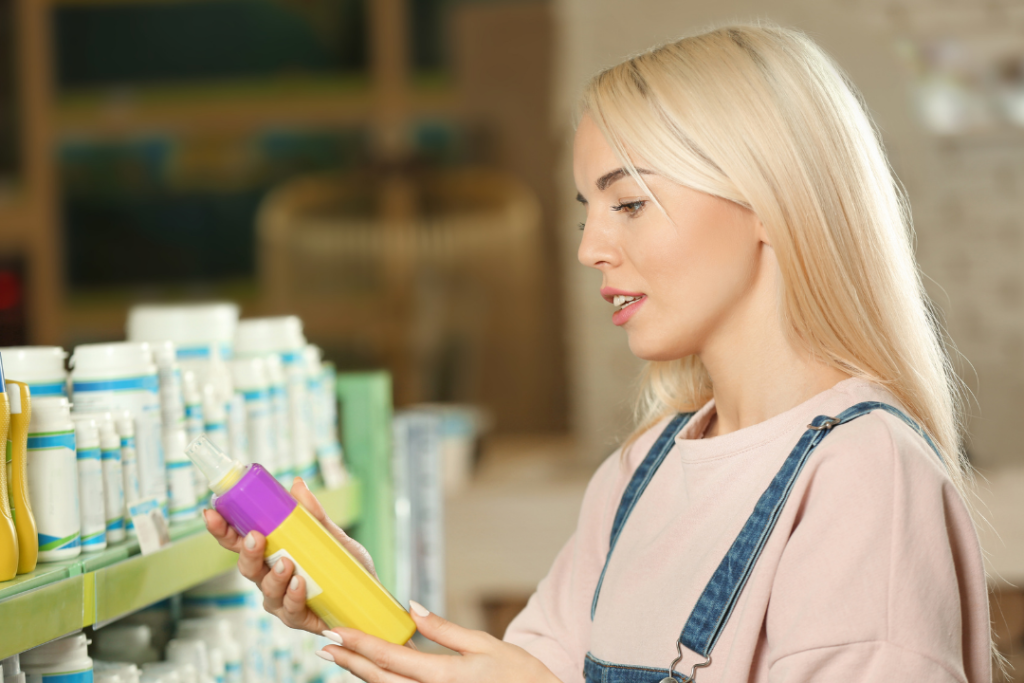 TL;DR: If you want to cancel out yellow in your hair, use purple shampoo; if you want to cancel out orange in your hair, use blue shampoo.
In general, purple shampoo should be used by blondes and blue shampoo should be used by brunettes, but this is not a hard and fast rule.
If you have both tones in your hair and are looking for a whitish or silverish look, you can mix purple and blue shampoo to get the benefits of both.
It's okay to experiment and see what works best for you. In my experience, the worst case scenario is you end up with a tone you aren't happy with and you'll need to wash a few times with clarifying shampoo to remove it. Obviously don't experiment right before an important event, but it's very rare for a toning shampoo to do irreparable damage to your hair.
Most blue and purple shampoos come out after a few washes, and they will also naturally fade with time and exposure to the sun. (Just be extra careful with the strong shampoos like Fanola, below!)
Our Favorite Blue and Purple Shampoos
Now let's get to the product recommendations! Here are the best blue and purple shampoos that are worth your money.
Best Blue Shampoos
Looking for a good blue shampoo? Here are the best ones to try first.
Matrix is a solid salon brand that has been around for decades, and their shampoos are tried and tested favorites that are widely available. Their Total Results Blue Shampoo has thousands of positive reviews touting its toning properties on orangey hair.
Matrix states that this shampoo is best for dark blondes and light brunettes, but there are positive reviews from people who used it on darker hair as well. This will definitely bring out the silver tones in your hair and cancel out the orange.
To use, start by leaving it in for a minute or less and assess the results. You can always use it again and leave it in longer for stronger toning.
If you're looking for a nice, gentle blue shampoo that won't strip your hair with sulfates but will still cancel out that orange, Not Your Mother's Triple Threat Brunette is your answer.
This one is particularly great if you follow the Curly Girl Method as it's CG-approved!
Even better, Not Your Mother's is pretty affordable as far as blue shampoo goes, and it even comes in a set with a matching blue conditioner when you buy it on Amazon.
If you've tried blue shampoos before and they haven't given you the results you want, Fanola No Orange Blue Shampoo is the answer to your prayers. In my experience, it's the strongest blue shampoo out there — so strong, in fact, that it can turn your hair blue if you leave it on too long.
Fanola does not mess around. It will neutralize any orange or reddish tones that might show up in your hair, and it will do it fast. At the same time, however, it can be very harsh and damaging.
For best results, do not use Fanola every day, or even multiple times a week to start. Also, err on the side of caution when it comes to leaving it on — start with a minute or less and work up from there. And always follow up with a deep conditioner to keep your hair soft and healthy! Fanola is no joke.
Best Purple Shampoos
Now for all my blondes, here are the best purple shampoos I've found in my 10 years of having platinum blonde hair.
As I mentioned in my post on how I take care of my bleached hair, I've been using this Biolage purple shampoo for years now, and I absolutely love it. It smells great, it isn't super harsh or drying for me, and it has just the right amount of toning power.
If you're looking for an all-around good purple shampoo, this is the one I recommend you try first! I've honestly never needed anything stronger than this, as it works great to tone my platinum hair. I've been known to use it multiple times a week without damage or ill effects, though obviously YMMV.
If you're looking for something that will be more gentle on your hair, the Kristin Ess purple shampoo is my absolute favorite sulfate-free purple shampoo.
Over the past few months, I've been trying out the Curly Girl Method on my wavy hair, and this is the best purple shampoo I've found that doesn't have sulfates or silicones. It's curly girl-approved, smells amazing, and is super affordable! Plus, it tones my hair pretty much as well as my Biolage shampoo.
Definitely try this one if you're following CG or just want something that will be super gentle on your strands.
Fanola wins again for the strongest purple shampoo out there. If you have serious yellow or brass in your blonde, Fanola No Yellow Shampoo will take care of it every single time.
Once again, a necessary warning: This stuff will turn your hair purple if you use it too often or leave it on too long! It's heavy duty and it deposits more color the longer you leave it on. Start by leaving it on for a minute or less, and go from there. It's better to err on the shorter side when you're starting out, unless you're trying to get purple hair.
Also, as mentioned above for their blue shampoo, Fanola can be extremely drying and harsh, so be sure to follow up with a good deep conditioning treatment to keep your hair smooth and shiny.
What do you think of our guide to blue and purple shampoos?
For more on shampoo, be sure to see our guide to the Best Drugstore Shampoos for Oily Hair.
Do you use blue or purple shampoo? If so, how do you use it and how often? Tell us your tips and tricks in the comments section.