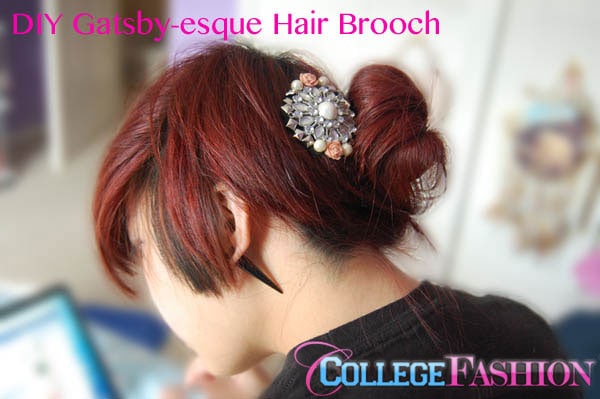 It's been almost two months since the release of The Great Gatsby, and yet, I have noticed tons of fashion goodness inspired by the movie (and more specifically the Roaring Twenties) popping up in all my favorite stores. Everywhere I look, it's all shiny, pearly, rhinestone amazingness.
On top of that, I noticed that hair "jewelry" has become ever-so-popular. So, why not combine the best of both worlds? For today's DIY tutorial, I'm going to show you how to make a Gatsby-esque hair brooch to add a little '20s glam to your life. Read on to learn more:
Materials: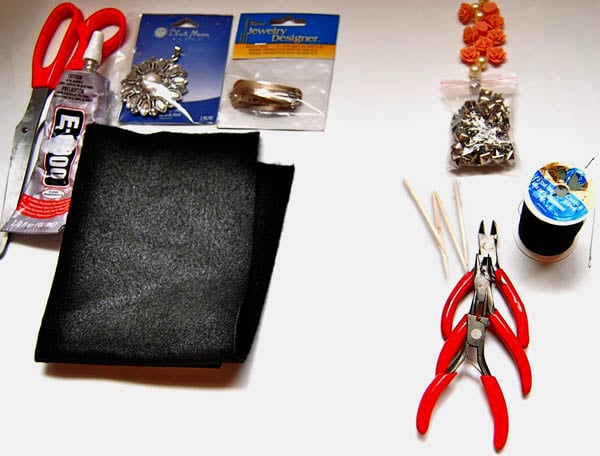 Scissors
An industrial strength craft adhesive, like E-6000
Felt
Hair Clips
Rhinestone+Pearl pendant from a necklace (Can't find one? Good alternatives include old vintage brooches, orphaned gem earrings, or even just plain old rhinestones and pearls)
Optional (shown on right):additional embellishments (studs, pearls, roses), needle+thread, jewelry pliers, toothpicks
Step One:

Adjust and/or deconstruct the pendant (or spare jewelry) if necessary. As shown in the above photo, I just pried off the pendant bail with my jewelry pliers, which can pretty much take care of most jewelry de-constructing needs.
Step Two: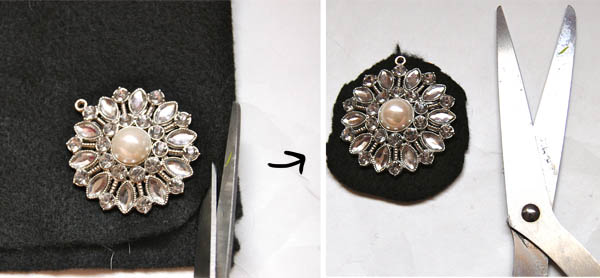 Place the pendant onto felt. The felt becomes the "backing" of the piece. Cut out the shape that you want the hair brooch to be.
Step Three:

Glue the pendant onto felt, using the E-6000 adhesive. Use a toothpick for cleaner application. Warning: E-6000 fumes are not good for you, so always do all your E-6000 gluing in a well-ventilated area!
Make sure to press down firmly all the way around, and hold it for a good 30-seconds for maximum hold.
Step Four:

I felt that my hair brooch needed a little more jazz, so I decided to embellish it a little more by placing studs around the edges, and adding roses surrounded by pearls on either side of the pendant. Skip to step five if you're jewelry doesn't need more sparkle.
Step Five: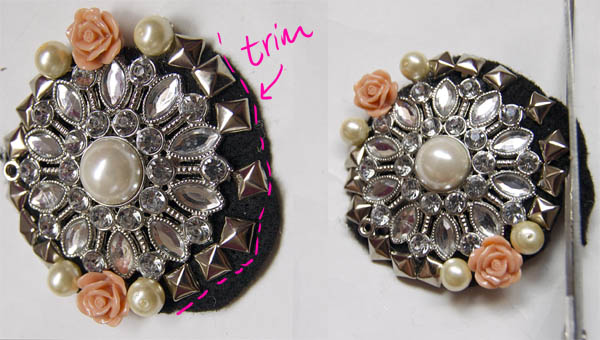 Let all the glue dry – overnight should be fine. Then, trim off as much excess felt as possible, so the hair brooch looks like one cohesive piece.
Step Six: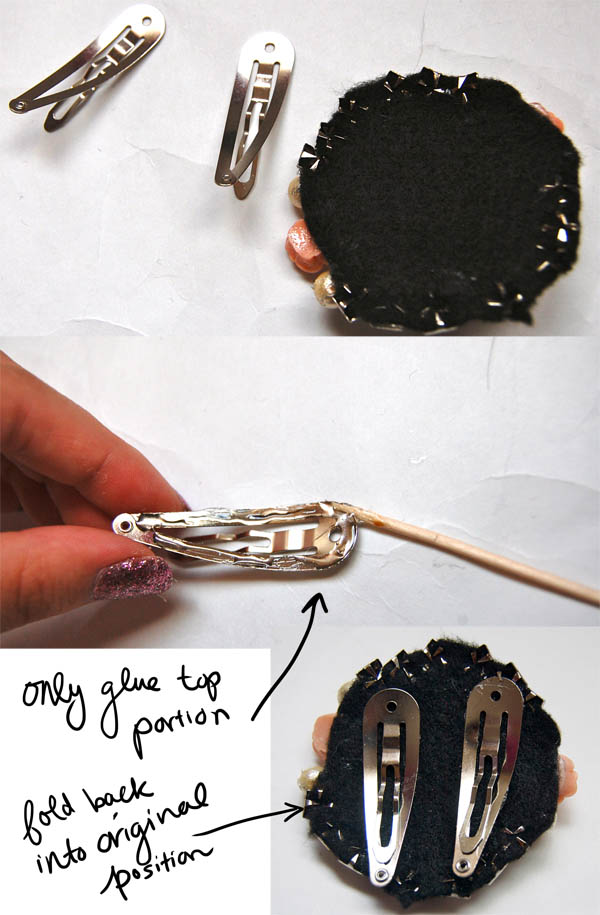 Time to add on the hair clips! Make sure to first flip "open" the hair clips to properly apply the glue (only glue the upper portion!), and use a toothpick for cleaner application. When gluing it onto the felt backing, carefully (key word: carefully) fold the hair clips back into their original position. If the brooch is considerably heavy, use more than one hair clip. Let dry overnight.
Step Seven (Optional):
For additional reinforcement, make strategic stitches with a needle and thread from the felt base to the pendant (if possible) and from the felt base to the hair clips. This might take some maneuvering, and if you did a really good glue job, this step is unnecessary.
The Finished Product: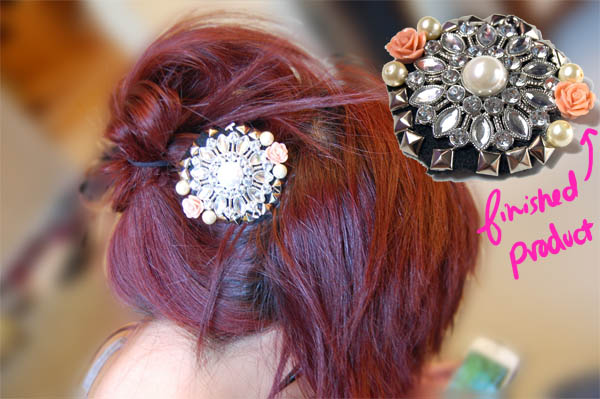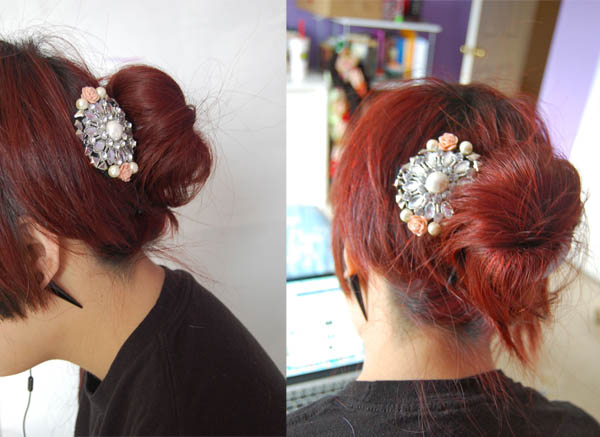 And that's it – enjoy your new '20s-inspired hair accessory!
Pro-tip: I find that these hair accessories stay in your hair best if the hair is pulled back (like pulling your hair into a bun or ponytail, or short hair, clipping a section up) and then inserting the hair clips vertically into the section of the hair, kind of like "nesting" it. Above, I styled it two ways: one with a messy pony-tail bun, and one with a sock-bun.
Feedback please:
What do you think about hair brooches, or hair jewelry in general? Going to try this tutorial out? Any DIYs that you would love to see a tutorial for? Let me know in the comments!