I've always liked crazy-colored hair. Back in the day I was obsessed with Gwen Stefani's pink hair when she rocked steady in No Doubt. I adored Rachel McAdams' pink streaks. And of course Lady Gaga has been an influence, with her many colorful hair transformations.
Well this week, I decided to finally take the semi-permanent plunge and dye some of my hair purple. Below, I'll show you how I did it, and how you can try this look yourself!
Related reading: Blonde vs Brunette vs Redhead: My Hair Color Experience Trying All Three Shades
Placement and Tools
My friend Erika works with special effects makeup and has tried her hand at working with colorful hair dyes on herself and friends. Luckily, Erika was there to show me how it's done.
I should preface this entire experiment with a few points:
If you have darker hair, you'll have to bleach the hair you want to color. I have relatively light brown/dark blonde hair, but I still needed to bleach it to a slightly lighter shade. Bleaching first is essential if you aren't naturally light blonde – otherwise, the color won't show up!
Yes, bleach does damage your hair. There is no way to avoid this.
It's helpful to do a test strip first to see if you have any allergic reactions to the dye. Avoid diving right in and dying your whole head first!
All colors fade with time and hair washings. If you go red, you might have pink hair after a while. Mine will fade to a light periwinkle color.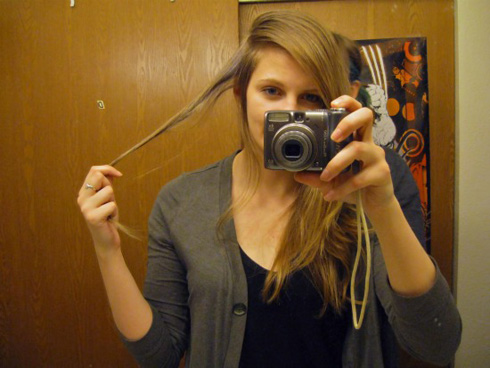 My test strand and color placement
Erika helped me decide on the placement of my purple chunk — behind my ear and up towards the top of my head. This way, the roots aren't visible, so when the bleach grows out, the roots won't show. The purple also blends in really nicely with the rest of my hair when placed here, acting as a "peek-a-boo" color. You notice it, but it isn't the first thing you see.
How to Get Started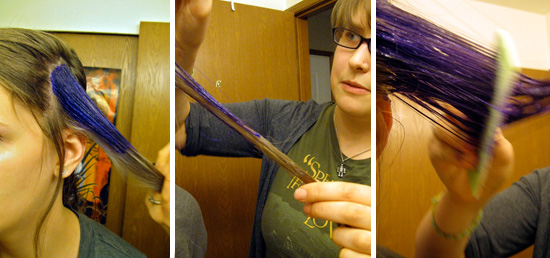 Applying "Ultra Violet" and combing the color through.
Let me start by saying that I had to pull my hair over into a side ponytail with a part so far to the side that I resembled a very feminine Donald Trump. While I looked ridiculous, it allowed for the rest of my hair to stay out of the bleach and dye that Erika would be applying to my chunk of hair.
Although you can't really tell from the photos, Erika first bleached the specific piece of my hair so the color would show up. Just a disclaimer: You have to be really careful when working with hair bleach! Manic Panic sells hair bleaching kits with complete instructions, which are good for beginners. Erika mixed up the bleach in a bowl and applied it with a tint brush.
After the bleach was applied to my dry hair, we pinned up the piece (so it wouldn't sit on my skin/the rest of my hair!) and waited for a solid hour. Make sure to consistently check your hair for color change – the longer you wait, the lighter it will be, but be sure not to go platinum white! You don't need to lighten your hair to that extent for the color to show up. As you can see in the photos, the bleach only lightened my hair a few shades.
It's best to wear gloves when applying the bleach and color, though Erika didn't (this dye washes off skin pretty easily).
Then came the easy part — the purple. After rinsing out the hair bleach when it was blonde enough, Erika used a different tint brush to apply the Manic Panic hair dye in "Ultra Violet". She thickly applied the dye from the roots of my hair to the ends. We then combed through the hair to get any excess dye out and to evenly distribute the color.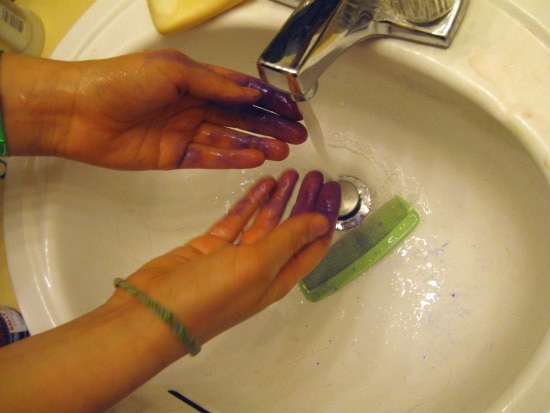 Make sure to rinse out your sink thoroughly. Semi-permanent hair dye won't stain your sink if it is cleaned up immediately and well.
Sitting and Waiting
After the "Ultra Violet" dye was applied, it was time to wait! Some prefer to pin the colored section up while it does its job, but I left my soon-to-be-purple streak down. Applying heat is key to getting semi-permanent dye to last! Right after applying the dye and getting out the excess dye (your hair shouldn't drip), I used a hair dryer to apply heat to the strands. This helps "set" the color and also to dry the piece of hair that is damp from the dye.
After the piece was dried from the hairdryer, I waited for a good 2 to 3 hours with the purple dye in my hair. Erika said that some people leave it in a lot longer, but I was too anxious to see what my hair would look like. It turns out that 2 to 3 hours is a great amount of time because my hair turned out a vibrant shade of violet! After waiting, I rinsed out the piece in the sink with cool water until the water ran clear.
Note that I just rinsed the dye out – I didn't shampoo. As Erika told me, It's important to NOT SHAMPOO THE FRESH COLOR RIGHT AWAY. It will all come out if you do, so wait a good 24 hours before shampooing your hair.
The Outcome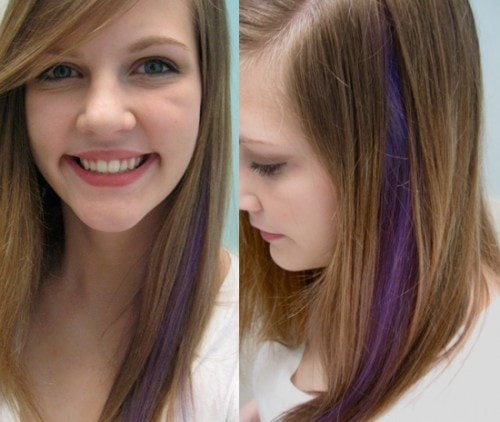 I absolutely love how my hair came out, from the placement to the color. I love the purple peek-a-boo streak!
Related reading: 17 Gorgeous Purple Hair Ideas You Will Definitely Want to Copy
Maintenance
The dye I used is semi-permanent. All dyes fade out with time and washings. In order to keep my hair vibrant for as long as possible, I now go a few days at a time between washing my hair, and even then, I don't directly scrub the purple strands.
The purple isn't permanent, but the bleach is. When the purple fades out, I can either re-apply color or go over the bleach with a brown dye to get it back to normal.
What Do You Think?
I hope this tutorial was helpful. Feel free to ask any questions in the comments and I'll try my best to answer them!
Please keep in mind that dye and bleach formulations vary, so the methods and processing times I discussed are only for the Manic Panic brand products – other semi permanent dyes might not take so well to heat or being left on so long. If using a different brand, follow their package instructions.
And finally, if you don't have a friend to help you, are seriously in doubt about doing your hair yourself, or are planning to do a larger section of hair than I did, you'll want to consult with a hairdresser first, to avoid making a mistake you'll regret.
Would you ever try out a Manic Panic color? Have you ever dyed your hair a crazy color? Let us know in a comment!
*All photos were taken by me. Thanks to Erika J. for all her help and knowledge!
Related posts: