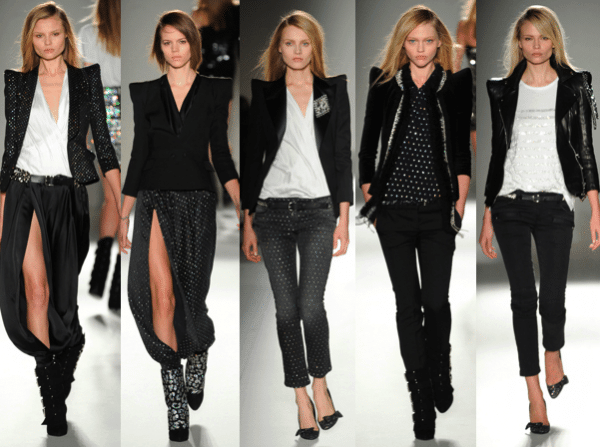 Balmain, Fall 2009 RTW
This week's trend is all about a change in shape, in the form of structured shoulders. Many designers have started to unveil new shapes recently, and one of the hottest trends is a more refined spin on 80's shoulder pads. While many designers did a structured shoulder recently, the instigator of this trend is certainly Balmain.
About the Structured Shoulder Trend
Balmain essentially took the structured jacket trend (otherwise seen in the form of popular boyfriend blazers and military and marching band jackets) and made it their own by adding a sculpted shoulder. The understated extravagance of the jackets has made them a hit in the style community.
Celebrities like Rihanna and Kate Moss have fallen in love with the Balmain fall collection because it brings back much of what made the 80's so infamous–studs, sequins, shoulder pads, acid wash, etc.–and channels it all into a look that modern women can appreciate.
One reason the structured shoulder trend is so popular is because the jacket shoulders look like works of art, giving each piece that "something extra". But while these jackets have visual appeal, I'm wondering, as I'm sure many of you are, just how well this trend translates to the mainstream.
Do you wear this jacket to the office, or to the club? Is it appropriate for casual wear or "too much" for every day?
Real-World Examples
Here are some retail incarnations of this trend, so you can see how the stores are translating it. While these are toned-down versions of what Balmain sent down the runway, they still certainly channel the same idea.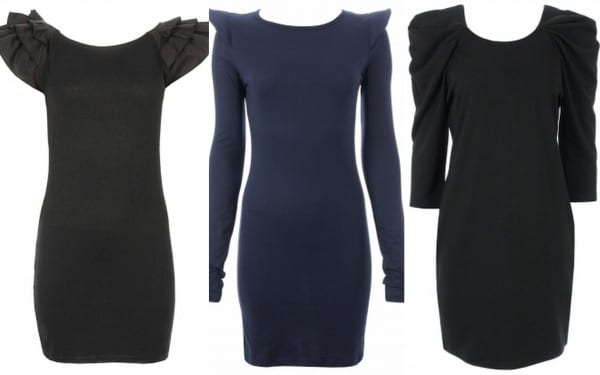 Dresses from Missguided: Left, Center, Right
Your Thoughts?
So what do you think–is this a trend you like? And can it work in the real world? Would you rock a structured shoulder? Leave a comment with your thoughts!