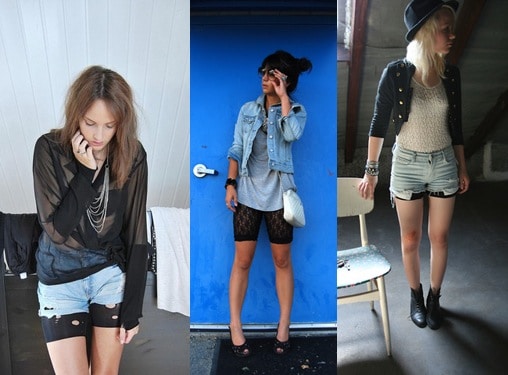 Photo credits: Lookbook.nu
Here's a new fashion trend I've been noticing on all the blogs and street style websites lately – black bicycle shorts, either lace, mesh, or spandex, worn peeking out from beneath denim cutoffs or worn alone under a loose top.
I think the bike shorts trend is a cute, unique way to slowly transition your summer wardrobe into fall and an easy method to breath life into those same old denim shorts you've been rocking all summer.
If you're on a budget or just don't want to shell out cash for a trendy item, bike shorts like the ones pictured above are a super-simple DIY project: just grab a pair of sharp scissors and cut off standard black tights or lace leggings to your desired length. It doesn't get much easier than that!
So what do you think? Would you wear bike shorts? Which of the above looks is your favorite? Type up a quick comment – can't wait to hear what you guys think of this trend!