This post may contain affiliate links, which means we may receive a commission if you purchase through our links. Please
read our full disclosure here
.

A few weeks ago while I was slaving away on my painting homework and vegging out in front of the computer, people from all over the world were gathering to celebrate one of our generation's most awesome music festivals- Coachella.
With an artist lineup consisting of the likes of Jay-Z, my homeboys Phoenix and Vampire Weekend, MGMT, and many more, it's no wonder celebs like Beyoncé, Kate Hudson, and Lindsay Lohan (as well as some seriously stylish folks from all over) hit up this awesome 3-day festival. Want to check out some of their awesome festival wardrobes? Scroll on down!
Fresh Crops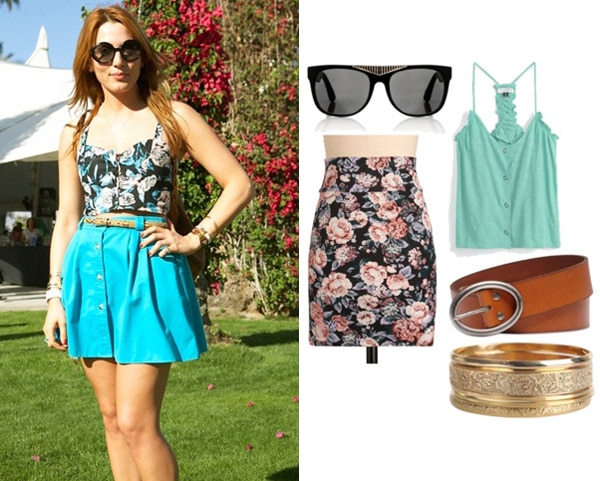 (Source: Spin| Sunglasses, Skirt, Tank, Belt, Bangles)
This outfit is the epitome of festival wear, from the bright colors to the effortless sunglasses. I love her floral crop-top and how she paired it with such a brightly colored skirt! And those shades are so Jackie O– love them.
To recreate this outfit for you guys, I turned it upside-down. Instead of a floral crop top, I chose a cropped button tank in a lovely shade of jade and paired it with a floral bandage skirt. I also threw in a belt to add interest- but it's an optional accessory as the skirt is already tight around your body. Finally, for good measure, I chose a pair of rad sunglasses and a pair of bangles- they add attitude to this already cute outfit; you can't say no to that!
White Out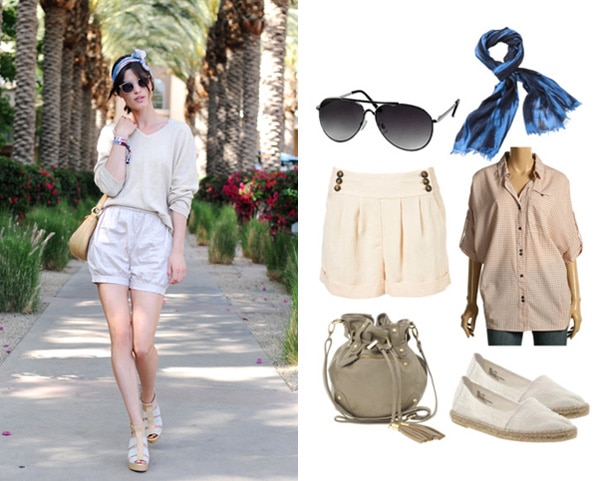 (Source: Hanneli| Sunglasses, Shorts, Bag, Scarf, Blouse, Shoes)
I love this outfit because she shows us it's possible to wear a totally monochromatic outfit while still creating a pop of color. That scarf wrapped around her head is so chic- I dig it.
To start off this outfit, I chose a pair of cute shorts with buttons on the sides and then paired them with a slouchy button-up. Then, I found some cute espadrilles in white to substitute for the heels our lady friend is wearing- because in all honesty heels are not the best choice for what you'll encounter at a music festival (think dirt, grass, mud, and more dirt). I chose a cute drawstring purse and pair of aviators to mimic the look, and then pulled a cute blue tie-dye scarf. This scarf can be worn around your neck or wrapped around your head just like cutie-pie up above!
Mad Hatter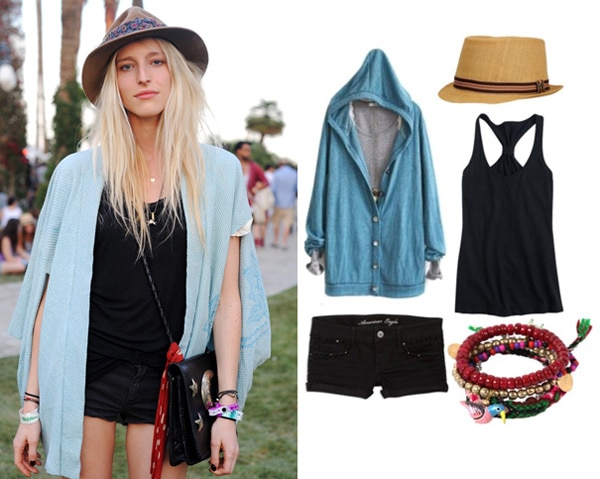 (Source:Hanneli| Cardigan, Shorts, Fedora, Tank, Bracelets)
This is my favorite outfit of the bunch; while it's not that complicated, something about it is such a breath of fresh air! I really love her fantastic fedora, as well as her powder blue cardigan and red scarf. The colors are so fresh and clean!
To recreate this outfit, I grabbed a blue hooded cardigan and paired it with a basic racerback tank in black. Then I found some cute black shorts and some colorful bracelets to replace colorful the red scarf. Finally, to put the cherry on top, I picked out a simple tan fedora to complete the outfit and pull everything together. This look is a perfectly effortless festival look that anyone could rock with comfort.
Lacey Lady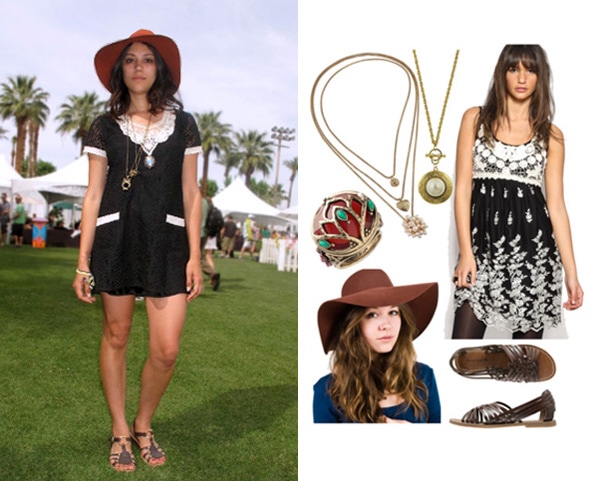 (Source: Refinery| Ring, Layered Necklace, Locket Necklace, Hat, Dress, Sandals)
This look is so Mamas and Papas! Love the hat, love the dress, love the whole ensemble. Our friend here shows us that black and white lace dresses shouldn't be constrained to cocktail parties and evenings, and by adding some whimsical accessories and a hat, your look can easily go from night to day!
To mimic this outfit, I first pulled a sleeveless lace dress and a lovely brown sunhat (a definite summer essential). Then I chose some fun jewelry: some gold necklaces and a pretty ruby stone ring. Finally, I picked out a pair of cute sandals to keep your feet cute and comfortable all day long.
Embroidered Babe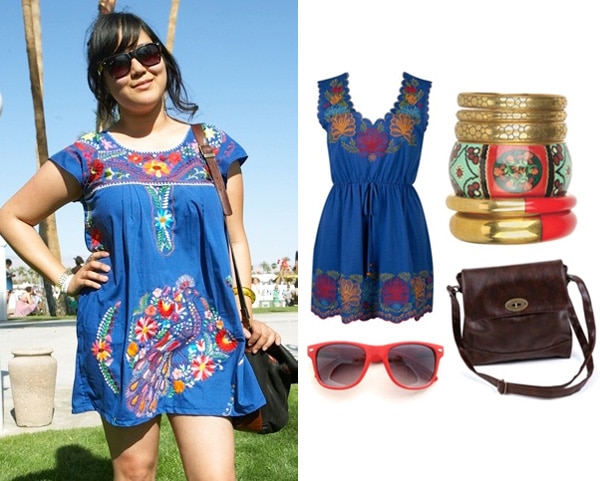 (Source: Spin| Tunic, Sunglasses, Bangles, Bag)
I love this fun and colorful outfit. That dress is seriously gorgeous; so many colors, and that electric blue is way too awesome!
To recreate the look, I found a similarly-styled tunic dress with a cinched waist. Then, I picked out some fun bangles with interesting details and patterns on them. For a bag, I chose a a cute messenger style with plenty of room for your music festival essentials. Finally, I chose a pair of red wayfarers just to give that outfit that extra push of fun.
Blue (And White) Crush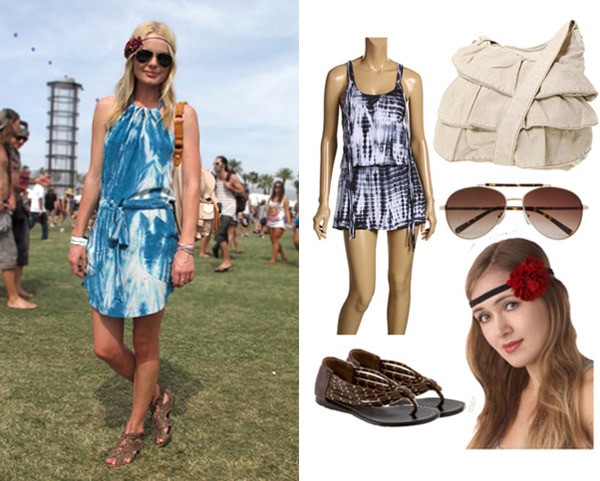 (Source: Refinery| Dress, Sandals, Bag, Aviators, Headbands)
Well looky who it is! Celeb style icon Kate Bosworth was one of many celebrities to attend Coachella, and I have to say, she looked picture-perfect! How cute is that blue and white dress she's rocking? (Tie-dye is hot for Spring, BTW!) And her little headband is so boho chic and fun- perfect for rocking out at a festival like Coachella.
To recreate this outfit, I found a fun tie-dye dress in a navy blue and paired it with some classic aviators and a red floral headband. For shoes, I found an edgy pair of brown sandals. Finally, to pull together the look, I chose a fun ruffled tote bag that is just the right size!
Can't get enough Coachella?
For even more Coachella awesomeness, check out this hilarious video blog that fashion blogger Facehunter did on site at the festival- you'll laugh, you'll cry, you'll wish you were there.
P.S. I love you- watch the video; you'll see.
Coachella from The Facehunter Show on Vimeo.
Thoughts?
Did you go to Coachella? Did you want to go to Coachella? Who did you see (or want to see)? What's your favorite look that I chose? What's your favorite festival outfit? Whatever your thoughts, let me know in the comments!